Abstract
Non-small-cell lung cancer (NSCLC) predominates lung cancer with a striking percentage of 85%. Eupafolin is documented to possess anti-tumor efficacy, which prompts efforts to uncover its impacts on the pathology of diseases including cancers. Focal adhesion kinase (FAK)-mediated phosphatidylinositol 3-kinase (PI3K)/protein kinase B (AKT) has been found to be associated with several carcinomas. Nevertheless, how eupafolin exerts its effects in NSCLC and whether FAK/PI3K/AKT is related to the corresponding mechanism remain unclear. Thus, the relevant experiments were carried out with NSCLC cells treated with eupafolin and/or LY294002 at first. 3-(4,5-Dimethylthiazol-2-yl)-2,5-diphenyltetrazolium bromide (MTT), colony formation, wound healing, and transwell assays were used to assess cell viability, proliferation, migration, and invasion, respectively. Western blot assay was performed to measure the relative protein expressions of phosphorylated (p)-FAK/FAK, p-PI3K/PI3K, p-AKT/AKT, matrix metalloproteinase 9 (MMP9), and ras homolog gene family member A (RhoA), and to determine transfection efficiency. From experimental results, it was found that eupafolin inhibited the viability, proliferation, migration, and invasion of NSCLC cells, and inactivated the FAK/PI3K/AKT pathway by downregulating the ratios of p-FAK/FAK, p-PI3K/PI3K, and p-AKT/AKT and the expressions of MMP9 and RhoA. On the contrary, overexpressed FAK upregulated the expressions of FAK, MMP9, and RhoA and the ratios of p-PI3K/PI3K and p-AKT/AKT, and promoted cell proliferation, migration, and invasion. LY294002, conversely, could partly reverse the effects of FAK on the aforementioned aspects of NSCLC cells. Collectively, it was verified in our study that eupafolin regulates the proliferation, migration, and invasion of NSCLC cells by downregulating MMP9 and RhoA expressions via the FAK/PI3K/AKT axis, which may provide a promising avenue for cancer therapy.
Access options
Buy single article
Instant access to the full article PDF.
USD 39.95
Price excludes VAT (USA)
Tax calculation will be finalised during checkout.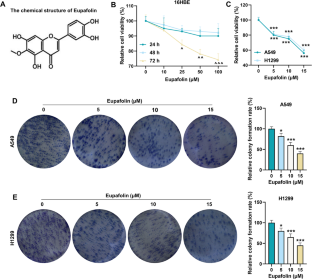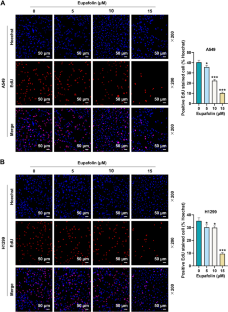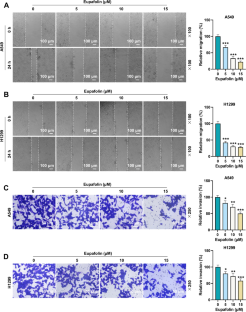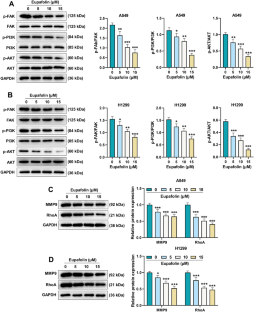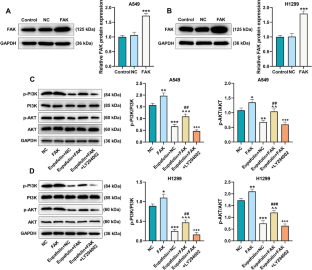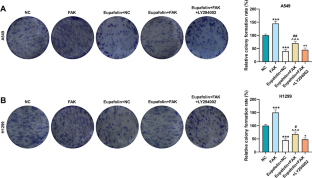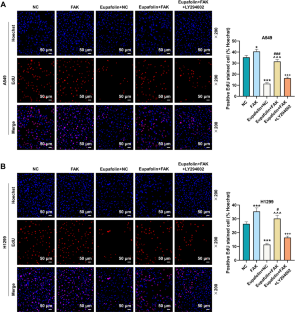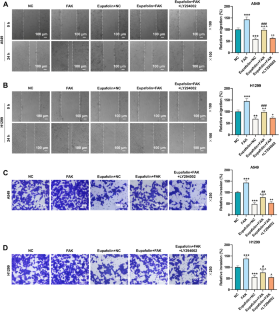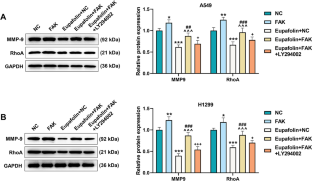 References
Allemani C, Matsuda T, Di Carlo V, et al. 2018 Global surveillance of trends in cancer survival 2000–14 (CONCORD-3): analysis of individual records for 37 513 025 patients diagnosed with one of 18 cancers from 322 population-based registries in 71 countries. Lancet 391 1023–1075

Bender E 2014 Epidemiology: The dominant malignancy. Nature 513 S2–S3

Bray F, Ferlay J, Soerjomataram I, et al. 2018 Global cancer statistics 2018 GLOBOCAN estimates of incidence and mortality worldwide for 36 cancers in 185 countries. CA Cancer J. Clin. 68 394–424

Chen CC, Lin MW, Liang CJ, et al.  2016 The anti-inflammatory effects and mechanisms of eupafolin in lipopolysaccharide-induced inflammatory responses in RAW264.7 macrophages. PLoS One 11 e0158662

Chen JK, Peng SF, Lai KC, et al. 2019 Fistein suppresses human osteosarcoma U-2 OS cell migration and invasion via affecting FAK, uPA and NF-kB signaling pathway in vitro. In Vivo 33 801–810

Choi YA, Lim HK, Kim JR, et al. 2004 Group IB secretory phospholipase A2 promotes matrix metalloproteinase-2-mediated cell migration via the phosphatidylinositol 3-kinase and Akt pathway. J. Biol. Chem. 279 36579–36585

Chung KS, Choi JH, Back NI, et al. 2010 Eupafolin, a flavonoid isolated from Artemisia princeps, induced apoptosis in human cervical adenocarcinoma HeLa cells. Mol. Nutr. Food Res. 54 1318–1328

Fan X, Tao J, Cai Z, et al. 2019 Eupafolin suppresses esophagus cancer growth by targeting T-LAK cell-originated protein kinase. Front. Pharmacol. 10 1248

Fu QF, Liu Y, Fan Y, et al. 2015 Alpha-enolase promotes cell glycolysis, growth, migration, and invasion in non-small cell lung cancer through FAK-mediated PI3K/AKT pathway. J. Hematol. Oncol. 8 22

Guo D, Zhang D, Ren M, et al. 2020 THBS4 promotes HCC progression by regulating ITGB1 via FAK/PI3K/AKT pathway. FASEB J. 34 10668–10681

Hakimee H, Hutamekalin P, Tanasawet S, et al. 2019 Metformin inhibit cervical cancer migration by suppressing the FAK/Akt signaling pathway. Asian Pac. J. Cancer Prev. 20 3539–3545

Herbst RS, Morgensztern D and Boshoff C 2018 The biology and management of non-small cell lung cancer. Nature 553 446–454

Herrerias T, de Oliveira BH, Gomes MA, et al. 2008 Eupafolin: Effect on mitochondrial energetic metabolism. Bioorg. Med. Chem. 16 854–861

Huang H 2018 Matrix metalloproteinase-9 (MMP-9) as a cancer biomarker and MMP-9 biosensors: Recent advances. Sensors 18 3249

Hubchak SC, Sparks EE, Hayashida T, et al. 2009 Rac1 promotes TGF-beta-stimulated mesangial cell type I collagen expression through a PI3K/Akt-dependent mechanism. Am. J. Physiol. Renal Physiol. 297 F1316–F1323

Imyanitov EN, Iyevleva AG and Levchenko EV 2021 Molecular testing and targeted therapy for non-small cell lung cancer: Current status and perspectives. Crit. Rev. Oncol. Hematol. 157 103194

Jiang H, Wu D, Xu D, et al. 2017 Eupafolin exhibits potent anti-angiogenic and antitumor activity in hepatocellular carcinoma. Int. J. Biol. Sci. 13 701–711

Lee YC, Cheng TH, Lee JS, et al. 2011 Nobiletin, a citrus flavonoid, suppresses invasion and migration involving FAK/PI3K/Akt and small GTPase signals in human gastric adenocarcinoma AGS cells. Mol. Cell Biochem. 347 103–115

Lipfert L, Haimovich B, Schaller MD, et al. 1992 Integrin-dependent phosphorylation and activation of the protein tyrosine kinase pp125FAK in platelets. J. Cell Biol. 119 905–912

Liu K, Park C, Chen H, et al. 2015 Eupafolin suppresses prostate cancer by targeting phosphatidylinositol 3-kinase-mediated Akt signaling. Mol. Carcinog. 54 751–760

Maas M, Deters AM and Hensel A 2011 Anti-inflammatory activity of Eupatorium perfoliatum L. extracts, eupafolin, and dimeric guaianolide via iNOS inhibitory activity and modulation of inflammation-related cytokines and chemokines. J. Ethnopharmacol. 137 371–381

Man HY, Wang Q, Lu WY, et al. 2003 Activation of PI3-kinase is required for AMPA receptor insertion during LTP of mEPSCs in cultured hippocampal neurons. Neuron 38 611–624

Maraming P, Klaynongsruang S, Boonsiri P, et al. 2021 Anti-metastatic effects of cationic KT2 Peptide (a lysine/tryptophan-rich peptide) on human melanoma A375.S2 cells. In Vivo 35 215–227

Meng XN, Jin Y, Yu Y, et al. 2009 Characterisation of fibronectin-mediated FAK signalling pathways in lung cancer cell migration and invasion. Br. J. Cancer 101 327–334

Ojeda L, Gao J, Hooten KG, et al. 2011 Critical role of PI3K/Akt/GSK3beta in motoneuron specification from human neural stem cells in response to FGF2 and EGF. PLoS One 6 e23414

Peltier J, O'Neill A and Schaffer DV 2007 PI3K/Akt and CREB regulate adult neural hippocampal progenitor proliferation and differentiation. Dev. Neurobiol. 67 1348–1361

Rafalski VA and Brunet A 2011 Energy metabolism in adult neural stem cell fate. Prog. Neurobiol. 93 182–203

Schaller MD, Borgman CA, Cobb BS, et al. 1992 pp125FAK a structurally distinctive protein-tyrosine kinase associated with focal adhesions. Proc. Natl. Acad. Sci. USA 89 5192–5196

Sharifi-Rad J, Ozleyen A, Boyunegmez Tumer T, et al. 2019 Natural products and synthetic analogs as a source of antitumor drugs. Biomolecules 9 679

Shih YW, Chen PS, Wu CH, et al. 2007 Alpha-chaconine-reduced metastasis involves a PI3K/Akt signaling pathway with downregulation of NF-kappaB in human lung adenocarcinoma A549 cells. J. Agric. Food Chem. 55 11035–11043

Su YL, Luo HL, Huang CC, et al. 2020 Galectin-1 overexpression activates the FAK/PI3K/AKT/mTOR pathway and is correlated with upper urinary urothelial carcinoma progression and survival. Cells 9 806

Sung HC, Liang CJ, Lee CW, et al. 2015 The protective effect of eupafolin against TNF-alpha-induced lung inflammation via the reduction of intercellular cell adhesion molecule-1 expression. J. Ethnopharmacol. 170 136–214

Wei J, Zhang X, Pan H, et al. 2021 Eupafolin inhibits breast cancer cell proliferation and induces apoptosis by inhibiting the PI3K/Akt/mTOR pathway. Oncol. Lett. 21 332

Wennerberg K and Der CJ 2004 Rho-family GTPases: it's not only Rac and Rho (and I like it). J. Cell Sci. 117 1301–1312

Wu HT, Lin J, Liu YE, et al. 2021 Luteolin suppresses androgen receptor-positive triple-negative breast cancer cell proliferation and metastasis by epigenetic regulation of MMP9 expression via the AKT/mTOR signaling pathway. Phytomedicine 81 153437

Xie Y, Shi X, Sheng K, et al. 2019 PI3K/Akt signaling transduction pathway, erythropoiesis and glycolysis in hypoxia. Mol. Med. Rep. 19 783–791

Yang WJ, Liu C, Gu ZY, et al. 2014 Protective effects of acacetin isolated from Ziziphora clinopodioides Lam. (Xintahua) on neonatal rat cardiomyocytes. Chin. Med. 9 28

Yue Y, Hui K, Wu S, et al. 2020 MUC15 inhibits cancer metastasis via PI3K/AKT signaling in renal cell carcinoma. Cell Death Dis. 11 336

Zeng ZZ, Jia Y, Hahn NJ, et al. 2006 Role of focal adhesion kinase and phosphatidylinositol 3'-kinase in integrin fibronectin receptor-mediated, matrix metalloproteinase-1-dependent invasion by metastatic prostate cancer cells. Cancer Res. 66 8091–8099

Zhang H, Chen MK, Li K, et al. 2017 Eupafolin nanoparticle improves acute renal injury induced by LPS through inhibiting ROS and inflammation. Biomed. Pharmacother. 85 704–711

Zhou Z, Li N, Zhang HF, et al. 2019 Simultaneous quantitative analysis of 11 flavonoid derivatives with a single marker in persimmon leaf extraction and evaluation of their myocardium protection activity. J. Nat. Med. 73 404–418
Ethics declarations
Disclosure of conflict of interest
The authors declare no conflicts of interest.
Additional information
Corresponding editor: Shamik Sen
Supplementary Information
Below is the link to the electronic supplementary material.
About this article
Cite this article
Wang, X., Huang, M., Xie, W. et al. Eupafolin regulates non-small-cell lung cancer cell proliferation, migration, and invasion by suppressing MMP9 and RhoA via FAK/PI3K/AKT signaling pathway. J Biosci 48, 1 (2023). https://doi.org/10.1007/s12038-022-00323-1
Received:

Accepted:

Published:

DOI: https://doi.org/10.1007/s12038-022-00323-1
Keywords
Eupafolin

FAK/PI3K/AKT signaling pathway

focal adhesion kinase

matrix metalloproteinase 9

non-small-cell lung cancer

protein kinase B