Abstract
Fluorescence microscopy has revolutionized life science research. It is a powerful technique to visualize molecular structures, physiological functions, and dynamic processes in living cells, tissues, and organisms. Excitation-light and/or excited-fluorescent proteins-mediated dysregulation in cell physiology are widely known but poorly considered. Although there are vast applications of fluorescence microscopy in research, imaging results may suffer from the excitation-light-induced artefacts. Here, we highlight potential excitation light-induced alterations in cell functions thereby misinterpretation of imaging results and strategies to minimize common artefacts that can be produced during imaging experiments.
Access options
Buy single article
Instant access to the full article PDF.
US$ 39.95
Tax calculation will be finalised during checkout.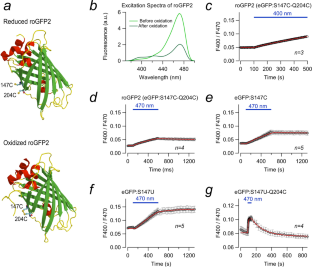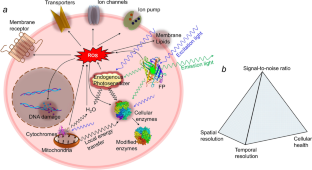 References
Carlton PM, Boulanger J, Kervrann C, et al. 2010 Fast live simultaneous multiwavelength four-dimensional optical microscopy. Proc. Natl. Acad. USA 107 16016–16022

Chuang CH, Carpenter AE, Fuchsova B, Johnson T, de Lanerolle P and Belmont AS 2006 Long-range directional movement of an interphase chromosome site. Curr. Biol. 16 825–831

Cohen N, Lubart R, Rubinstein S and Breitbart H 1998 Light irradiation of mouse spermatozoa: stimulation of in vitro fertilization and calcium signals. Photochem. Photobiol. 68 407–413

Cole R 2014 Live-cell imaging: The cell's perspective. Cell Adh. Migr. 8 452–459

Dixit R and Cyr R 2003 Cell damage and reactive oxygen species production induced by fluorescence microscopy: effect on mitosis and guidelines for non-invasive fluorescence microscopy. Plant J. 36 280–290

Douthwright S and Sluder G 2017 Live cell imaging: assessing the phototoxicity of 488 and 546 nm light and methods to alleviate it. J. Cell. Physiol. 232 2461–2468

Edwards AM and Silva E 2001 Effect of visible light on selected enzymes, vitamins and amino acids. J. Photochem. Photobiol. B Biol. 63 126–131

Eichler M, Lavi R, Shainberg A and Lubart R 2005 Flavins are source of visible-light-induced free radical formation in cells. Lasers Surg. Med. 37 314–319

Gavin RH 2016 Cytoskeleton: Methods and Protocols, Methods in Molecular Biology, vol. 1365 (New York: Springer Science + Business Media)

Goto H, Yang B, Petersen D, Pepper KA, Alfaro PA, Kohn DB and Reynolds CP 2003 Transduction of green fluorescent protein increased oxidative stress and enhanced sensitivity to cytotoxic drugs in neuroblastoma cell lines. Mol. Cancer Therap. 2 911–917

Greenbaum L, Rothmann C, Lavie R and Malik Z 2000 Green fluorescent protein photobleaching: a model for protein damage by endogenous and exogenous singlet oxygen. Biol. Chem. 381 1251–1258

Hockberger PE, Skimina TA, Centonze VE, Lavin C, Chu S, Dadras S, Reddy JK and White JG 1999 Activation of flavin-containing oxidases underlies light-induced production of H2O2 in mammalian cells. Proc. Natl. Acad. USA 96 6255–6260

Knoll SG, Ahmed WW and Saif TA 2015 Contractile dynamics change before morphological cues during fluorescence illumination. Sci. Rep. 5 18513

Koester HJ, Baur D, Uhl R and Hell SW 1999 Ca2+ fluorescence imaging with pico- and femtosecond two-photon excitation: signal and photodamage. Biophys. J. 77 2226–2236

Laissue PP, Alghamdi RA, Tomancak P, Reynaud EG and Shroff H 2017 Assessing phototoxicity in live fluorescence imaging. Nat. Methods 14 657–661

Lavi R, Shainberg A, Friedmann H, Shneyvays V, Rickover O, Eichler M, Kaplan D and Lubart R 2003 Low energy visible light induces reactive oxygen species generation and stimulates an increase of intracellular calcium concentration in cardiac cells. J. Biol. Chem. 278 40917–40922

Nishigaki T, Wood CD, Shiba K, Baba SA and Darszon A 2006 Stroboscopic illumination using light-emitting diodes reduces phototoxicity in fluorescence cell imaging. Biotechniques 41 191–197

Niwa H, Inouye S, Hirano T, Matsuno T, Kojima S, Kubota M, Ohashi M and Tsuji FI 1996 Chemical nature of the light emitter of the Aequorea green fluorescent protein. Proc. Natl. Acad. USA 93 13617–13622

Ojha NK, Jin J, Arifin JC, Rühl P and Heinemann SH 2019 Membrane potential manipulation with visible flash lamp illumination of targeted microbeads. Biochem. Biophys. Res. Commun. 517 297–302

Ojha NK, Leipold E, Schönherr R, Hoshi T and Heinemann SH 2017 Non-photonic sensing of membrane-delimited reactive species with a Na+ channel protein containing selenocysteine. Sci. Rep. 7 46003

Ojha NK, Nematian-Ardestani E, Neugebauer S, Borowski B, El-Hussein A, Hoshi T, Leipold E and Heinemann SH 2014 Sodium channels as gateable non-photonic sensors for membrane-delimited reactive species. Biochim. Biophys. Acta Biomembranes 1838 1412–1419

Rösner J, Liotta A, Angamo EA, Spies C, Heinemann U and Kovács R 2016 Minimizing photodecomposition of flavin adenine dinucleotide fluorescence by the use of pulsed LEDs. J. Microsc. 264 215–223

Schink M, Leipold E, Schirmeyer J, Schönherr R, Hoshi T and Heinemann SH 2016 Reactive species modify NaV 1.8 channels and affect action potentials in murine dorsal root ganglion neurons. Pflügers Archiv. Eur. J. Physiol. 468 99–110

Schneckenburger H, Weber P, Wagner M, Schickinger S, Richter V, Bruns T, Strauss WS and Wittig R 2012 Light exposure and cell viability in fluorescence microscopy. J. Microsc. 245 311–318

Silva E and Godoy J 1994 Riboflavin sensitized photooxidation of tyrosine. Int. J. Vitam. Nutr. Res. 64 253–256

Tinevez JY, Dragavon J, Baba-Aissa L, Roux P, Perret E, Canivet A, Galy V and Shorte SA 2012 A quantitative method for measuring phototoxicity of a live cell imaging microscope. Methods Enzymol. 506 291–309

Tinevez JY, Perry N, Schindelin J, Hoopes GM, Reynolds GD, Laplantine E, Bednarek SY, Shorte SL and Eliceiri KW 2017 TrackMate: An open and extensible platform for single-particle tracking. Methods 115 80–90

Wagner M, Weber P, Bruns T, Strauss WS, Wittig R and Schneckenburger H 2010 Light dose is a limiting factor to maintain cell viability in fluorescence microscopy and single molecule detection. Int. J. Mol. Sci. 11 956–966

Waldchen S, Lehmann J, Klein T, van de Linde S and Sauer M 2015 Light induced cell damage in live-cell super-resolution microscopy. Sci. Rep. 5 15348
Additional information
Corresponding editor: BJ RAO
Corresponding editor: BJ RAO
About this article
Cite this article
Ojha, A., Ojha, N.K. Excitation light-induced phototoxicity during fluorescence imaging. J Biosci 46, 78 (2021). https://doi.org/10.1007/s12038-021-00193-z
Received:

Accepted:

Published:
Keywords
Excitation light

fluorescence microscopy

fluorescent proteins

phototoxicity

reactive oxygen species