Abstract
Very large and stable, socially coherent primate groups, not including fission-fusion societies, are usually rare in nature, owing to constraints imposed by various ecological and social factors. Moreover, unlike species in open habitats, those in forests tend to have smaller groups, and this becomes further accentuated in small and fragmented forest patches. We report here an unusually large troop of stump-tailed macaques Macaca arctoides from the Hollongapar Gibbon Sanctuary, a small and isolated lowland tropical rainforest patch in the Upper Brahmaputra Valley of northeastern India – this is possibly the largest wild group of the species recorded anywhere across its distribution range. We hypothesise the potential factors driving the formation of such a large social group of this vulnerable cercopithecine primate and discuss the conservation implications of this phenomenon.
Graphic abstract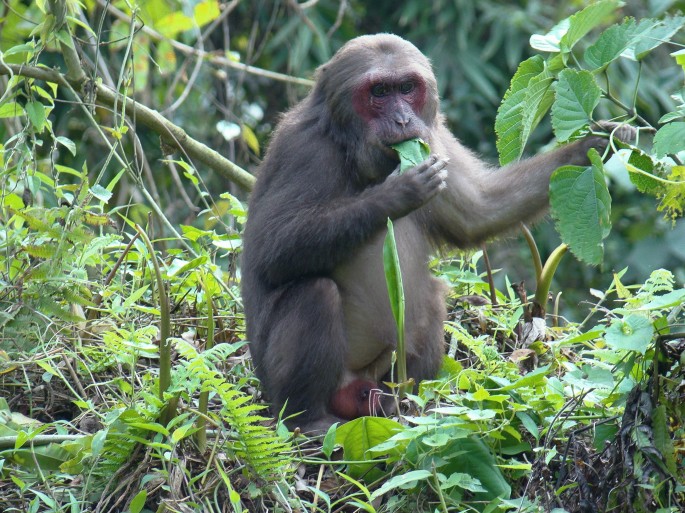 Access options
Buy single article
Instant access to the full article PDF.
USD 39.95
Price includes VAT (USA)
Tax calculation will be finalised during checkout.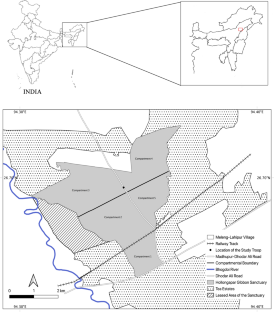 References
Abernethy KA, White LJT and Wickings EJ 2002 Hordes of mandrills (Mandrillus sphinx): extreme group size and seasonal male presence. J. Zool. 258 131–137

Alexander RD 1974 The evolution of social behavior. Annu. Rev. Ecol. Syst. 5 325–383

Beauchamp G and Cabana G 1990 Group size variability in primates. Primates 31 171–182

Bhashyam S 2016 Seasonal and Inter-individual Variability in Foraging Behaviour of Stump-tailed Macaques Macaca arctoides. Master's thesis, National Centre for Biological Sciences, Tata Institute of Fundamental Research, Bangalore, India

Blanford WT 1888 The Fauna of British India, Mammalia (London: Taylor and Francis)

Chapman CA and Chapman LJ 2000 Constraints on group size in red colobus and red-tailed guenons: examining the generality of the ecological constraints model. Int. J. Primatol. 21 565–585

Chetry D, Medhi R and Bhattacherjee P 2003 Anti-predator behaviour of stumptail macaques in Gibbon Wildlife Sanctuary, Assam, India. Asian Primates 8 20–22

Clutton-Brock TH and Harvey PH 1977 Primate ecology and social organization. J. Zool. 183 1–39

Dhawale AK, Kumar MA and Sinha A 2020 Changing ecologies, shifting behaviours: behavioural responses of a rainforest primate, the lion-tailed macaque Macaca silenus, to a matrix of anthropogenic habitats in southern India. PLoS One 15 e0238695

Donati G, Kesch K, Ndremifidy K, Schmidt SL, Ramanamanjato J-B, Borgognini-Tarli SM and Ganzhorn JU 2011 Better few than hungry: flexible feeding ecology of collared lemurs Eulemur collaris in littoral forest fragments. PLoS One 6 e19807

Dunbar RIM 1996 Determinants of group size in primates: a general model; in Evolution of Social Behaviour Patterns in Primates and Man, Proceedings of the British Academy, Vol 88 (Oxford and New York: Oxford University Press) pp 33–57

Eudey AA 1981 Morphological and ecological characters in sympatric populations of Macaca in the Dawna Range; in Primate Evolutionary Biology (eds) Chiarelli AB and Corruccini RS (Berlin and Heidelberg: Springer) 44–50

Fichtel C 2012 Predation; in The Evolution of Primate Societies (eds) Mitani J, Call J, Kappeler PM, Palombit RA and Silk JB (Chicago and London: University of Chicago Press) pp 169–194

Fooden J 1967 Complementary specialization of male and female reproductive structures in the bear macaque, Macaca arctoides. Nature 214 939–941

Fooden J 1990 The bear macaque, Macaca arctoides: a systematic review. J. Hum. Evol. 19 607–686

Fooden J, Guoqiang Q, Zongren W and Yingxiang W 1985 The stumptail macaques of China. Am. J. Primatol. 8 11–30

Hamilton WD 1971 Geometry for the selfish herd. J. Theor. Biol. 31 295–311

Hayward MW, Henschel P, O'Brien J, Hofmeyr M, Balme G and Kerley GIH 2006 Prey preferences of the leopard (Panthera pardus). J. Zool. 270 298–313

Henzi SP and Barrett L 2005 The historical socioecology of savanna baboons (Papio hamadryas). J. Zool. 265 215–226

Isbell LA 1994 Predation on primates: ecological patterns and evolutionary consequences. Evol. Anthropol. 3 61–71

Krishna BA, Singh M and Singh M 2006 Population dynamics of a group of lion-tailed macaques (Macaca silenus) inhabiting a rainforest fragment in the Western Ghats, India. Folia Primatol. 77 377–386

Lehmann J, Korstjens AH and Dunbar RIM 2007 Group size, grooming and social cohesion in primates. Anim. Behav. 74 1617–1629

Malaivijitnond S and Hamada Y 2005 A new record of stump-tailed macaques in Thailand and the sympatry with long-tailed macaques. Nat. Hist. J. Chulalongkorn Univ. 5 93–96

Marsh LK and Chapman CA 2013 Primates in Fragments: Complexity and Resilience, Developments in Primatology: Progress and Prospects (New York: Springer Science+Business Media)

Marsh C, Link A, King-Bailey G and Donati G 2016 Effects of fragment and vegetation structure on the population abundance of Ateles hybridus, Alouatta seniculus and Cebus albifrons in Magdalena Valley. Colombia. Folia Primatol. 87 17–30

McCann C 1933 Notes on some Indian macaques. J. Bombay Nat. Hist. Soc. 36 796–810

Medway L 1969 The Wild Mammals of Malaya and Offshore Islands including Singapore (Kuala Lampur: Oxford University Press)

Mills JP 1923 Bombay Natural History Society's Mammal Survey of India, Burma and Ceylon. Report No. 36. Naga Hills. J. Bombay Nat. Hist. Soc. 29 221–229

Mitani JC, Call J, Kappeler PM, Palombit RA and Silk JB 2012 The Evolution of Primate Societies (Chicago: University of Chicago Press)

Mukherjee RP 1983 Survey of non-human primates of Tripura, India. J. Zool. Soc. India 34 70–81

Nekaris KAI 2014 Extreme primates: ecology and evolution of Asian lorises. Evol. Anthropol. 23 177–187

Rodriguez-Toledo EM, Mandujano S and García-Orduña F 2003 Relationships between forest fragments and howler monkeys (Alouatta palliata mexicana) in southern Veracruz, Mexico; in Primates in Fragments: Ecology and Conservation (ed) Marsh LK (New York: Springer Science+Business Media) pp 79–97

Schwarzkopf L and Rylands AB 1989 Primate species richness in relation to habitat structure in Amazonian rainforest fragments. Biol. Conserv. 48 1–12

Sharma N 2012 Primates on the Edge: Ecology and Conservation of Primate Assemblages in the Fragmented Lowland Rainforests of the Upper Brahmaputra Valley, Northeastern India. Doctoral thesis, National Institute of Advanced Studies, Bangalore and Manipal University, Manipal, India

Sharma N, Madhusudan MD, Sarkar P, Bawri M and Sinha A 2012 Trends in extinction and persistence of diurnal primates in the fragmented lowland rainforests of the Upper Brahmaputra Valley, northeastern India. Oryx 46 308–311

Sharma N, Madhusudan MD and Sinha A 2014 Local and landscape correlates of primate distribution and persistence in the remnant lowland rainforests of the Upper Brahmaputra Valley, northeastern India. Conserv. Biol. 28 95–106

Sharma N, Sharma A, Deka B and Sinha A 2020 Chronic extraction of forest resources is threatening a unique wildlife habitat of Upper Brahmaputra Valley, northeastern India. Curr. Sci. 119 1042–1045

Siama Z and Solanki GS 2016 Sleeping site selection in wild stump-tailed macaques. Curr. Sci. 110 157–158

Singh M, Singh M, Kumar MA, Kumara HN, Sharma AK and Kaumanns W 2002 Distribution, population structure, and conservation of lion-tailed macaques (Macaca silenus) in the Anaimalai Hills, Western Ghats, India. Am. J. Primatol. 57 91–102

Sinha A 2005 Not in their genes: phenotypic flexibility, social traditions and cultural evolution in wild bonnet macaques. J. Biosci. 30 51–64

Sinha A 2017 Scio ergo sum: knowledge of the self in a nonhuman primate. J. Indian Inst. Sci. 97 567–582

Sinha A, Mukhopadhyay K, Datta-Roy A and Ram S 2005 Ecology proposes, behaviour disposes: ecological variability in social organization and male behavioural strategies among wild bonnet macaques. Curr. Sci. 89 1166–1179

Smuts BB, Cheney DL, Seyfarth RM, Wrangham RW and Struhsaker TT 1987 Primate Societies (Chicago: University of Chicago Press)

Struhsaker TT 1981 Census methods for estimating densities; in Techniques for the Study of Primate Population Ecology (eds) Eisenberg J and Struhsaker T (Washington DC: National Academy Press) pp 36–80

Treesucon U 1988 A survey of stump-tailed macaques (Macaca arctoides) in Thailand. Nat. Hist. Bull. Siam. Soc. 36 61–70

Umapathy G, Hussain S and Shivaji S 2011 Impact of habitat fragmentation on the demography of lion-tailed macaque (Macaca silenus) populations in the rainforests of Anamalai Hills, Western Ghats, India. Int. J. Primatol. 32 889–900

Van Schaik CP and Hörstermann M 1994 Predation risk and the number of adult males in a primate group: a comparative test. Behav. Ecol. Sociobiol. 35 261–272

Van Schaik CP and Noordwijk MA 1989 The special role of male Cebus monkeys in predation avoidance and its effect on group composition. Behav. Ecol. Sociobiol. 24 265–276

Wrangham RW 1980 An ecological model of female-bonded primate groups. Behaviour 75 262–300

Zuberbühler K and Jenny D 2002 Leopard predation and primate evolution. J. Hum. Evol. 42 873–886

Zunino GE, Kowalewski MM, Oklander LI and González V 2007 Habitat fragmentation and population size of the black and gold howler monkey (Alouatta caraya) in a semideciduous forest in northern Argentina. Am. J. Primatol. 69 966–975
Acknowledgements
We are grateful to the late Noren Bhuyan, Dilip Baruah, Jiban Sharma and Sajan Ganju for their help in collecting field data, the Assam Forest Department for research permits, the Corbett Foundation for funding this study, and an anonymous referee, whose comments significantly improved the quality of this paper.
Additional information
We dedicate this paper to the late Noren Bhuyan, our Noren da, who was one of our most able guides in the forest and an ever-trusted friend.
Corresponding editor: BJ Rao
Communicated by BJ RAO.
Supplementary Information
Below is the link to the electronic supplementary material.
Supplementary file2 (MP4 91914 KB)
About this article
Cite this article
Sharma, N., Bawri, M., Das, D. et al. Size matters! The largest wild stump-tailed macaque Macaca arctoides troop ever reported, located in the Hollongapar Gibbon Sanctuary, northeastern India. J Biosci 46, 39 (2021). https://doi.org/10.1007/s12038-021-00157-3
Received:

Accepted:

Published:
Keywords
Lowland rainforest fragment

Predation risk

Upper Brahmaputra Valley

Assam