Abstract
In primates, males compete for a mate, which is a non-sharable resource. This makes the conditions less conducive for males to have stable relationships. One such special kind of relationship is a bond where the interactions are reciprocated, equitable and differentiated. Bonds in macaque societies are based on the degree of within-group contest competition for mates which is dependent on the synchronization of female fertile phase and reliability of fertility signals. Species of the Fascicularis group, including Nicobar subspecies, show intermediate reliability in the signals with mild peaks, and studies have shown reciprocity but no differentiation. We conducted a study on a group of wild Nicobar long-tailed macaques Macaca fascicularis umbrosus to understand the existing patterns of male-male relationships. We examined whether there is reciprocity in affiliation among the individuals and whether the rate of affiliation is balanced. We also measured the dominance linearity and steepness in the group to understand the monopolizability of females. We used social network analysis to understand whether the relations are differentiated based on hierarchical position and whether the high-ranking individuals are the most central individuals in the distribution of grooming in the group. We found that there is reciprocity among the males although that is not equitable. There was no rank-related differentiation of affiliation among the males of the group. Instead, the identities of individuals influenced affiliation patterns. Our results correspond to the existent strong relationships but lack of social bond otherwise found in the Fascicularis group of macaques.
Access options
Buy single article
Instant access to the full article PDF.
US$ 39.95
Tax calculation will be finalised during checkout.
Subscribe to journal
Immediate online access to all issues from 2019. Subscription will auto renew annually.
US$ 79
Tax calculation will be finalised during checkout.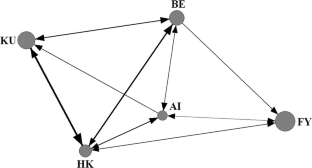 References
Adiseshan A, Adiseshan T and Isbell LA 2011 Affiliative relationships and reciprocity among adult male bonnet macaques (Macaca radiata) at Arunachala Hill, India. Am. J. Primatol. 73 1107–1113

Altmann J 1974 Observational study of behavior: sampling methods. Behaviour 49 227–266

Aujard F, Heistermann M, Thierry B and Hodges JK 1998 Functional significance of behavioral, morphological, and endocrine correlates across the ovarian cycle in semifree ranging female Tonkean macaques. Am. J. Primatol. 46 285–309

Aureli F 1992 Post-conflict behaviour among wild long-tailed macaques (Macaca fascicularis) Behav. Ecol. Sociobiol. 31 329–337

Bates D, Maechler M, Bolker B and Walker S 2015 lme4: Linear mixed-effects models using Eigen and S4. R package version 1 1–21

Berghänel A, Ostner J, Schröder U and Schülke O 2011 Social bonds predict future cooperation in male Barbary macaques, Macaca sylvanus. Anim. Behav. 81 1109–1116

Berghänel A, Schülke O and Ostner J 2010 Coalition formation among Barbary macaque males: the influence of scramble competition. Anim. Behav. 80 675–682

Borgatti SP 2002 NetDraw: Graph Visualization Software. Harvard: Analytic Technologies

Borgatti SP, Everett MG and Freeman LC 2002 Ucinet for Windows: Software for social network analysis

Carnes LM, Nunn CL and Lewis RJ 2011. Effects of the distribution of female primate on the number of males. PLoS One 6 e19853

Cords M 2002 Friendship among adult female blue monkeys (Cercopithecus mitis). Behaviour 139 291–3 14

Curley JP 2016 compete: Analyzing Social Hierarchies: R package version 0.1

David HA 1987 Ranking from unbalanced paired comparison data, Biometrika 74 432–436

David HA 1988 The method of paired comparisons (London: Charles Griffin)

Dekker D, Krackhardt D and Snijders TA 2007 Sensitivity of MRQAP tests to collinearity and autocorrelation conditions. Psychometrika 72 563–581

de Vries H 1995 An improved test of linearity in dominance hierarchies containing unknown or tie relationships. Anim. Behav. 50 1375–1389

de Vries H, Stevens JM and Vervaecke H 2006 Measuring and testing the steepness of dominance hierarchies. Anim. Behav. 71 585–592

Dubuc C, Brent LJ, Accamando AK, Gerald MS, MacLarnon A, Semple S, Heistermann M and Engelhardt A 2009 Sexual skin color contains information about the timing of the fertile phase in free-ranging Macaca mulatta. Int. J. Primatol. 30 777–789

Engelhardt A, Pfeifer JB, Heistermann M, Niemitz C, van Hooff JA and Hodges JK 2004 Assessment of female reproductive status by male longtailed macaques, Macaca fascicularis, under natural conditions. Anim. Behav. 67 915–924

Fooden J 1995 Systematics review of Southeast Asian longtail macaques, Macaca fascicularis (Raffles, 1821). Fieldiana Zool. 81 2–3

Fürtbauer I, Schülke O, Heistermann M and Ostner J 2010 Reproductive and life history parameters of wild female Macaca assamensis. Int. J. Primatol. 31 501–517

Hemelrijk CK 1990a Models of, and tests for, reciprocity, unidirectional and other social interaction patterns at a group level. Anim. Behav. 39 1013–1029

Hemelrijk CK 1990b A Matrix Partial Correlation Test used in investigations of reciprocity and other social interaction patterns at group level. J. Theor. Biol. 143 405–420

Hemelrijk CK, Wantia J and Daetwyler M 2003 Female co-dominance in a virtual world: Ecological, cognitive, social and sexual causes. Behaviour 140 1247–1273

Hemelrijk CK, Wantia J and Gygax L 2005 The construction of dominance order: comparing performance of five different methods using an individual-based model. Behaviour 142 1043–1064

Hemelrijk CK, Wantia J and Isler K 2008 Female dominance over males in primates: Self-organisation and sexual dimorphism. PLoS ONE 3 e2678

Higham JP and Maestripieri D 2010 Revolutionary coalitions in male rhesus macaques. Behaviour 147 1889–1908

Hill D 1994 Affiliative behaviour between adult males of the genus Macaca. Behaviour 130 293–3 07

Hinde RA 1976 Interactions, relationships and social structure. Man 11 1–17

Hinde RA 1987 Individuals, relationships and culture: Links between ethology and the social sciences (CUP Archive)

Kaumanns W and Singh M 2012 Social relationships among lion-tailed macaque (Macaca silenus) males in differently structured social units. Curr. Sci. 102 1451–1455

Krishna BA, Singh M and Singh M 2006 Population dynamics of a group of lion-tailed macaques (Macaca silenus) inhabiting a rainforest fragment in the Western Ghats, India. Folia Primatol. 77 377–386

Landau HG 1951 On dominance relations and structure of animal societies: 1. Effect of inherent characteristics. Bull. Math. Biophys. 13 1–19

Lazarsfeld PF and Merton RK 1954 Friendship as a social process: A substantive and methodological analysis. In Berger M (ed) Freedom and Control Modern Society (van Nostrand, Unuversity of Michigan) pp. 18–66

Maestripieri D and Roney JR 2005 Primate copulation calls and postcopulatory female choice. Behav. Ecol. 16 106–113

Micheletta J, Waller BM, Panggur MR, Neumann C, Duboscq J, Agil M and Engelhardt A 2012 Social bonds affect anti-predator behaviour in a tolerant species of macaque, Macaca nigra. Proc. R. Soc. B 279 4042–4050

Nunn CL 1999a The number of males in primate social groups: a comparative test of the socioecological model. Behav. Ecol. Sociobiol. 46 1–13

Nunn CL 1999b The evolution of exaggerated sexual swellings in primates and the gradedsignal hypothesis. Anim. Behav. 58 229–246

O'Neill AC, Fedigan LM and Ziegler TE 2004 Ovarian cycle phase and same‐sex mating behavior in Japanese macaque females. Am. J. Primatol. 63 25–31

Ostner J and Schülke O 2014 The evolution of social bonds in primate males. Behaviour 151 871–906

Ostner J and Kappeler PM 2004 Male life history and the unusual adult sex ratios of redfronted lemur, Eulemur fulvus rufus, groups. Anim. Behav. 67 249–259

Pal A 2018 A study on reproductive behavior of Nicobar long-tailed macaque (Macaca fascicularis umbrosus) in Nicobar Islands, India. PhD dissertation (Manipal Academy of Higher Education, Manipal)

Pal A, Kumara HN, Velankar AD, Mishra PS and Singh M 2018 Demography and birth seasonality in the Nicobar long-tailed macaque (Macaca fascicularis umbrosus). Curr. Sci. 114 1732

Port M, Clough D and Kappeler PM 2009 Market effects offset the reciprocation of grooming in free-ranging redfronted lemurs, Eulemur fulvus rufus. Anim. Behav. 77 29–36

R Development Core Team 2017 R: A language and environment for statistical computing. R Foundation for Statistical Computing, Vienna, Austria (http://www.Rproject.org/)

Schmid VS and de Vries H 2013 Finding a dominance order most consistent with a linear hierarchy: an improved algorithm for the I and SI method. Anim. Behav. 86 1097–1105

Silk JB 1994 Social relationships of male bonnet macaques: male bonding in a matrilineal society. Behaviour 130 271–291

Silk JB 2002 Using the 'F'-word in primatology. Behaviour 139 421

Singh M, Jeyaraj T, Prasanth U and Kaumanns W 2010 Male–male relationships in lion-tailed macaques (Macaca silenus) and bonnet macaques (Macaca radiata). Int. J. Primatol. 32 167–176

Sosa S 2016 The influence of gender, age, matriline and hierarchical rank on individual social position, role and interactional patterns in Macaca sylvanus at 'La Forêt des singes': A multilevel social network approach. Front. Psychol. 7 529

Sosa, S, Zhang, P and Cabanes G 2017 Social networks dynamics revealed by temporal analysis: An example in a non-human primate (Macaca sylvanus) in "La Forêt des Singes". Am. J. Primatol. 79 e22662

Sterck EH, Watts DP and van Schaik CP 1997 The evolution of female social relationships in nonhuman primates. Behav. Ecol. Sociobiol. 41 291–309

Thierry B 2007 Unity in diversity: lessons from macaque societies. Evol. Anthropol. 16 224–238

Umapathy G, Singh M and Mohnot SM 2003 Status and distribution of Macaca fascicularis umbrosa in the Nicobar Islands, India. Int. J. Primatol. 24 281–293

van Schaik CP 1989 The ecology of social relationships amongst female primates. In Standen V and Foley RA (eds) Comparative Socioecology: The Behavioural Ecology of Humans and other Mammals (Oxford, Blackwell Scientific Publications) pp. 195–218

Velankar AD, Kumara HN, Pal A, Mishra PS and Singh M 2016 Population recovery of Nicobar long-tailed macaque Macaca fascicularis umbrosus following a tsunami in the Nicobar Islands, India. PLoS One 11 e0148205

Willems EP, Hellriegel B and van Schaik CP 2013 The collective action problem in primate territory economics. Proc. R. Soc. Lond. B Biol. Sci. 280 20130081

Wrangham RW 1980 An ecological model of female-bonded primate groups. Behaviour 75 262–299

Young C, Hähndel S, Majolo B, Schülke O and Ostner J 2013 Male coalitions and female behaviour affect male mating success independent of dominance rank and female receptive synchrony in wild Barbary macaques. Behav. Ecol. Sociobiol. 67 1665–1677
Acknowledgments
We would like to thank Department of Science and Technology, India, for the financial assistance to HNK (Grant No.SR/SO/AS-49/2011), and Science and Engineering Research Board, India, for the award of SERB Distinguished Fellowship to MS (Grant No. SB/DF-003/2019), for carrying out the project. We sincerely thank Principal Chief Conservator of Forests, Port Blair, Andaman and Nicobar Islands, for granting permission to carry out the study (Permit No. CWLW/WL/134/566) and Assistant Commissioner, Andaman and Nicobar Administration for providing the necessary permits to give access to the tribal areas. We sincerely express our gratitude the Andaman and Nicobar Forest Department, especially the Nicobar division along with the Nicobar Administration for logistical support. We acknowledge the assistance and logistical support from local people of Campbell Bay. We thank Dr PA Azeez, former Director and Dr Kankar, Director, Sálim Ali Centre for Ornithology and Natural History, Coimbatore, for their valuable support. PSM would also like to thank Dr Tha Thayumanavan, Associate Professor, Department of Biotechnology, Kalaignarkarunanidhi Institute of Technology, Coimbatore, for his assistance during the work. We would especially like to pay our sincere gratitude to Dr D Leiva, Dr H de Vries, Dr V Schmidt and Dr CK Hemelrijk for their valuable guidance in the data analysis. We would like to thank Ms Annesa Mishra for her help with the sociograms.
Additional information
Corresponding editor: BJ Rao
Communicated by BJ RAO.
Appendix 1
Appendix 1
Description of the affiliative behaviours:
| | |
| --- | --- |
| Muzzle contact | Muzzle contact is defined as touching the muzzle of another individual by its own muzzle. This behaviour is irrespective of the sex of the individuals |
| Genital touch | This behaviour is defined as touching or holding the penis of another male by an individual. This is an exclusive behaviour between males |
| Silent bared-teeth display | In this behaviour, an individual retracts its lips upwards exposing its teeth to the other individual as a sign of affiliation. This behaviour is also irrespective of the sex of the individuals |
| Sitting in contact | This involves the individuals sitting in close proximity to each other with parts of their bodies touching each other. Although this behaviour is mostly seen among the females, males have been observed to sit in close proximity as well |
| Inspection | This behaviour involves touching and sniffing the genitals of another individual for mating. This behaviour usually involves a male touching and sniffing the sexual swellings of a female |
| Embrace | Embracing is defined as wrapping the forelimbs around another individual while facing it. This behaviour is prevalent in both the sexes |
| Active touch and Passive touch | Active touch involves an individual to intentionally touch another individual using any part of the body. Where, passive touch involves accidental touch by one individual to the other using any part of the body |
| Lip-smacking | Lip-smacking involves pursing of lips with the lower jaw moving up and down in rhythm producing a soft sound audible only at short distances (Micheletta et al. 2012) |
About this article
Cite this article
Mishra, P.S., Pal, A., Velankar, A.D. et al. Do males bond? A study of male-male relationships in Nicobar long-tailed macaques Macaca fascicularis umbrosus. J Biosci 45, 22 (2020). https://doi.org/10.1007/s12038-020-9995-y
Received:

Accepted:

Published:
Keywords
Great Nicobar Island

Macaca fascicularis umbrosus

male–male relationships

mate competition