Abstract
Vitamin D deficiency is identified as a risk factor for the occurrence and recurrence of ovarian cancer. Galectin-3 (Gal-3) participates in many physiological and pathological processes. In present study, serum vitamin D level was detected using chemiluminescence enzyme immunoassay. Gal-3 expression was examined using real-time polymerase chain reaction (PCR), Western blot and immunocytochemistry analysis. SKOV3 cells viability was assessed by the water-soluble tetrazolium salt (WST-1) assay, the migration of SKOV3 cells was detected using transwell assay, and the proliferation of SKOV3 cells was measured by 3H-thymidine incorporation (3H-TdR). Our study demonstrated that vitamin D levels were lower in 40 ovarian cancer patients: vitamin D deficiency is closely related to the pathogenesis of ovarian cancer. Treatment with vitamin D reduced the migration and proliferation of ovarian cancer cells. Gal-3 was overexpressed in ovarian cancer, which could induce the viability, migration and proliferation ability of ovarian cancer cells, and these effects were abrogated by vitamin D downregulating the expression of Gal-3 gene. Therefore, our results support that vitamin D may suppress Gal-3-induced viability, migration and proliferation ability of ovarian cancer cells, which suggests that the use of vitamin D may have beneficial effects in preventing and treating ovarian cancer.
Access options
Buy single article
Instant access to the full article PDF.
US$ 39.95
Tax calculation will be finalised during checkout.
Subscribe to journal
Immediate online access to all issues from 2019. Subscription will auto renew annually.
US$ 79
Tax calculation will be finalised during checkout.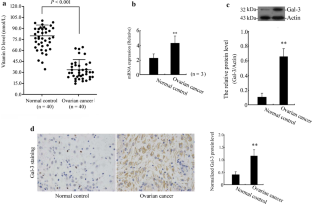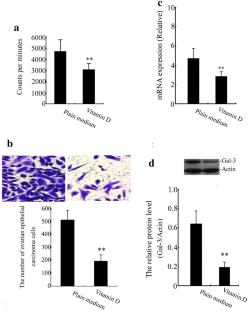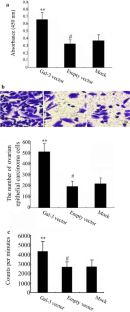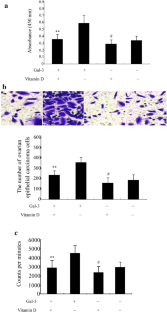 References
Abu-Elsaad NM and Elkashef WF 2016 Modified citrus pectin stops progression of liver fibrosis by inhibiting galectin-3 and inducing apoptosis of stellate cells. Can. J. Physiol. Pharmacol. 94 554–562

Ahmed JH, Makonnen E, Fotoohi A, Yimer G, Seifu D, Assefa M, Tigeneh W, Aseffa A, et al. 2019 Vitamin D status and association of VDR genetic polymorphism to risk of breast cancer in Ethiopia. Nutrients 11 2019

Altundag K 2019 Combined use of vitamin D and omega-3 fatty acid in breast cancer patients might be more beneficial for reducing aromatase inhibitors-associated arthralgia. J. BUON 24 862

Bakhru A, Mallinger JB, Buckanovich RJ and Griggs JJ 2010 Casting light on 25-hydroxyvitamin D deficiency in ovarian cancer: a study from the NHANES. Gynecol. Oncol. 119 314–318

Bi J, Watanabe H, Fujimura R, Nishida K, Nakamura R, Oshiro S, Imafuku T, Komori H, et al. 2018 A downstream molecule of 1,25-dihydroxyvitamin D3, alpha-1-acid glycoprotein, protects against mouse model of renal fibrosis. Sci. Rep. 8 17329

Bull CJ, Yarmolinsky J and Wade KH 2016 Commentary: Mendelian randomization analysis identifies circulating vitamin D as a causal risk factor for ovarian cancer. Int. J. Epidemiol 45 1631–1633

Bustos SO, da Silva Pereira GJ, de Freitas Saito R, Gil CD, Zanatta DB, Smaili SS and Chammas R 2018 Galectin-3 sensitized melanoma cell lines to vemurafenib (PLX4032) induced cell death through prevention of autophagy. Oncotarget 9 14567–14579

Cai L, Luo L, Tang Z and Meng X 2018 Combined antitumor effects of 1,25-dihydroxy vitamin D3 and Notch inhibitor in liver cancer. Oncol. Rep. 40 1515–1524

Ceran MU, Tasdemir U, Colak E and Güngör T 2019 Can complete blood count inflammatory parameters in epithelial ovarian cancer contribute to prognosis? - a survival analysis. J. Ovarian Res. 12 16

Chang SW and Lee HC 2019 Vitamin D and health—The missing vitamin in humans. Pediatr. Neonatol. 60 237–244

Cho H, Kim JY and Oh YL 2018 Diagnostic value of HBME-1, CK19, Galectin 3, and CD56 in the subtypes of follicular variant of papillary thyroid carcinoma. Pathol. Int. 68 605–613

Clark MC, Pang M, Hsu DK, Liu FT, de Vos S, Gascoyne RD, Said J and Baum LG 2012 Galectin-3 binds to CD45 on diffuse large B-cell lymphoma cells to regulate susceptibility to cell death. Blood 120 4635–4644

Coppin L, Vincent A, Frénois F, Duchêne B, Lahdaoui F, Stechly L, Renaud F, Villenet C, et al. 2017 Galectin-3 is a non-classic RNA binding protein that stabilizes the mucin MUC4 mRNA in the cytoplasm of cancer cells. Sci. Rep. 7 43927

Dos Santos SN, Sheldon H, Pereira JX, Paluch C, Bridges EM, El-Cheikh MC, Harris AL and Bernardes ES 2017 Galectin-3 acts as an angiogenic switch to induce tumor angiogenesis via Jagged-1/Notch activation. Oncotarget 8 49484–49501

Gomes TL, Fernandes RC, Vieira LL, Schincaglia RM, Mota JF, Nóbrega MS, Pichard C and Pimentel GD 2019 Low vitamin D at ICU admission is associated with cancer, infections, acute respiratory insufficiency, and liver failure. Nutrition 60 235–240

Granato T, Manganaro L, Petri L, Porpora MG, Viggiani V, Angeloni A and Anastasi E 2016 Low 25-OH vitamin D levels at time of diagnosis and recurrence of ovarian cancer. Tumour Biol. 37 2177–2181

Huang CX, Zhao JN, Zou WH, Li JJ, Wang PC, Liu CH and Wang YB 2014 Reduction of galectin-3 expression reduces pituitary tumor cell progression. Genet. Mol. Res. 13 6892–6898

Kuittinen T, Rovio P, Staff S, Luukkaala T, Kallioniemi A, Grénman S, Laurila M and Mäenpää J 2017 Paclitaxel, Carboplatin and 1,25-D3 inhibit proliferation of endometrial cancer cells in vitro. Anticancer Res. 37 6575–6581

Li D, Wang X, Wu JL, Quan WQ, Ma L, Yang F, Wu KY and Wan HY 2013 Tumor-produced versican V1 enhances hCAP18/LL-37 expression in macrophages through activation of TLR2 and vitamin D3 signaling to promote ovarian cancer progression in vitro. PLoS ONE 8 e56616

Lin YC, Lee HH, Tseng SC, Lin KD, Tseng LP, Lee JF, Lee YH and Chen BH 2019 Quantitation of serum 25(OH) D2 and 25(OH) D3 concentrations by liquid chromatography tandem mass spectrometry in patients with diabetes mellitus. J. Food Drug Anal. 27 510–517

Liu L, Hu Z, Zhang H, Hou Y, Zhang Z, Zhou G and Li B 2016 Vitamin D postpones the progression of epithelial ovarian cancer induced by 7, 12-dimethylbenz [a] anthracene both in vitro and in vivo. Onco Targets Ther. 9 2365–2375

May T, Comeau R, Sun P, Kotsopoulos J, Narod SA, Rosen B and Ghatage P 2017 A comparison of survival outcomes in advanced serous ovarian cancer patients treated with primary debulking surgery versus neoadjuvant chemotherapy. Int. J. Gynecol. Cancer 27 668–674

Nakajima K, Heilbrun LK, Hogan V, Smith D, Heath E and Raz A 2016 Positive associations between galectin-3 and PSA levels in prostate cancer patients: a prospective clinical study-I. Oncotarget 7 82266–82272

Posa F, Di Benedetto A, Colaianni G, Cavalcanti-Adam EA, Brunetti G, Porro C, Trotta T, Grano M, et al. 2016 Vitamin D effects on osteoblastic differentiation of mesenchymal stem cells from dental tissues. Stem Cells Int. 2016 9150819

Rago T, Scutari M, Loiacono V, Santini F, Tonacchera M, Torregrossa L, Giannini R, Borrelli N, et al. 2017 Low elasticity of thyroid nodules on ultrasound elastography is correlated with malignancy, degree of fibrosis, and high expression of Galectin-3 and Fibronectin-1. Thyroid 27 103–110

Schulz H, Schmoeckel E, Kuhn C, Hofmann S, Mayr D, Mahner S and Jeschke U 2017 Galectins-1, -3, and -7 are prognostic markers for survival of ovarian cancer patients. Int. J. Mol. Sci. 18 1230

Stiasny A, Freier CP, Kuhn C, Schulze S, Mayr D, Alexiou C, Janko C, Wiest I, et al. 2017 The involvement of E6, p53, p16, MDM2 and Gal-3 in the clinical outcome of patients with cervical cancer. Oncol. Lett. 14 4467–4476

Takenaka Y, Fukumori T, Yoshii T, Oka N, Inohara H, Kim HR, Bresalier RS and Raz A 2004 Nuclear export of phosphorylated galectin-3 regulates its antiapoptotic activity in response to chemotherapeutic drugs. Mol. Cell Biol. 24 4395–4406

Topcu TO, Kavgaci H, Gunaldi M, Kocoglu H, Akyol M, Mentese A, Yaman SO, Orem A, et al. 2018 The clinical importance of serum galectin-3 levels in breast cancer patients with and without metastasis. J. Cancer Res. Ther. 14 S583–S586

Vaughan-Shaw PG, Zgaga L, Theodoratou E, Blackmur JP and Dunlop MG 2019 Whether vitamin D supplementation protects against colorectal cancer risk remains an open question. Eur. J. Cancer 115 1–3

Wang HS and Wang LH 2015 The expression and significance of Gal-3 and MUC1 in colorectal cancer and colon cancer. Onco. Targets Ther. 8 1893–1898

Zhang J, Yang S, Xu B, Wang T, Zheng Y, Liu F, Ren F, Jiang J, et al. 2019 p62 functions as an oncogene in colorectal cancer through inhibiting apoptosis and promoting cell proliferation by interacting with the vitamin D receptor. Cell Prolif. 52 e12585

Zhang L, Luo M, Yang H, Zhu S, Cheng X and Qing C 2019 Next-generation sequencing-based genomic profiling analysis reveals novel mutations for clinical diagnosis in Chinese primary epithelial ovarian cancer patients. J. Ovarian Res. 12 19
Acknowledgements
This work was supported by the National Natural Science Foundation of China; Contract Grant Number: 81571437. Nanjing Health Bureau Medical Science Foundation (No. YKK16203)
Additional information
Corresponding editor: Kundan Sengupta
Communicated by Kundan Sengupta.
Electronic supplementary material
Below is the link to the electronic supplementary material.
About this article
Cite this article
Ji, J., Cheng, X., Wang, W. et al. Vitamin D regulates cell viability, migration and proliferation by suppressing galectin-3 (Gal-3) gene in ovarian cancer cells. J Biosci 45, 69 (2020). https://doi.org/10.1007/s12038-020-00038-1
Received:

Accepted:

Published:
Keywords
Galectin-3 (Gal-3)

migration

proliferation

ovarian cancer

viability

vitamin D