Abstract
Numerous studies have been carried out on different aspects of the light from summer-active fireflies. Characteristics of this light have led to very interesting conclusions on the chemiluminescence reaction as well as on the nature of the light from live fireflies. Here we present a first report on bioluminescence emissions from a newly found winter-active Indian species of firefly Diaphanes sp. The steady-state emission spectrum from this species comes out to be apparently similar to those from the other two Indian summer species, Luciola praeusta and Asymmetricata circumdata: asymmetric in nature with a little bit of change in the position of the peak wavelength and in the width of the full width at half maximum. An increase in temperature to approximately 28°C causes a red-shift in the peak wavelength, which probably indicates denaturation of the enzyme luciferase in the live, flashing condition. Emissions in the time domain reveal that the light is never completely off – it decreases in intensity to a low value, sometimes very close to zero, and then increases – a characteristic unheard-of till date. Flash durations are considerably longer than those from the two Indian summer species; those become shorter at about 28°C and increase to noticeably larger values at higher temperatures.
Access options
Buy single article
Instant access to the full article PDF.
US$ 39.95
Tax calculation will be finalised during checkout.
Subscribe to journal
Immediate online access to all issues from 2019. Subscription will auto renew annually.
US$ 79
Tax calculation will be finalised during checkout.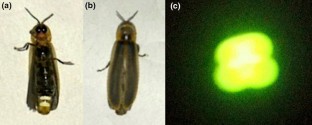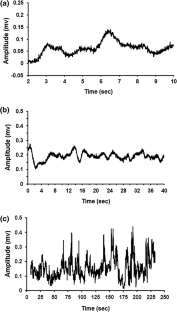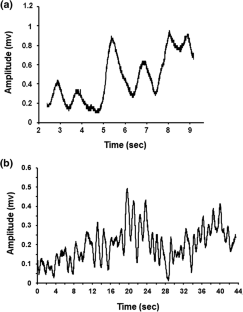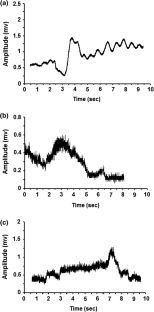 References
Ando Y, Niwa K, Yamada N, Enomoto T, Irie T, Kubota H, Ohmiya Y and Akiyama H 2008 Firefly bioluminescence quantum yield and colour change by pH-sensitive green emission. Nat. Photonics 2 44–47

Baumes JM 2010 Storable, thermally activated, near-infrared chemiluminescent dyes and dye-stained microparticles for optical imaging. Nat. Chem. 2 1025–1030

Block W 1990 Cold tolerance of insects and other arthropods. Philos. T. R. Soc. B 326 613–633

Carlson AD 2004 Is the firefly flash regulated by calcium? Integr. Comp. Biol. 44 220–224

Clough JM, Balan A, van Daal TLJ and Sijbesma RP 2016 Probing force with mechanobase-induced chemiluminescence. Angew. Chem. Int. Ed. 55 1445–1449

Dyrup ST, Risteen RG, Tonyai KK, Farrar M A, D'Antonio B E, Ahmed Z B, Christofel B T, Howells N R and Smedley S R 2017 Escape into winter: Does a phonelogical shift by Elychnia corrusca (winter firefly) shield it from a specialist predator (photuris)? Northeast. Nat. 24 B147–B166

Fan F, Binkowski BF, Butler BL, Stecha PF, Lewis MK and Wood KV 2008 Novel genetically encoded biosensors using firefly luciferase. ACS Chem. Biol. 3 346–351

Fu X-H, Wang J-G, Ohba N and Lei C-L 2005 The signals of bioluminescent communication in fireflies (Coleoptera : Lampyridae). Acta Ecol. Sin. 25 1439–1444

Gabriel GVM and Viviani VR 2014 Novel application of pH-sensitive firefly luciferases as dual reporter genes for simultaneous ratiometric analysis of intracellular pH and gene expression/location. Photochem. Photobiol. Sci. 13 1661–1670

Gohain Barua A, Hazarika S, Saikia NM and Baruah GD 2009 Bioluminescence emissions of the firefly Luciola praeusta Kiesenwetter 1874 (Coleoptera : Lampyridae : Luciolinae). J. Biosci. 34 287–292

Gohain Barua A, Iwasaka M, Miyashita Y, Kurita Y and Owada N 2012 Firefly flashing under strong static magnetic field. Photochem. Photobiol Sci. 11 345–350

Goswami A, Sharma U, Rabha MM, Rajbongshi SC and Gohain Barua A 2015 Steady-state and time-resolved bioluminescence of the firefly Asymmetricata circumdata (Motschulsky). Curr. Sci. 109 1838–1842

Goswami A, Phukan P and Gohain Barua A 2019 Manifestation of peaks in a live firefly flash. J. Fluoresc. 29 505–513

Goswami A and Gohain Barua A 2019 In vivo lifetimes of the three color-sectors in bioluminescence emissions of the firefly Luciola praeusta at different temperatures. Spectrosc. Lett. 52 253–260

Lakowicz JR 1999 Principles of Fluorescence Spectroscopy 2nd Edn. (New York: Springer) pp 14–15

Lall AB, Seliger HH, Biggley WH and Lloyd JE 1980 Ecology of colors of firefly bioluminescence. Science 210 560–562

Leng W, Pang X, Xia H, Li M, Chen L, Tang Q, Yuan D, Li R, Li L, Gao F and Bi F 2013 Novel split-luciferase-based genetically encoded biosensors for noninvasive visualization of Rho GTPases. Plos One 8 e62230

Lewis SM and Cratsley CK 2008 Signal evolution, mate choice, and predation in fireflies. Annu. Rev. Entomol. 53 293–321

Lloyd JE 1965 Aggressive mimicry in Photuris: firefly femmes fatales. Science 149 653–654

Lloyd JE 1975 Aggressive mimicry in Photuris fireflies: signal repertoires by femmes fatales. Science 187 452–453

Lloyd JE 1993 The winter firefly. Fireflyer Companion 1 11

Ichioka S, Minegishi M, Iwasaka M, Shibata M, Nakatsuka T, Harii K, Kamiya A and Ueno S 2000 High-intensity static magnetic fields modulate skin microcirculation and temperature in vivo. Bioelectromagnetics 21 183–188

Mezzanotte L, van't Root M, Karatas H, Goun EA and Löwik CWGM 2017 In vivo molecular bioluminescence imaging: new tools and applications. Trends Biotechnol. 35 640–652

Rabha MM, Sharma U, Goswami A and Gohain Barua A 2017 Bioluminescence emissions of female fireflies of the species Luciola praeusta. J. Photochem. Photobiol. B: Biol. 170 134–139

Rooney JA and Lewis SM 2000 Notes on the life history and mating behavior of Ellychnia corrusca (Coloeptera: Lampyridae). Fla. Entomol. 83 324–334

Seliger HH, Buck JB, Fastie WG and McElroy WD 1964 The spectral distribution of firefly light. J. Gen. Physiol. 48 95–104

Sharma U, Goswami A, Rabha MM and Gohain Barua A 2016 In vivo bioluminescence emissions of the firefly Luciola praeusta at low temperatures. J. Photochem. Photobiol. B: Biol. 161 383–386

Sharma U, Goswami A, Phukan M, Rajbongshi SC and Gohain Barua A 2014 Temperature dependence of the flash duration of the firefly Luciola praeusta. Photochem. Photobiol. Sci. 13 1788–1792

Shuhendler AJ, Pu K, Cui L, Uetrecht JP and Rao J 2014 Real-time imaging of oxidative and nitrosative stress in the liver of live animals for drug-toxicity testing. Nat. Biotechnol. 32 373–380

Viviani VR 2001 Fireflies (Coleoptera: Lampyridae) from southeastern Brazil: habitats, life history, and bioluminescence. Ann. Entomol. Soc. Am. 94 129–145

Wu X, Chen Q, Sun Y and Fan X 2013 Bio-inspired optofluidic lasers with luciferin. Appl. Phys. Lett. 102 203706
Acknowledgements
This work was supported by Science and Engineering Research Board, Department of Science and Technology, India (No. CRG/2018/001430). We thank Dr. Lezley Ballantyne, Charles Sturt University, Australia, for suggesting the name of Dr. Xinhua Fu for identification of the species.
Additional information
Corresponding editor: BJ Rao
Corresponding editor: BJ Rao
Electronic supplementary material
Below is the link to the electronic supplementary material.
About this article
Cite this article
Rabha, M.M., Sharma, U. & Gohain Barua, A. Bioluminescence emissions from the Indian winter species of firefly Diaphanes sp.. J Biosci 45, 61 (2020). https://doi.org/10.1007/s12038-020-00033-6
Received:

Accepted:

Published:
Keywords
Diaphanes sp.

emission peak red shift

continuous flash train

reaction speed