Abstract
Ayurveda is a holistic medical system of traditional medicine, and Triphala is one of the most popular formulations in Ayurveda. Triphala is composed of three kinds of herb, Terminalia chebula, Terminalia bellirica, and Emblica officinalis. Since Triphala is shown to exhibit a protective activity against ionizing radiation in mice, we investigated its activity in HeLa cells. We found that Triphala showed the protective effects against X-radiation and bleomycin, both of which generate DNA strand breaks, in HeLa cells. Further, Triphala efficiently eliminated reactive oxygen species (ROS) in HeLa cells. Thus, the antioxidant activity of Triphala would likely play a role in its protective actions against X-radiation and bleomycin because both agents damage DNA through the generation of ROS. These observations suggested that the radioprotective activity of Triphala can be, at least partly, studied with the cells cultured in vitro. The simple bioassay system with human cultured cells would facilitate the understanding of the molecular basis for the beneficial effects of Triphala.
This is a preview of subscription content, log in to check access.
Access options
Buy single article
Instant access to the full article PDF.
US$ 39.95
Price includes VAT for USA
Subscribe to journal
Immediate online access to all issues from 2019. Subscription will auto renew annually.
US$ 99
This is the net price. Taxes to be calculated in checkout.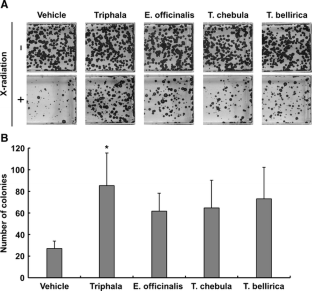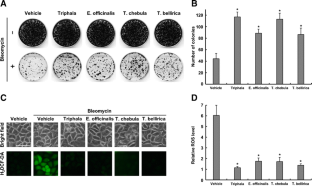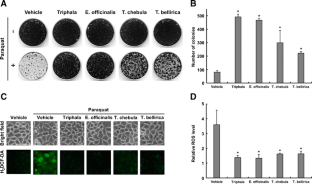 References
Alper T 1979 Cellular biology (London: Cambridge Univ. Press)

Bacq ZM, Herve A, Lecomte J, Fischer P and Blavier J 1951 Protection against x-rays by beta-mercaptoethylamine. Arch. Int. Physiol. 59 442–447

Baliga MS, Meera S, Mathai B, Rai MP, Pawar V and Palatty PL 2012 Scientific validation of the ethnomedicinal properties of the Ayurvedic drug Triphala: a review. Chin. J. Integr. Med. 18 946–954

Biradar YS, Singh R, Sharma K, Dhalwal K, Bodhankar SL and Khandelwal KR 2007 Evaluation of anti-diarrhoeal property and acute toxicity of Triphala Mashi, an Ayurvedic formulation. J. Herb. Pharmacother. 7 203–212

Bus JS, Aust SD and Gibson JE 1974 Superoxide- and singlet oxygen-catalyzed lipid peroxidation as a possible mechanism for paraquat (methyl viologen) toxicity. Biochem. Biophys. Res. Commun. 58 749–755

Deep G, Dhiman M, Rao AR and Kale RK 2005 Chemopreventive potential of Triphala (a composite Indian drug) on benzo(a)pyrene induced forestomach tumorigenesis in murine tumor model system. J. Exp. Clin. Cancer Res. CR. 24 555–563

Derlinger H and Jung H 1970 Molecular radiation biology (New YorkHeidelberg, Berlin: Springer-Verlag)

Gautam AK, Avasthi S, Sharma A and Bhadauria R 2012 Antifungal potential of triphala churna ingredients against Aspergillus species associated with them during storage. Pak. J. Biol. Sci. PJBS. 15 244–249

Gurjar S, Pal A and Kapur S 2012 Triphala and its constituents ameliorate visceral adiposity from a high-fat diet in mice with diet-induced obesity. Altern. Ther. Health Med. 18 38–45

Harris AW and Lowenthal JW 1982 Cells of some cultured lymphoma lines are killed rapidly by x-rays and by bleomycin. Int. J. Radiat. Biol. Relat. Stud. Phys. Chem. Med. 42 111–116

Jagetia GC, Baliga MS, Malagi KJ and Sethukumar Kamath M 2002 The evaluation of the radioprotective effect of Triphala (an ayurvedic rejuvenating drug) in the mice exposed to gamma-radiation. Phytomed. Int. J. Phytother. Phytopharmacol. 9 99–108

Jagetia GC, Malagi KJ, Baliga MS, Venkatesh P and Veruva RR 2004 Triphala, an ayurvedic rasayana drug, protects mice against radiation-induced lethality by free-radical scavenging. J. Altern. Complement. Med. 10 971–978

Joguchi A, Otsuka I, Minagawa S, Suzuki T, Fujii M and Ayusawa D 2002 Overexpression of VDUP1 mRNA sensitizes HeLa cells to paraquat. Biochem. Biophys. Res. Commun. 293 293–297

Kaur S, Arora S, Kaur K and Kumar S 2002 The in vitro antimutagenic activity of Triphala--an Indian herbal drug. Food Chem. Toxicol. Int. J. Publ. Br. Ind. Biol. Res. Assoc. 40 527–534

Kumar MS, Kirubanandan S, Sripriya R and Sehgal PK 2008 Triphala promotes healing of infected full-thickness dermal wound. J. Surg. Res. 144 94–101

LeBel CP, Ischiropoulos H and Bondy SC 1992 Evaluation of the probe 2',7'-dichlorofluorescin as an indicator of reactive oxygen species formation and oxidative stress. Chem. Res. Toxicol. 5 227–231

Mahesh R, Bhuvana S and Begum VM 2009 Effect of Terminalia chebula aqueous extract on oxidative stress and antioxidant status in the liver and kidney of young and aged rats. Cell Biochem. Funct. 27 358–363

Mochizuki Y and Furukawa K 1987 Application of coomassie brilliant blue staining to cultured hepatocytes. Cell Biol. Int. Rep. 11 367–371

Naik GH, Priyadarsini KI, Bhagirathi RG, Mishra B, Mishra KP, Banavalikar MM and Mohan H 2005 In vitro antioxidant studies and free radical reactions of triphala, an ayurvedic formulation and its constituents. Phytother. Res. PTR. 19 582–586

Naik GH, Priyadarsini KI and Mohan H 2006 Free radical scavenging reactions and phytochemical analysis of triphala, an ayurvedic formulation. Curr. Sci. India. 90 1100–1105

Nariya MB, Shukla VJ, Ravishankar B and Jain SM 2011 Comparison of Gastroprotective Effects of Triphala Formulations on Stress-induced Ulcer in Rats. Indian J. Pharm. Sci. 73 682–687

Oberley LW and Buettner GR 1979 The production of hydroxyl radical by bleomycin and iron (ii). FEBS Lett. 97 47–49

Patt HM, Tyree EB, Straube RL and Smith DE 1949 Cysteine protection against X irradiation. Science. 110 213–214

Rasool M and Sabina EP 2007 Antiinflammatory effect of the Indian Ayurvedic herbal formulation Triphala on adjuvant-induced arthritis in mice. Phytother. Res. PTR. 21 889–894

Rasool MK, Sabina EP, Lavanya K and Nithya P 2007 Therapeutic effect of Indian ayurvedic herbal formulation triphala on acetaminophen-induced hepatotoxicity in mice. J. Pharmacol. Toxicol. 2 725–731

Sabu MC and Kuttan R 2002 Anti-diabetic activity of medicinal plants and its relationship with their antioxidant property. J. Ethnopharmacol. 81 155–160

Sandhya T, Lathika KM, Pandey BN, Bhilwade HN, Chaubey RC, Priyadarsini KI and Mishra KP 2006a Protection against radiation oxidative damage in mice by Triphala. Mutat. Res. 609 17–25

Sandhya T, Lathika KM, Pandey BN and Mishra KP 2006b Potential of traditional ayurvedic formulation, Triphala, as a novel anticancer drug. Cancer Lett. 231 206–214

Saravanan S, Srikumar R, Manikandan S, Jeya Parthasarathy N and Sheela Devi R 2007 Hypolipidemic effect of triphala in experimentally induced hypercholesteremic rats. Yakugaku Zasshi J. Pharm. Soc. Jpn. 127 385–388

Seifter E, Rettura G, Padawer J, Stratford F, Weinzweig J, Demetriou AA and Levenson SM 1984 Morbidity and mortality reduction by supplemental vitamin A or beta-carotene in CBA mice given total-body gamma-radiation. J. Natl. Cancer Inst. 73 1167–1177

Srikumar R, Jeya Parthasarathy N and Sheela Devi R 2005 Immunomodulatory activity of triphala on neutrophil functions. Biol. Pharm. Bull. 28 1398–1403

Srikumar R, Parthasarathy NJ, Shankar EM, Manikandan S, Vijayakumar R, Thangaraj R, Vijayananth K, Sheeladevi R, et al. 2007 Evaluation of the growth inhibitory activities of Triphala against common bacterial isolates from HIV infected patients. Phytother. Res. PTR. 21 476–480

Srinivasan V and Weiss JF 1992 Radioprotection by vitamin E: injectable vitamin E administered alone or with WR-3689 enhances survival of irradiated mice. Int. J. Radiat. Oncol. Biol. Phys. 23 841–845

Sugiura Y and Kikuchi T 1978 Formation of superoxide and hydroxy radicals in iron(II)-bleomycin-oxygen system: electron spin resonance detection by spin trapping. J. Antibiot. 31 1310–1312

Suzuki H, Nagai K, Yamaki H, Tanaka N and Umezawa H 1969 On the mechanism of action of bleomycin: scission of DNA strands in vitro and in vivo. J. Antibiot. 22 446–448

Sweeney TR 1979 A survey of compounds from the antiradiation drug development program of the U.S Army Medical Research Development Command. Walter Reed Army Institute of Research, Washington, DC, 1–851

Takauji Y, En A, Miki K, Ayusawa D and Fujii M 2016a Combinatorial effects of continuous protein synthesis, ERK-signaling, and reactive oxygen species on induction of cellular senescence. Exp. Cell Res. 345 239–246

Takauji Y, Wada T, Takeda A, Kudo I, Miki K, Fujii M and Ayusawa D 2016b Restriction of protein synthesis abolishes senescence features at cellular and organismal levels. Sci. Rep. 6 18722

Vani T, Rajani M, Sarkar S and Shishoo J 1997 Antioxidant properties of the Ayurvedic formulation Triphala and its constituents. Pharm. Biol. 35 313–317

Vijayalaxmi, Meltz ML, Reiter RJ, Herman TS and Kumar KS 1999 Melatonin and protection from whole-body irradiation: survival studies in mice. Mutat. Res. 425 21–27

Weiss JF and Landauer MR 2003 Protection against ionizing radiation by antioxidant nutrients and phytochemicals. Toxicology. 189 1–20

Weiss JF, Srinivasan V, Kumar KS, Landauer MR and Patchen ML 1994 Radioprotection by selenium compounds; in Trace elements and free radicals in oxidative diseases. AOCS Press

Word JF, Milligan JR and Fahey JR 1997 Factors controlling the radiosensitivity of cellular DNA, Microdosimetry-An Interdisciplinary approach. (The Royal Society of Chemistry)
Acknowledgements
We thank Ms Shigeno for her help in the X-ray experiments. This work was supported in part by a grant-in-aid for Scientific Research from the Ministry of Education, Science and Culture of Japan.
Additional information
[Takauji Y, Miki K, Mita J, Hossain MN, Yamauchi M, Kioi M, Ayusawa D and Fujii M 2016 Triphala, a formulation of traditional Ayurvedic medicine, shows protective effect against X-radiation in HeLa cells. J. Biosci.]
Corresponding editor: Subhash C Lakhotia
About this article
Cite this article
Takauji, Y., Miki, K., Mita, J. et al. Triphala, a formulation of traditional Ayurvedic medicine, shows protective effect against X-radiation in HeLa cells. J Biosci 41, 569–575 (2016). https://doi.org/10.1007/s12038-016-9639-4
Received:

Accepted:

Published:

Issue Date:
Keywords
Ayurveda

bleomycin

reactive oxygen species

Triphala

X-radiation