Abstract
Streams are periodically disturbed due to flooding, act as edges between habitats and also facilitate the dispersal of propagules, thus being potentially more vulnerable to invasions than adjoining regions. We used a landscape-wide transect-based sampling strategy and a mixed effects modelling approach to understand the effects of distance from stream, a rainfall gradient, light availability and fire history on the distribution of the invasive shrub Lantana camara L.(lantana) in the tropical dry forests of Mudumalai in southern India. The area occupied by lantana thickets and lantana stem abundance were both found to be highest closest to streams across this landscape with a rainfall gradient. There was no advantage in terms of increased abundance or area occupied by lantana when it grew closer to streams in drier areas as compared to moister areas. On an average, the area covered by lantana increased with increasing annual rainfall. Areas that experienced greater number of fires during 1989–2010 had lower lantana stem abundance irrespective of distance from streams. In this landscape, total light availability did not affect lantana abundance. Understanding the spatially variable environmental factors in a heterogeneous landscape influencing the distribution of lantana would aid in making informed management decisions at this scale.
Access options
Buy single article
Instant access to the full article PDF.
US$ 39.95
Tax calculation will be finalised during checkout.
Subscribe to journal
Immediate online access to all issues from 2019. Subscription will auto renew annually.
US$ 79
Tax calculation will be finalised during checkout.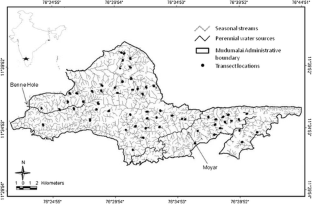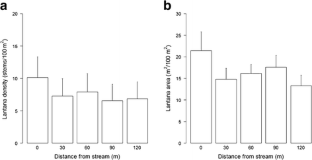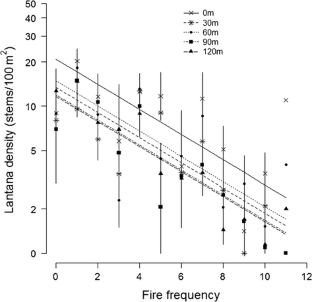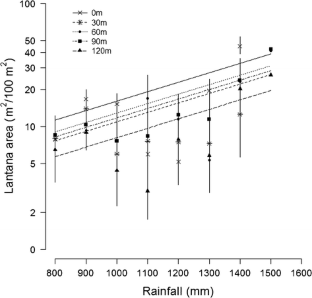 References
Bates D, Maechler M and Bolker B 2011 Linear mixed-effects models using S4 classes. R package version 0.9975–10

Babu S, Love A and Babu CR 2009 Ecological restoration of Lantana-invaded landscapes in Corbett Tiger Reserve, India. Ecol. Restor. 27 467–477

Bhagwat SA, Breman E, Thekaekara T, Thornton TF and Willis KJ 2012 A battle lost? Report on two centuries of invasion and management of Lantana camara L. in Australia, India and South Africa. PLoS ONE 7 e32407

Burke MJW and Grime JP 1996 An experimental study of plant community invisibility. Ecology 77 776–790

Castillo JM, Leira-Doce P, Carrión-Tacuri J, Muñoz-Guacho E, Arroyo-Solís A, Curado G, Doblas D, Rubio-Casal AE, et al. 2007 Contrasting strategies to cope with drought by invasive and endemic species of Lantana in Galapagos. Biodivers. Conserv. 16 2123–2136

Catford JA, Vesk PA, White MD and Wintle BA 2011 Hotspots of plant invasion predicted by propagule pressure and ecosystem characteristics. Divers. Distrib. 17 1099–1110

D'Antonio CM and Vitousek PM 1992 Biological invasions by exotic grasses, the grass/fire cycle, and global change. Annu. Rev. Ecol. Syst. 23 63–87

Davies KF, Chesson P, Harrison S, Inouye BT, Melbourne BA and Rice KJ 2005 Spatial heterogeneity explains the scale dependence of the native-exotic diversity relationship. Ecology 86 1602–1610

Davis MA, Grime JP and Thompson K 2000 Fluctuating resources in plant communities: a general theory of invasibility. J. Ecol. 88 528–534

Funk JL and Vitousek PM 2007 Resource-use efficiency and plant invasion in low-resource systems. Nature 446 1079–1081

Galatowitsch S and Richardson DM 2005 Riparian scrub recovery after clearing of invasive alien trees in headwater streams of the Western Cape, South Africa. Biol. Conserv. 122 509–521

Hiremath A and Sundaram B 2005 The fire-lantana cycle hypothesis in Indian forests. Conserv. Soc. 3 26–42

Kodandapani N, Cochrane MA and Sukumar R 2004 Conservation threat of increasing fire frequencies in the Western Ghats, India. Conserv. Biol. 18 1553–1561

Kumar S, Stohlgren TJ and Chong GW 2006 Spatial heterogeneity influences native and non-native species richness. Ecology 87 3186–3199

Mandle L, Bufford JL, Schmidt IB and Daehler CC 2011 Woody exotic plant invasions and fire: reciprocal impacts and consequences for native ecosystems. Biol. Invasions 13 1815–1827

Meekins JF and McCarthy BC 2001 Effect of environmental variation on the invasive success of a nonindigenous forest herb. Ecol. Appl. 11 1336–1348

Melbourne BA, Cornell HV, Davies KF, Dugaw CJ, Elmendorf S, Freestone AL, Hall RJ, Harrison S, et al. 2007 Invasion in a heterogeneous world: resistance, coexistence or hostile takeover? Ecol. Lett. 10 77–94

Merriam RW 2003 The abundance, distribution and edge associations of six non-indigenous, harmful plants across North Carolina. J. Torrey Bot. Soc. 130 283–291

Murphy PG and Lugo AE 1986 Ecology of dry tropical forest. Ann. Rev. Ecol. Syst. 17 67–88

Parendes LA and Jones JA 2000 Role of light availability and dispersal in exotic plant invasion along roads and streams in the H. J. Andrews Experimental Forest, Oregon. Conserv. Biol. 14 64–75

Prasad AE 2010 Effects of an exotic plant invasion on native understory plants in a tropical dry forest. Conserv. Biol. 24 747–757

Prasad AE 2011 Landscape-scale relationships between the exotic invasive shrub Lantana camara and native plants in a tropical deciduous forest in southern India. J. Trop. Ecol. 28 55–64

R Core Development Team 2011 R: A language and environment for statistical computing. (R Foundation for Statistical Computing) < http://www.R-project.org .>

Raizada P, Sharma GP and Raghubanshi AS 2008 Ingress of lantana in dry tropical forest fragments: Edge and shade effects. Curr. Sci. 94 180–182

Ramaswami G and Sukumar R 2011 Woody plant seedling distribution under invasive Lantana camara thickets in a dry-forest plot in Mudumalai, southern India. J. Trop. Ecol. 27 365–373

Richardson DM, Holmes PM, Esler KJ, Galatowitsch SM, Stromberg JC, Kirkman SP, Pyšek P and Hobbs RJ 2007 Riparian vegetation: degradation, alien plant invasions, and restoration prospects. Divers. Distrib. 13 126–139

Richardson DM and Rejmánek M 2011 Trees and shrubs as invasive alien species – a global review. Divers. Distrib. 17 788–809

Ruiz L, Varma MR, Kumar MM, Sekhar M, Marechal JC, Descloitres M, Riotte J, Kumar S, et al. 2010 Water balance modelling in a tropical watershed under deciduous forest (Mule Hole, India): Regolith matric storage buffers the groundwater recharge process. J. Hydrol. 380 460–472

Sanchez-Azofeifa G, Quesada M, Rodriguez J, Nassar J, Stoner K, Castillo A, Garvin T, Zent E, et al. 2005 Research priorities for neotropical dry forests. Biotropica 37 477–485

Sharma GP, Raghubanshi AS and Singh JS 2005 Lantana invasion: An overview. Weed Biol. Manage. 5 157–165

Singh KP and Kushwaha CP 2005 Emerging paradigms of tree phenology in dry tropics. Curr. Sci. 89 964–975

Sundaram B and Hiremath A 2012 Lantana camara invasion in a heterogeneous landscape: patterns of spread and correlation with changes in native vegetation. Biol. Invasions 14 1127–1141

Swabrick JT, Wilson BW and Hannan-Jones MA 1998 Lantana camara L; in The Biology of Australian Weeds (eds) FD Panetta, RH Groves and RCH Shepherd (Melbourne: RG and FJ Richardson) pp 119–136

Thomas RJ, Middleton B and Gibson DJ 2006 A landscape perspective of the stream corridor invasion and habitat characteristics of an exotic (Dioscorea oppositifolia) in a pristine watershed in Illinois. Biol. Invasions 8 1103–1113

Totland O, Nyeko P, Bjerknes A, Hegland SJ and Nielsen A 2005 Does forest gap size affects population size, plant size, reproductive success and pollinator visitation in Lantana camara, a tropical invasive shrub? Forest Ecol. Manag. 215 329–338

Zuur AF, Leno EN, Walker NJ, Saveliev AA and Smith GM 2009 Mixed effects models and extensions in ecology with R. (Springer Science + Business Media)
Acknowledgements
We thank the Forest Department of Tamil Nadu state for granting us permission to conduct this study and the Ministry of Environment and Forests, India, for funding this study. We thank field assistants M Bomman, Kunmari, Alan and Bantan for help with data collection. Rainfall maps were generated by Sandeep Pulla and Nandita Mondal. All rainfall data and fire data from 1989–2004 were collected by CM Bharanaiah, HS Dattaraja and HS Suresh. Fire data post 2004 was collected and collated into a landscape-wide fire frequency map by Nandita Mondal.
Additional information
[Ramaswami G and Sukumar R 2014 Lantana camara L. (Verbenaceae) invasion along streams in a heterogeneous landscape. J. Biosci. 39 1–10] DOI 10.1007/s12038-014-9465-5
Corresponding editor: R Geeta
About this article
Cite this article
Ramaswami, G., Sukumar, R. Lantana camara L. (Verbenaceae) invasion along streams in a heterogeneous landscape. J Biosci 39, 717–726 (2014). https://doi.org/10.1007/s12038-014-9465-5
Received:

Accepted:

Published:

Issue Date:
Keywords
Fire history

invasive plant

Mudumalai

rainfall gradient

seasonal streams

seasonally dry tropical forest