Abstract
Nitric oxide (NO) has been reported to act both as a destructive and a protective agent in the pathogenesis of the injuries that occur during hypoxia/reoxygenation (H/R). It has been suggested that this dual role of NO depends directly on the isoform of NO synthase (NOS) involved. In this work, we investigate the role that NO derived from endothelial NOS (eNOS) plays in cardiac H/R-induced injury. Wistar rats were submitted to H/R (hypoxia for 30 min; reoxygenation of 0 h, 12 h and 5 days), with or without prior treatment using the selective eNOS inhibitor l-NIO (20 mg/kg). Lipid peroxidation, apoptosis and protein nitration, as well as NO production (NOx), were analysed. The results showed that l-NIO administration lowered NOx levels in all the experimental groups. However, no change was found in the lipid peroxidation level, the percentage of apoptotic cells or nitrated protein expression, implying that eNOS-derived NO may not be involved in the injuries occurring during H/R in the heart. We conclude that l-NIO would not be useful in alleviating the adverse effects of cardiac H/R.
Access options
Buy single article
Instant access to the full article PDF.
USD 39.95
Price excludes VAT (USA)
Tax calculation will be finalised during checkout.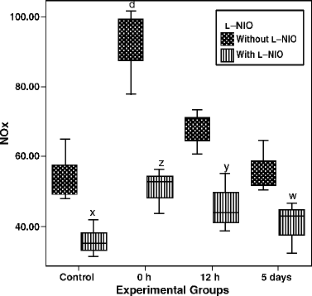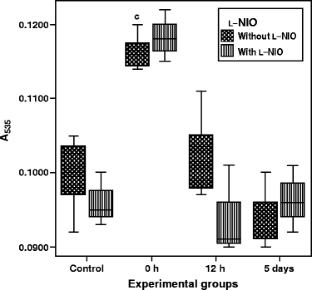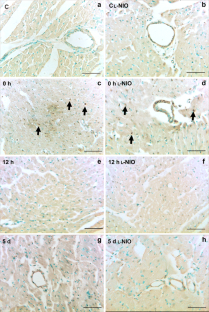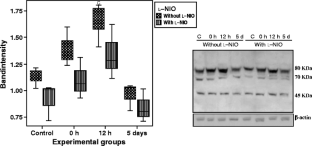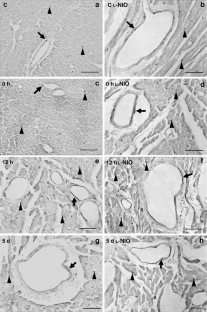 Similar content being viewed by others
Abbreviations
dUTP:

desoxyuridinetriphosphate

eNOS:

endothelial nitric oxide synthase

H/R:

hypoxia/reoxygenation

NOS:

nitric oxide synthase

PVDF:

polyvinylidenefluoride

RNS:

reactive nitrogen species

ROS:

reactive oxygen species

TBA:

2 thiobarbituric acid

TBARS:

thiobarbituric-acid-reactive substances

TCA:

trichloroacetic acid

TdT:

Terminal deoxynucleotidyl transferase

TUNEL:

terminal-deoxynucleotidyl-transferase-mediated desoxyuridinetriphosphate nick end-labelling
References
Alonso D, Encinas JM, Uttenthal LO, Boscá L, Serrano J, Fernández AP, Castro-Blanco S, Santacana M, et al. 2002 Coexistence of translocated cytrochrome c and nitrated protein in neurons of the rat cerebral cortex after oxygen and glucose deprivation. Neuroscience 111 47–56

Baber SR, Li H, Simakajornboon N, Kadowitz PJ, Ross-Ascuitto NT and Ascuitto RJ 2005 Analysis of pulmonary vascular response to acute alveolar hypoxic challenge in young rabbits subjected to chronic hypoxia from birth. J. Cardiovasc. Pharmacol. 45 431–438

Barer GR, Fairlie J, Slade JY, Ahmed S, Laude EA, Emery CJ, Thwaites-Bee D, Oakley AE et al. 2006 Effects of NOS inhibition on the cardiopulmonary system and brain microvascular markers after intermittent hypoxia in rats. Brain Res. 1098 196–203

Beckman JS and Koppenol WH 1996 Nitric oxide, superoxide, and peroxynitrite: the good, the bad, and ugly. Am. J. Physiol. 271 C1424–C1437

Benamar K, Yondorf MZ, Kon D, Geller EB and Adler MW 2003 Role of the nitric-oxide synthase isoforms during morphine-induced hyperthermia in rats. J. Pharmacol. Exp. Ther. 307 219–222

Bolaños JP, Peuchen S, Heales SJ, Land JM and Clark J B 1994 Nitric oxide-mediated inhibition of the mitochondrial respiratory chain in cultured astrocytes. J. Neurochem. 63 910–916

Bradford MM 1976 A rapid and sensitive method for the quantitation of microgram quantities of protein utilizing the principle of protein-dye binding. Anal. Biochem. 72 248–254

Braman RS and Hendrix SA 1989 Nanogram nitrite and nitrate determination in environmental and biological materials by vanadium (III) reduction with chemiluminescence detection. Anal. Chem. 61 2715–2718

Buege, JA and Aust SD 1978 Mitochondrial lipid peroxidacion. Methods Enzymol. 52 302–310

Chaitoff KA, Patel D and Ally A 2008 Effects of endothelial NOS antagonism within the periaqueductal gray on cardiovascular responses and neurotransmission during mechanical, heat, and cold nociception. Brain Res. 1236 93–104

Demiryürek AT, Karamsetty MR, McPhaden AR, Wadsworth RM, Kane KA and MacLean MR 2000 Accumulation of nitrotyrosine correlates with endothelial NO synthase in pulmonary resistance arteries during chronic hypoxia in the rat. Pulm. Pharmacol. Ther. 13 157–165

Drapper HH, Squires EJ, Manmoodi, H, Wu S, Agawal S and Hadley M 1993 A comparative evaluacion of thiobarbituric acid methods for the determination of malondialdehyde in biological materials. Free Radical Biol. Med. 15 353–363

Fierro IM, Barja-Fidalgo C, Canedo RM, Cunha FQ and Ferreira SH 1995 An increase in nitric oxide produced by rat peritoneal neutrophils is not involved in cell apoptosis. Mediators Inflamm. 4 222–228

Fontijn A, Sabadell AJ and Ronco RJ 1997 Homogenous chemiluminiscent measurement of nitric oxide with ozone. Implications for continuous selective monitoring of gaseous air pollutants. Anal Chem. 42 575–579

Förstermann U 1994 Biochemistry and molecular biology of nitric oxide synthases. Arzneimittelforschung 44 402–407

Foster MW, McMahon TJ and Stamler JS 2003 S-nitrosylation in health and disease. Trends Mol. Med. 9 160–168

Grilli A, De Lutiis MA, Patruno A, Speranza L, Cataldi A, Centurione L, Taccardi AA, Di Napoli P et al. 2003 Effect of chronic hypoxia on inducible nitric oxide synthase expression in rat myocardial tissue. Exp. Biol. Med. (Maywood) 228 935–942

Groves PH, Lewis MJ, Cheadle HA and Penny WJ 1993 SIN-1 reduces platelet adhesion and platelet thrombus formation in a porcine model of balloon angioplasty. Circulation 87 590–597

Haddad IY, Pataki G, Hu P, Galliani C, Beckman JS and Matalon S 1994 Quantitation of nitrotyrosine levels in lung sections of patients and animals with acute lung injury. J. Clin. Invest. 94 2407–2413

Jung F, Palmer LA, Zhou N and Johns RA 2000 Hypoxic regulation of inducible nitric oxide synthase via hypoxia inducible factor-1 in cardiac myocytes. Circ. Res. 86 319–325

Kelly RA, Balligand JL and Smith TW 1996 Nitric oxide and cardiac function. Circ. Res. 79 363–380

Kiang JG and Tsen KT 2006 Biology of hypoxia. Chin. J. Physiol. 49 223–233

Laitinen J, Liesivuori J, Linnainmaa M and Kalliokoski P 1993 Evaluation of monitoring methods for nitrogen oxides. Annu. Occup. Hyg. 37 307–314

Lopez-Ramos JC, Martinez-Romero R, Molina F, Canuelo A, Martinez-Lara E, Siles E, et al. 2005 Evidence of a decrease in nitric oxide-storage molecules following acute hypoxia and/or hypobaria, by means of chemiluminescence analysis. Nitric Oxide 13 62–67

Martínez-Romero R, Cañuelo A, Martínez-Lara E, Hernández R, del Moral ML, Pedrosa JA, et al. 2006 Aging affects but does not eliminate the enzymatic antioxidative response to hypoxia/reoxygenation in cerebral cortex. Exp. Gerontol. 41 25–31

McCord JM, Roy RS and Schaffer SW 1985 Free radicals and myocardial ischemia; The role of xanthine oxidase. Adv. Myocardiol. 5 183–189

McGowan FX Jr, Davis PJ, del Nido PJ, Sobek M, Allen JW and Downing SE 1994 Endothelium-dependent regulation of coronary tone in the neonatal pig. Anesth. Analg. 79 1094–1101

Mehta VB, Zhou Y, Radulescu A and Besner GE 2008 HB-EGF stimulates eNOS expression and nitric oxide production and promotes eNOS dependent angiogenesis. Growth Factors 26 301–315

Naoki K, Yamaguchi K, Suzuki K, Kudo H, Nishio K, Sato N, Takeshita K, Suzuki Y and Tsumura H 1999 Nitric oxide differentially attenuates microvessel response to hypoxia and hypercapnia in injured lungs. Am. J .Physiol. 277 R181–R189

Palmer LA, Semenza GL, Stoler MH and Johns RA 1998 Hypoxia induces type II NOS gene expression in pulmonary artery endothelial cells via HIF-1. Am. J. Physiol. 274 L212–L219

Radi R, Beckman JS, Bush KM and Freeman BA 1991 Peroxynitrite-induced membrane lipid peroxidation: the cytotoxic potential of superoxide and nitric oxide. Arch. Biochem. Biophys. 288 481–487

Radomski MW, Palmer RM and Moncada S 1987a The anti-aggregating properties of vascular endothelium: interactions between prostacyclin and nitric oxide. Br. J. Pharmacol. 92 639–646

Radomski MW, Palmer RM and Moncada S 1987b Endogenous nitric oxide inhibits human platelet adhesion to vascular endothelium. Lancet 2 1057–1058

Rees DD, Palmer RM, Schulz R, Hodson HF and Moncada S 1990 Characterization of three inhibitors of endothelial nitric oxide synthase in vitro and in vivo. Br. J. Pharmacol. 101 746–752

Reif DW and Simmons RD 1990 Nitric oxide mediates iron release from ferritin. Arch. Biochem. Biophys. 283 537–541

Ricciardolo FL, Sterk PJ, Gaston B and Folkerts G 2004 Nitric oxide in health and disease of the respiratory system. Physiol. Rev. 84 731–765

Rouschop KM, Ramaekers CH, Schaaf MB, Keulers TG, Savelkouls KG, Lambin P, Koritzinsky M and Wouters BG 2009 Autophagy is required during cycling hypoxia to lower production of reactive oxygen species. Radiother. Oncol. 92 411–416

Rus A, del Moral ML, Molina F and Peinado MA 2011 Does inducible NOS have a protective role against hypoxia/reoxygenation injury in rat heart? Cardiovasc. Pathol. 20 e17–e25

Rus A, Molina F, Peinado MA and del Moral ML 2010 Endothelial NOS-derived nitric oxide prevents injury resulting from reoxygenation in the hypoxic lung. Free Radical Res. 44 1027–1035

Saugstad OD 2000 Does nitric oxide prevent oxidative mediated lung injury? Acta Paediatr. 89 905–907

Schulz R, Nava E and Moncada S 1992 Induction and potential biological relevance of a Ca2+-independent nitric oxide synthase in the myocardium. Br. J. Pharmacol. 105 575–580

Shirai M, Pearson JT, Shimouchi A, Nagaya N, Tsuchimochi H, Ninomiya I and Mori H 2003 Changes in functional and histological distributions of nitric oxide synthase caused by chronic hypoxia in rat small pulmonary arteries. Br. J. Pharmacol. 139 899–910

Shu SY, Ju G and Fan LZ 1988 The glucose oxidase-DAB-nickel method in peroxidise histochemistry of the nervous system. Neurosci. Lett. 85 169–171

Sosroseno W, Sugiatno E, Samsudin AR and Ibrahim F 2008 The role of nitric oxide on the proliferation of a human osteoblast cell line stimulated with hydroxyapatite. J. Oral Implantol. 34 196–202

Thippeswamy T, McKay JS, Quinn JP and Morris R 2006 Nitric oxide, a biological double-faced janus-is this good or bad? Histol. Histopathol. 21 445–458

Tsai SK, Hung LM, Fu YT, Cheng H, Nien MW, Liu HY, Zhang FB and Huang SS 2007 Resveratrol neuroprotective effects during focal cerebral ischemia injury via nitric oxide mechanism in rats. J. Vasc. Surg. 46 346–353

Ursell PC and Mayes M 1995 Anatomic distribution of nitric oxide synthase in the heart. Int. J. Cardiol. 50 217–223

Van der Vliet A, Smith D, O'Neill CA, Kaur H, Darley-Usmar V, Cross CE and Halliwell B 1994 Interactions of peroxynitrite with human plasma and its contituents: oxidative damage and antioxidant depletion. Biochem. J. 303 295–301

Vaupel DB, Kimes AS and London ED 1995 Nitric oxide synthase inhibitors. Preclinical studies of potential use for treatment of opioid withdrawal. Neuropsychopharmacology 13 315–322

Viñas JL, Sola A, Genescà M, Alfaro V, Pí F and Hotter G 2006 NO and NOS isoforms in the development of apoptosis in renal ischemia/reperfusion. Free Radical Biol. Med. 40 992–1003

Xu Y and Krukoff TL 2004 Decrease in arterial pressure induced by adrenomedullin in the hypothalamic paraventricular nucleus is mediated by nitric oxide and GABA. Regul. Pept. 119 21–30

Yamazaki I and Piette LH 1990 ESR spin-trapping studies on the reaction of Fe2+ ions with H2O2-reactive species in oxygen toxicity in biology. J. Biol. Chem. 265 13589–13594
Acknowledgements
We wish to thank to Rafael Lomas for his assistance in statistics, and David Nesbitt for his editorial help with the English version of the manuscript. Supported by 'MCyT' (BIO 2000-0405-P4-05) and Junta de Andalucía (CVI-0184). This work was funded by Ministry of Education and Sciences of Spain; Grant number: SAF-2003-04398-C02-02.
Additional information
Corresponding editor: Ashima Anand
[Rus A, Peinado MA, Blanco S and del Moral ML 2011 Is endothelial-nitric-oxide-synthase-derived nitric oxide involved in cardiac hypoxia/reoxygenation-related damage? J. Biosci. 36 69–78] DOI 10.1007/s12038-011-9006-4
About this article
Cite this article
Rus, A., Peinado, M., Blanco, S. et al. Is endothelial-nitric-oxide-synthase-derived nitric oxide involved in cardiac hypoxia/reoxygenation-related damage?. J Biosci 36, 69–78 (2011). https://doi.org/10.1007/s12038-011-9006-4
Received:

Accepted:

Published:

Issue Date:

DOI: https://doi.org/10.1007/s12038-011-9006-4
Keywords