Abstract
The origin of the idea of AstroSat multi wavelength satellite mission and how it evolved over the next 15 years from a concept to the successful development of instruments for giving concrete shape to this mission, is recounted in this article. AstroSat is the outcome of intense deliberations in the Indian astronomy community leading to a consensus for a multi wavelength Observatory having broad spectral coverage over five decades in energy covering near-UV, far-UV, soft X-ray and hard X-ray bands. The multi wavelength observation capability of AstroSat with a suite of 4 co-aligned instruments and an X-ray sky monitor on a single satellite platform, imparts a unique character to this mission. AstroSat owes its realization to the collaborative efforts of the various ISRO centres, several Indian institutions, and a few institutions abroad which developed the 5 instruments and various sub systems of the satellite. AstroSat was launched on September 28, 2015 from India in a near equatorial 650 km circular orbit. The instruments are by and large working as planned and in the past 14 months more than 200 X-ray and UV sources have been studied with it. The important characteristics of AstroSat satellite and scientific instruments will be highlighted.
This is a preview of subscription content, log in to check access.
Access options
Buy single article
Instant access to the full article PDF.
US$ 39.95
Price includes VAT for USA
Subscribe to journal
Immediate online access to all issues from 2019. Subscription will auto renew annually.
US$ 99
This is the net price. Taxes to be calculated in checkout.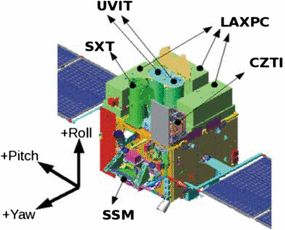 References
Agrawal, P. C. 2006, Adv. Space. Res., 38, 2989A.

Chitnis, V. R., Rao, A. R., Agrawal, P. C. 1998, A&A, 331, 251.

Giacconi, R., Gursky, H., Paolini, F., Rossi, B. 1962, Phys. Rev. Lett. 9, 439.

Mukerjee, K., Agrawal, P. C., Paul, B., Rao, A. R., Yadav, J. S., Seetha, S., Kasturirangan, K. 2001, Astrophys. J., 548, 368.

Paul, B., Agrawal, P. C., Rao, A. R., Vahia, M. N., Yadav, J. S., Seetha, S., Kasturirangan, K. 1998, Astrophys. J., 492, L63.

Rao, A. R., Agrawal, P. C., Manchanda, R. K., Shah, M. R. 1987, Adv. Space Res. 7(7), 129.

Roy, J., Agrawal, P. C., Dedhia, D. K., Manchanda, R. K., Shah, P. B., Chitnis, V. R., Gujar, V. M., Parmar, J. V., Pawar, D. M., Kurhade, V. B. 2016, Experimental Astronomy, 42, 249.

Singh, N. S., Naik, S., Paul, B., Agrawal, P. C., Rao, A. R., Singh, K. Y. 2002, A&A, 392, 161.

Singh, K. P., Tandon, S. N., Agrawal, P. C. et al. 2014, Proc. SPIE 9144, Space Telescopes and Instrumentation 2014: Ultraviolet to Gamma Ray, 91441S (July 29, 2014); doi:10.1117/12.2062667.
Acknowledgements
The author gratefully acknowledges the strong support of then ISRO Chairman Dr K. Kasturirangan who was instrumental in evolving the concept of AstroSat and getting the project approved. His continued encouragement contributed immensely to the successful realization of the mission. He is also thankful to the successive ISRO Chairmen and Directors of ISAC for their unflinching support to the AstroSat project team and instrument teams. Project Director, Mr. V. Koteswararao, till 2008 and his successor K. S. Sarma and the Project Manager, Mr. H. Navalgund provided full technical support at all times to the instrument teams and were instrumental in the realization and successful flight of the mission. Thanks are also due to Prof S. S. Jha, the then Director of TIFR, who strongly supported the AstroSat proposal and the successive Directors of TIFR who continued to support the project. Finally all the instrument teams are thankfully acknowledged for their dedicated efforts over a decade ensuring completion of the science instruments. The various ISRO centers (ISAC, VSSC) and units (LEOS and IISU) developed critical hardware for the instruments contributing to the success of the mission. SAC developed software for the Data pipelines. He also gratefully thanks Prof. G. Srinivasan who supported AstroSat at all stages and Dr. George Joseph, ex-Director SAC, who as Chairman of ASTROST Progress Monitoring Committee provided technical guidance and valuable advice at critical times. He thanks Dr. S. Seetha, present PI of AstroSat for requesting him to write this article.
About this article
Cite this article
Agrawal, P.C. AstroSat: From Inception to Realization and Launch. J Astrophys Astron 38, 27 (2017). https://doi.org/10.1007/s12036-017-9449-6
Received:

Accepted:

Published:
Keywords
Multi-wavelength satellite

X-ray astronomy

ultraviolet astronomy

high energy astrophysics mission

X-ray timing and spectral studies

UV imaging studies