Abstract
Stroke is the leading cause of permanent disability and death in the world. The therapy for acute stroke is still limited due to the complex mechanisms underlying stroke-induced neuronal death. The generation of a 17-kDa neurotoxic tau fragment was reported in Alzheimer's disease but it has not been well studied in stroke. In this study, we observed the accumulation of 17-kDa tau fragment in cultured primary neurons and media after oxygen-glucose deprivation/reperfusion (OGD/R) treatment that could be diminished by the presence of a calpain inhibitor. This calpain-mediated proteolytic tau fragment was also detected in brain tissues from middle cerebral artery occlusion–injured rats and acute ischemic stroke patients receiving strokectomy, and human plasma samples collected within 48 h after the onset of stroke. The mass spectrometry analysis of this 17-kDa fragment identified 2 peptide sequences containing 195–224 amino acids of tau, which agrees with the previously reported tau45-230 or tau125-230 as the calpain-cleaved tau fragment. Ectopic expression of tau45-230-GFP but not tau125-230-GFP in cultured neurons induced the formation of tortuous processes without evident cell death. In summary, the 17-kDa tau fragment is a novel stroke biomarker and may play a pathophysiological role to affect post-stroke neuronal health.
Access options
Buy single article
Instant access to the full article PDF.
USD 39.95
Price excludes VAT (USA)
Tax calculation will be finalised during checkout.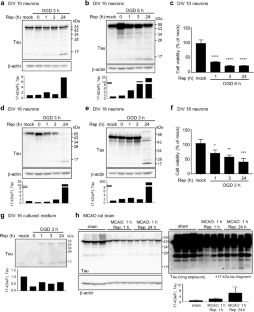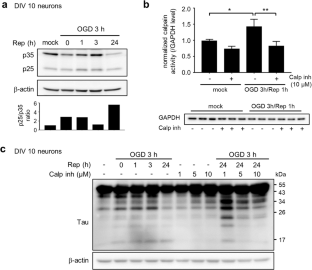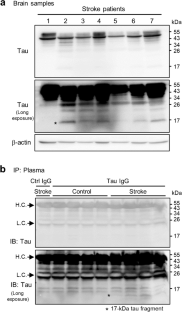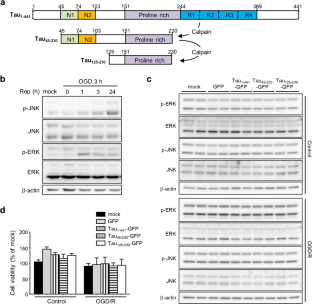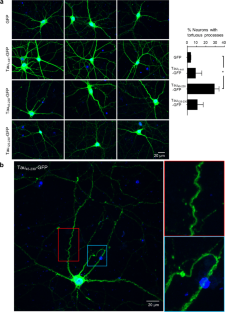 Data Availability
The datasets generated and/or analyzed during the current study are available upon reasonable request.
Acknowledgements
We are grateful to Dr. Patrick Ching-Ho Hsieh (Institute of Biomedical Sciences, Academia Sinica) for the hypoxia incubator and the DNA Sequencing Core, which is supported under the Academia Sinica Core Facility and Innovative Instrument Project (AS-CFII-108-115). We also thank Mass Spectrometry Division, Instrumentation Center (College of Science National Taiwan University), for mass spectrometry analysis. We also thank the support of the 3rd core facility at the National Taiwan University Hospital.
Funding
This work was supported by grants from the Ministry of Science and Technology of Taiwan (MOST 109-2811-B-002-595 to S. C. T.) and Academia Sinica (AS-GC-110-MD05 to Y. S. H.).
Ethics declarations
Ethical Approval
This study was approved by the ethics committees of the National Taiwan University Hospital (NTUH) Ethics Committee and conducted in accordance with ethical standards of the responsible committee in NTUH on human experimentation.
Consent to Participate
All study subjects and/or their relatives gave written informed consent. Informed consent was obtained from participants.
Consent for Publication
All authors have read and approved the submission of the manuscript.
Conflict of Interest
The authors declare no competing interests.
Additional information
Publisher's Note
Springer Nature remains neutral with regard to jurisdictional claims in published maps and institutional affiliations.
Supplementary information
Hydrogen peroxide induces the cleavage of p35 and tau in neurons. DIV 24 cortical neurons were treated with 50 or 100 μM hydrogen peroxide (H2O2) for 3 h or 24 h and then harvested for western blotting of p35/p25, tau and β-actin. (PNG 228 kb)
The tau peptide sequences identified from the 17-kDa gel region. The lysate from OGD/R-treated neurons was separated on a SDS-PAGE and the gel around 17-kDa region was processed for mass spectrometry analysis. The identified 3 peptide sequences (marked in red) and corresponding positions in human tau 2N4R form were denoted. (PNG 118 kb)
OGD/R induces autophagy in cultured neurons. DIV 10 and DIV 16 cortical neurons were exposed to OGD/R for the indicated times and harvested for immunoblotting of LC3 and β-actin. (PNG 136 kb)
Expression of various GFP-tagged tau constructs in neurons. DIV 8 cortical neurons were infected with the lentivirus expressing GFP, tau1-441-GFP, tau45-230-GFP or tau125-230-GFP and then harvested at DIV 16 for western blotting of GFP and β-actin. (PNG 350 kb)
Extracellular presence of tau125-230-GFP and tau45-230-GFP does not affect neuronal viability. The 293T cells expressing GFP, tau125-230-GFP or tau45-230-GFP were lysed with a hypotonic buffer to collect cytoplasmic lysates. DIV 18 cortical neurons were treated with 40 or 120 μg cytoplasmic lysates for 24 h, followed by the viability measurement. Neurons treated with the same amount of hypotonic buffer were used as a control. (PNG 85 kb)
Clinical characteristics in control and stroke patients. NIHSS, National Institute of Health Stroke Scale; HT, hypertension; DM, diabetes mellitus; AF, atrial fibrillation; DLP, dyslipidemia; mRS, modified Rankin Scale.a median (25-75 percentile). (DOCX 34 kb)
About this article
Cite this article
Chen, YD., Huang, PY., Chiang, CS. et al. Generation and Role of Calpain-Cleaved 17-kDa Tau Fragment in Acute Ischemic Stroke. Mol Neurobiol 58, 5814–5825 (2021). https://doi.org/10.1007/s12035-021-02519-2
Received:

Accepted:

Published:

Issue Date:

DOI: https://doi.org/10.1007/s12035-021-02519-2
Keywords
Calpain

Ischemic stroke

Neuron

OGD/R

Tau proteolysis