Abstract
Deep brain stimulation (DBS) of reward system brain areas, such as the medial forebrain bundle (MFB), by means of intracranial self-stimulation (ICSS), facilitates learning and memory in rodents. MFB-ICSS has been found capable of modifying different plasticity-related proteins, but its underlying molecular mechanisms require further elucidation. MicroRNAs (miRNAs) and the longevity-associated SIRT1 protein have emerged as important regulatory molecules implicated in neural plasticity. Thus, we aimed to analyze the effects of MFB-ICSS on miRNAs expression and SIRT1 protein levels in hippocampal subfields and serum. We used OpenArray to select miRNA candidates differentially expressed in the dentate gyrus (DG) of ICSS-treated (3 sessions, 45′ session/day) and sham rats. We further analyzed the expression of these miRNAs, together with candidates selected after bibliographic screening (miR-132-3p, miR-134-5p, miR-146a-5p, miR-181c-5p) in DG, CA1, and CA3, as well as in serum, by qRT-PCR. We also assessed tissue and serum SIRT1 protein levels by Western Blot and ELISA, respectively. Expression of miR-132-3p, miR-181c-5p, miR-495-3p, and SIRT1 protein was upregulated in DG of ICSS rats (P < 0.05). None of the analyzed molecules was regulated in CA3, while miR-132-3p was also increased in CA1 (P = 0.011) and serum (P = 0.048). This work shows for the first time that a DBS procedure, specifically MFB-ICSS, modulates the levels of plasticity-related miRNAs and SIRT1 in specific hippocampal subfields. The mechanistic role of these molecules could be key to the improvement of memory by MFB-ICSS. Moreover, regarding the proposed clinical applicability of DBS, serum miR-132 is suggested as a potential treatment biomarker.
Access options
Buy single article
Instant access to the full article PDF.
US$ 39.95
Tax calculation will be finalised during checkout.
Subscribe to journal
Immediate online access to all issues from 2019. Subscription will auto renew annually.
US$ 79
Tax calculation will be finalised during checkout.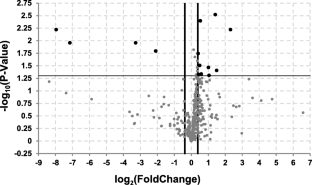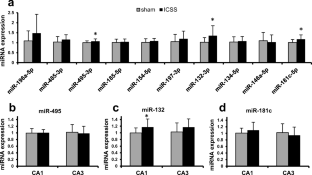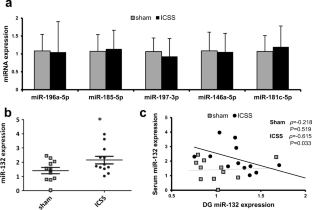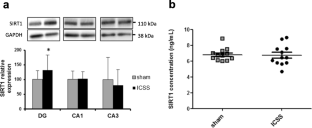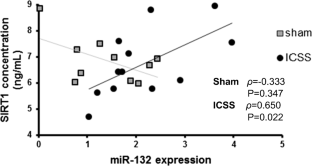 Abbreviations
CA:

Cornu Ammonis

DBS:

Deep brain stimulation

DG:

Dentate gyrus

HP:

Hippocampus

ICSS:

Intracranial self-stimulation

LH:

Lateral hypothalamus

MFB:

Medial forebrain bundle

miRNA:

MicroRNA

SIRT1:

Sirtuin1
Acknowledgments
The authors thank Dr. Anna Mercader Carceller for her technical support. Likewise, we thank Carlos Baldellou Estrada and Cristina Gerboles Freixas for their inestimable technical contribution.
Funding
Ministerio de Economía, Indústria y Competitividad (MINECO) provided financial support for the conduct of this work (grant number PSI2017-83202-C2-2-P). I. Puig-Parnau is a recipient of a predoctoral fellowship from the University of Girona (grant number IFUdG2017/61).
Ethics declarations
Conflict of Interest
The authors declare that they have no conflict of interest.
Ethical Approval
All applicable international, national, and/or institutional guidelines for the care and use of animals were followed.
All procedures performed in studies involving animals were in accordance with the ethical standards of the institution or practice at which the studies were conducted (Ethics Committee at the Universitat Autònoma de Barcelona, with order number 3942).
Additional information
Publisher's Note
Springer Nature remains neutral with regard to jurisdictional claims in published maps and institutional affiliations.
About this article
Cite this article
Puig-Parnau, I., Garcia-Brito, S., Faghihi, N. et al. Intracranial Self-Stimulation Modulates Levels of SIRT1 Protein and Neural Plasticity-Related microRNAs. Mol Neurobiol 57, 2551–2562 (2020). https://doi.org/10.1007/s12035-020-01901-w
Received:

Accepted:

Published:

Issue Date:
Keywords
Intracranial self-stimulation

microRNA

SIRT1

Neural plasticity

Hippocampus