Abstract
High-grade gliomas (HGG) are the most common malignant primary brain tumor in adults. During the course of disease, several challenges occur, like measuring tumor burden, monitoring of treatment response, estimating the patient's prognosis, and distinguishing between true progression and pseudo-progression. So far, no blood-based biomarker has been established in the clinical routine to address these challenges. The aim of this systematic review was to analyze the present evidence on blood-based biomarkers for HGG. We systematically searched in PubMed, Web of Sciences, Scopus, and Cochrane Library databases for publications before 30th of March 2018 reporting on associations of blood-based biomarkers in HGG patients with different endpoints as overall survival, progression-free survival, and postoperative monitoring. Quality assessment of the studies according to QUIPS and STARD guidelines was performed. In accordance with the GRADE guidelines, level of evidence (I–IV) for each of the tested biomarkers was assessed. One thousand six hundred eighty unique records were identified. Of these, 170 original articles were included to this review. Four hundred fifteen different blood-based biomarkers analyzed in 15.041 patients with HGG as also their corresponding recurrent tumors. Ten predictive biomarkers reached level II of evidence. No biomarker achieved level I of evidence. In this review, 10 blood-based biomarkers were selected as most promising biomarkers for HGG: α2-Heremans-Schmid glycoprotein (AHSG), albumin, glucose, insulin-like growth factor- binding protein 2 (IGFBP-2), macrophage inflammatory protein 1δ (MIP-1 δ), macrophage inflammatory protein 3ß (MIP-3ß), neutrophil-lymphocyte ratio (NLR), red blood cell distribution width (RDW), soluble glycoprotein 130 (Sgp130), and chitinase-3-like protein 1 (YKL-40). To further assess the clinical significance of these biomarkers, the evaluation in a larger cohort of HGG and their corresponding subgroups would be necessary.
This is a preview of subscription content, log in to check access.
Access options
Buy single article
Instant access to the full article PDF.
US$ 39.95
Price includes VAT for USA
Subscribe to journal
Immediate online access to all issues from 2019. Subscription will auto renew annually.
US$ 99
This is the net price. Taxes to be calculated in checkout.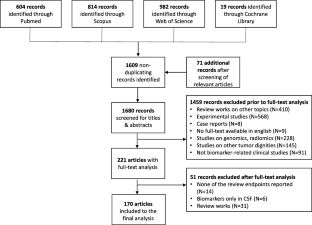 References
1.

Ostrom QT, Gittleman H, Xu J, Kromer C, Wolinsky Y, Kruchko C, Barnholtz-Sloan JS (2016) CBTRUS statistical report: Primary brain and other central nervous system tumors diagnosed in the United States in 2009-2013. Neuro-Oncology 18(suppl_5):v1–v75. https://doi.org/10.1093/neuonc/now207

2.

Reifenberger G, Wirsching HG, Knobbe-Thomsen CB, Weller M (2017) Advances in the molecular genetics of gliomas—implications for classification and therapy. Nat Rev Clin Oncol 14(7):434–452. https://doi.org/10.1038/nrclinonc.2016.204

3.

Gilbert MR, Wang M, Aldape KD, Stupp R, Hegi ME, Jaeckle KA, Armstrong TS, Wefel JS et al (2013) Dose-dense temozolomide for newly diagnosed glioblastoma: a randomized phase III clinical trial. J Clin Oncol 31(32):4085–4091. https://doi.org/10.1200/JCO.2013.49.6968

4.

Stupp R, Taillibert S, Kanner A, Read W, Steinberg D, Lhermitte B, Toms S, Idbaih A et al (2017) Effect of tumor-treating fields plus maintenance temozolomide vs maintenance temozolomide alone on survival in patients with glioblastoma: a randomized clinical trial. JAMA 318(23):2306–2316. https://doi.org/10.1001/jama.2017.18718

5.

Rasool M, Rashid S, Arooj M, Ansari SA, Khan KM, Malik A, Naseer MI, Zahid S et al (2014) New possibilities in hepatocellular carcinoma treatment. Anticancer Res 34(4):1563–1571

6.

Dummer R, Hauschild A, Lindenblatt N, Pentheroudakis G, Keilholz U, Committee EG (2015) Cutaneous melanoma: ESMO clinical practice guidelines for diagnosis, treatment and follow-up. Ann Oncol 26(Suppl 5):v126–v132. https://doi.org/10.1093/annonc/mdv297

7.

Hayes JH, Barry MJ (2014) Screening for prostate cancer with the prostate-specific antigen test: a review of current evidence. JAMA 311(11):1143–1149. https://doi.org/10.1001/jama.2014.2085

8.

Somasundaram K, Nijaguna MB, Kumar DM (2009) Serum proteomics of glioma: methods and applications. Expert Rev Mol Diagn 9(7):695–707. https://doi.org/10.1586/erm.09.52

9.

Moher D, Liberati A, Tetzlaff J, Altman DG, Group P (2009) Preferred reporting items for systematic reviews and meta-analyses: the PRISMA statement. BMJ 339:b2535. https://doi.org/10.1136/bmj.b2535

10.

Guyatt GH, Oxman AD, Vist GE, Kunz R, Falck-Ytter Y, Alonso-Coello P, Schunemann HJ, Group GW (2008) GRADE: an emerging consensus on rating quality of evidence and strength of recommendations. BMJ 336(7650):924–926. https://doi.org/10.1136/bmj.39489.470347.AD

11.

Cohen JF, Korevaar DA, Altman DG, Bruns DE, Gatsonis CA, Hooft L, Irwig L, Levine D et al (2016) STARD 2015 guidelines for reporting diagnostic accuracy studies: explanation and elaboration. BMJ Open 6(11):e012799. https://doi.org/10.1136/bmjopen-2016-012799

12.

de Rooij NK, Rinkel GJ, Dankbaar JW, Frijns CJ (2013) Delayed cerebral ischemia after subarachnoid hemorrhage: a systematic review of clinical, laboratory, and radiological predictors. Stroke 44(1):43–54. https://doi.org/10.1161/STROKEAHA.112.674291

13.

Gao F, Cui Y, Jiang H, Sui D, Wang Y, Jiang Z, Zhao J, Lin S (2016) Circulating tumor cell is a common property of brain glioma and promotes the monitoring system. Oncotarget 7(44):71330–71340. https://doi.org/10.18632/oncotarget.11114

14.

Kros JM, Mustafa DM, Dekker LJ, Sillevis Smitt PA, Luider TM, Zheng PP (2015) Circulating glioma biomarkers. Neuro-Oncology 17(3):343–360. https://doi.org/10.1093/neuonc/nou207

15.

Touat M, Duran-Pena A, Alentorn A, Lacroix L, Massard C, Idbaih A (2015) Emerging circulating biomarkers in glioblastoma: promises and challenges. Expert Rev Mol Diagn 15(10):1311–1323. https://doi.org/10.1586/14737159.2015.1087315

16.

Force USPST, Grossman DC, Curry SJ, Owens DK, Bibbins-Domingo K, Caughey AB, Davidson KW, Doubeni CA et al (2018) Screening for prostate cancer: US preventive services task force recommendation statement. JAMA 319(18):1901–1913. https://doi.org/10.1001/jama.2018.3710

17.

Filella X, Fernandez-Galan E, Fernandez Bonifacio R, Foj L (2018) Emerging biomarkers in the diagnosis of prostate cancer. Pharmgenomics Pers Med 11:83–94. https://doi.org/10.2147/PGPM.S136026

18.

Pflugfelder A, Kochs C, Blum A, Capellaro M, Czeschik C, Dettenborn T, Dill D, Dippel E et al (2013) Malignant melanoma S3-guideline "diagnosis, therapy and follow-up of melanoma". J Dtsch Dermatol Ges 11(Suppl 6):1–116, 111–126. https://doi.org/10.1111/ddg.12113_suppl

19.

Stupp R, Mason WP, van den Bent MJ, Weller M, Fisher B, Taphoorn MJ, Belanger K, Brandes AA et al (2005) Radiotherapy plus concomitant and adjuvant temozolomide for glioblastoma. N Engl J Med 352(10):987–996. https://doi.org/10.1056/NEJMoa043330

20.

Chinot OL, Nishikawa R, Mason W, Henriksson R, Saran F, Cloughesy T, Garcia J, Revil C et al (2016) Upfront bevacizumab may extend survival for glioblastoma patients who do not receive second-line therapy: an exploratory analysis of AVAglio. Neuro-Oncology 18(9):1313–1318. https://doi.org/10.1093/neuonc/now046

21.

Zinn PO, Colen RR, Kasper EM, Burkhardt JK (2013) Extent of resection and radiotherapy in GBM: a 1973 to 2007 surveillance, epidemiology and end results analysis of 21,783 patients. Int J Oncol 42(3):929–934. https://doi.org/10.3892/ijo.2013.1770

22.

Gulati S, Jakola AS, Nerland US, Weber C, Solheim O (2011) The risk of getting worse: surgically acquired deficits, perioperative complications, and functional outcomes after primary resection of glioblastoma. World Neurosurg 76(6):572–579. https://doi.org/10.1016/j.wneu.2011.06.014

23.

McGirt MJ, Mukherjee D, Chaichana KL, Than KD, Weingart JD, Quinones-Hinojosa A (2009) Association of surgically acquired motor and language deficits on overall survival after resection of glioblastoma multiforme. Neurosurgery 65(3):463–469; discussion 469-470. https://doi.org/10.1227/01.NEU.0000349763.42238.E9

24.

Taal W, Brandsma D, de Bruin HG, Bromberg JE, Swaak-Kragten AT, Smitt PA, van Es CA, van den Bent MJ (2008) Incidence of early pseudo-progression in a cohort of malignant glioma patients treated with chemoirradiation with temozolomide. Cancer 113(2):405–410. https://doi.org/10.1002/cncr.23562

25.

Roldan GB, Scott JN, McIntyre JB, Dharmawardene M, de Robles PA, Magliocco AM, Yan ES, Parney IF et al (2009) Population-based study of pseudoprogression after chemoradiotherapy in GBM. Can J Neurol Sci 36(5):617–622

26.

Abdulla S, Saada J, Johnson G, Jefferies S, Ajithkumar T (2015) Tumour progression or pseudoprogression? A review of post-treatment radiological appearances of glioblastoma. Clin Radiol 70(11):1299–1312. https://doi.org/10.1016/j.crad.2015.06.096

27.

Agarwal A, Kumar S, Narang J, Schultz L, Mikkelsen T, Wang S, Siddiqui S, Poptani H et al (2013) Morphologic MRI features, diffusion tensor imaging and radiation dosimetric analysis to differentiate pseudo-progression from early tumor progression. J Neuro-Oncol 112(3):413–420. https://doi.org/10.1007/s11060-013-1070-1

28.

Pouleau HB, Sadeghi N, Baleriaux D, Melot C, De Witte O, Lefranc F (2012) High levels of cellular proliferation predict pseudoprogression in glioblastoma patients. Int J Oncol 40(4):923–928. https://doi.org/10.3892/ijo.2011.1260

29.

Ochieng J, Nangami G, Sakwe A, Moye C, Alvarez J, Whalen D, Thomas P, Lammers P (2018) Impact of Fetuin-A (AHSG) on tumor progression and type 2 diabetes. Int J Mol Sci 19(8). https://doi.org/10.3390/ijms19082211

30.

Nangami GN, Sakwe AM, Izban MG, Rana T, Lammers PE, Thomas P, Chen Z, Ochieng J (2016) Fetuin-A (alpha 2HS glycoprotein) modulates growth, motility, invasion, and senescence in high-grade astrocytomas. Cancer Med 5(12):3532–3543. https://doi.org/10.1002/cam4.940

31.

Nimptsch K, Aleksandrova K, Boeing H, Janke J, Lee YA, Jenab M, Kong SY, Tsilidis KK et al (2015) Plasma Fetuin-A concentration, genetic variation in the AHSG gene and risk of colorectal cancer. Int J Cancer 137(4):911–920. https://doi.org/10.1002/ijc.29448

32.

Wan G, Xiang L, Sun X, Wang X, Li H, Ge W, Cao F (2017) Elevated YKL-40 expression is associated with a poor prognosis in breast cancer patients. Oncotarget 8(3):5382–5391. https://doi.org/10.18632/oncotarget.14280

33.

Johansen JS, Jensen BV, Roslind A, Nielsen D, Price PA (2006) Serum YKL-40, a new prognostic biomarker in cancer patients? Cancer Epidemiol Biomark Prev 15(2):194–202. https://doi.org/10.1158/1055-9965.EPI-05-0011

34.

Hogdall EV, Johansen JS, Kjaer SK, Price PA, Blaakjaer J, Hogdall CK (2000) Stability of YKL-40 concentration in blood samples. Scand J Clin Lab Invest 60(4):247–251

35.

Harvey S, Weisman M, O'Dell J, Scott T, Krusemeier M, Visor J, Swindlehurst C (1998) Chondrex: New marker of joint disease. Clin Chem 44(3):509–516

36.

Shariat SF, Lamb DJ, Kattan MW, Nguyen C, Kim J, Beck J, Wheeler TM, Slawin KM (2002) Association of preoperative plasma levels of insulin-like growth factor I and insulin-like growth factor binding proteins-2 and -3 with prostate cancer invasion, progression, and metastasis. J Clin Oncol 20(3):833–841. https://doi.org/10.1200/JCO.2002.20.3.833

37.

Lin Y, Jiang T, Zhou K, Xu L, Chen B, Li G, Qiu X, Jiang T et al (2009) Plasma IGFBP-2 levels predict clinical outcomes of patients with high-grade gliomas. Neuro-Oncology 11(5):468–476. https://doi.org/10.1215/15228517-2008-114

38.

Gallego Perez-Larraya J, Paris S, Idbaih A, Dehais C, Laigle-Donadey F, Navarro S, Capelle L, Mokhtari K et al (2014) Diagnostic and prognostic value of preoperative combined GFAP, IGFBP-2, and YKL-40 plasma levels in patients with glioblastoma. Cancer 120(24):3972–3980. https://doi.org/10.1002/cncr.28949

39.

Campbell IL, Erta M, Lim SL, Frausto R, May U, Rose-John S, Scheller J, Hidalgo J (2014) Trans-signaling is a dominant mechanism for the pathogenic actions of interleukin-6 in the brain. J Neurosci 34(7):2503–2513. https://doi.org/10.1523/JNEUROSCI.2830-13.2014

40.

Ritschel VN, Seljeflot I, Arnesen H, Halvorsen S, Eritsland J, Fagerland MW, Andersen GO (2016) Circulating levels of IL-6 receptor and gp130 and long-term clinical outcomes in ST-elevation myocardial infarction. J Am Heart Assoc 5(6). https://doi.org/10.1161/JAHA.115.003014

41.

Kominsky SL, Abdelmagid SM, Doucet M, Brady K, Weber KL (2008) Macrophage inflammatory protein-1 delta: a novel osteoclast stimulating factor secreted by renal cell carcinoma bone metastasis. Cancer Res 68(5):1261–1266. https://doi.org/10.1158/0008-5472.CAN-07-6122

42.

Bartels J, Darrow BG, Schatzberg SJ, Bu L, Carlson R, Tipold A (2014) MIP-3beta/CCL19 is associated with the intrathecal invasion of mononuclear cells in neuroinflammatory and non-neuroinflammatory CNS diseases in dogs. BMC Vet Res 10:157. https://doi.org/10.1186/1746-6148-10-157
Ethics declarations
Conflict of Interest
The authors declare that they have no conflict of interest.
Additional information
Publisher's Note
Springer Nature remains neutral with regard to jurisdictional claims in published maps and institutional affiliations.
Electronic supplementary material
About this article
Cite this article
Pierscianek, D., Ahmadipour, Y., Oppong, M.D. et al. Blood-Based Biomarkers in High Grade Gliomas: a Systematic Review. Mol Neurobiol 56, 6071–6079 (2019). https://doi.org/10.1007/s12035-019-1509-2
Received:

Accepted:

Published:

Issue Date:
Keywords
High-grade glioma

Blood biomarkers

Systematic review