Abstract
Axon degeneration is a prominent component of many neurological disorders. Identifying cellular pathways that contribute to axon vulnerability may identify new therapeutic strategies for maintenance of neural circuits. Dual leucine zipper kinase (DLK) is an axonal stress response MAP3K that is chronically activated in several neurodegenerative diseases. Activated DLK transmits an axon injury signal to the neuronal cell body to provoke transcriptional adaptations. However, the consequence of enhanced DLK signaling to axon vulnerability is unknown. We find that stimulating DLK activity predisposes axons to SARM1-dependent degeneration. Activating DLK reduces levels of the axon survival factors NMNAT2 and SCG10, accelerating their loss from severed axons. Moreover, mitochondrial dysfunction independently decreases the levels of NMNAT2 and SCG10 in axons, and in conjunction with DLK activation, leads to a dramatic loss of axonal NMNAT2 and SCG10 and evokes spontaneous axon degeneration. Hence, enhanced DLK activity reduces axon survival factor abundance and renders axons more susceptible to trauma and metabolic insult.
This is a preview of subscription content,
to check access.
Access this article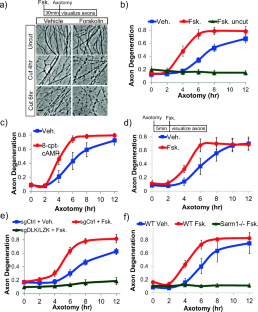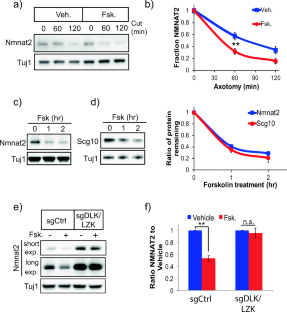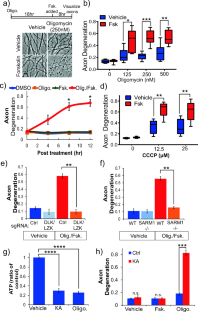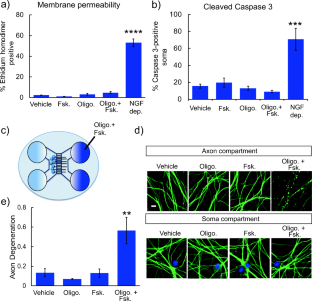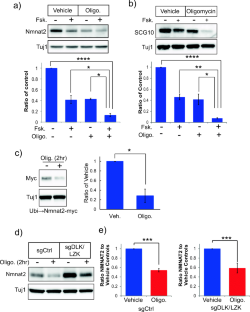 Acknowledgements
We thank the members of the DiAntonio and Milbrandt labs for their constructive feedback in the generation of this manuscript.
Funding
D.W.S is supported by a Development Grant from the Muscular Dystrophy Association (MDA344513). This work was also supported by funds from the National Institutes of Health (RO1-NS65053 to A.D., RF1-AG013730 to J.M, RO1-NS087632 to J.M and A.D., and RO1-CA219866 to A.D. and J.M).
Ethics declarations
Competing Interests
A.D and J.M are co-founders of Disarm Therapeutics and members of the Scientific Advisory Board. The authors have no additional competing financial interests.
Additional information
Publisher's Note
Springer Nature remains neutral with regard to jurisdictional claims in published maps and institutional affiliations.
Electronic Supplementary Material
About this article
Cite this article
Summers, D.W., Frey, E., Walker, L.J. et al. DLK Activation Synergizes with Mitochondrial Dysfunction to Downregulate Axon Survival Factors and Promote SARM1-Dependent Axon Degeneration. Mol Neurobiol 57, 1146–1158 (2020). https://doi.org/10.1007/s12035-019-01796-2
Received:

Accepted:

Published:

Issue Date:

DOI: https://doi.org/10.1007/s12035-019-01796-2
Keywords