Abstract
Adeno-associated virus (AAV)-PHP.B, a capsid variant of AAV serotype 9, is highly permeable to the blood-brain barrier. A major obstacle to the systemic use of AAV-PHP.B is the generation of neutralizing antibodies (NAbs); however, temporal profiles of NAb production after exposure to AAV-PHP.B, and the influence on later AAV-PHP.B administration, remains unknown. To address these, AAV-PHP.Bs expressing either GFP or mCherry by neuron-specific or astrocyte-specific promoters were intravenously administered to mice at various intervals, and brain expression was examined. Injection of two AAV-PHP.Bs, separated temporally, showed that as little as a 1-day interval between injections resulted in a significant decrease in expression of the second transgene, with a complete loss of expression after 7 days, paralleling an increase in serum NAb titers. Brain parenchymal injection was explored to circumvent the presence of NAbs. Mice systemically pre-treated with an AAV-PHP.B were injected intra-cerebrally with an AAV-PHP.B expressing GFP. After 2 weeks, marked GFP expression in the cerebellum was evident, showing that pre-existing NAbs did not affect the AAV-PHP.B directly injected into the brain. In contrast, reversing the injection order, i.e., cerebellar injection followed by systemic injection, completely eliminated expression of the second transgene. We confirmed that intra-cerebellar injection produced NAbs in the serum, but not in the cerebrospinal fluid (CSF). Our results indicate that the preclusion of brain transduction by a second AAV-PHP.B administration begins from the first day following systemic injection and is established within 1 week. Serum NAbs can be avoided by directly injecting AAV-PHP.Bs into brain tissue.
This is a preview of subscription content, log in to check access.
Access options
Buy single article
Instant access to the full article PDF.
US$ 39.95
Price includes VAT for USA
Subscribe to journal
Immediate online access to all issues from 2019. Subscription will auto renew annually.
US$ 99
This is the net price. Taxes to be calculated in checkout.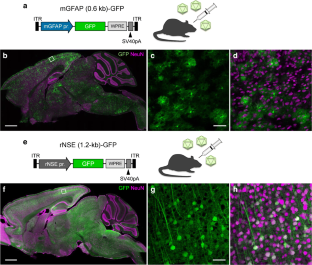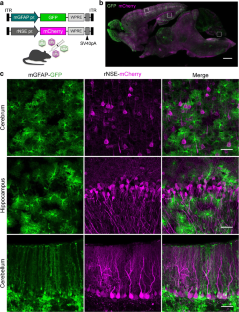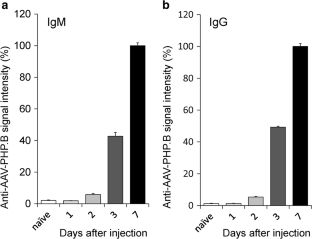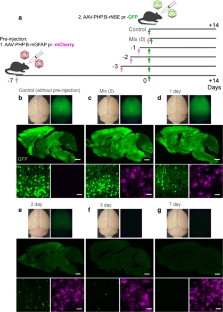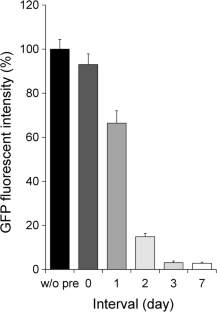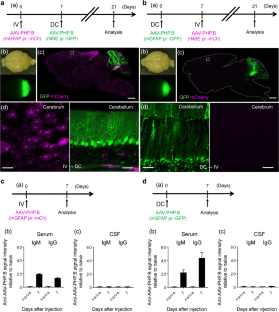 Acknowledgments
We thank Asako Ohnishi and Junko Sugiyama for the viral vector production and the maintenance of mice.
Funding
This research was supported by the program for Brain Mapping by Integrated Neurotechnologies for Disease Studies (Brain/MINDS) from Japan Agency for Medical Research and Development, AMED, under the Grant Number JP17dm0207057h0001 (to H. Hirai), and partially supported by JSPS KAKENHI Grant Number 15K18330 (to A. Konno) and 17K14929 (to Y. Matsuzaki).
Ethics declarations
Competing Interests
The authors declare that they have no competing interests.
Electronic Supplementary Material
About this article
Cite this article
Shinohara, Y., Konno, A., Nitta, K. et al. Effects of Neutralizing Antibody Production on AAV-PHP.B-Mediated Transduction of the Mouse Central Nervous System. Mol Neurobiol 56, 4203–4214 (2019). https://doi.org/10.1007/s12035-018-1366-4
Received:

Accepted:

Published:

Issue Date:
Keywords
Adeno-associated virus

AAV-PHP.B

Cell type-specific promoter

ELISA

Neutralizing antibody