Abstract
Endometriosis is a gynaecological disorder characterised by the presence of endometrial-like tissue outside the uterus. It affects 10–15% of women during their reproductive age. The existence of close and complex relationship between chronic pelvic pain and endometriosis are widely recognised. However, the mechanisms of pain generation in women with endometriosis remain poorly understood. Immunohistochemistry was used to assess the density of nerve fibres stained with protein gene product 9.5 (PGP9.5) and the expression of various neurotrophins including glial cell derived neurotrophic factor (GDNF), persephin, neurotrophin-3 (NT-3) and neurotrophin-4 (NT-4) and neuronal guidance molecules semaphorin 3E and Slit-2 and their receptors Plexin-D1 and Robo4 in peritoneal ectopic lesions from women with endometriosis and uninvolved peritoneum samples. Neurotrophins and neuronal guidance molecules and their receptors are synthesised in situ within peritoneal ectopic lesion which suggest their role in facilitating and maintaining the growth of nerve fibres. These molecules were found to be overall most highly expressed in the glands of endometriotic peritoneal lesions. In addition, the presence of ectopic lesions within the peritoneal cavity may affect the environment; in turn, the peritoneum altered appeared to play a role in the growth of nerve fibres and their development and maintenance in peritoneal lesions. Through exploring different neuronally active factors in and around ectopic lesions which may be contributing to pain generation, this study provides an insight and better understanding of the pain mechanisms associated with peritoneal endometriosis.
This is a preview of subscription content, log in to check access.
Access options
Buy single article
Instant access to the full article PDF.
US$ 39.95
Price includes VAT for USA
Subscribe to journal
Immediate online access to all issues from 2019. Subscription will auto renew annually.
US$ 99
This is the net price. Taxes to be calculated in checkout.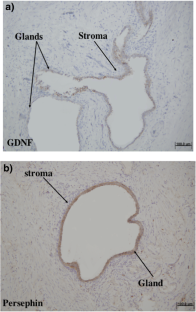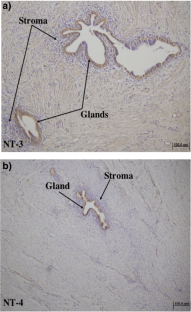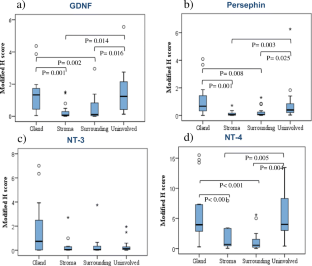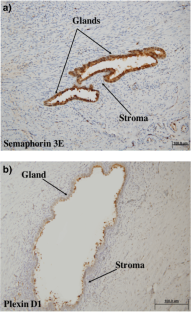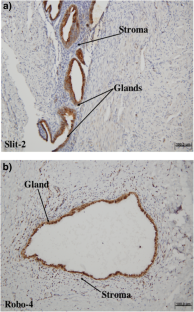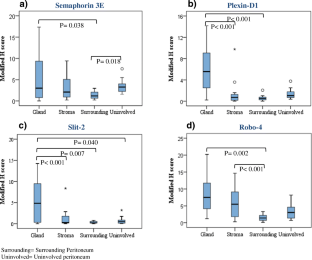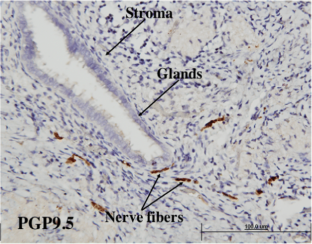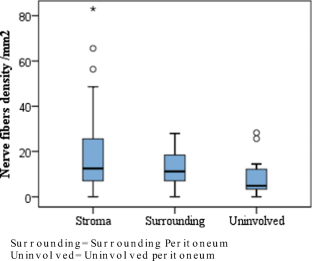 References
1.

Vinatier D, Cosson M, Dufour P (2000) Is endometriosis an endometrial disease? Eur J Obstet Gyn R B 91(2):113–125. https://doi.org/10.1016/S0301-2115(99)00263-8

2.

Lebovic DI, Mueller MD, Taylor RN (2001) Immunobiology of endometriosis. Fertil Steril 75(1):1–10. https://doi.org/10.1016/S0015-0282(00)01630-7

3.

Giudice LC, Kao LC (2004) Endometriosis. Lancet 364(9447):1789–1799. https://doi.org/10.1016/S0140-6736(04)17403-5

4.

Chapron C, Fauconnier A, Dubuisson JB, Barakat H, Vieira M, Bréart G (2003) Deep infiltrating endometriosis: relation between severity of dysmenorrhoea and extent of disease. Hum Reprod 18(4):760–766. https://doi.org/10.1093/humrep/deg152

5.

Tulandi T, Felemban A, Chen MF (2001) Nerve fibers and histopathology of endometriosis-harboring peritoneum. J Am Assoc Gynecol Laparoscop 8(1):95–98

6.

Berkley KJ, Rapkin AJ, Papka RE (2005) The pains of endometriosis. Science 308(5728):1587–1589. https://doi.org/10.1126/science.1111445

7.

Tokushige N, Markham R, Russell P, Fraser IS (2006) Nerve fibres in peritoneal endometriosis. Hum Reprod 21(11):3001–3007. https://doi.org/10.1093/humrep/del260

8.

Twiss JL, Chang JH, Schanen NC (2006) Pathophysiological mechanisms for actions of the neurotrophins. Brain Pathol 16(4):320–332. https://doi.org/10.1111/j.1750-3639.2006.00039.x

9.

Lee JK, Geoffroy CG, Chan AF, Tolentino KE, Crawford MJ, Leal MA, Kang B, Zheng B (2010) Assessing spinal axon regeneration and sprouting in Nogo-, MAG-, and OMgp-deficient mice. Neuron 66(5):663–670. https://doi.org/10.1016/j.neuron.2010.05.002

10.

Vlotides G, Zitzmann K, Stalla GK, Auernhammer CJ (2004) Novel neurotrophin-1/B cell-stimulating factor-3 (NNT-1/BSF-3)/cardiotrophin-like cytokine (CLC)--a novel gp130 cytokine with pleiotropic functions. Cytokine Growth Factor Rev 15(5):325–336. https://doi.org/10.1016/j.cytogfr.2004.04.002

11.

Basbaum AI, Bautista DM, Scherrer G, Julius D (2009) Cellular and molecular mechanisms of pain. Cell 139(2):267–284. https://doi.org/10.1016/j.cell.2009.09.028

12.

Anaf V, Simon P, El Nakadi I, Fayt I, Simonart T, Buxant F, Noel JC (2002) Hyperalgesia, nerve infiltration and nerve growth factor expression in deep adenomyotic nodules, peritoneal and ovarian endometriosis. Hum Reprod 17(7):1895–1900

13.

Tokushige N, Russell P, Black K, Barrera H, Dubinovsky S, Markham R, Fraser IS (2010) Nerve fibers in ovarian endometriomas. Fertil Steril 94(5):1944–1947. https://doi.org/10.1016/j.fertnstert.2009.12.074

14.

Scheerer C, Frangini S, Chiantera V, Mechsner S (2016) Reduced sympathetic innervation in endometriosis is associated to semaphorin 3C and 3F expression. Mol Neurobiol 54:1–11. https://doi.org/10.1007/s12035-016-0058-1

15.

Molecular-Devices-Corporation (2004–2006) MetaMorph basic commands. Version 7.0 for Microsoft XP user's guide. http://www.well.ox.ac.uk/_asset/file/metamorph-basic-commands.pdf

16.

Budwit-Novotny DA, McCarty KS, Cox EB, Soper JT, Mutch DG, Creasman WT, Flowers JL, McCarty KS (1986) Immunohistochemical analyses of estrogen receptor in endometrial adenocarcinoma using a monoclonal antibody. Cancer Res 46(10):5419–5425

17.

Snider WD, McMahon SB (1998) Tackling pain at the source: new ideas about nociceptors. Neuron 20(4):629–632. https://doi.org/10.1016/S0896-6273(00)81003-X

18.

Barcena de Arellano ML, Arnold J, Vercellino F, Chiantera V, Schneider A, Mechsner S (2011) Overexpression of nerve growth factor in peritoneal fluid from women with endometriosis may promote neurite outgrowth in ectopic lesions. Fertil Steril 95(3):1123–1126. https://doi.org/10.1016/j.fertnstert.2010.10.023

19.

Barcena de Arellano ML, Arnold J, Lang H, Vercellino GF, Chiantera V, Schneider A, Mechsner S (2013) Evidence of neurotrophic events due to peritoneal ectopic lesions. Cytokine 62(2):253–261. https://doi.org/10.1016/j.cyto.2013.03.003

20.

Browne AS, Yu J, Huang R-P, Francisco AMC, Sidell N, Taylor RN (2012) Proteomic identification of neurotrophins in the eutopic endometrium of women with endometriosis. Fertil Steril 98(3):713–719. https://doi.org/10.1016/j.fertnstert.2012.05.027

21.

Wessels JM, Kay VR, Leyland NA, Agarwal SK, Foster WG (2016) Assessing brain-derived neurotrophic factor as a novel clinical marker of endometriosis. Fertil Steril 105(1):119–128. e115. https://doi.org/10.1016/j.fertnstert.2015.09.003

22.

Kolodkin AL (1998) Semaphorin-mediated neuronal growth cone guidance. Progress in Brain Research vol 117.

23.

Chisholm A, Tessier-Lavigne M (1999) Conservation and divergence of axon guidance mechanisms. Curr Opin Neurobiol 9(5):603–615. https://doi.org/10.1016/S0959-4388(99)00021-5

24.

Kao LC, Germeyer A, Tulac S, Lobo S, Yang JP, Taylor RN, Osteen K, Lessey BA et al (2003) Expression profiling of endometrium from women with endometriosis reveals candidate genes for disease-based implantation failure and infertility. Endocrinology 144(7):2870–2881. https://doi.org/10.1210/en.2003-0043

25.

Liang Y, Wang W, Huang J, Tan H, Liu T, Shang C, Liu D, Guo L et al (2015) Potential role of semaphorin 3A and its receptors in regulating aberrant sympathetic innervation in peritoneal and deep infiltrating endometriosis. PLoS One 10(12):e0146027. https://doi.org/10.1371/journal.pone.0146027

26.

Brose K, Bland KS, Kuan HW, Arnott D, Henzel W, Goodman CS, Tessier-Lavigne M, Kidd T (1999) Slit proteins bind robo receptors and have an evolutionarily conserved role in repulsive axon guidance. Cell 96(6):795–806

27.

Wang KH, Brose K, Arnott D, Kidd T, Goodman CS, Henzel W, Tessier-Lavigne M (1999) Biochemical purification of a mammalian Slit protein as a positive regulator of sensory axon elongation and branching. Cell 96(6):771–784. https://doi.org/10.1016/S0092-8674(00)80588-7

28.

Shen F, Liu X, Geng J-G, Guo S-W (2009) Increased immunoreactivity to SLIT/ROBO1 in ovarian endometriomas: a likely constituent biomarker for recurrence. Am J Pathol 175(2):479–488. https://doi.org/10.2353/ajpath.2009.090024
Funding
This research was funded by National Health and Medical Research Council (NHMRC) APP1023955.
Ethics declarations
Conflict of Interest
The authors declare that they have no conflict of interest.
About this article
Cite this article
Asally, R., Markham, R. & Manconi, F. The Expression and Cellular Localisation of Neurotrophin and Neural Guidance Molecules in Peritoneal Ectopic Lesions. Mol Neurobiol 56, 4013–4022 (2019). https://doi.org/10.1007/s12035-018-1348-6
Received:

Accepted:

Published:

Issue Date:
Keywords
Neurotrophin

Neural

Guidance

Peritoneal

Endometriotic

Lesions