Abstract
Repetitive transcranial magnetic stimulation (rTMS) is a novel physiological therapy that has been adopted to clinically treat psychiatric disorders. Our previous study indicated the potential therapeutic effect of rTMS on posttraumatic stress disorder (PTSD). However, the exact molecular mechanism is elusive. Currently, using the single prolonged stress (SPS) rat model for PTSD, we investigated the glutamatergic transmission and neural plasticity changes in the anterior cingulate cortex (ACC) after SPS induction and explored the protective effects and mechanism of rTMS treatment. We found that high-frequency rTMS (HrTMS, 15 Hz) treatment significantly relieved the impaired glutamatergic receptors in the ACC after SPS treatment by significantly increasing NMDAR and AMPAR expression. Simultaneously, HrTMS blocked inhibited neuronal phosphatase and tensin homologue on chromosome 10 (PTEN)/Akt signalling in the ACC after SPS treatment by decreasing PTEN expression and increasing Akt phosphorylation, which is critically involved in the regulation of memory and synaptic plasticity. The PTEN inhibitors bpV and small interfering RNA and the Akt inhibitor wortmannin were stereotaxically administered to the ACC after SPS treatment to advance the mechanistic study. Analysis by Western blot, double immunofluorescence, Golgi staining and behavioural tests demonstrated that the effects of rTMS on PTEN/Akt activation, glutamatergic receptor expression, neuronal synaptic plasticity and PTSD-related behaviours induced by SPS treatment were enhanced by PTEN inhibition and blocked by Akt inhibition in the ACC. Our study provides convincing evidence for the effectiveness of rTMS treatment on PTSD and suggests that its potential mechanism involves remodelling neuronal synaptic plasticity via the PTEN/Akt signalling pathway.
Access options
Buy single article
Instant access to the full article PDF.
USD 39.95
Price excludes VAT (USA)
Tax calculation will be finalised during checkout.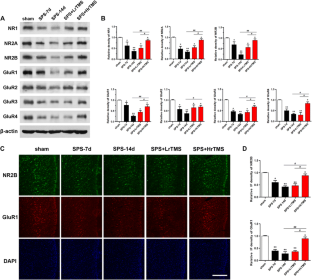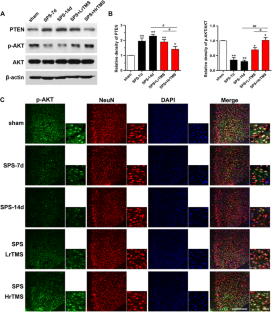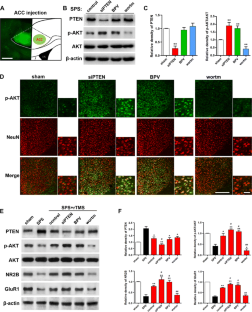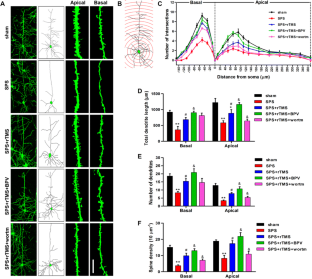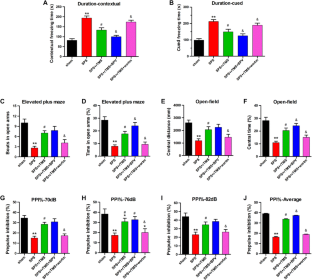 References
Stein DJ, Seedat S, Iversen A, Wessely S (2007) Post-traumatic stress disorder: medicine and politics. Lancet 369:139–144

Jackson G (1991) The rise of post-traumatic stress disorders. BMJ 303:533–534

Steenkamp MM, Litz BT (2014) Prolonged exposure therapy in veterans affairs: the full picture. JAMA Psychiatry 71:211

Fonagy P (2015) The effectiveness of psychodynamic psychotherapies: an update. World Psychiatry 14:137–150

Brady K, Pearlstein T, Asnis GM, Baker D, Rothbaum B, Sikes CR, Farfel GM (2000) Efficacy and safety of sertraline treatment of posttraumatic stress disorder: a randomized controlled trial. JAMA 283:1837–1844

Tarrier N, Pilgrim H, Sommerfield C, Faragher B, Reynolds M, Graham E, Barrowclough C (1999) A randomized trial of cognitive therapy and imaginal exposure in the treatment of chronic posttraumatic stress disorder. J Consult Clin Psychol 67:13–18

Rossi S, Hallett M, Rossini PM, Pascual-Leone A (2009) Safety, ethical considerations, and application guidelines for the use of transcranial magnetic stimulation in clinical practice and research. Clin Neurophysiol 120:2008–2039

Aleman A, Sommer IE, Kahn RS (2007) Efficacy of slow repetitive transcranial magnetic stimulation in the treatment of resistant auditory hallucinations in schizophrenia: a meta-analysis. J Clin Psychiatry 68:416–421

Cohen H, Kaplan Z, Kotler M, Kouperman I, Moisa R, Grisaru N (2004) Repetitive transcranial magnetic stimulation of the right dorsolateral prefrontal cortex in posttraumatic stress disorder: a double-blind, placebo-controlled study. Am J Psychiatry 161:515–524

Woodward SH, Kaloupek DG, Streeter CC, Martinez C, Schaer M, Eliez S (2006) Decreased anterior cingulate volume in combat-related PTSD. Biol Psychiatry 59:582–587

Schulz-Heik RJ, Schaer M, Eliez S, Hallmayer JF, Lin X, Kaloupek DG, Woodward SH (2011) Catechol-O-methyltransferase Val158Met polymorphism moderates anterior cingulate volume in posttraumatic stress disorder. Biol Psychiatry 70:1091–1096

Sekiguchi A, Sugiura M, Taki Y, Kotozaki Y, Nouchi R, Takeuchi H, Araki T, Hanawa S et al (2013) Brain structural changes as vulnerability factors and acquired signs of post-earthquake stress. Mol Psychiatry 18:618–623

Thomaes K, Dorrepaal E, Draijer N, Jansma EP, Veltman DJ, van Balkom AJ (2014) Can pharmacological and psychological treatment change brain structure and function in PTSD? A systematic review. J Psychiatr Res 50:1–15

Fani N, Ashraf A, Afzal N, Jawed F, Kitayama N, Reed L, Bremner JD (2011) Increased neural response to trauma scripts in posttraumatic stress disorder following paroxetine treatment: a pilot study. Neurosci Lett 491:196–201

Citri A, Malenka RC (2008) Synaptic plasticity: multiple forms, functions, and mechanisms. Neuropsychopharmacology 33:18–41

Knox D, Perrine SA, George SA, Galloway MP, Liberzon I (2010) Single prolonged stress decreases glutamate, glutamine, and creatine concentrations in the rat medial prefrontal cortex. Neurosci Lett 480:16–20

Downward J (1998) Mechanisms and consequences of activation of protein kinase B/Akt. Curr Opin Cell Biol 10:262–267

Datta SR, Brunet A, Greenberg ME (1999) Cellular survival: a play in three Akts. Genes Dev 13:2905–2927

Husi H, Ward MA, Choudhary JS, Blackstock WP, Grant SG (2000) Proteomic analysis of NMDA receptor-adhesion protein signaling complexes. Nat Neurosci 3:661–669

Chen BS, Roche KW (2009) Growth factor-dependent trafficking of cerebellar NMDA receptors via protein kinase B/Akt phosphorylation of NR2C. Neuron 62:471–478

Kwon CH, Luikart BW, Powell CM, Zhou J, Matheny SA, Zhang W, Li Y, Baker SJ et al (2006) Pten regulates neuronal arborization and social interaction in mice. Neuron 50:377–388

Sanna PP, Cammalleri M, Berton F, Simpson C, Lutjens R, Bloom FE, Francesconi W (2002) Phosphatidylinositol 3-kinase is required for the expression but not for the induction or the maintenance of long-term potentiation in the hippocampal CA1 region. J Neurosci 22:3359–3365

Jurado S, Benoist M, Lario A, Knafo S, Petrok CN, Esteban JA (2010) PTEN is recruited to the postsynaptic terminal for NMDA receptor-dependent long-term depression. EMBO J 29:2827–2840

Chen C, Ji M, Xu Q, Zhang Y, Sun Q, Liu J, Zhu S, Li W (2015) Sevoflurane attenuates stress-enhanced fear learning by regulating hippocampal BDNF expression and Akt/GSK-3beta signaling pathway in a rat model of post-traumatic stress disorder. J Anesth 29:600–608

Liberzon I, Krstov M, Young EA (1997) Stress-restress: effects on ACTH and fast feedback. Psychoneuroendocrinology 22:443–453

Khan S, Liberzon I (2004) Topiramate attenuates exaggerated acoustic startle in an animal model of PTSD. Psychopharmacology 172:225–229

Takahashi T, Morinobu S, Iwamoto Y, Yamawaki S (2006) Effect of paroxetine on enhanced contextual fear induced by single prolonged stress in rats. Psychopharmacology 189:165–173

Imanaka A, Morinobu S, Toki S, Yamawaki S (2006) Importance of early environment in the development of post-traumatic stress disorder-like behaviors. Behav Brain Res 173:129–137

Schweimer J, Hauber W (2005) Involvement of the rat anterior cingulate cortex in control of instrumental responses guided by reward expectancy. Learn Mem 12:334–342

Overstreet DH, Commissaris RC, De La Garza RN, File SE, Knapp DJ, Seiden LS (2003) Involvement of 5-HT1A receptors in animal tests of anxiety and depression: evidence from genetic models. Stress 6:101–110

Feng D, Guo B, Liu G, Wang B, Wang W, Gao G, Qin H, Wu S (2015) FGF2 alleviates PTSD symptoms in rats by restoring GLAST function in astrocytes via the JAK/STAT pathway. Eur Neuropsychopharmacol 25:1287–1299

Wang HN, Bai YH, Chen YC, Zhang RG, Wang HH, Zhang YH, Gan JL, Peng ZW et al (2015) Repetitive transcranial magnetic stimulation ameliorates anxiety-like behavior and impaired sensorimotor gating in a rat model of post-traumatic stress disorder. PLoS One 10:e0117189

Zehle S, Bock J, Jezierski G, Gruss M, Braun K (2007) Methylphenidate treatment recovers stress-induced elevated dendritic spine densities in the rodent dorsal anterior cingulate cortex. Dev Neurobiol 67:1891–1900

Chen, R., Spencer, D. C., Weston, J., & Nolan, S. J. (2016) Transcranial magnetic stimulation for the treatment of epilepsy. Cochrane Database Syst Rev, CD011025

Ongur D, Ferry AT, Price JL (2003) Architectonic subdivision of the human orbital and medial prefrontal cortex. J Comp Neurol 460:425–449

Ongur D, Price JL (2000) The organization of networks within the orbital and medial prefrontal cortex of rats, monkeys and humans. Cereb Cortex 10:206–219

Butter CM, Snyder DR (1972) Alterations in aversive and aggressive behaviors following orbital frontal lesions in rhesus monkeys. Acta Neurobiol Exp (Wars) 32:525–565

Bremner JD, Mletzko T, Welter S, Quinn S, Williams C, Brummer M, Siddiq S, Reed L et al (2005) Effects of phenytoin on memory, cognition and brain structure in post-traumatic stress disorder: a pilot study. J Psychopharmacol 19:159–165

Kitayama N, Quinn S, Bremner JD (2006) Smaller volume of anterior cingulate cortex in abuse-related posttraumatic stress disorder. J Affect Disord 90:171–174

Kasai K, Yamasue H, Gilbertson MW, Shenton ME, Rauch SL, Pitman RK (2008) Evidence for acquired pregenual anterior cingulate gray matter loss from a twin study of combat-related posttraumatic stress disorder. Biol Psychiatry 63:550–556

Kim MJ, Chey J, Chung A, Bae S, Khang H, Ham B, Yoon SJ, Jeong DU et al (2008) Diminished rostral anterior cingulate activity in response to threat-related events in posttraumatic stress disorder. J Psychiatr Res 42:268–277

Offringa R, Handwerger BK, Staples LK, Dubois SJ, Hughes KC, Pfaff DL, Vanelzakker MB, Davis FC et al (2013) Diminished rostral anterior cingulate cortex activation during trauma-unrelated emotional interference in PTSD. Biol Mood Anxiety Disord 3:10

Kelmendi B, Adams TG, Yarnell S, Southwick S, Abdallah CG, Krystal JH (2016) PTSD: from neurobiology to pharmacological treatments. Eur J Psychotraumatol 7:31858

Yang ZY, Quan H, Peng ZL, Zhong Y, Tan ZJ, Gong QY (2015) Proton magnetic resonance spectroscopy revealed differences in the glutamate + glutamine/creatine ratio of the anterior cingulate cortex between healthy and pediatric post-traumatic stress disorder patients diagnosed after 2008 Wenchuan earthquake. Psychiatry Clin Neurosci 69:782–790

Beaulieu JM (2012) A role for Akt and glycogen synthase kinase-3 as integrators of dopamine and serotonin neurotransmission in mental health. J Psychiatry Neurosci 37:7–16

Shehata M, Matsumura H, Okubo-Suzuki R, Ohkawa N, Inokuchi K (2012) Neuronal stimulation induces autophagy in hippocampal neurons that is involved in AMPA receptor degradation after chemical long-term depression. J Neurosci 32:10413–10422

Trotter J, Lee GH, Kazdoba TM, Crowell B, Domogauer J, Mahoney HM, Franco SJ, Muller U et al (2013) Dab1 is required for synaptic plasticity and associative learning. J Neurosci 33:15652–15668

Garcia-Junco-Clemente P, Golshani P (2014) PTEN: a master regulator of neuronal structure, function, and plasticity. Commun Integr Biol 7:e28358

Grillon C, Southwick SM, Charney DS (1996) The psychobiological basis of posttraumatic stress disorder. Mol Psychiatry 1:278–297

Hopper JW, Frewen PA, van der Kolk BA, Lanius RA (2007) Neural correlates of reexperiencing, avoidance, and dissociation in PTSD: symptom dimensions and emotion dysregulation in responses to script-driven trauma imagery. J Trauma Stress 20:713–725
Ethics declarations
Funding Sources
This work was supported by the State Key Program of the National Natural Science Foundation of China [grant number 81630032] and the National Natural Science Foundation of China [grant numbers 81371240 and 81571309].
Conflict of Interest
The authors declare that they have no conflict of interest.
Electronic Supplementary Material
About this article
Cite this article
Liu, G., Feng, D., Wang, J. et al. rTMS Ameliorates PTSD Symptoms in Rats by Enhancing Glutamate Transmission and Synaptic Plasticity in the ACC via the PTEN/Akt Signalling Pathway. Mol Neurobiol 55, 3946–3958 (2018). https://doi.org/10.1007/s12035-017-0602-7
Received:

Accepted:

Published:

Issue Date:

DOI: https://doi.org/10.1007/s12035-017-0602-7
Keywords