Abstract
This study aims to investigate the protective effects and underlying mechanisms of hydrogen-rich saline on the cognitive functions of elder mice with partial hepatectomy-induced postoperative cognitive dysfunction (POCD). Ninety-six old male Kunming mice were randomly divided into 4 groups (n = 24 each): control group (group C), hydrogen-rich saline group (group H), POCD group (group P), and POCD + hydrogen-rich saline group (group PH). Cognitive function was subsequently assessed using Morris water-maze (MWM) test. TNF-α and IL-1β levels were measured by enzyme-linked immunosorbent assay (ELISA) and immunohistochemistry, along with NF-κB activity determined by ELISA. The morphology of hippocampal tissues were further observed by HE staining. Learning and memory abilities of mice were significantly impaired at day 10 and day 14 post-surgery, as partial hepatectomy significantly prolonged the escape latency, decreased time at the original platform quadrant and frequency of crossing in group P when compared to group C (p < 0.05). The surgery also increased the contents of TNF-α, IL-1β, and NF-κB activity at all time points after surgery (p < 0.05). The introduction of hydrogen-rich saline (group PH) partially rescued spatial memory and learning as it shortened escape latency and increased time and crossing frequency of original platform compared to group P (p < 0.05). Moreover, such treatment also decreased TNF-α and IL-1β levels and NF-κB activity (p < 0.05). In addition, cell necrosis in the hippocampus induced by hepatectomy was also rescued by hydrogen-rich saline. Hydrogen-rich saline can alleviate POCD via inhibiting NF-κB activity in the hippocampus and reducing inflammatory response.
This is a preview of subscription content, log in to check access.
Access options
Buy single article
Instant access to the full article PDF.
US$ 39.95
Price includes VAT for USA
Subscribe to journal
Immediate online access to all issues from 2019. Subscription will auto renew annually.
US$ 99
This is the net price. Taxes to be calculated in checkout.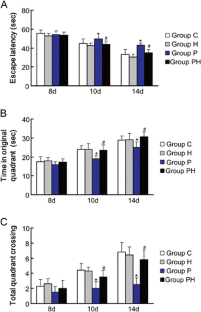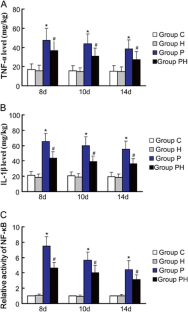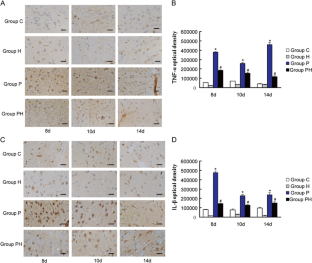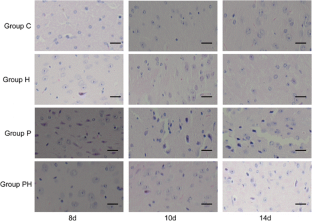 References
1.

Johnson T, Monk T, Rasmussen LS, Abildstrom H, Houx P, Korttila K, Kuipers HM, Hanning CD, Siersma VD, Kristensen D, Canet J, Ibañaz MT, Moller JT, ISPOCD2 Investigators (2006) Postoperative cognitive dysfunction in middle-aged patients. Anesthesiology 96:1351

2.

Monk TG, Weldon BC, Garvan CW, Dede DE, van der Aa MT, Heilman KM, Gravenstein JS (2008) Predictors of cognitive dysfunction after major noncardiac surgery. Anesthesiology 108(1):18–30

3.

Evered L, Scott DA, Silbert B, Maruff P (2011) Postoperative cognitive dysfunction is independent of type of surgery and anesthetic. Anesth Analg 112(5):1179–1185

4.

Trompet S, de Craen AJ, Slagboom P, Shepherd J, Blauw GJ, Murphy MB, Bollen EL, Buckley BM, Ford I, Gaw A, Macfarlane PW, Packard CJ, Stott DJ, Jukema JW, Westendorp RG, Group PROSPER (2008) Genetic variation in the interleukin-1 beta-converting enzyme associates with cognitive function. The PROSPER study. Brain 131(Pt 4):1069–1077

5.

Wan Y, Xu J, Ma D, Zeng Y, Cibelli M, Maze M (2007) Postoperative impairment of cognitive function in rats: a possible role for cytokine-mediated inflammation in the hippocampus. Anesthesiology 106(3):436–443

6.

Rosczyk HA, Sparkman NL, Johnson RW (2008) Neuroinflammation and cognitive function in aged mice following minor surgery. Exp Gerontol 43(9):840–846

7.

Li J, Wang C, Zhang JH, Cai JM, Cao YP, Sun XJ (2010) Hydrogen-rich saline improves memory function in a rat model of amyloid-beta-induced Alzheimer's disease by reduction of oxidative stress. Brain Res 1328:152–161

8.

Wang C, Li J, Liu Q, Yang R, Zhang JH, Cao YP, Sun XJ (2011) Hydrogen-rich saline reduces oxidative stress and inflammation by inhibit of JNK and NF-κB activation in a rat model of amyloid-beta-induced Alzheimer's disease. Neurosci Lett 491(2):127–132

9.

Xie K, Yu Y, Pei Y, Hou L, Chen S, Xiong L, Wang G (2010) Protective effects of hydrogen gas on murine polymicrobial sepsis via reducing oxidative stress and HMGB1 release. Shock 34(1):90–97

10.

Li RL, Zhang ZZ, Peng M, Wu Y, Zhang JJ, Wang CY, Wang YL (2013) Postoperative impairment of cognitive function in old mice: a possible role for neuroinflammation mediated by HMGB1, S100B, and RAGE. J Surg Res 185(2):815–824

11.

Psotta L, Rockahr C, Gruss M, Kirches E, Braun K, Lessmann V, Bock J, Endres T (2015) Impact of an additional chronic Bdnf reduction on learning performance in an Alzheimer mouse model. Front Behav Neurosci 9:58

12.

D'Hooge R, De Deyn PP (2001) Applications of the Morris water maze in the study of learning and memory. Brain Res Brain Res Rev 36(1):60–90

13.

Edwards H, Rose EA, Schorow M, King TC (1981) Postoperative deterioration in psychomotor function. JAMA 245(13):1342–1343

14.

Rohan D, Buggy DJ, Crowley S, Ling FK, Gallagher H, Regan C, Moriarty DC (2005) Increased incidence of postoperative cognitive dysfunction 24 hr after minor surgery in the elderly. Can J Anaesth 52(2):137–142

15.

Chu QJ, He L, Zhang W, Liu CL, Ai YQ, Zhang Q (2013) Hydrogen sulfide attenuates surgical trauma-induced inflammatory response and cognitive deficits in mice. J Surg Res 183(1):330–336

16.

Huang Y, Mucke L (2012) Alzheimer mechanisms and therapeutic strategies. Cell 148(6):1204–1222

17.

Cibelli M, Fidalgo AR, Terrando N, Ma D, Monaco C, Feldmann M, Takata M, Lever IJ, Nanchahal J, Fanselow MS, Maze M (2010) Role of interleukin-1beta in postoperative cognitive dysfunction. Ann Neurol 68(3):360–368

18.

Sun D, Yang L, Wu Y, Liu R, Han J, Wang L (2014) Effect of intravenous infusion of dobutamine hydrochloride on the development of early postoperative cognitive dysfunction in elderly patients via inhibiting the release of tumor necrosis factor-α. Eur J Pharmacol 741:150–155

19.

Barrientos RM, Higgins EA, Sprunger DB, Watkins LR, Rudy JW, Maier SF (2002) Memory for context is impaired by a post context exposure injection of interleukin-1 beta into dorsal hippocampus. Behav Brain Res 134(1-2):291–298

20.

Herlin PM, James JH, Nachbauer CA, Fischer JE (1983) Effect of total hepatectomy and administration of branched-chain amino acids on regional norepinephrine, dopamine, and amino acids in rat brain. Ann Surg 198(2):172–177

21.

Bugge M, Bengtsson F, Nobin A, Jeppsson B, Herlin P (1986) Metabolism of monoamines in the brain after total hepatectomy in the rat. Exp Neurol 94(1):11–20

22.

McKinzie SL1, Hammond DL, Grabau C, Tyce GM (1996) Releases of norepinephrine and dopamine in ventriculocisternal perfusions in hepatectomized and laparotomized rats. J Neurochem 66(2):569–578
Acknowledgments
This work was supported by grants from the Shengjing Hospital of China Medical University Foundation (Funding NO. 2014sj08) and National Natural Science Foundation (Funding NO. 81473285).
Ethics declarations
Animal experiments were performed in accordance with Guidelines for the Care and Use of Laboratory Animals stipulated by the Ethics Committee of the Shengjing Hospital Affiliated of China Medical University.
Electronic Supplementary Material
Below is the link to the electronic supplementary material.
Fig. S1 Representative swimming traces of mice during MWM test in each group at day 8, day 10, and day 14 after surgery; group C, control group without surgery; group H, hydrogen-rich saline treated without surgery; group P, hepatectomy only; group PH, surgery plus hydrogen-rich saline treatment from day 8 to day 14 post-surgery. (TIF 997 kb)
About this article
Cite this article
Tian, Y., Guo, S., Zhang, Y. et al. Effects of Hydrogen-Rich Saline on Hepatectomy-Induced Postoperative Cognitive Dysfunction in Old Mice. Mol Neurobiol 54, 2579–2584 (2017). https://doi.org/10.1007/s12035-016-9825-2
Received:

Accepted:

Published:

Issue Date:
Keywords
Hydrogen-rich saline

POCD

NF-κB

Inflammatory response