Abstract
Diabetic peripheral neuropathy (DPN) is a microvascular complication of diabetes mellitus. The aim of this meta-analysis was to evaluate the effects of methylenetetrahydrofolate reductase (MTHFR) 677 C>T and ACE I/D polymorphisms in the development of DPN. We systematically reviewed published studies on MTHFR 677 C>T and ACE I/D polymorphisms and DPN found in various types of electronic databases. Strengthening the Reporting of Observational studies in Epidemiology (STROBE) quality score systems were used to determine the quality of the articles selected for inclusion. Odds ratios (ORs) and its corresponding 95 % confidence interval (95 % CI) were calculated. We used STATA statistical software (version 12.0, Stata Corporation, College Station, TX, USA) to deal with statistical data. Our results indicated an association of ACE D>I mutation (OR = 1.43, 95 % CI 1.12–1.83, P = 0.004) and MTHFR 677 C>T mutation (OR = 1.43, 95 % CI 1.08–1.90, P = 0.014) with DPN under the allele model, and similar results were also found under the dominant model (all P < 0.05). Subgroup analysis by country indicated that the MTHFR 677 C>T polymorphism may be the main risk factor for DPN in Turkey under four genetic models. ACE D>I mutation was correlated with DPN in Japanese and Pakistani populations in the majority of groups. The relationships of MTHFR 677 C>T and ACE I/D polymorphisms with DPN patients presented in this meta-analyses support the view that the MTHFR and ACE genes might play an important role in the development of DPN.
This is a preview of subscription content,
to check access.
Access this article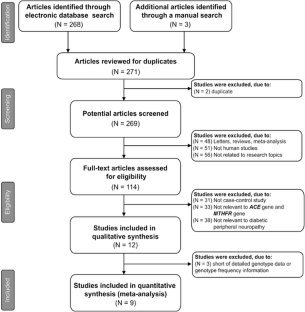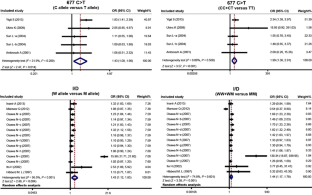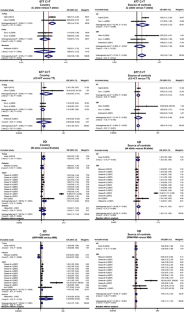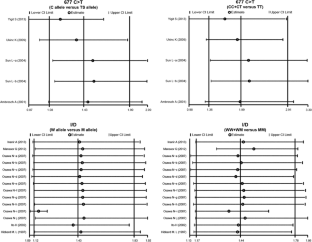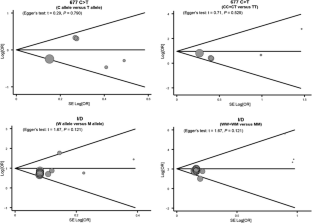 References
Tesfaye S, Boulton AJ, Dyck PJ et al (2010) Diabetic neuropathies: update on definitions, diagnostic criteria, estimation of severity, and treatments. Diabetes Care 33:2285–2293

Varkonyi T, Kempler P (2008) Diabetic neuropathy: new strategies for treatment. Diabetes Obes Metab 10:99–108

Yan JE, Yuan W, Lou X et al (2012) Streptozotocin-induced diabetic hyperalgesia in rats is associated with upregulation of Toll-like receptor 4 expression. Neurosci Lett 526:54–58

Wong MC, Chung JW, Wong TK (2007) Effects of treatments for symptoms of painful diabetic neuropathy: systematic review. BMJ 335:87

Monastiriotis C, Papanas N, Veletza S et al (2012) APOE gene polymorphisms and diabetic peripheral neuropathy. Arch Med Sci 8:583–588

Inanir A, Basol N, Karakus N et al (2013) The importance of association between angiotensin-converting enzyme (ACE) Gene I/D polymorphism and diabetic peripheral neuropathy. Gene 530:253–256

Tesfaye S, Selvarajah D (2012) Advances in the epidemiology, pathogenesis and management of diabetic peripheral neuropathy. Diabetes Metab Res Rev 28(Suppl 1):8–14

Yigit S, Karakus N, Inanir A (2013) Association of MTHFR gene C677T mutation with diabetic peripheral neuropathy and diabetic retinopathy. Mol Vis 19:1626–1630

Papanas N, Vinik AI, Ziegler D (2011) Neuropathy in prediabetes: does the clock start ticking early? Nat Rev Endocrinol 7:682–690

Miranda-Massari JR, Gonzalez MJ, Jimenez FJ et al (2011) Metabolic correction in the management of diabetic peripheral neuropathy: improving clinical results beyond symptom control. Curr Clin Pharmacol 6:260–273

Jurado J, Ybarra J, Romeo JH et al (2012) Angiotensin-converting enzyme gene single polymorphism as a genetic biomarker of diabetic peripheral neuropathy: longitudinal prospective study. J Diabetes Complicat 26:77–82

Purnamasari D, Widjojo BD, Antono D et al (2012) ACE gene polymorphism and atherosclerotic lesion of carotid artery among offsprings of type 2 diabetes mellitus. Acta Med Indones 44:128–134

Mansoor Q, Javaid A, Bilal N et al (2012) Angiotensin-converting enzyme (ACE) gene II genotype protects against the development of diabetic peripheral neuropathy in type 2 diabetes mellitus. J Diabetes 4:257–261

Doria A, Warram JH, Krolewski AS (1994) Genetic predisposition to diabetic nephropathy. Evidence for a role of the angiotensin I-converting enzyme gene. Diabetes 43:690–695

Osawa N, Koya D, Araki S et al (2007) Combinational effect of genes for the renin-angiotensin system in conferring susceptibility to diabetic nephropathy. J Hum Genet 52:143–151

Zhou D, Ruiter R, Zhang J et al (2012) Angiotensin-converting enzyme I/D polymorphism is not associated with type 2 diabetes in a Chinese population. J Renin Angiotensin Aldosterone Syst 13:372–378

Qin X, Li J, Cui Y et al (2012) Effect of folic acid intervention on the change of serum folate level in hypertensive Chinese adults: do methylenetetrahydrofolate reductase and methionine synthase gene polymorphisms affect therapeutic responses? Pharmacogenet Genomics 22:421–428

Ukinc K, Ersoz HO, Karahan C et al (2009) Methyltetrahydrofolate reductase C677T gene mutation and hyperhomocysteinemia as a novel risk factor for diabetic nephropathy. Endocrine 36:255–261

Goyette P, Sumner JS, Milos R et al (1994) Human methylenetetrahydrofolate reductase: isolation of cDNA mapping and mutation identification. Nat Genet 7:551

Li JB, Cheng YZ, Shi M et al (2011) The relationship between plasma homocysteine levels and diabetic peripheral neuropathy. Chin J Internal Med 50:14–17

Jianbo L, Yuche C, Ming S et al (2011) Association of homocysteine with peripheral neuropathy in Chinese patients with type 2 diabetes. Diabetes Res Clin Pract 93:38–42

Ambrosch A, Dierkes J, Lobmann R et al (2001) Relation between homocysteinaemia and diabetic neuropathy in patients with type 2 diabetes mellitus. Diabet Med 18:185–192

da Costa BR, Cevallos M, Altman DG et al (2011) Uses and misuses of the STROBE statement: bibliographic study. BMJ Open 1:e000048

Jackson D, White IR, Riley RD (2012) Quantifying the impact of between-study heterogeneity in multivariate meta-analyses. Stat Med 31:3805–3820

Peters JL, Sutton AJ, Jones DR et al (2006) Comparison of two methods to detect publication bias in meta-analysis. JAMA 295:676–680

Zintzaras E, Ioannidis JP (2005) HEGESMA: genome search meta-analysis and heterogeneity testing. Bioinformatics 21:3672–3673

Sun L, Chen L, Ren JM et al (2004) Relationship of plasma homocysteine and gene polymorphism of homocysteine metabolism related enzyme with diabetic peripheral neuropathy. Chin J Endocrinol Metab 20:536–537

Hibberd ML, Millward BA, Demaine AG (1997) The angiotensin I-converting enzyme (ACE) locus is strongly associated with age and duration of diabetes in patients with type I diabetes. J Diabetes Complicat 11:2–8

Ito H, Tsukui S, Kanda T et al (2002) Angiotensin-converting enzyme insertion/deletion polymorphism and polyneuropathy in type 2 diabetes without macroalbuminuria. J Int Med Res 30:476–482

Toffoli G, Russo A, Innocenti F et al (2003) Effect of methylenetetrahydrofolate reductase 677C--> T polymorphism on toxicity and homocysteine plasma level after chronic methotrexate treatment of ovarian cancer patients. Int J Cancer 103:294–299

Xuan C, Bai XY, Gao G et al (2011) Association between polymorphism of methylenetetrahydrofolate reductase (MTHFR) C677T and risk of myocardial infarction: a meta-analysis for 8,140 cases and 10,522 controls. Arch Med Res 42:677–685

Ilhan N, Kucuksu M, Kaman D et al (2008) The 677 C/T MTHFR polymorphism is associated with essential hypertension, coronary artery disease, and higher homocysteine levels. Arch Med Res 39:125–130

Dhar S, Ray S, Dutta A et al (2012) Polymorphism of ACE gene as the genetic predisposition of coronary artery disease in Eastern India. Indian Heart J 64:576–581

Mollnau H, Wendt M, Szocs K et al (2002) Effects of angiotensin II infusion on the expression and function of NAD(P)H oxidase and components of nitric oxide/cGMP signaling. Circ Res 90:E58–E65

Cotter MA, Cameron NE (2003) Effect of the NAD(P)H oxidase inhibitor, apocynin, on peripheral nerve perfusion and function in diabetic rats. Life Sci 73:1813–1824

Pasha MA, Khan AP, Kumar R et al (2002) Variations in angiotensin-converting enzyme gene insertion/deletion polymorphism in Indian populations of different ethnic origins. J Biosci 27:67–70

Ay C, Bencur P, Vormittag R et al (2007) The angiotensin-converting enzyme insertion/deletion polymorphism and serum levels of angiotensin-converting enzyme in venous thromboembolism. Data from a case control study. Thromb Haemost 98:777–782
Acknowledgments
This study was supported by the National Natural Science Foundation of China (81230027, 81401127, 81471219), Shanghai Natural Science Foundation (13ZR1460500, 13ZR1409700), Shanghai Excellent Academic Leaders Project (14XD1403400), Shanghai Key Laboratory of Psychotic Disorders (13dz2260500-14-K06), Shanghai Changhai Hospital Foundation (CH125530900), and Postdoctoral Grant of Secondary Military Medical University. We would like to acknowledge the reviewers for their helpful comments on this paper.
Ethics declarations
Conflict of Interest
The authors declare that they have no conflicts of interest.
About this article
Cite this article
Wu, S., Han, Y., Hu, Q. et al. Effects of Common Polymorphisms in the MTHFR and ACE Genes on Diabetic Peripheral Neuropathy Progression: a Meta-Analysis. Mol Neurobiol 54, 2435–2444 (2017). https://doi.org/10.1007/s12035-016-9823-4
Received:

Accepted:

Published:

Issue Date:

DOI: https://doi.org/10.1007/s12035-016-9823-4
Keywords