Abstract
Klotho protein, encoded by the Klotho gene (KL) at locus 13q12, is an antiaging hormone-like protein playing a pivotal role in cell metabolism homeostasis and associated to longevity and age-related diseases. In particular, altered cell metabolism in central nervous system may influence the behavior of serotoninergic neurons. The role of KL in the response to treatment with selective serotonin reuptake inhibitors (SSRIs) in late-life depressive syndromes and late-life major depressive disorder (MDD) is unclear. We genotyped three single-nucleotide polymorphisms (SNPs) of KL in 329 older patients with diagnosis of late-life MDD, treated with SSRIs and evaluated with the Hamilton Rating Scale for Depression 21-items (HRSD-21) at baseline and after 6 months. A reduction ≥50 and <10 % in HDRS-21 score was considered as response or nonresponse to therapy, respectively, and the values of reduction between 10 and 49 % as poor responders. After 6 months of SSRI treatment, 176 patients responded, 54 patients did not respond and 99 patients showed a poor response. Ordinal logistic models showed a significant association between mutation of SNP rs1207568 and responders and, similarly, for each unitary risk allele increase overlapping results were found. Conversely, a significantly higher frequency of the minor genotype of SNP rs9536314 was found in nonresponders. Considering the pre-post differences of HRSD-21 scores as a continue variable, we confirmed a significant improvement of depressive symptoms after treatment in patients carrying at least one minor allele at rs1207568 and a worse response in patients homozygous for the minor allele at rs9536314. Our results were the first that suggested a possible role of KL in the complex pathway of SSRI response in late-life MDD.
Access options
Buy single article
Instant access to the full article PDF.
USD 39.95
Price excludes VAT (USA)
Tax calculation will be finalised during checkout.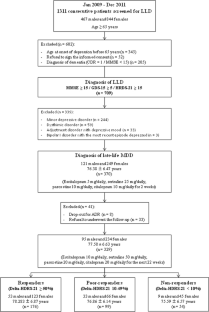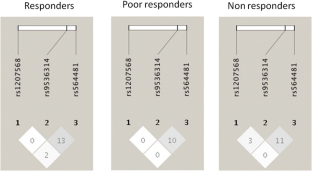 References
Naismith SL, Norrie LM, Mowszowski L, Hickie IB (2012) The neurobiology of depression in later-life: clinical, neuropsychological, neuroimaging and pathophysiological features. Prog Neurobiol 98:99–143

American Psychiatric Association (2000) Diagnostic and Statistical Manual of Mental Disorders. Fourth Edition, Text Revision (DSM-IV-TR). American Psychiatric Publishing, Washington, DC.

Alexopoulos GS (2005) Depression in the elderly. Lancet 365:1961–1970

Panza F, Frisardi V, Capurso C, D'Introno A, Colacicco AM, Imbimbo BP, Santamato A, Vendemiale G, Seripa D, Pilotto A, Capurso A, Solfrizzi V (2010) Late-life depression, mild cognitive impairment, and dementia: possible continuum? Am J Geriatr Psych 18:98–116

Luppa M, Sikorski C, Luck T, Ehreke L, Konnopka A, Wiese B, Weyerer S, König HH, Riedel-Heller SG (2012) Age- and gender-specific prevalence of depression in latest-life—systematic review and meta-analysis. J Affect Disord 136:212–221

Büchtemann D, Luppa M, Bramesfeld A, Riedel-Heller S (2012) Incidence of late-life depression: a systematic review. J Affect Disord 142:172–179

Gleason OC, Pierce AM, Walker AE, Warnock JK (2013) The two-way relationship between medical illness and late-life depression. Psychiatr Clin North Am 36:533–544

Pollock BG (2005) The pharmacokinetic imperative in late-life depression. J Clin Psychopharmacol 25(4 Suppl 1):S19–S23

Mezuk B, Lohman M, Dumenci L, Lapane KL (2013) Are depression and frailty overlapping syndromes in mid- and late-life? A latent variable analysis. Am J Geriatr Psychiatry 21:560–569

Pilotto A, D'Onofrio G, Panza F, Copetti M, Cascavilla L, Paris F, Pellegrini F, Seripa D, Ferrucci L (2012) Treatment of late-life major depressive disorder with selective serotonin reuptake inhibitors improves the multidimensional prognostic index. J Clin Psychopharmacol 32:726–729

World Economic Forum (2011) Global burden of mental disorders and the need for a comprehensive, coordinated response from health and social sectors at the country level. World Health Organization; EXECUTIVE BOARD EB130/9. http://apps.who.int/gb/ebwha/pdf_files/EB130/B130_9-en.pdf

Ellison JM, Kyomen HH, Harper DG (2012) Depression in later life: an overview with treatment recommendations. Psychiatr Clin North Am 35:203–229

Rojas-Fernandez CH, Miller LJ, Sadowski CA (2010) Considerations in the treatment of geriatric depression: overview of pharmacotherapeutic and psychotherapeutic treatment interventions. Res Gerontol Nurs 3:176–186

Gold PW, Goodwin FK, Chrousos GP (1988) Clinical and biochemical manifestations of depression. Relation to the neurobiology of stress (a). N Engl J Med 319:348–353

Gold PW, Goodwin FK, Chrousos GP (1988) Clinical and biochemical manifestations of depression. Relation to the neurobiology of stress (b). N Engl J Med 319:1428

Sun MK, Alkon DL (2014) Stress: perspectives on its impact on cognition and pharmacological treatment. Behav Pharmacol 25(5-6):410–424

Medzhitov R (2008) Origin and physiological roles of inflammation. Nature 454:428–435

Hotamisligil GS (2010) Endoplasmic reticulum stress and the inflammatory basis of metabolic disease. Cell 140:900–917

Zhang X, Zhang G, Zhang H, Karin M, Bai H, Cai D (2008) Hypothalamic IKKbeta/NFkappaB and ER stress link overnutrition to energy imbalance and obesity. Cell 135:61–73

Gold PW, Licinio J, Pavlatou MG (2013) Pathological parainflammation and endoplasmic reticulum stress in depression: potential translational targets through the CNS insulin, klotho and PPAR-γ systems. Mol Psychiatry 18:154–165

Kim I, Xu W, Reed J (2008) Cell death and endoplasmic reticulum stress: disease relevance and therapeutic opportunities. Nat Rev Drug Discov 7:1013–1030

Lin JH, Walter P, Yen TS (2008) Endoplasmic reticulum stress in disease pathogenesis. Annu Rev Pathol 3:399–425

Ozcan U, Cao Q, Yilmaz E, Lee AH, Iwakoshi NN, Ozdelen E, Tuncman G, Görgün C, Glimcher LH, Hotamisligil GS (2004) Endoplasmic reticulum stress links obesity, insulin action, and type 2 diabetes. Science 306:457–461

Zhao L, Ackerman SL (2006) Endoplasmic reticulum stress in health and disease. Curr Opin Cell Biol 18:444–452

Kuro-o M, Matsumura Y, Aizawa H, Kawaguchi H, Suga T, Utsugi T, Ohyama Y, Kurabayashi M, Kaname T, Kume E, Iwasaki H, Iida A, Shiraki-Iida T, Nishikawa S, Nagai R, Nabeshima YI (1997) Mutation of the mouse klotho gene leads to a syndrome resembling ageing. Nature 390:45–51

Banerjee S, Zhao Y, Sarkar PS, Rosenblatt KP, Tilton RG, Choudhary S (2013) Klotho ameliorates chemically induced endoplasmic reticulum (ER) stress signaling. Cell Physiol Biochem 31:659–672

Kurosu H, Yamamoto M, Clark JD, Pastor JV, Nandi A, Gurnani P, McGuinness OP, Chikuda H, Yamaguchi M, Kawaguchi H, Shimomura I, Takayama Y, Herz J, Kahn CR, Rosenblatt KP, Kuro-o M (2005) Suppression of aging in mice by the hormone Klotho. Science 309:1829–1833

Kuro-o M (2008) Klotho as a regulator of oxidative stress and senescence. Biol Chem 389:233–241

Nagai T, Yamada K, Kim HC, Kim YS, Noda Y, Imura A, Nabeshima Y, Nabeshima T (2003) Cognition impairment in the genetic model of aging klotho gene mutant mice: a role of oxidative stress. FASEB J 17:50–52

Unützer J (2007) Clinical practice. Late-life depression. N Engl J Med 357:2269–2275

26. NIH Consensus Conference (1992) Diagnosis and treatment of depression in late life. JAMA 268:1018–1024

Gottfries CG (2001) Late life depression. Eur Arch Psychiatry Clin Neurosci 251(Suppl2):57–61

Abo R, Hebbring S, Ji Y, Zhu H, Zeng ZB, Batzler A, Jenkins GD, Biernacka J, Snyder K, Drews M, Fiehn O, Fridley B, Schaid D, Kamatani N, Nakamura Y, Kubo M, Mushiroda T, Kaddurah-Daouk R, Mrazek DA, Weinshilboum RM (2012) Merging pharmacometabolomics with pharmacogenomics using '1000 Genomes' single-nucleotide polymorphism imputation: selective serotonin reuptake inhibitor response pharmacogenomics. Pharmacogenet Genomics 22:247–253

Kroeze Y, Zhou H, Homberg JR (2012) The genetics of selective serotonin reuptake inhibitors. Pharmacol Ther 136:375–400

El-Hage W, Leman S, Camus V, Belzung C (2013) Mechanisms of antidepressant resistance. Front Pharmacol 4:146

Pitychoutis PM, Kokras N, Sanoudou D, Dalla C, Papadopoulou-Daifoti Z (2013) Pharmacogenetic considerations for late life depression therapy. Expert Opin Drug Metab Toxicol 9:989–999

von Elm E, Altman DG, Egger M, Pocock SJ, Gøtzsche PC, Vandenbroucke JP, STROBE Initiative (2007) Strengthening the Reporting of Observational Studies in Epidemiology (STROBE) statement: guidelines for reporting observational studies. BMJ 335:806–808

Folstein M, Folstein S, McHugh PR (1975) Mini-Mental State: a practical method for grading the cognitive state of patients for the clinician. J Psychiatr Res 12:189–198

Yesavage JA, Brink TL, Rose TL, Lum O, Huang V, Adey M, Leirer VO (1982-1983) Development and validation of a geriatric depression screening scale: a preliminary report. J Psychiatr Res 17:37–49

D'Ath P, Katona P, Mullan E, Evans S, Katona C (1994) Screening, detection and management of depression in elderly primary care attenders. I: the acceptability and performance of the 15 item Geriatric Depression Scale (GDS-15) and the development of short versions. Fam Pract 11:260–266

McGivney SA, Mulvihill M, Taylor B (1994) Validating the GDS depression screen in the nursing home. J Am Geriatr Soc 42:490–492

Hamilton M (1960) A rating scale for depression. J Neurol Neurosurg Psychiatry 23:56–62

Alexopoulos GS, Canuso CM, Gharabawi GM, Bossie CA, Greenspan A, Turkoz I, Reynolds C (2008) Placebo-controlled study of relapse prevention with risperidone augmentation in older patients with resistant depression. Am J Geriatr Psychiatry 16:21–30

Miller SA, Dykes DD, Polesky HF (1988) A simple salting out procedure for extracting DNA from human nucleated cells. Nucleic Acids Res 16:1215

Wang Y, Sun Z (2009) Current understanding of klotho. Ageing Res Rev 8:43–51

Arking DE, Krebsova A, Macek M Sr, Macek M Jr, Arking A, Mian IS, Fried L, Hamosh A, Dey S, McIntosh I, Dietz HC (2002) Association of human aging with a functional variant of klotho. Proc Natl Acad Sci U S A 99:856–861

Seripa D, Panza F, D'Onofrio G, Paroni G, Bizzarro A, Fontana A, Paris F, Cascavilla L, Copetti M, Masullo C, Pilotto A (2013) The serotonin transporter gene locus in late-life major depressive disorder. Am J Geriatr Psychiatry 21:67–77

Seripa D, Bizzarro A, Pilotto A, D'Onofrio G, Vecchione G, Gallo AP, Cascavilla L, Paris F, Grandone E, Mecocci P, Santini SA, Masullo C, Pilotto A (2011) Role of cytochrome P4502D6 functional polymorphisms in the efficacy of donepezil in patients with Alzheimer's disease. Pharmacogenet Genomics 21:225–230

Lewis CM (2002) Genetic association studies: design, analysis and interpretation. Brief Bioinform 3:146–153

Minelli C, Thompson JR, Abrams KR, Thakkinstian A, Attia J (2005) The choice of a genetic model in the meta-analysis of molecular association studies. Int J Epidemiol 34:1319–1328

Barret JC, Fry B, Maller J, Daly MJ (2005) Haploview: Analysis and visualization of LD and haplotype maps. Bioinformatics 21:263–265

Cohen J (1992) A power primer. Psychol Bull 112:155–159

Sathyanesan M, Girgenti MJ, Banasr M, Stone K, Bruce C, Guilchicek E, Wilczak-Havill K, Nairn A, Williams K, Sass S, Duman JG, Newton SS (2012) A molecular characterization of the choroid plexus and stress-induced gene regulation. Transl Psychiatry 2:e139

Vaswani M, Linda FK, Ramesh S (2003) Role of selective serotonin reuptake inhibitors in psychiatric disorders: a comprehensive review. Prog Neuropsychopharmacol Biol Psychiatry 27:85–102

Iurescia S, Seripa D, Rinaldi M (2015) Role of the 5-HTTLPR and SNP Promoter Polymorphisms on Serotonin Transporter Gene Expression: a Closer Look at Genetic Architecture and In Vitro Functional Studies of Common and Uncommon Allelic Variants. Mol Neurobiol [Epub ahead of print] doi:10.1007/s12035-015-9409-6.

Lin E1, Chen PS, Chang HH, Gean PW, Tsai HC, Yang YK, Lu RB (2009) Interaction of serotonin-related genes affects short-term antidepressant response in major depressive disorder. Prog Neuropsychopharmacol Biol Psychiatry 33:1167–1172

Ji Y, Biernacka J, Snyder K, Drews M, Pelleymounter LL, Colby C, Wang L, Mrazek DA, Weinshilboum RM (2012) Catechol O-methyltransferase pharmacogenomics and selective serotonin reuptake inhibitor response. Pharmacogenomics J 12:78–85

Ellsworth KA1, Moon I, Eckloff BW, Fridley BL, Jenkins GD, Batzler A, Biernacka JM, Abo R, Brisbin A, Ji Y, Hebbring S, Wieben ED, Mrazek DA, Weinshilboum RM, Wang L (2013) FKBP5 genetic variation: association with selective serotonin reuptake inhibitor treatment outcomes in major depressive disorder. Pharmacogenet Genomics 23:156–166

Biernacka JM, Sangkuhl K, Jenkins G, Whaley RM, Barman P, Batzler A, Altman RB, Arolt V, Brockmöller J, Chen CH, Domschke K, Hall-Flavin DK, Hong CJ, Illi A, Ji Y, Kampman O, Kinoshita T, Leinonen E, Liou YJ, Mushiroda T, Nonen S, Skime MK, Wang L, Baune BT, Kato M, Liu YL, Praphanphoj V, Stingl JC, Tsai SJ, Kubo M, Klein TE, Weinshilboum R (2015) The International SSRI Pharmacogenomics Consortium (ISPC): a genome-wide association study of antidepressant treatment response. Transl Psychiatry 5:e553

Arking DE, Atzmon G, Arking A, Barzilai N, Dietz HC (2005) Association between a functional variant of the KLOTHO gene and high-density lipoprotein cholesterol, blood pressure, stroke, and longevity. Circ Res 96:412–418

Dubal DB, Yokoyama JS, Zhu L, Broestl L, Worden K, Wang D, Sturm VE, Kim D, Klein E, Yu GQ, Ho K, Eilertson KE, Yu L, Kuro-o M, De Jager PL, Coppola G, Small GW, Bennett DA, Kramer JH, Abraham CR, Miller BL, Mucke L (2014) Life extension factor klotho enhances cognition. Cell Rep 7:1065–1076

Yokoyama JS, Sturm VE, Bonham LW, Klein E, Arfanakis K, Yu L, Coppola G, Kramer JH, Bennett DA, Miller BL, Dubal DB (2015) Variation in longevity gene KLOTHO is associated with greater cortical volumes. Ann Clin Transl Neurol 2:215–230

Prather AA, Epel ES, Arenander J, Broestl L, Garay BI, Wang D, Dubal DB (2015) Longevity factor klotho and chronic psychological stress. Transl Psychiatry 5:e585

Imura A, Tsuji Y, Murata M, Maeda R, Kubota K, Iwano A, Obuse C, Togashi K, Tominaga M, Kita N, Tomiyama K, Iijima J, Nabeshima Y, Fujioka M, Asato R, Tanaka S, Kojima K, Ito J, Nozaki K, Hashimoto N, Ito T, Nishio T, Uchiyama T, Fujimori T, Nabeshima Y (2007) alpha-Klotho as a regulator of calcium homeostasis. Science 316:1615–1618

Chen CD, Podvin S, Gillespie E, Leeman SE, Abraham CR (2007) Insulin stimulates the cleavage and release of the extracellular domain of Klotho by ADAM10 and ADAM17. Proc Natl Acad Sci U S A 104:19796–19801

Bloch L, Sineshchekova O, Reichenbach D, Reiss K, Saftig P, Kuro-o M (2009) Klotho is a substrate for α-, β- and γ-secretase. FEBS Lett 583:3221–3224

Imura A, Iwano A, Tohyama O, Tsuji Y, Nozaki K, Hashimoto N (2004) Secreted Klotho protein in sera and CSF: implication for post-translational cleavage in release of Klotho protein from cell membrane. FEBS Lett 565:143–147

Kuro-o M (2010) A potential link between phosphate and aging--lessons from Klotho-deficient mice. Mech Ageing Dev 131:270–275

Saito Y, Yamagishi T, Nakamura T, Ohyama Y, Aizawa H, Suga T, Matsumura Y, Masuda H, Kurabayashi M, Kuro-o M, Nabeshima Y, Nagai R (1998) Klotho protein protects against endothelial dysfunction. Biochem Biophys Res Commun 248:324–329

Li SA, Watanabe M, Yamada H, Nagai A, Kinuta M, Takei K (2004) Immunohistochemical localization of Klotho protein in brain, kidney, and reproductive organs of mice. Cell Struct Funct 29:91–99

Santarelli L, Saxe M, Gross C, Surget A, Battaglia F, Dulawa S, Weisstaub N, Lee J, Duman R, Arancio O, Belzung C, Hen R (2003) Requirement of hippocampal neurogenesis for the behavioral effects of antidepressants. Science 301:805–809

Erickson KI, Prakash RS, Voss MW, Chaddock L, Heo S, McLaren M, Pence BD, Martin SA, Vieira VJ, Woods JA, McAuley E, Kramer AF (2010) Brain-derived neurotrophic factor is associated with age-related decline in hippocampal volume. J Neurosci 30:5368–5375

Trejo JL, Carro E, Torres-Aleman I (2001) Circulating insulin-like growth factor I mediates exercise-induced increases in the number of new neurons in the adult hippocampus. J Neurosci 21:1628–1634

Yi JH, Park SW, Kapadia R, Vemuganti R (2007) Role of transcription factors in mediating post-ischemic cerebral inflammation and brain damage. Neurochem Int 50:1014–1027

Evans-Molina C, Robbins RD, Kono T, Tersey SA, Vestermark GL, Nunemaker CS, Garmey JC, Deering TG, Keller SR, Maier B, Mirmira RG (2009) Peroxisome proliferator-activated receptor gamma activation restores islet function in diabetic mice through reduction of endoplasmic reticulum stress and maintenance of euchromatin structure. Mol Cell Biol 29:2053–2067

Zeki Al Hazzouri A, Vittinghoff E, Byers A, Covinsky K, Blazer D, Diem S, Ensrud KE, Yaffe K (2014) Long-term cumulative depressive symptom burden and risk of cognitive decline and dementia among very old women. J Gerontol A Biol Sci Med Sci 69:595–601

Papakostas GI, Perlis RH, Scalia MJ, Petersen TJ, Fava M (2006) A meta-analysis of early sustained response rates between antidepressants and placebo for the treatment of major depressive disorder. J Clin Psychopharmacol 26:56–60
Acknowledgments
This work was fully supported by "Ministero della Salute", IRCCS Research Program, Ricerca Corrente 2012-2014, Linea n. 2 "Malattie complesse" and by the "5 × 1000" voluntary contribution.
Ethics declarations
Conflict of Interest
All authors reported no biomedical financial interests or potential conflicts of interest.
Electronic supplementary material
Below is the link to the electronic supplementary material.
About this article
Cite this article
Paroni, G., Seripa, D., Fontana, A. et al. Klotho Gene and Selective Serotonin Reuptake Inhibitors: Response to Treatment in Late-Life Major Depressive Disorder. Mol Neurobiol 54, 1340–1351 (2017). https://doi.org/10.1007/s12035-016-9711-y
Received:

Accepted:

Published:

Issue Date:

DOI: https://doi.org/10.1007/s12035-016-9711-y
Keywords
Klotho

Late-life depression

Late-life major depressive disorder

Selective serotonin reuptake inhibitors

Response to treatment

Older age