Abstract
Mitochondrial involvement plays an important role in neurodegenerative diseases. At least one-third of adult carriers of a FMR1 premutation (55-200 CGG repeats) are at risk of presenting an adult-onset neurodegenerative disorder known as fragile X-associated tremor/ataxia syndrome (FXTAS). In an attempt to provide new insights into the mechanisms involved in the pathogenesis of FXTAS, we characterized mitochondrial function and dynamics by the assessment of oxidative respiratory chain function, mitochondrial content, oxidative stress levels, and mitochondrial network complexity. Regarding mitochondrial function, we found that mitochondrial respiratory capacity is compromised in skin fibroblasts whereas in blood, no differences were observed between the FXTAS and control groups. Furthermore, fibroblasts from FXTAS patients presented altered mitochondrial architecture, with more circular and less interconnected mitochondria being observed. Mitochondrial function and dynamics deregulation and characteristic of neurological disorders are present in FXTAS patients. These features might be limiting temporal and spatial bioenergetics cells supply and thus contributing to disease pathogenesis.
Access options
Buy single article
Instant access to the full article PDF.
USD 39.95
Price excludes VAT (USA)
Tax calculation will be finalised during checkout.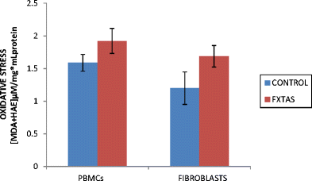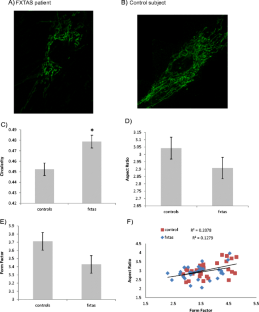 References
Hagerman PJ, Hagerman RJ (2004) The fragile-X premutation: a maturing perspective. Am J Hum Genet 74:805–816

Hagerman RJ, Leehey M, Heinrichs W, Tassone F, Wilson R, Hills J, Grigsby J, Gage B et al (2001) Intention tremor, Parkinsonism, and generalized brain atrophy in male carriers of fragile X. Neurology 57:127–130

Jacquemont S, Hagerman RJ, Leehey M, Grigsby J, Zhang L, Brunberg JA, Greco C, Des Portes V et al (2003) Fragile X premutation tremor/ataxia syndrome: molecular, clinical, and neuroimaging correlates. Am J Hum Genet 72:869–878

Iwahashi CK, Yasui DH, An HJ, Greco CM, Tassone F, Nannen K, Babineau B, Lebrilla CB et al (2006) Protein composition of the intranuclear inclusions of FXTAS. Brain 129:256–271

Sellier C, Usdin K, Pastori C, Peschansky VJ, Tassone F, Charlet-Berguerand N (2014) The multiple molecular facets of fragile X-associated tremor/ataxia syndrome. J Neurodev Disord 6:23 Review

Lin MT, Beal MF (2006) Mitochondrial dysfunction and oxidative stress in neurodegenerative diseases. Nature 443:787–795 Review

Nunnari J, Suomalainen A (2012) Mitochondria: in sickness and in health. Cell 148:1145–1159

Lackner LL (2014) Shaping the dynamic mitochondrial network. BMC Biol 12:35

Federico A, Cardaioli E, Da Pozzo P, Formichi P, Gallus GN, Radi E (2012) Mitochondria, oxidative stress and neurodegeneration. J Neurol Sci 322:254–262

Itoh K, Nakamura K, Iijima M, Sesaki H (2013) Mitochondrial dynamics in neurodegeneration. Trends Cell Biol 23:64–71

Ross-Inta C, Omanska-Klusek A, Wong S, Barrow C, Garcia-Arocena D, Iwahashi C, Berry-Kravis E, Hagerman RJ et al (2010) Evidence of mitochondrial dysfunction in fragile X-associated tremor/ataxia syndrome. Biochem J 429:545–552

Napoli E, Ross-Inta C, Wong S, Omanska-Klusek A, Barrow C, Iwahashi C, Garcia-Arocena D, Sakaguchi D et al (2011) Altered zinc transport disrupts mitochondrial protein processing/import in fragile X-associated tremor/ataxia syndrome. Hum Mol Genet 20:3079–3092

Kaplan ES, Cao Z, Hulsizer S, Tassone F, Berman RF, Hagerman PJ, Pessah IN (2012) Early mitochondrial abnormalities in hippocampal neurons cultured from Fmr1 pre-mutation mouse model. J Neurochem 123:613–621

Cao Z, Hulsizer S, Cui Y, Pretto DL, Kim KH, Hagerman PJ, Tassone F, Pessah IN (2013) Enhanced asynchronous Ca2+ oscillations associated with impaired glutamate transport in cortical astrocytes expressing Fmr1 gene premutation expansion. J Biol Chem 288:13831–13841

Hukema RK, Buijsen RA, Raske C, Severijnen LA, Nieuwenhuizen-Bakker I, Minneboo M, Maas A, de Crom R et al (2014) Induced expression of expanded CGG RNA causes mitochondrial dysfunction in vivo. Cell Cycle 13:2600–2608

Prilutskiĭ AS, Khodakovskiĭ AV, Maĭlian EA (1990) A method of separating mononuclears on a density gradient. Lab Delo:20–23

Barrientos A (2002) In vivo and in organello assessment of OXPHOS activities. Methods 26:307–316

Morén C, Garrabou G, Noguera-Julian A, Rovira N, Catalán M, Hernández S, Tobías E, Cardellach F et al (2013) Study of oxidative, enzymatic mitochondrial respiratory chain function and apoptosis in perinatally HIV-infected pediatric patients. Drug Chem Toxicol 36:496–500

Pesta D, Gnaiger E (2012) High-resolution respirometry: OXPHOS protocols for human cells and permeabilized fibers from small biopsies of human muscle. Methods Mol Biol 810:25–58

Schneeberger M, Dietrich MO, Sebastián D, Imbernón M, Castaño C, Garcia A, Esteban Y, Gonzalez-Franquesa A et al (2013) Mitofusin 2 in POMC neurons connects ER stress with leptin resistance and energy imbalance. Cell 155:172–187

Hall CN, Klein-Flügge MC, Howarth C, Attwell D (2012) Oxidative phosphorylation, not glycolysis, powers presynaptic and postsynaptic mechanisms underlying brain information processing. J Neurosci 32:8940–8951

Bhat AH, Dar KB, Anees S, Zargar MA, Masood A, Sofi MA, Ganie SA (2015) Oxidative stress, mitochondrial dysfunction and neurodegenerative diseases; a mechanistic insight. Biomed Pharmacother 74:101–110

Harman D (1956) Aging: a theory based on free radical and radiation chemistry. J Gerontol 11:298–300

Napoli E, Song G, Wong S, Hagerman R, Giulivi C (2016) Altered bioenergetics in primary dermal fibroblasts from adult carriers of the FMR1 premutation before the onset of the neurodegenerative disease fragile X-associated tremor/ataxia syndrome. Cerebellum 15:552–564

Iommarini L, Peralta S, Torraco A, Diaz F (2015) Mitochondrial diseases part II: mouse models of OXPHOS deficiencies caused by defects in regulatory factors and other components required for mitochondrial function. Mitochondrion 22:96–118
Acknowledgments
This work was supported by the Instituto de Salud Carlos III (PI12/00879), co-financed by Fondo Europeo de Desarrollo Regional (FEDER) "una manera de hacer Europa" and AGAUR from the Autonomous Catalan Government (2014 SGR603). The CIBER de Enfermedades Raras is an initiative of the Instituto de Salud Carlos III. We wish to thank the FXTAS patients and FXS families for their cooperation as well as Marc Catalan and Esther Tobias from Cellex and IDIBAPS (Barcelona, Spain) for their contribution in this work.
Ethics declarations
Conflict of Interest Statement
All authors have read the journal's policy on conflicts of interest. The authors declare no conflict of interest.
Electronic supplementary material
About this article
Cite this article
Alvarez-Mora, M.I., Rodriguez-Revenga, L., Madrigal, I. et al. Impaired Mitochondrial Function and Dynamics in the Pathogenesis of FXTAS. Mol Neurobiol 54, 6896–6902 (2017). https://doi.org/10.1007/s12035-016-0194-7
Received:

Accepted:

Published:

Issue Date:

DOI: https://doi.org/10.1007/s12035-016-0194-7
Keywords
FXTAS

Oxygen uptake

ROS production

Mitochondrial dynamics

Mitochondrial dysfunction