Abstract
Dodecafluoropentane emulsion (DDFPe), an advanced oxygen transport drug, given IV at 90-min intervals maintains viability in the penumbra during cerebral ischemia in the standard rabbit anterior stroke model (STND). This study investigated shortened dosage schedules of DDFPe in nonstandard posterior (NSTND) strokes following occlusions of the posterior cerebral arteries. DDFPe given at shortened schedules of 30 or 60-min injection intervals will reduce neurological deficits, percent stroke volume (%SV), and serum glutamate levels in NSTND ischemic strokes. New Zealand White rabbits (N = 26) were randomly placed into three groups: A (n = 9) controls given saline injections every 60 min, B (n = 9) 2 % DDFPe given IV every 30 min, and C (n = 8) DDFPe every 60 min. Injections began 1 h after embolization. Groups were subdivided into STND and NSTND based on angiographically verified embolization of the cerebral arteries. Neurological assessments and blood samples were done at 0.5–1-h intervals. Rabbits were euthanized at 7 h following embolization. Stained brain slices were measured for %SV. The 30 and 60-min subgroups did not differ and were combined as DDFPe-STND or DDFPe-NSTND groups. In the DDFPe-STND stroke group, the %SV, neurological assessment scores (NAS), and serum glutamate were decreased vs. STND controls (p = 0.0016, 0.008, and 0.016, respectively). In the DDFPe-NSTND stroke group, %SV, NAS, and serum glutamate did not differ statistically compared to NSTND controls (p = 0.82, 0.097, and 0.06, respectively). More frequent dosage schedules provided no additional improvement. In anterior strokes, DDFPe improves recovery but not in the more severe NSTND strokes.
This is a preview of subscription content, log in to check access.
Access options
Buy single article
Instant access to the full article PDF.
US$ 39.95
Price includes VAT for USA
Subscribe to journal
Immediate online access to all issues from 2019. Subscription will auto renew annually.
US$ 99
This is the net price. Taxes to be calculated in checkout.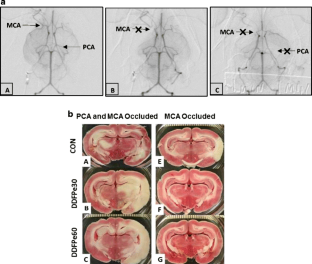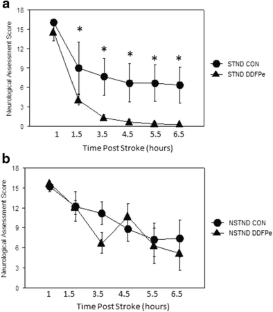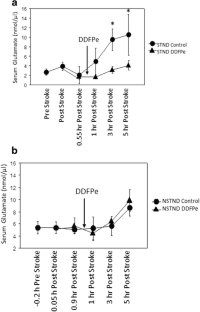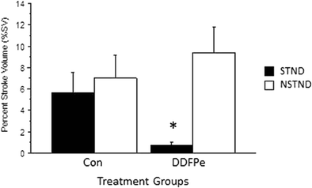 References
1.

del Zoppo G, Saver J, EC J, et al. (2009) Expansion of the time window for treatment of acute ischemic stroke with intravenous tissue plasminogen activator. A science advisory from the American Heart Association/American Stroke Association. Stroke 40:2945–2948. doi:10.1161/STROKEAHA.109.192535

2.

Mozaffarian D, Benjamin EJ, Go AS, et al. (2015) Heart disease and stroke statistics—2015 update: a report from the American Heart Association. Circ 131:e29–322. doi:10.1161/CIR.0000000000000152

3.

Woods SD, Skinner RD, Ricca AM, Brown AT, et al. (2013) Progress in dodecafluoropentane emulsion as a neuroprotective agent in a rabbit stroke model. Mol Neurobiol 48:363–367. doi:10.1007/s12035-013-8495-6

4.

Culp WC, Woods SD, Skinner RD, Brown AT, et al. (2012) Dodecafluoropentane emulsion decreases infarct volume in a rabbit ischemic stroke model. JVIR 23:116–121. doi:10.1016/j.jvir.2011.10.001

5.

Johnson JL, Dolezal MC, Kerschen A, Matsunaga TO, et al. (2009) In vitro comparison of dodecafluoropentane (DDFP) perfluorodecalin (PFD), and perfluoroctylbromide (PFOB) in the facilitation of oxygen exchange. Artif Cell Blood 37:156–162. doi:10.1080/10731190903043192

6.

Culp WC, Flores R, Brown AT, Lowery JD, et al. (2011) Successful microbubble sonothrombolysis without tissue plasminogen activator in a rabbit model of acute ischemic stroke. Stroke 42:2280–2285. doi:10.1161/STROKEAHA.110.607150

7.

Brown AT, Skinner RD, Flores R, Hennings L, et al. (2010) Stroke location and brain function in an embolic rabbit stroke model. JVIR 21:903–909. doi:10.1016/j.jvir.2010.02.023

8.

Flores R, Lowery J, Skinner RD, Roberson PK, et al. (2011) Transcutaneous therapeutic ultrasound reduces infarct size in a rabbit model of acute insoluble ischemic stroke. J Exp Stroke Transl Med 4:1–7 SFES 1939-067X/10

9.

Brown AT, Flores R, Hamilton E, Roberson PK, et al. (2011) Microbubbles improve sonothrombolysis in vitro and decrease hemorrhage in vivo in a rabbit stroke model. Investig Radiol 46:202–207. doi:10.1097/RLI.0b013e318200757a

10.

Flores R, Hennings LJ, Lowery JD, Brown AT, et al. (2011) Microbubble-augmented ultrasound sonothrombolysis decreases intracranial hemorrhage in a rabbit model of acute ischemic stroke. Investig Radiol 46:419–424. doi:10.1097/RLI.0b013e31820e143a

11.

Culp WC, Woods SD, Brown AT, Lowery JD, et al. (2012) Three variations in rabbit angiographic stroke models. J Neurosci Methods 212:322–328. doi:10.1016/j.jneumeth.2012.10.017

12.

Brown A, Woods S, Skinner R, Hatton J, et al. (2013) Neurological assessment scores in rabbit embolic stroke models. Open Neurol J 7:38–43

13.

Zhao BQ, Suzuki Y, Kondo K, Kawano K, et al. (2001) Cerebral hemorrhage due to heparin limits its neuroprotective effects: studies in a rabbit model of photothrombotic middle cerebral artery occlusion. Brain Res 902:30–39

14.

Zhao BQ, Suzuki Y, Kondo K, Kawano K, et al. (2002) A novel MCA occlusion model of photothrombotic ischemia with cyclic flow reductions: development of cerebral hemorrhage induced by heparin. Brain Res Protocol 9:85–92

15.

Zhao BQ, Suzuki Y, Kondo K, Ikeda Y, et al. (2001) Combination of a free radical scavenger and heparin reduces cerebral hemorrhage after heparin treatment in a rabbit middle cerebral artery occlusion model. Stroke 32:2157–2163

16.

Chen ZZ, Jiang XD, Zhang LL, Shang JH, et al. (2008) Beneficial effect of autologous transplantation of bone marrow stromal cells and endothelial progenitor cells on cerebral ischemia in rabbits. Neurosci Lett 445:36–41

17.

Mehndiratta M, Pandey S, Nayak R, Alam A (2012) Posterior circulation ischemic stroke—clinical characteristics, risk factors, and subtypes in a north Indian population—a prospective study. Neurohospitalist 2:46–50. doi:10.1177/1941874412438902

18.

Dorňák T, Kral M, Hazlinger M, Herzog R, et al. (2015) Posterior vs. anterior circulation infarction: demography, outcomes, and frequency of hemorrhage after thrombolysis. Int J of Stroke 10:1224–1228. doi:10.1111/ijs.12626

19.

Boulos AS, Deshaies EM, Dalfino JC, Feustel PJ, et al. (2011) Tamoxifen as an effective neuroprotectant in an endovascular canine model of stroke. J Neurosurg 114:1117–1126. doi:10.3171/2010.8.JNS09352

20.

Ohishi H, Nishijima M, Ogawa A, Yoshimoto T, et al. (1984) Protective effect of mannitol in cerebral infarction—CT findings and physiological observation in experimental cerebral infarction in dogs. No Shinkei Geka 12:153–158

21.

Saver JL, Starkman S, Eckstein M, Stratton SJ, et al. (2015) Prehospital use of magnesium sulfate as neuroprotection in acute stroke. N Engl J Med 372:528–536. doi:10.1056/NEJMoa1408827

22.

Culp WC, Brown AT, Lowery JD, Arthur MC, et al. (2015) Dodecafluoropentane emulsion extends window for tPA therapy in a rabbit stroke model. Mol Neurobiol 52:979–984. doi:10.1007/s12035-015-9243-x

23.

Aliprandi A, Longoni M, Stanzani L, Tremolizzo L, et al. (2005) Increased plasma glutamate in stroke patients might be linked to altered platelet release and uptake. J Cereb Blood Flow Metab 25:513–519

24.

Godino M, Lizasoain I, Sanchez-Prieto J (2013) Amelioration of ischemic brain damage by peritoneal dialysis. J Clin Invest 123:4359–4363. doi:10.1172/JCI67284
Acknowledgments
Author Contributions Statement
AB conceived the study and designed the data collection. AB obtained research funding. MCA, JL, KC, and AB collected the data. MCA, RDS, WCC, and AB provided statistical advice on study design and analyzed the data. MCA, KC, WCC, and AB drafted the manuscript, and all authors contributed to its revision.
Ethics declarations
All animal procedures were approved by the Institutional Care and Use Committee.
Sources of Funding
This project was supported by the Fund to Cure Stroke, a grant fund of the University of Arkansas for Medical Sciences Foundation (to author AB) and by the NIGMS IDeA Award P30 GM110702 (sponsoring author AB).
Conflict of Interest
A patent has been applied for the use of dodecafluoropentane for stroke therapy by authors WCC and RDS.
About this article
Cite this article
Arthur, M.C., Brown, A., Carlson, K. et al. Dodecafluoropentane Improves Neurological Function Following Anterior Ischemic Stroke. Mol Neurobiol 54, 4764–4770 (2017). https://doi.org/10.1007/s12035-016-0019-8
Received:

Accepted:

Published:

Issue Date:
Keywords
Stroke

DDFPe

Rabbit

Ischemia

Tissue plasminogen activator

Neurological assessment score