Abstract
Limb-girdle muscular dystrophies (LGMD) are a highly heterogeneous group of genetic myopathies characterized by progressive proximal pelvic and/or shoulder girdle muscle weakness, with the onset ages ranging from early childhood to late adulthood. The identification of these dystrophies through genetic testing will not only inform long-term prognosis but will also assist in directing care more efficiently, including more frequent cardiorespiratory monitoring and prophylactic treatments. The aim of this study was to identify the responsible gene in a five-generation Chinese Han pedigree with autosomal recessive LGMD. Exome sequencing was conducted and a novel mutation c.107788T>C (p.W35930R) in the titin gene (TTN) was identified. The mutation co-segregated with the disorder in the family and was absent in normal controls. Our discovery broadens the mutation spectrum of the TTN gene associated with LGMD2J.
Access options
Buy single article
Instant access to the full article PDF.
USD 39.95
Price excludes VAT (USA)
Tax calculation will be finalised during checkout.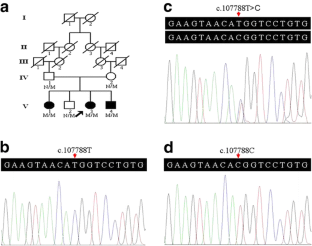 Abbreviations
LGMD:

Limb-girdle muscular dystrophies

CK:

Creatine kinase

EMG:

Electromyography

TTN :

The titin gene

ESP:

Exome sequencing project

SIFT:

Sorting intolerant from tolerant

PolyPhen-2:

Polymorphism phenotyping version 2

TMD:

Tibial muscular dystrophy

CNV:

Copy number variation

SNPs:

Single nucleotide polymorphisms
References
Narayanaswami P, Weiss M, Selcen D, David W, Raynor E, Carter G, Wicklund M, Barohn RJ et al (2014) Evidence-based guideline summary: diagnosis and treatment of limb-girdle and distal dystrophies: report of the guideline development subcommittee of the American Academy of Neurology and the practice issues review panel of the American Association of Neuromuscular & Electrodiagnostic Medicine. Neurology 83:1453–1463

Walton JN, Nattrass FJ (1954) On the classification, natural history and treatment of the myopathies. Brain 77:169–231

Nigro V, Aurino S, Piluso G (2011) Limb girdle muscular dystrophies: update on genetic diagnosis and therapeutic approaches. Curr Opin Neurol 24:429–436

Mahmood OA, Jiang XM (2014) Limb-girdle muscular dystrophies: where next after six decades from the first proposal (Review). Mol Med Rep 9:1515–1532

Mitsuhashi S, Kang PB (2012) Update on the genetics of limb girdle muscular dystrophy. Semin Pediatr Neurol 19:211–218

Takahashi T, Aoki M, Tateyama M, Kondo E, Mizuno T, Onodera Y, Takano R, Kawai H et al (2003) Dysferlin mutations in Japanese Miyoshi myopathy: relationship to phenotype. Neurology 60:1799–1804

Zhang Y, Huang JJ, Wang ZQ, Wang N, Wu ZY (2012) Value of muscle enzyme measurement in evaluating different neuromuscular diseases. Clin Chim Acta 413:520–524

Bushby KM (1995) Diagnostic criteria for the limb-girdle muscular dystrophies: report of the ENMC consortium on limb-girdle dystrophies. Neuromuscul Disord 5:71–74

Bushby KM, Beckmann JS (1995) The limb-girdle muscular dystrophies—proposal for a new nomenclature. Neuromuscul Disord 5:337–343

Godfrey C, Clement E, Mein R, Brockington M, Smith J, Talim B, Straub V, Robb S et al (2007) Refining genotype phenotype correlations in muscular dystrophies with defective glycosylation of dystroglycan. Brain 130:2725–2735

Klinge L, Dean AF, Kress W, Dixon P, Charlton R, Muller JS, Anderson LV, Straub V et al (2008) Late onset in dysferlinopathy widens the clinical spectrum. Neuromuscul Disord 18:288–290

Nigro V, Savarese M (2014) Genetic basis of limb-girdle muscular dystrophies: the 2014 update. Acta Myol 33:1–12

Yuan L, Song Z, Xu H, Gu S, Zhu A, Gong L, Zhao Y, Deng H (2013) EIF4G1 Ala502Val and Arg1205His variants in Chinese patients with Parkinson disease. Neurosci Lett 543:69–71

Yuan L, Wu S, Xu H, Xiao J, Yang Z, Xia H, Liu A, Hu P et al (2015) Identification of a novel PHEX mutation in a Chinese family with X-linked hypophosphatemic rickets using exome sequencing. Biol Chem 396:27–33

Xiu X, Yuan J, Deng X, Xiao J, Xu H, Zeng Z, Guan L, Xu F et al (2014) A novel COL4A5 mutation identified in a Chinese Han family using exome sequencing. Biomed Res Int 2014:186048

Hackman P, Vihola A, Haravuori H, Marchand S, Sarparanta J, De Seze J, Labeit S, Witt C et al (2002) Tibial muscular dystrophy is a titinopathy caused by mutations in TTN, the gene encoding the giant skeletal-muscle protein titin. Am J Hum Genet 71:492–500

Gerull B, Gramlich M, Atherton J, McNabb M, Trombitas K, Sasse-Klaassen S, Seidman JG, Seidman C et al (2002) Mutations of TTN, encoding the giant muscle filament titin, cause familial dilated cardiomyopathy. Nat Genet 30:201–204

Satoh M, Takahashi M, Sakamoto T, Hiroe M, Marumo F, Kimura A (1999) Structural analysis of the titin gene in hypertrophic cardiomyopathy: identification of a novel disease gene. Biochem Biophys Res Commun 262:411–417

Carmignac V, Salih MA, Quijano-Roy S, Marchand S, Al RM, Mukhtar MM, Urtizberea JA, Labeit S et al (2007) C-terminal titin deletions cause a novel early-onset myopathy with fatal cardiomyopathy. Ann Neurol 61:340–351

Nicolao P, Xiang F, Gunnarsson LG, Giometto B, Edstrom L, Anvret M, Zhang Z (1999) Autosomal dominant myopathy with proximal weakness and early respiratory muscle involvement maps to chromosome 2q. Am J Hum Genet 64:788–792

Udd B, Kaarianen H, Somer H (1991) Muscular dystrophy with separate clinical phenotypes in a large family. Muscle Nerve 14:1050–1058

Udd B, Vihola A, Sarparanta J, Richard I, Hackman P (2005) Titinopathies and extension of the M-line mutation phenotype beyond distal myopathy and LGMD2J. Neurology 64:636–642

Penisson-Besnier I, Hackman P, Suominen T, Sarparanta J, Huovinen S, Richard-Cremieux I, Udd B (2010) Myopathies caused by homozygous titin mutations: limb-girdle muscular dystrophy 2J and variations of phenotype. J Neurol Neurosurg Psychiatry 81:1200–1202

Labeit S, Kolmerer B (1995) Titins: giant proteins in charge of muscle ultrastructure and elasticity. Science 270:293–296

Furst DO, Osborn M, Nave R, Weber K (1988) The organization of titin filaments in the half-sarcomere revealed by monoclonal antibodies in immunoelectron microscopy: a map of ten nonrepetitive epitopes starting at the Z line extends close to the M line. J Cell Biol 106:1563–1572

Kotter S, Andresen C, Kruger M (2014) Titin: central player of hypertrophic signaling and sarcomeric protein quality control. Biol Chem 395:1341–1352

Bang ML, Centner T, Fornoff F, Geach AJ, Gotthardt M, McNabb M, Witt CC, Labeit D et al (2001) The complete gene sequence of titin, expression of an unusual approximately 700-kDa titin isoform, and its interaction with obscurin identify a novel Z-line to I-band linking system. Circ Res 89:1065–1072

Kruger M, Linke WA (2011) The giant protein titin: a regulatory node that integrates myocyte signaling pathways. J Biol Chem 286:9905–9912

Sorimachi H, Freiburg A, Kolmerer B, Ishiura S, Stier G, Gregorio CC, Labeit D, Linke WA et al (1997) Tissue-specific expression and alpha-actinin binding properties of the Z-disc titin: implications for the nature of vertebrate Z-discs. J Mol Biol 270:688–695

Fukuzawa A, Lange S, Holt M, Vihola A, Carmignac V, Ferreiro A, Udd B, Gautel M (2008) Interactions with titin and myomesin target obscurin and obscurin-like 1 to the M-band: implications for hereditary myopathies. J Cell Sci 121:1841–1851

Lange S, Xiang F, Yakovenko A, Vihola A, Hackman P, Rostkova E, Kristensen J, Brandmeier B et al (2005) The kinase domain of titin controls muscle gene expression and protein turnover. Science 308:1599–1603

Knoll R, Hoshijima M, Hoffman HM, Person V, Lorenzen-Schmidt I, Bang ML, Hayashi T, Shiga N et al (2002) The cardiac mechanical stretch sensor machinery involves a Z disc complex that is defective in a subset of human dilated cardiomyopathy. Cell 111:943–955

Miller MK, Bang ML, Witt CC, Labeit D, Trombitas C, Watanabe K, Granzier H, McElhinny AS et al (2003) The muscle ankyrin repeat proteins: CARP, ankrd2/Arpp and DARP as a family of titin filament-based stress response molecules. J Mol Biol 333:951–964

Hauser MA, Conde CB, Kowaljow V, Zeppa G, Taratuto AL, Torian UM, Vance J, Pericak-Vance MA et al (2002) Myotilin mutation found in second pedigree with LGMD1A. Am J Hum Genet 71:1428–1432

Hauser MA, Horrigan SK, Salmikangas P, Torian UM, Viles KD, Dancel R, Tim RW, Taivainen A et al (2000) Myotilin is mutated in limb girdle muscular dystrophy 1A. Hum Mol Genet 9:2141–2147

Moreira ES, Wiltshire TJ, Faulkner G, Nilforoushan A, Vainzof M, Suzuki OT, Valle G, Reeves R et al (2000) Limb-girdle muscular dystrophy type 2G is caused by mutations in the gene encoding the sarcomeric protein telethonin. Nat Genet 24:163–166

Richard I, Broux O, Allamand V, Fougerousse F, Chiannilkulchai N, Bourg N, Brenguier L, Devaud C et al (1995) Mutations in the proteolytic enzyme calpain 3 cause limb-girdle muscular dystrophy type 2A. Cell 81:27–40
Acknowledgments
This study was supported by grants 81441033 and 81271921 from the National Natural Science Foundation of China (H.D.), grant 2015JJ4088 from the Natural Science Foundation of Hunan Province, China (W.Z.), grant 2015zzts318 from the Fundamental Research Funds of Central South University, China, grant for the Foster Key Subject of the Third Xiangya Hospital Clinical Laboratory Diagnostics (H.D.), grant for Zhishan Lead Project of the Third Xiangya Hospital (H.D.), and grant for Hunan Provincial Innovation Foundation for Postgraduate, China (7138000008).
Conflict of Interest
The authors declare that they have no competing interests.
Open Access
This article is distributed under the terms of the Creative Commons Attribution License which permits any use, distribution, and reproduction in any medium, provided the original author(s) and the source are credited.
About this article
Cite this article
Zheng, W., Chen, H., Deng, X. et al. Identification of a Novel Mutation in the Titin Gene in a Chinese Family with Limb-Girdle Muscular Dystrophy 2J. Mol Neurobiol 53, 5097–5102 (2016). https://doi.org/10.1007/s12035-015-9439-0
Received:

Accepted:

Published:

Issue Date:

DOI: https://doi.org/10.1007/s12035-015-9439-0
Keywords
Limb-girdle muscular dystrophies

Exome sequencing

TTN

Mutation

Genetic testing