Abstract
MicroRNAs have emerged as important biomarkers and modulators of pathophysiological processes including oncogenesis and neurodegeneration. MicroRNAs are found to be involved in the generation and maintenance of pain in animal models of inflammation and neuropathic pain. Recently, microRNA dysregulation has been reported in patients with painful conditions such as complex regional pain syndrome and fibromyalgia. The aim of this study was to assess whether serum microRNA alterations occur during migraine attacks and whether migraine manifests in chronic serum microRNA aberrations. Two cohorts of 24 migraineurs, and age- and sex-matched healthy controls were included. High-content serum microRNA (miRNA) arrays were used to assess the serum microRNA profiles of migraineurs during attacks and pain-free periods in comparison with healthy controls. Of the 372 assessed microRNAs, 32 or ≈ 8 % were found to be differentially expressed and 4 of these—miR-34a-5p, 29c-5p, -382-5p, and -26b-3p—were selected for further investigation. Migraine attacks were associated with an acute upregulation in miR-34a-5p and miR-382-5p expression. Interestingly, miR-382-5p not only exhibited an upregulation during attack but also proved to be a biomarker for migraine when comparing migraineurs in pain-free periods to the healthy control group (p = <0.01). In conclusion, migraine manifestation is reflected in serum miRNA aberrations, both during attacks and pain-free periods. This finding sheds light on the potential role of microRNAs in the pathophysiology of migraine and adds a new approach towards potential identification of much sought-after serum biomarkers of migraine.
This is a preview of subscription content, log in to check access.
Access options
Buy single article
Instant access to the full article PDF.
US$ 39.95
Price includes VAT for USA
Subscribe to journal
Immediate online access to all issues from 2019. Subscription will auto renew annually.
US$ 99
This is the net price. Taxes to be calculated in checkout.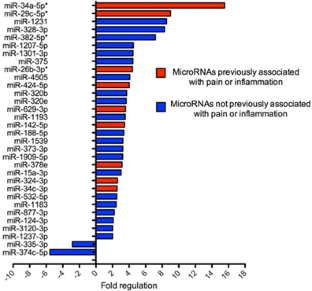 References
1.

Leonardi M, Steiner TJ, Scher AT, Lipton RB (2005) The global burden of migraine: measuring disability in headache disorders with WHO's Classification of Functioning, Disability and Health (ICF). J Headache Pain 6:429–440. doi:10.1007/s10194-005-0252-4

2.

Pietrobon D, Moskowitz MA (2013) Pathophysiology of migraine. Annu Rev Physiol 75:365–391. doi:10.1146/annurev-physiol-030212-183717

3.

Villalón CM, Olesen J (2009) The role of CGRP in the pathophysiology of migraine and efficacy of CGRP receptor antagonists as acute antimigraine drugs. Pharmacol Ther 124:309–323. doi:10.1016/j.pharmthera.2009.09.003

4.

Durham P, Papapetropoulos S (2013) Biomarkers associated with migraine and their potential role in migraine management. Headache 53:1262–1277. doi:10.1111/head.12174

5.

Vickers KC, Rye K-A, Tabet F (2014) microRNAs in the onset and development of cardiovascular disease. Clin Sci (Lond) 126:183–194. doi:10.1042/CS20130203

6.

Møller HG, Rasmussen AP, Andersen HH et al (2013) A systematic review of microRNA in glioblastoma multiforme: micro-modulators in the mesenchymal mode of migration and invasion. Mol Neurobiol 47:131–144. doi:10.1007/s12035-012-8349-7

7.

Winter J, Jung S, Keller S et al (2009) Many roads to maturity: microRNA biogenesis pathways and their regulation. Nat Cell Biol 11:228–234. doi:10.1038/ncb0309-228

8.

Andersen HH, Duroux M, Gazerani P (2014) MicroRNAs as modulators and biomarkers of inflammatory and neuropathic pain conditions. Neurobiol Dis 71:159–168. doi:10.1016/j.nbd.2014.08.003

9.

Bai G, Ambalavanar R, Wei D, Dessem D (2007) Downregulation of selective microRNAs in trigeminal ganglion neurons following inflammatory muscle pain. Mol Pain 3:15. doi:10.1186/1744-8069-3-15

10.

Bali KK, Kuner R (2014) Noncoding RNAs: key molecules in understanding and treating pain. Trends Mol Med 1–12. doi: 10.1016/j.molmed.2014.05.006

11.

Orlova IA, Alexander GM, Qureshi RA et al (2011) MicroRNA modulation in complex regional pain syndrome. J Transl Med 9:195. doi:10.1186/1479-5876-9-195

12.

Chattopadhyay M, Zhou Z, Hao S et al (2012) Reduction of voltage gated sodium channel protein in DRG by vector mediated miRNA reduces pain in rats with painful diabetic neuropathy. Mol Pain 8:17. doi:10.1186/1744-8069-8-17

13.

Bjersing JL, Lundborg C, Bokarewa MI, Mannerkorpi K (2013) Profile of cerebrospinal microRNAs in fibromyalgia. PLoS One 8:e78762. doi:10.1371/journal.pone.0078762

14.

Bjersing JL, Bokarewa MI, Mannerkorpi K (2014) Profile of circulating microRNAs in fibromyalgia and their relation to symptom severity: an exploratory study. Rheumatol Int. doi:10.1007/s00296-014-3139-3

15.

Beyer C, Zampetaki A, Lin N-Y et al (2014) Signature of circulating microRNAs in osteoarthritis. Ann Rheum Dis. doi:10.1136/annrheumdis-2013-204698

16.

Park C-K, Xu Z-Z, Berta T et al (2014) Extracellular microRNAs activate nociceptor neurons to elicit pain via TLR7 and TRPA1. Neuron 82:47–54. doi:10.1016/j.neuron.2014.02.011

17.

Opal S, Depalo V (2000) Anti-inflammatory cytokines. Chest J 117:1162–1172

18.

Goadsby PJ, Edvinsson L, Ekman R (1990) Vasoactive peptide release in the extracerebral circulation of humans during migraine headache. Ann Neurol 28:183–187. doi:10.1002/ana.410280213

19.

Papandreou O, Soldatou A, Tsitsika A et al (2005) Serum S100beta protein in children with acute recurrent headache: a potentially useful marker for migraine. Headache 45:1313–1316. doi:10.1111/j.1526-4610.2005.00263.x

20.

Antonova M, Wienecke T, Olesen J, Ashina M (2013) Prostaglandins in migraine: update. Curr Opin Neurol 26:269–275. doi:10.1097/WCO.0b013e328360864b

21.

Hamel E (2007) Serotonin and migraine: biology and clinical implications. Cephalalgia 27:1293–1300. doi:10.1111/j.1468-2982.2007.01476.x

22.

Vikelis M, Mitsikostas DD (2007) The role of glutamate and its receptors in migraine. CNS Neurol Disord Drug Targets 6:251–257

23.

Sarrouilhe D, Dejean C, Mesnil M (2014) Involvement of gap junction channels in the pathophysiology of migraine with aura. Front Physiol 5:78. doi:10.3389/fphys.2014.00078

24.

Staszel T, Zapała B, Polus A et al (2011) Role of microRNAs in endothelial cell pathophysiology. Pol Arch Med Wewn 121:361–366

25.

Roggli E, Britan A, Gattesco S et al (2010) Involvement of microRNAs in the cytotoxic effects exerted by proinflammatory cytokines on pancreatic beta-cells. Diabetes 59:978–986. doi:10.2337/db09-0881

26.

Burgos KL, Javaherian A, Bomprezzi R et al (2013) Identification of extracellular miRNA in human cerebrospinal fluid by next-generation sequencing. RNA 19:712–722. doi:10.1261/rna.036863.112

27.

Gao H-M, Li L, Zhang K-L et al (2010) Impact of migraine attacks on the blood-brain barrier. Chin Med J (Engl) 123:2559–2561. doi:10.3760/cma.j.issn. 0366-6999.2010.18.012

28.

Capuano A, De Corato A, Lisi L et al (2009) Proinflammatory-activated trigeminal satellite cells promote neuronal sensitization: relevance for migraine pathology. Mol Pain 5:43. doi:10.1186/1744-8069-5-43

29.

Harper AM, MacKenzie ET, McCulloch J, Pickard JD (1977) Migraine and the blood-brain barrier. Lancet 1:1034–1036

30.

Link AS, Kuris A, Edvinsson L (2008) Treatment of migraine attacks based on the interaction with the trigemino-cerebrovascular system. J Headache Pain 9:5–12. doi:10.1007/s10194-008-0011-4

31.

Edvinsson L, Tfelt-Hansen P (2008) The blood-brain barrier in migraine treatment. Cephalalgia 28:1245–1258. doi:10.1111/j.1468-2982.2008.01675.x

32.

Olesen J, Tfelt-Hansen P, Welc MA, et al. (2005) The headaches (3rd edition), Jürgen Sandkühler, Chapter 11, Inhibition and facilitation of nociception.

33.

Welch KM, Chabi E, Bartosh K et al (1975) Cerebrospinal fluid gamma aminobutyric acid levels in migraine. Br Med J 3:516–517

34.

Marukawa H, Shimomura T, Takahashi K (1996) Salivary substance P, 5-hydroxytryptamine, and gamma-aminobutyric acid levels in migraine and tension-type headache. Headache 36:100–104

35.

Hering R, Kuritzky A (1992) Sodium valproate in the prophylactic treatment of migraine: a double-blind study versus placebo. Cephalalgia 12:81–84

36.

Linde M, Mulleners WM, Chronicle EP, McCrory DC (2013) Gabapentin or pregabalin for the prophylaxis of episodic migraine in adults. Cochrane Database Syst Rev 6, CD010609. doi:10.1002/14651858.CD010609
Funding
Grosserer L. F. Foghts Fond (grant no.: 20734) and the Danish Research Council (DRC; grant no.: 831301) provided financial support. The Novo Nordisk Scholarship Grant of 2013 supported Hjalte. H. Andersen.
Conflict of interest
None to declare
About this article
Cite this article
Andersen, H.H., Duroux, M. & Gazerani, P. Serum MicroRNA Signatures in Migraineurs During Attacks and in Pain-Free Periods. Mol Neurobiol 53, 1494–1500 (2016). https://doi.org/10.1007/s12035-015-9106-5
Received:

Accepted:

Published:

Issue Date:
Keywords
Migraine

MicroRNA

Serum

Biomarker

Headache