Abstract
Several sources of information suggest that human beings evolved on a diet that had a ratio of omega-6 to omega-3 fatty acids (FA) of about 1/1; whereas today, Western diets have a ratio of 10/1 to 20–25/1, indicating that Western diets are deficient in omega-3 FA compared with the diet on which humans evolved and their genetic patterns were established. Omega-6 and omega-3 FA are not interconvertible in the human body and are important components of practically all cell membranes. Studies with nonhuman primates and human newborns indicate that docosahexaenoic acid (DHA) is essential for the normal functional development of the brain and retina, particularly in premature infants. DHA accounts for 40% of the membrane phospholipid FA in the brain. Both eicosapentaenoic acid (EPA) and DHA have an effect on membrane receptor function and even neurotransmitter generation and metabolism. There is growing evidence that EPA and DHA could play a role in hostility and violence in addition to the beneficial effects in substance abuse disorders and alcoholism. The balance of omega-6 and omega-3 FA is important for homeostasis and normal development throughout the life cycle.
This is a preview of subscription content, log in to check access.
Access options
Buy single article
Instant access to the full article PDF.
US$ 39.95
Price includes VAT for USA
Subscribe to journal
Immediate online access to all issues from 2019. Subscription will auto renew annually.
US$ 99
This is the net price. Taxes to be calculated in checkout.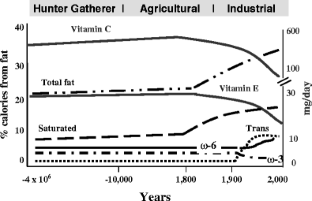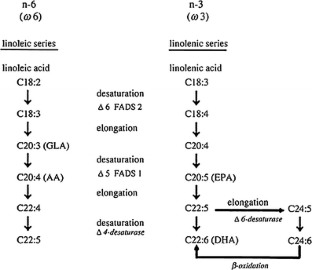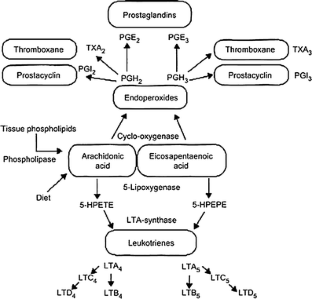 References
1.

Simopoulos AP, Childs B (eds) (1990) Genetic variation and nutrition. World Rev Nutr Diet 63. Karger, Basel

2.

Simopoulos AP, Robinson J (1999) The omega diet. The lifesaving nutritional program based on the diet of the Island of Crete. HarperCollins, New York

3.

Simopoulos AP, Nestel PJ (eds) (1997) Genetic variation and dietary response. World Rev Nutr Diet 80. Karger, Basel

4.

Simopoulos AP, Pavlou KN (eds) (2001) Nutrition and fitness 1: diet, genes, physical activity and health. World Rev Nutr Diet 89. Karger, Basel

5.

Simopoulos AP (2002) Genetic variation and dietary response: nutrigenetics/nutrigenomics. Asia Pac J Clin Nutr 11(S6):S117–S128

6.

Simopoulos AP, Ordovas JM (eds) (2004) Nutrigenetics and nutrigenomics. World Rev Nutr Diet 93. Karger, Basel

7.

Eaton SB, Konner M (1985) Paleolithic nutrition. A consideration of its nature and current implications. New Engl J Med 312:283–289

8.

Simopoulos AP (1991) Omega-3 fatty acids in health and disease and in growth and development. Am J Clin Nutr 54:438–463

9.

Simopoulos AP (1999) Genetic variation and evolutionary aspects of diet. In: Papas A (ed) Antioxidants in nutrition and health. CRC Press, Boca Raton, pp 65–88

10.

Simopoulos AP (1999) Evolutionary aspects of omega-3 fatty acids in the food supply. Prostaglandins Leukotr Essent Fatty Acids 60:421–429

11.

Simopoulos AP (1999) New products from the agri-food industry: the return of n-3 fatty acids into the food supply. Lipids 34(suppl):S297–S301

12.

Eaton SB, Konner M, Shostak M (1988) Stone agers in the fast lane: chronic degenerative diseases in evolutionary perspective. Am J Med 84:739–749

13.

Eaton SB, Eaton SB III, Sinclair AJ, Cordain L, Mann NJ (1998) Dietary intake of long-chain polyunsaturated fatty acids during the Paleolithic. World Rev Nutr Diet 83:12–23

14.

Leaf A, Weber PC (1987) A new era for science in nutrition. Am J Clin Nutr 45:1048–1053

15.

Simopoulos AP (1998) Overview of evolutionary aspects of w3 fatty acids in the diet. World Rev Nutr Diet 83:1–11

16.

Simopoulos AP (1995) Evolutionary aspects of diet: fatty acids, insulin resistance and obesity. In: VanItallie TB, Simopoulos AP (eds) Obesity: new directions in assessment and management. Charles, Philadelphia, pp 241–261

17.

Simopoulos AP (1995) Trans fatty acids. In: Spiller GA (ed) Handbook of lipids in human nutrition. CRC Press, Boca Raton, pp 91–99

18.

Simopoulos AP (2002) Omega-3 fatty acids in inflammation an autoimmune diseases. J Am Coll Nutr 21:495–505

19.

Hunter JE (1989) Omega-3 fatty acids from vegetable oils. In: Galli C, Simopoulos AP (eds) Biological effects and nutritional essentiality. Series A: life sciences, vol 171. Plenum, New York, pp 43–55

20.

Litin L, Sacks F (1993) Trans-fatty-acid content of common foods. N Engl J Med 329:1969–1970

21.

Raper NR, Cronin FJ, Exler J (1992) Omega-3 fatty acid content of the US food supply. J Am Coll Nutr 11:304

22.

Ledger HP (1968) Body composition as a basis for a comparative study of some East African animals. Symp Zool Soc Lond 21:289–310

23.

Crawford MA (1968) Fatty acid ratios in free-living and domestic animals. Lancet i:1329–1333

24.

Crawford MA, Gale MM, Woodford MH (1969) Linoleic acid and linolenic acid elongation products in muscle tissue of Syncerus caffer and other ruminant species. Biochem J 115:25–27

25.

Weber PC (1989) Are we what we eat? Fatty acids in nutrition and in cell membranes: cell functions and disorders induced by dietary conditions. Svanoy Foundation (Report no 4), Svanoybukt, Norway. pp. 9–18

26.

Simopoulos AP, Norman HA, Gillaspy JE, Duke JA (1992) Common purslane: a source of omega-3 fatty acids and antioxidants. J Am Coll Nutr 11:374–382

27.

Simopoulos AP, Norman HA, Gillaspy JE (1995) Purslane in human nutrition and its potential for world agriculture. World Rev Nutr Diet 77:47–74, Karger, Basel

28.

Simopoulos AP, Salem N Jr (1986) Purslane: a terrestrial source of omega-3 fatty acids. N Engl J Med 315:833

29.

Simopoulos AP, Gopalan C (eds) (2003) Plants in human health and nutrition policy. World Rev Nutr Diet 91. Karger, Basel

30.

Zeghichi S, Kallithrka S, Simopoulos AP, Kypriotakis Z (2003) Nutritional composition of selected wild plants in the diet of Crete. World Rev Nutr Diet 91:22–40

31.

Simopoulos AP (2002) Omega-3 fatty acids in wild plants, seeds and nuts. Asian Pac J Clin Nutr 11(S6):S163–S173

32.

Simopoulos AP (2004) Omega-3 fatty acids and antioxidants in edible wild plants. Biol Res 37(2):263–277

33.

Simopoulos AP, Salem N Jr (1989) n-3 fatty acids in eggs from range-fed Greek chickens. N Engl J Med 321:1412

34.

Simopoulos AP, Salem N Jr (1992) Egg yolk as a source of long-chain polyunsaturated fatty acids in infant feeding. Am J Clin Nutr 55:411–414

35.

van Vliet T, Katan MB (1990) Lower ratio of n-3 to n-6 fatty acids in cultured than in wild fish. Am J Clin Nutr 51:1–2

36.

Cordain L, Martin C, Florant G, Watkins BA (1998) The fatty acid composition of muscle, brain, marrow and adipose tissue in elk: evolutionary implications for human dietary requirements. World Rev Nutr Diet 83:225, Karger, Basel

37.

Sinclair AJ, Slattery WJ, O'Dea K (1982) The analysis of polyunsaturated fatty acids in meat by capillary gas-liquid chromotography. J Food Sci Agric 33:771–776

38.

Sugano M, Hirahara F (2000) Polyunsaturated fatty acids in the food chain in Japan. Am J Clin Nutr 71(suppl):189S–196S

39.

Pella D, Dubnov G, Singh RB, Sharma R (2003) Effects of an Indo-Mediterranean diet on the omega-6/omega-3 ratio in patients at high risk of coronary artery disease: the Indian paradox. World Rev Nutr Diet 92:74–80, Karger, Basel

40.

Sanders TAB (2000) Polyunsaturated fatty acids in the food chain in Europe. Am J Clin Nutr 71(suppl):S176–S178

41.

Burr GO, Burr MM (1930) On the nature and role of fatty acids essential in nutrition. J Biol Chem 86:587–622

42.

Simopoulos AP (2008) The importance of the omega-6/omega-3 fatty acid ratio in cardiovascular disease and other chronic diseases. Exp Biol Med Maywood 233:674–688

43.

Simopoulos AP (2009) Omega-6/Omega-3 essential fatty acids: biological effects. In: Simopoulos AP, Bazan NG (eds). Omega-3 fatty acids, the brain and retina. World Rev Nutr Diet 99:1–16

44.

Burdge G (2004) Alpha-linolenic acid metabolism in men and women: nutritional and biological implications. Curr Opin Clin Nutri Metab Care 7:137–144

45.

Cho HP, Nakamura MT, Clarke SD (1999) Cloning, expression, and nutritional regulation of the mammalian delta-6 desaturase. J Biol Chem 274:471–477

46.

Cho HP, Nakamura M, Clarke SD (1999) Cloning, expression, and fatty acid regulation of the human delta-5 desaturase. J Biol Chem 274:37335–37339

47.

Weber PC, Fischer S, von Schacky C, Lorenz R, Strasser T (1986) Dietary omega-3 polyunsaturated fatty acids and eicosanoid formation in man. In: Simopoulos AP, Kifer RR, Martin RE (eds) Health effects of polyunsaturated fatty acids in seafoods. Academic, Orlando, pp 49–60

48.

Lewis RA, Lee TH, Austen KF (1986) Effects of omega-3 fatty acids on the generation of products of the 5-lipoxygenase pathway. In: Simopoulos AP, Kifer RR, Martin RE (eds) Health effects of polyunsaturated fatty acids in seafoods. Academic, Orlando, pp 227–238

49.

Burr ML, Fehily AM, Gilbert JF, Rogers S, Holliday RM, Sweetnam PM, Elwood PC, Deadman NM (1989) Effects of changes in fat, fish, and fibre intakes on death and myocardial reinfarction: diet and reinfarction trial (DART). Lancet 2:757–761

50.

Leaf A (1990) Cardiovascular effects of fish oils. Beyond the platelet. Circulation 82:624–628

51.

Leaf A, Weber PC (1988) Cardiovascular effects of n-3 fatty acids. N Engl J Med 318:549–557

52.

Simopoulos AP, Kifer RR, Martin RE (eds) (1986) Health effects of polyunsaturated fatty acids in seafoods. Academic Press, Orlando

53.

Simopoulos AP, Kifer RR, Martin RE, Barlow SM (eds) (1991) Health effects of w3 polyunsaturated fatty acids in seafoods. World Rev Nutr Diet 66. Karger, Basel

54.

Von Schacky C (1988) Prophylaxis of atherosclerosis with marine omega-3 fatty acids: a comprehensive strategy. Ann Intern Med 107:890–899

55.

Innis SM (1991) Essential fatty acids in growth and development. Prog Lipid Res 30:39–103

56.

Cha YI, Solnica-Krezel L, DuBois RN (2006) Fishing for prostanoids: deciphering the developmental functions of cyclooxygenase-derived prostaglandins. Dev Biol 289:263–272

57.

Harizi H, Gualde N (2005) The impact of eicosanoids on the crosstalk between innate and adaptive immunity: the key role of dendritic cells. Tissue Antigens 65:507–514

58.

Leu BH, Schmidt JT (2008) Arachidonic acid as a retrograde signal controlling growth and dynamics of retinotectal arbors. Dev Neurobiol 68:18–30

59.

Khanapure SP, Garvey DS, Janero DR, Letts LG (2007) Eicosanoids in inflammation: biosynthesis, pharmacology and therapeutic frontiers. Curr Top Med Chem 7:311–340

60.

Peskar BM, Sawka N, Ehrlich K, Peskar BA (2003) Role of cyclooxygenase-1 and -2, phospholipase C, and protein kinase C in prostaglandin mediated gastroprotection. J Pharmacol Exp Ther 305:1233–1238

61.

Niemoller TD, Stark DT, Bazan NG (2009) Omega-3 fatty acid docosahexaenoic acid is the precursor of neuroprotectin D1 in the nervous system. In: Simopoulos AP, Bazan NG (eds) Omega-3 fatty acids, the brain and retinavol. World Rev Nutr Diet 99: 46–54

62.

Serhan CN, Chiang N, Van Dyke TE (2008) Resolving inflammation: dual anti-inflammatory and pro-resolution lipid mediators. Nat Rev Immunol 8(5):349–361

63.

Koletzko B, Demmelmair H, Schaeffer L, Illig T, Heinrich J (2008) Genetically determined variation in polyunsaturated fatty acid metabolism may result in different dietary requirements. Nestle Nutr Workshop Ser Pediatr Program 62:35–44, discussion 44–9

64.

Schaeffer L, Gohlke H, Muller M, Heid IM, Palmer LJ, Kompauer I, Demmelmair H, Illig T, Koletzko B, Heinrich J (2006) Common genetic variants of the FADS1 FADS2 gene cluster and their reconstructed haplotypes are associated with the fatty acid composition in phospholipids. Hum Mol Genet 15(11):1745–1756

65.

Xie L, Innis SM (2008) Genetic variants of the FADS1 FADS2 gene cluster are associated with altered (n-6) and (n-3) essential fatty acids in plasma and erythrocyte phospholipids in women during pregnancy and in breast milk during lactation. J Nutr 138(11):2222–2228

66.

Caspi A et al (2007) Moderation of breastfeeding effects on the IQ by genetic variation in fatty acid metabolism. Proc Natl Acad Sci 104:18860–18865

67.

Martinelli N et al (2008) FADS genotypes and desaturase activity estimated by the ratio of arachidonic acid to linoleic acid are associated with inflammation and coronary artery disease. Am J Clin Nutr 88:941–949

68.

Allayee H, Baylin A, Hartiala J, Wijesuriya H, Mehrabian M, Lusis AJ, Campos H (2008) Nutrigenetic association of the 5-lipoxygenase gene with myocardial infarction. Am J Clin Nutr 88:934–940

69.

Fradet V, Cheng I, Casey G, Witte JS (2009) Dietary omega-3 fattyacids, cyclooxygenase-2 geneticvariation, and aggressive prostate cancer risk. Clin Cancer Res 15(7):2559–2566

70.

McMahon B, Godson C (2004) Lipoxins: endogenous regulators of inflammation. Am J Physiol Ren Physiol 286(2):F189–F201

71.

Kang ZB, Ge Y, Chen Z, Brown J, Lapasota M, Leaf A, Kang JX (2001) Adenoviral transfer of Caenorhabditis elegans n-3 fatty acid desaturase optimizes fatty acid composition in mammalian heart cells. Proc Natl Acad Sci USA 98:4050–4054

72.

Ge Y-L, Chen Z, Kang ZB, Cluette-Brown J, Laposata M, Kang JX (2002) Effects of adenoviral transfer of Caenorhabditis elegans n-3 fatty acid desaturase on the lipid profile and growth of human breast cancer cells. Anticancer Res 22:537–544

73.

Kang JX (2003) The importance of omega-6/omega-3 fatty acid ratio in cell function. The gene transfer of omega-3 fatty acid desaturase. World Rev Nutr Diet 92:23–36

74.

Kang JX, Wang J, Wu L, Kang ZB (2004) Fat-1 mice convert n-6 to n-3 fatty acids. Nature 427:504

75.

Kang JX (2004) Balance of omega-6/omega-3 fatty acids is important for health: the evidence from gene transfer studies. World Rev Nutr Diet 95:93–102

76.

Lai L, Kang JX, Li R, Wang J, Witt WT, Yong HY, Hao Y, Was DM, Murphy CN, Rieke A, Samuel M, Linville ML, Korte SW, Evans RW, Starzl TE, Prather RS, Dai Y (2006) Generation of cloned transgenic pigs rich in omega-3 fatty acids. Nat Biotechnol 4:435–436

77.

Kang JX (2007) Fat-1 transgenic mice: a new model for omega-3 research. Prostaglandins Leukot Essent Fatty Acids 77:263–267

78.

Simopoulos AP (1996) The role of fatty acids in gene expression: health implications. Ann Nutr Metab 40:303–311

79.

Hibbeln JR, Salem N Jr (1995) Dietary polyunsaturated fatty acids and depression: when cholesterol does not satisfy. Am J Clin Nutr 62:1–9

80.

Hibbeln JR, Umhau JC, George LM, DT RPW, Shoaf SE, Vaughan MR, Rawlings R, Salem N Jr (1998) A replication study of violent and nonviolent subjects: cerebrospinal fluid metabolites of serotonin and dopamine are predicted by plasma essential fatty acids. Biol Psychiatry 44:243–249

81.

Hibbeln JR, Linnoila M, Umhau JC, Rawlings R, George DT, Salem N Jr (1998) Essential fatty acids predict metabolites of serotonin and dopamine in cerebrospinal fluid among healthy control subjects, and early- and late-onset alcoholics. Biol Psychiatry 44:235–242

82.

Maes M, Smith R, Christophe A, Cosyns P, Desnyder R, Meltzer H (1996) Fatty acid composition in major depression: decreased omega 3 fractions in cholesteryl esters and increased C20: 4 omega 6/C20:5 omega 3 ratio in cholesteryl esters and phospholipids. J Affect Disord 38:35–46

83.

Maes M, Smith R, Christophe A, Vandoolaeghe E, Van Gastel A, Neels H, Demedts P, Wauters A, Meltzer HY (1997) Lower serum high-density lipoprotein cholesterol (HDL-C) in major depression and in depressed men with serious suicidal attempts: relationship with immune-inflammatory markers. Acta Psychiatr Scand 95:212–221

84.

Peet M, Murphy B, Shay J, Horrobin D (1998) Depletion of omega-3 fatty acid levels in red blood cell membranes of depressive patients. Biol Psychiatry 43:315–319

85.

Locke CA, Stoll AL (2001) Omega-3 fatty acids in major depression. World Rev Nutr Diet 89:173–185

86.

Stoll AL, Severus WE, Freeman MP, Rueter S, Zboyan HA, Diamond E, Cress KK, Marangell LB (1999) Omega 3 fatty acids in bipolar disorder: a preliminary double-blind, placebo-controlled trial. Arch Gen Psychiatry 56:407–412

87.

Kiecolt-Glaser JK, Belury MA, Porter K, Beversdorf DQ, Lemeshow S, Glaser R (2007) Depressive symptoms, omega-6:omega-3 fatty acids, and inflammation in older adults. Psychosom Med 69(3):217–224

88.

Conklin SM, Runyan CA, Leonard S, Reddy RD, Muldoon MF, Yao JK (2010) Age-related changes of n-3 and n-6 polyunsaturated fatty acids in the anterior cingulate cortex of individuals with major depressive disorder. Prostaglandins Leukot Essent Fatty Acids 82(2–3):111–119

89.

Fletcher MP, Ziboh VA (1990) Effects of dietary supplementation with eicosaptaenoic acid or gamma-linolenic acid on neutrophil phospholipid fatty acid composition and activation responses. Inflammation 14:585–597

90.

Arita K, Yamamoto Y, Takehara Y, Utsumi T, Kanno T, Miyaguchi C et al (2003) Mechanisms of enhanced apoptosis in HL-60 cells by UV-irradiated n-3 and Omega-6 polyunsaturated fatty acids. Free Rad Biol Med 35:189–199

91.

Haag M (2003) Essential fatty acids and the brain. Can J Psychiat 48:195–203

92.

Martin RE, Bazan NG (1992) Changing fatty acid content of growth cone lipids prior to synaptogenesis. J Neurochem 59:318–325

93.

Jones CR, Arai T, Rapoport SI (1997) Evidence for the involvement of docosahexanoic acid in cholinergic stimulated signal transduction at the synapse. Neurochem Res 22:663–670

94.

Cassidy A, De Vivo I, Liu U, Han J, Prescott J, Hunter DJ, Rim EB (2010) Associations between diet, lifestyle factors, and telomere length in women. Am J Clin Nutr 91(5):1273–1280

95.

Farzaneh-Far R, Lin J, Epel ES, Harris WS, Blackburn EH, Whooley MA (2010) Association of marine omega-3 fatty acid levels with telomeric aging in patients with coronary heart disease. JAMA 303(3):250–257

96.

Wainwright PE (2002) Dietary essential fatty acids and brain function: a developmental perspective on mechanism. Proc Nutr Soc 61:61–69

97.

Takeuchi T, Fukumoto Y, Harada E (2002) Influence of a dietary omega-3 fatty acid deficiency on the cerebral catecholaminecontents, EEG and learning ability in rats. Behav Brain Res 131:193–203

98.

Yoshida S, Yasuda A, Kawazato H, Sakai K, Shimada T, Takeshita M et al (1997) Synaptic vesicle ultrastructural changes in the rat hippocampus induced by a combination of alpha-linolenate deficiency and learning task. J Neurochem 68:1261–1268

99.

Gamoh S, Hashimoto M, Sugioka K, Hossain MS, Hata N, Misawa Y et al (1999) Chronic administration of docosahexaenoic acid improves reference memory-related learning ability in young rats. Neurocience 93:237–241

100.

Minami M, Kimura S, Endo T, Hamaue N, Hirafuji M, Togashi H et al (1997) Dietary docosahexanoic acid increases cerebral acetylcholine levels and improves passive avoidance performance in stroke-prone spontaneously hypertensive rats. Pharmacol Biochem Behav 58:1123–1129

101.

Kalmijn S, van Boxtel MPJ, Ockè M, Verschuren WMM, Kromhout D, Laurner LJ (2004) Dietary intake of fatty acids and fish in relation to cognitive performance at middle age. Neurology 62:275–280

102.

Kalmijn S, Launer LJ, Ott A, Witteman JC, Hofman A, Breteler MM (1997) Dietary fat intake and the risk of incident dementia in the Rotterdam Study. Ann Neurol 42:776–782

103.

Fabrigoule C, Rouch I, Taberly A, Letenneur L, Commenges D, Maxaus JM et al (1998) Cognitive process in preclinical phase of dementia. Brain 121:135–141

104.

Freeman MP (2000) Omega-3 fatty acids in psychiatry: a review. Ann Clin Psychiat 12:159–165

105.

Assies J, Lok A, Bockting CL, Weverling GJ, Lieverse R, Visser I et al (2004) Fatty acids and homocysteine levels in patients with recurrent depression: an explorative pilot study. Prostaglandins Leukot Essent Fatty Acids 70:349–356

106.

Hakkarainen R, Partonen T, Haukka J, Albanes D, Lonnqvist J (2004) Is low dietary intake of omega-3 fatty acids associated with depression? Am J Psychiat 161:567–569

107.

Mischoulon D, Fava M (2000) Docosahexanoic acid and Omega-3 fatty acids in depression. Psychiat Clin N Am 23:785–794

108.

Stoll AL, Severus WE, Freeman MP, Rueter S, Zboyan HA, Diamond E et al (1999) Omega-3 fatty acids in bipolar disorder: a preliminary double-blind, placebo-controlled trial. Arch Gen Psychiat 56:407–412

109.

Vaddadi KS, Courtney P, Gilleard CJ, Manku MS, Horrobin DF (1989) A double-blind trial of essential fatty acid supplementation in patients with tardive dyskinesia. Psychiatry Res 27:313–323

110.

Alessandri JM, Guesnet P, Vancassel S, Astorg P, Denis I, Langelier B et al (2004) Polyunsaturated fatty acids in the central nervous system: evolution of concepts and nutritional implications throughout life. Rep Nutr Dev 44:509–538

111.

Puri BK, Holmes J, Hamilton G (2004) Eicosapentaenoic acid-rich essential fatty acid supplementation in chronic fatigue syndrome associated with symptom remission and structural brain changes. Int J Clin Pract 58:297–299

112.

Peet M, Stokes C (2005) Omega-3 fatty acids in the treatment of psychiatric disorders. Drugs 65:1051–1059

113.

Fontani G, Corradeschi F, Felici A, Alfatti F, Migliorini S, Lodi L (2005) Cognitive and physiological effects of omega-3 polyunsaturated fatty acid supplementation in healthy subjects. Eur J Clin Invest 35(11):691–699

114.

Ryback R (2001) Bioelectrical modulators and the cell membrane in psychiatric medicine. Psycopharmacol Bull 35:5–44

115.

Bohannon J (2009) The theory? Diet causes violence. The lab? Prison. Science 325:1614–1616

116.

Buydens-Branchey L, Branchey M (2008) Long-chain n-3 poluunsaturated fatty acids decrease feelings of anger in substance abusers. Psychiatry Res 157(1–3):95–104
About this article
Cite this article
Simopoulos, A.P. Evolutionary Aspects of Diet: The Omega-6/Omega-3 Ratio and the Brain. Mol Neurobiol 44, 203–215 (2011). https://doi.org/10.1007/s12035-010-8162-0
Received:

Accepted:

Published:

Issue Date:
Keywords
Omega-6 and omega-3 fatty acid balance

Brain development

Neurotransmitters

Metabolism

Aggression

Violent behavior

Drug abuse

Genetics polymorphism