Abstract
Migraine headache originates from the stimulation of nerve terminals of trigeminal ganglion neurons that innervate meninges. Characteristic features of migraine pain are not only its delayed onset but also its persistent duration. Current theories propose that endogenous substances released during a migraine attack (the neuropeptide calcitonin gene-related peptide [CGRP] and the neurotrophin nerve growth factor [NGF]) sensitize trigeminal neurons to transmit nociceptive signals to the brainstem, though the mechanisms remain poorly understood. Recent studies indicate that acute, long-lasting sensitization of trigeminal nociceptive neurons occurs via distinct processes involving enhanced expression and function of adenosine triphosphate (ATP)-gated P2X3 receptors known to play a role in chronic pain. In particular, on cultured trigeminal neurons, CGRP (via protein kinase A-dependent signaling) induces a slowly developing upregulation of the ionic currents mediated by P2X3 receptors by enhancing receptor trafficking to the neuronal membrane and activating their gene transcription. Such upregulated receptors acquire the ability to respond repeatedly to extracellular ATP, thus enabling long-lasting signaling of painful stimuli. In contrast, NGF induces rapid, reversible upregulation of P2X3 receptor function via protein kinase C phosphorylation, an effect counteracted by anti-NGF antibodies. The diverse intracellular signaling pathways used by CGRP and NGF show that the sensitization of P2X3 receptor function persists if the action of only one of these migraine mediators is blocked. These findings imply that inhibiting a migraine attack might be most efficient by a combinatorial approach. The different time domains of P2X3 receptor modulation by NGF and CGRP suggest that the therapeutic efficacy of novel antimigraine drugs depends on the time of administration.
This is a preview of subscription content, log in to check access.
Access options
Buy single article
Instant access to the full article PDF.
US$ 39.95
Price includes VAT for USA
Subscribe to journal
Immediate online access to all issues from 2019. Subscription will auto renew annually.
US$ 99
This is the net price. Taxes to be calculated in checkout.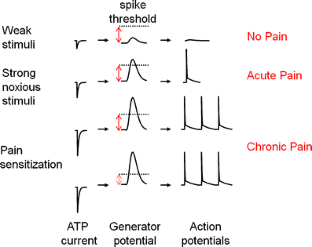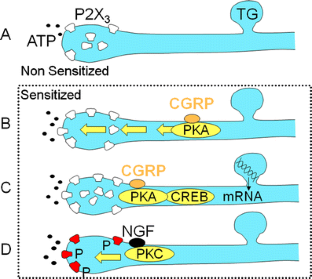 Abbreviations
α,β-meATP:

α,β-methylene ATP

BDNF:

brain-derived nerve factor

CGRP:

calcitonin gene-related peptide

DRG:

dorsal root ganglia

NGF:

nerve growth factor

NO:

nitric oxide

PMA:

phorbol 12-myristate 13-acetate

5-HT1B,1D,1F :

5-hydroxytryptamine (serotonin) receptor subtypes

TG:

trigeminal ganglia

TrkA:

tyrosine receptor kinase

TRPV1:

transient receptor potential vanilloid 1
References
1.

Burnstock G (2007) Physiology and pathophysiology of purinergic neurotransmission. Physiol Rev 87:659–797

2.

Khakh BS, North RA (2006) P2X receptors as cell-surface ATP sensors in health and disease. Nature 442:527–532

3.

Grishin S, Shakirzyanova A, Giniatullin A, Afzalov R, Giniatullin R (2005) Mechanisms of ATP action on motor nerve terminals at the frog neuromuscular junction. Eur J Neurosci 21:1271–1279

4.

Inoue K, Koizumi S, Tsuda M (2007) The role of nucleotides in the neuron–glia communication responsible for the brain functions. J Neurochem 102:1447–1458

5.

Di Virgilio F (2007) Liaisons dangereuses: P2X7 and the inflammasome. Trends Pharmacol Sci 28:465–472

6.

Chizh BA, Illes P (2001) P2X receptors and nociception. Pharmacol Rev 53:553–568

7.

North RA (2004) P2X3 receptors and peripheral pain mechanisms. J Physiol 554:301–308

8.

Wirkner K, Sperlagh B, Illes P (2007) P2X3 receptor involvement in pain states. Mol Neurobiol 36:165–183

9.

Jarvis MF (2003) Contributions of P2X3 homomeric and heteromeric channels to acute and chronic pain. Expert Opin Ther Targets 7:513–522

10.

Barclay J, Patel S, Dorn G, Wotherspoon G, Moffatt S, Eunson L, Abdel'al S, Natt F, Hall J, Winter J, Bevan S, Wishart W, Fox A, Ganju P (2002) Functional downregulation of P2X3 receptor subunit in rat sensory neurons reveals a significant role in chronic neuropathic and inflammatory pain. J Neurosci 22:8139–8147

11.

Dorn G, Patel S, Wotherspoon G, Hemmings-Mieszczak M, Barclay J, Natt FJ, Martin P, Bevan S, Fox A, Ganju P, Wishart W, Hall J (2004) siRNA relieves chronic neuropathic pain. Nucleic Acids Res 32:e49

12.

North RA (2003) The P2X3 subunit: a molecular target in pain therapeutics. Curr Opin Investig Drugs 4:833–840

13.

Cockayne DA, Hamilton SG, Zhu QM, Dunn PM, Zhong Y, Novakovic S, Malmberg AB, Cain G, Berson A, Kassotakis L, Hedley L, Lachnit WG, Burnstock G, McMahon SB, Ford AP (2000) Urinary bladder hyporeflexia and reduced pain-related behaviour in P2X3-deficient mice. Nature 407:1011–1015

14.

Souslova V, Cesare P, Ding Y, Akopian AN, Stanfa L, Suzuki R, Carpenter K, Dickenson A, Boyce S, Hill R, Nebenuis-Oosthuizen D, Smith AJ, Kidd EJ, Wood JN (2000) Warm-coding deficits and aberrant inflammatory pain in mice lacking P2X3 receptors. Nature 407:1015–1017

15.

Cockayne DA, Dunn PM, Zhong Y, Rong W, Hamilton SG, Knight GE, Ruan HZ, Ma B, Yip P, Nunn P, McMahon SB, Burnstock G, Ford AP (2005) P2X2 knockout mice and P2X2/P2X3 double knockout mice reveal a role for the P2X2 receptor subunit in mediating multiple sensory effects of ATP. J Physiol 567:621–639

16.

Cook SP, Rodland KD, McCleskey EW (1998) A memory for extracellular Ca2+ by speeding recovery of P2X receptors from desensitization. J Neurosci 18:9238–9244

17.

Sokolova E, Skorinkin A, Fabbretti E, Masten L, Nistri A, Giniatullin R (2004) Agonist-dependence of recovery from desensitization of P2X3 receptors provides a novel and sensitive approach for their rapid up or down regulation. Br J Pharmacol 141:1048–1058

18.

Sokolova E, Skorinkin A, Moiseev I, Agrachev A, Nistri A, Giniatullin R (2006) Experimental and modeling studies of desensitization of P2X3 receptors. Molec Pharm 70:373–382

19.

McGaraughty S, Jarvis MF (2005) Antinociceptive properties of a non-nucleotide P2X3/P2X2/3 receptor antagonist. Drug News Perspect 18:501–507

20.

Burnstock G (2006) Purinergic P2 receptors as targets for novel analgesics. Pharmacol Ther 110:433–454

21.

Hefti FF, Rosenthal A, Walicke PA, Wyatt S, Vergara G, Shelton DL, Davies AM (2002) Novel class of pain drugs based on antagonism of NGF. Trends Pharmacol Sci 27:85–91

22.

Pietrobon D, Striessnig J (2003) Neurobiology of migraine. Nat Rev Neurosci 4:386–398

23.

Strassman AM, Levy D (2006) Response properties of dural nociceptors in relation to headache. J Neurophysiol 95:1298–1306

24.

Waeber C, Moskowitz MA (2005) Migraine as an inflammatory disorder. Neurology 64:S9–15

25.

Levy D, Burstein R, Strassman AM (2006) Mast cell involvement in the pathophysiology of migraine headache: an hypothesis. Headache 46(Suppl 1):S13–S18

26.

Goadsby PJ (2007) Recent advances in understanding migraine mechanisms, molecules and therapeutics. Trends Mol Med 13:39–44

27.

Kurosawa M, Messlinger K, Pawlak M, Schmidt RF (1995) Increase of meningeal blood flow after electrical stimulation of rat dura mater encephali: mediation by calcitonin gene-related peptide. Br J Pharmacol 114:1397–402

28.

Strassman AM, Raymond SA, Burstein R (1996) Sensitization of meningeal sensory neurons and the origin of headaches. Nature 384:560–564

29.

Levy D, Strassman AM (2002) Mechanical response properties of A and C primary afferent neurons innervating the rat intracranial dura. J Neurophysiol 88:3021–3031

30.

Messlinger K, Hanesch U, Kurosawa M, Pawlak M, Schmidt RF (1995) Calcitonin gene related peptide released from dural nerve fibers mediates increase of meningeal blood flow in the rat. Can J Physiol Pharmacol 73:1020–1024

31.

Sarchielli P, Alberti A, Floridi A, Gallai V (2001) Levels of nerve growth factor in cerebrospinal fluid of chronic daily headache patients. Neurology 57:132–134

32.

Sarchielli P, Gallai V (2004) Nerve growth factor and chronic daily headache: a potential implication for therapy. Expert Rev Neurother 4:115–127

33.

Blandini F, Rinaldi L, Tassorelli C, Sances G, Motta M, Samuele A, Fancellu R, Nappi G, Leon A (2006) Peripheral levels of BDNF and NGF in primary headaches. Cephalalgia 26:136–142

34.

Fabbretti E, D'Arco M, Fabbro A, Simonetti M, Nistri A, Giniatullin R (2006) Delayed upregulation of ATP P2X3 receptors of trigeminal sensory neurons by calcitonin gene-related peptide. J Neurosci 26:6163–6171

35.

Zhang Z, Winborn CS, Marquez de Prado B, Russo AF (2007) Sensitization of calcitonin gene-related peptide receptors by receptor activity-modifying protein-1 in the trigeminal ganglion. J Neurosci 27:2693–2703

36.

Poyner DR, Sexton PM, Marshall I, Smith DM, Quirion R, Born W, Muff R, Fischer JA, Foord SM (2002) International Union of Pharmacology. XXXII. The mammalian calcitonin gene-related peptides, adrenomedullin, amylin, and calcitonin receptors. Pharmacol Rev 54:233–246

37.

Buldyrev I, Tanner NM, Hsieh HY, Dodd EG, Nguyen LT, Balkowiec A (2006) Calcitonin gene-related peptide enhances release of native brain-derived neurotrophic factor from trigeminal ganglion neurons. J Neurochem 99:1338–1350

38.

Levy D, Burstein R, Strassman AM (2005) Calcitonin gene-related peptide does not excite or sensitize meningeal nociceptors: implications for the pathophysiology of migraine. Ann Neurol 58:698–705

39.

D'Arco M, Giniatullin R, Simonetti M, Fabbro A, Nair A, Nistri A, Fabbretti E (2007) Neutralization of nerve growth factor induces plasticity of ATP-sensitive P2X3 receptors of nociceptive trigeminal ganglion neurons. J Neurosci 27:8190–8201

40.

Di Angelantonio S, Giniatullin R, Costa V, Sokolova E, Nistri A (2003) Modulation of neuronal nicotinic receptor function by the neuropeptides CGRP and substance P on autonomic nerve cells. Br J Pharmacol 139:1061–1073

41.

Hay DL, Conner AC, Howitt SG, Smith DM, Poyner DR (2004) The pharmacology of adrenomedullin receptors and their relationship to CGRP receptors. J Mol Neurosci 22:105–113

42.

Ebersberger A, Averbeck B, Messlinger K, Reeh PW (1999) Release of substance P, calcitonin gene-related peptide and prostaglandin E2 from rat dura mater encephali following electrical and chemical stimulation in vitro. Neuroscience 89:901–907

43.

Goadsby PJ (2006) Recent advances in the diagnosis and management of migraine. BMJ 332:25–29

44.

Durham PL, Russo AF (2003) Stimulation of the calcitonin gene-related peptide enhancer by mitogen-activated protein kinases and repression by an antimigraine drug in trigeminal ganglia neurons. J Neurosci 23:807–815

45.

Lennerz JK, Rühle V, Ceppa EP, Neuhuber WL, Bunnett NW, Grady EF, Messlinger K (2008) Calcitonin receptor-like receptor (CLR), receptor activity-modifying protein 1 (RAMP1), and calcitonin gene-related peptide (CGRP) immunoreactivity in the rat trigeminovascular system: Differences between peripheral and central CGRP receptor distribution. J Comp Neurol 507:1277–1299

46.

Simonetti M, Giniatullin R, Fabbretti E (2008) Mechanisms mediating the enhanced transcription of the P2X3 receptor gene by calcitonin gene related peptide in trigeminal sensory neurons. J Biol Chem (submitted)

47.

Julius D, Basbaum AI (2001) Molecular mechanisms of nociception. Nature 413:203–210

48.

Hou M, Uddman R, Tajti J, Kanje M, Edvinsson L (2002) Capsaicin receptor immunoreactivity in the human trigeminal ganglion. Neurosci Lett 330:223–226

49.

Simonetti M, Fabbro A, D'Arco M, Zweyer M, Nistri A, Giniatullin R, Fabbretti E (2006) Comparison of P2X and TRPV1 receptors in ganglia or primary culture of trigeminal neurons and their modulation by NGF or serotonin. Mol Pain 28:2–11

50.

Natura G, von Banchet GS, Schaible HG (2005) Calcitonin gene-related peptide enhances TTX-resistant sodium currents in cultured dorsal root ganglion neurons from adult rats. Pain 116:194–204

51.

Ramer MS, Bradbury EJ, McMahon SB (2001) Nerve growth factor induces P2X3 expression in sensory neurons. J Neurochem 77:864–875

52.

Bonnington JK, McNaughton PA (2003) Signalling pathways involved in the sensitisation of mouse nociceptive neurones by nerve growth factor. J Physiol 551:433–446

53.

Pezet S, McMahon SB (2006) Neurotrophins: mediators and modulators of pain. Annu Rev Neurosci 29:507–538

54.

Freeland K, Liu YZ, Latchman DS (2000) Distinct signalling pathways mediate the cAMP response element (CRE)-dependent activation of the calcitonin gene-related peptide gene promoter by cAMP and nerve growth factor. Biochem J 345:233–238

55.

Boue-Grabot E, Archambault V, Seguela PA (2000) Protein kinase C site highly conserved in P2X subunits controls the desensitization kinetics of P2X2 ATP-gated channels. J Biol Chem 275:10190–10195

56.

Paukert M, Osteroth R, Geisler HS, Brandle U, Glowatzki E, Ruppersberg JP, Grunder S (2001) Inflammatory mediators potentiate ATP-gated channels through the P2X3 subunit. J Biol Chem 276:21077–21082

57.

Jiang LH, Kim M, Spelta V, Bo X, Surprenant A, North RA (2003) Subunit arrangement in P2X receptors. J Neurosci 23:8903–8910

58.

Koshimizu TA, Kretschmannova K, He ML, Ueno S, Tanoue A, Yanagihara N, Stojilkovic SS, Tsujimoto G (2006) Carboxyl-terminal splicing enhances physical interactions between the cytoplasmic tails of purinergic P2X receptors. Mol Pharmacol 69:1588–1598

59.

Koshimizu TA, Tsujimoto G (2006) Functional role of spliced cytoplasmic tails in P2X2-receptor-mediated cellular signaling. J Pharmacol Sci 101:261–266

60.

Ryan MM, Lockstone HE, Huffaker SJ, Wayland MT, Webster MJ, Bahn S (2006) Gene expression analysis of bipolar disorder reveals downregulation of the ubiquitin cycle and alterations in synaptic genes. Mol Psychiatry 11:965–978

61.

Vulchanova L, Riedl MS, Shuster SJ, Buell G, Surprenant A, North RA, Elde R (1997) Immunohistochemical study of the P2X2 and P2X3 receptor subunits in rat and monkey sensory neurons and their central terminals. Neuropharmacology 36:1229–1242

62.

Burnstock G, Knight GE (2004) Cellular distribution and functions of P2 receptor subtypes in different systems. Int Rev Cytol 240:31–304

63.

Ji RR, Samad TA, Jin SX, Schmoll R, Woolf CJ (2002) p38 MAPK activation by NGF in primary sensory neurons after inflammation increases TRPV1 levels and maintains heat hyperalgesia. Neuron 36:57–68

64.

Zhang X, Huang J, McNaughton PA (2005) NGF rapidly increases membrane expression of TRPV1 heat-gated ion channels. EMBO J 24:4211–4223

65.

Fang X, Djouhri L, McMullan S, Berry C, Okuse K, Waxman SG, Lawson SN (2005) TrkA is expressed in nociceptive neurons and influences electrophysiological properties via Nav1.8 expression in rapidly conducting nociceptors. J Neurosci 25:4868–4878

66.

Amaya F, Wang H, Costigan M, Allchorne AJ, Hatcher JP, Egerton J, Stean T, Morisset V, Grose D, Gunthorpe MJ, Chessell IP, Tate S, Green PJ, Woolf CJ (2006) The voltage-gated sodium channel Na(v)1.9 is an effector of peripheral inflammatory pain hypersensitivity. J Neurosci 26:12852–12860

67.

Goadsby PJ (2007) Emerging therapies for migraine. Nat Clin Pract Neurol 3:610–619

68.

Fischer MJ, Koulchitsky S, Messlinger K (2005) The nonpeptide calcitonin gene-related peptide receptor antagonist BIBN4096BS lowers the activity of neurons with meningeal input in the rat spinal trigeminal nucleus. J Neurosci 25:5877–5883

69.

Edvinsson L, Petersen KA (2007) CGRP-receptor antagonism in migraine treatment. CNS Neurol Disord Drug Targets 6:240–246

70.

Benemei S, Nicoletti P, Capone JA, Geppetti P (2007) Pain pharmacology in migraine: focus on CGRP and CGRP receptors. Neurol Sci 28:S89–S93

71.

Doods H, Arndt K, Rudolf K, Just S (2007) CGRP antagonists: unravelling the role of CGRP in migraine. Trends Pharmacol Sci 28:580–587

72.

Hefti FF, Rosenthal A, Walicke PA, Wyatt S, Vergara G, Shelton DL, Davies AM (2006) Novel class of pain drugs based on antagonism of NGF. Trends Pharmacol Sci 27:85–91

73.

Jarvis MF, Bianchi B, Uchic JT, Cartmell J, Lee CH, Williams M, Faltynek C (2004) [3H]A-317491, a novel high-affinity non-nucleotide antagonist that specifically labels human P2X2/3 and P2X3 receptors. J Pharmacol Exp Ther 310:407–416

74.

Edvinsson L, Cantera L, Jansen-Olesen I, Uddman R (1997) Expression of calcitonin gene-related peptide 1 receptor mRNA in human trigeminal ganglia and cerebral arteries. Neurosci Lett 229:209–211

75.

Oliver KR, Wainwright A, Edvinsson L, Pickard JD, Hill RG (2002) Immunohistochemical localization of calcitonin receptor-like receptor and receptor activity-modifying proteins in the human cerebral vasculature. J Cereb Blood Flow Metab 22:620–629

76.

Fanciullacci M, Alessandri M, Figini M, Geppetti P, Michelacci S (1995) Increase in plasma calcitonin gene-related peptide from the extracerebral circulation during nitroglycerin-induced cluster headache attack. Pain 60:119–123

77.

Ashina M, Bendtsen L, Jensen R, Schifter S, Jansen-Olesen I, Olesen J (2000) Plasma levels of calcitonin gene-related peptide in chronic tension-type headache. Neurology 55:1335–1340

78.

Sarchielli P, Alberti A, Vaianella L, Pierguidi L, Floridi A, Mazzotta G, Floridi A, Gallai V (2004) Chemokine levels in the jugular venous blood of migraine without aura patients during attacks. Headache 44:961–968

79.

Alessandri M, Massanti L, Geppetti P, Bellucci G, Cipriani M, Fanciullacci M (2006) Plasma changes of calcitonin gene-related peptide and substance P in patients with dialysis headache. Cephalalgia 26:1287–1293

80.

Lassen LH, Haderslev PA, Jacobsen VB, Iversen HK, Sperling B, Olesen J (2002) CGRP may play a causative role in migraine. Cephalalgia 22:54–61

81.

Petersen KA, Lassen LH, Birk S, Lesko L, Olesen J (2005) BIBN4096BS antagonizes human alpha-calcitonin gene related peptide-induced headache and extracerebral artery dilatation. Clin Pharmacol Ther 77:202–213

82.

Juhasz G, Zsombok T, Jakab B, Nemeth J, Szolcsanyi J, Bagdy G (2005) Sumatriptan causes parallel decrease in plasma calcitonin gene-related peptide. (CGRP) concentration and migraine headache during nitroglycerin induced migraine attack. Cephalalgia 25:179–183

83.

Vanmolkot F, Van der Schueren B, de Hoon J (2006) Sumatriptan causes parallel decrease in plasma CGRP concentration and migraine headache during nitroglycerin-induced migraine attack. Cephalalgia 26:1037–1038

84.

Edvinsson L, Alm R, Shaw D, Rutledge RZ, Koblan KS, Longmore J, Kane SA (2002) Effect of the CGRP receptor antagonist BIBN4096BS in human cerebral, coronary and omental arteries and in SK-N-MC cells. Eur J Pharmacol 434:49–53

85.

Iovino M, Feifel U, Yong CL, Wolters JM, Wallenstein G (2004) Safety, tolerability and pharmacokinetics of BIBN 4096 BS., the first selective small molecule calcitonin gene-related peptide receptor antagonist., following single intravenous administration in healthy volunteers. Cephalalgia 24:645–656

86.

Olesen J, Diener HC, Husstedt IW, Goadsby PJ, Hall D, Meier U, Pollentier S, Lesko LM (2004) BIBN 4096 BS Clinical Proof of Concept Study Group. Calcitonin gene-related peptide receptor antagonist BIBN 4096 BS for the acute treatment of migraine. N Engl J Med 350:1104–1110
Acknowledgments
This work is supported by grants from the Telethon Foundation (GGP07032), the Italian Institute of Technology, and Ministero dell'Universita' e Ricerca (FIRB project).
About this article
Cite this article
Giniatullin, R., Nistri, A. & Fabbretti, E. Molecular Mechanisms of Sensitization of Pain-transducing P2X3 Receptors by the Migraine Mediators CGRP and NGF. Mol Neurobiol 37, 83 (2008). https://doi.org/10.1007/s12035-008-8020-5
Received:

Accepted:

Published:
Keywords
ATP

Trigeminal neurons

Purinergic receptors

Nociception

Headache