Abstract
Cannabinoids, the active components of Cannabis sativa L., act in the body by mimicking endogenous substances—the endocannabinoids—that activate specific cell surface receptors. Cannabinoids exert various palliative effects in cancer patients. In addition, cannabinoids inhibit the growth of different types of tumor cells, including glioma cells, in laboratory animals. They do so by modulating key cell signaling pathways, mostly the endoplasmic reticulum stress response, thereby inducing antitumoral actions such as the apoptotic death of tumor cells and the inhibition of tumor angiogenesis. Of interest, cannabinoids seem to be selective antitumoral compounds, as they kill glioma cells, but not their non-transformed astroglial counterparts. On the basis of these preclinical findings, a pilot clinical study of Δ9-tetrahydrocannabinol (THC) in patients with recurrent glioblastoma multiforme has been recently run. The good safety profile of THC, together with its possible growth-inhibiting action on tumor cells, justifies the setting up of future trials aimed at evaluating the potential antitumoral activity of cannabinoids.
Access options
Buy single article
Instant access to the full article PDF.
US$ 39.95
Tax calculation will be finalised during checkout.
Subscribe to journal
Immediate online access to all issues from 2019. Subscription will auto renew annually.
US$ 79
Tax calculation will be finalised during checkout.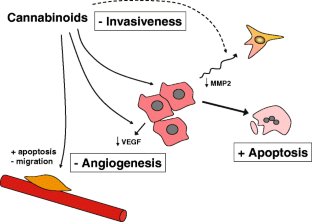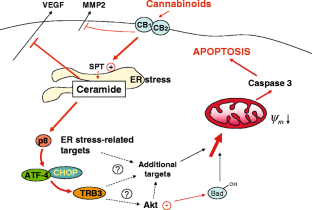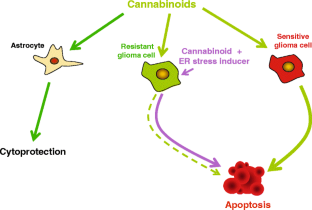 References
1.

Kleihues P, Louis DN, Scheithauer BW, Rorke LB, Reifenberger G, Burger PC, Cavenee WK (2002) The WHO classification of tumors of the nervous system. J Neuropathol Exp Neurol 61:215–225

2.

Reardon DA, Wen PY (2006) Therapeutic advances in the treatment of glioblastoma: rationale and potential role of targeted agents. Oncologist 11:152–164

3.

Maher EA, Furnari FB, Bachoo RM, Rowitch DH, Louis DN, Cavenee WK, DePinho RA (2001) Malignant glioma: genetics and biology of a grave matter. Genes Dev 15:1311–1333

4.

Lonardi S, Tosoni A, Brandes AA (2005) Adjuvant chemotherapy in the treatment of high grade gliomas. Cancer Treat Rev 31:79–89

5.

Yamanaka R (2006) Novel immunotherapeutic approaches to glioma. Curr Opin Mol Ther 8:46–51

6.

Gaoni Y, Mechoulam R (1964) Isolation, structure and partial synthesis of an active constituent of hashish. J Am Chem Soc 86:1646–1647

7.

Ramos J (2007) Overview on the biochemistry of the cannabinoid system. Mol Neurobiol (this issue)

8.

Fowler C (2007) Overview on the pharmacology of the cannabinoid system. Mol Neurobiol (this issue)

9.

Howlett AC, Barth F, Bonner TI, Cabral G, Casellas P, Devane WA, Felder CC, Herkenham M, Mackie K, Martin BR, Mechoulam R, Pertwee RG (2002) International Union of Pharmacology. XXVII. Classification of cannabinoid receptors. Pharmacol Rev 54:161–202

10.

Piomelli D (2003) The molecular logic of endocannabinoid signalling. Nat Rev Neurosci 4:873–884

11.

Fernandez-Ruiz J, Romero J, Velasco G, Tolon R, Ramos J, Guzman M (2007) Cannabinoid CB2 receptor: a new target for controlling neural cell survival? Trends Pharmacol Sci 28:83–92

12.

Bouaboula M, Poinot-Chazel C, Bourrie B, Canat X, Calandra B, Rinaldi-Carmona M, Le Fur G, Casellas P (1995) Activation of mitogen-activated protein kinases by stimulation of the central cannabinoid receptor CB1. Biochem J 312:637–641

13.

Liu J, Gao B, Mirshahi F, Sanyal AJ, Khanolkar AD, Makriyannis A, Kunos G (2000) Functional CB1 cannabinoid receptors in human vascular endothelial cells. Biochem J 346:835–840

14.

Rueda D, Galve-Roperh I, Haro A, Guzman M (2000) The CB1 cannabinoid receptor is coupled to the activation of c-Jun N-terminal kinase. Mol Pharmacol 58:814–820

15.

Gomez del Pulgar T, Velasco G, Guzman M (2000) The CB1 cannabinoid receptor is coupled to the activation of protein kinase B/Akt. Biochem J 347:369–373

16.

Derkinderen P, Toutant M, Burgaya F, Le Bert M, Siciliano JC, de Franciscis V, Gelman M, Girault JA (1996) Regulation of a neuronal form of focal adhesion kinase by anandamide. Science 273:1719–1722

17.

Sanchez C, Rueda D, Segui B, Galve-Roperh I, Levade T, Guzman M (2001) The CB1 cannabinoid receptor of astrocytes is coupled to sphingomyelin hydrolysis through the adaptor protein fan. Mol Pharmacol 59:955–959

18.

Tramer MR, Carroll D, Campbell FA, Reynolds DJ, Moore RA, McQuay HJ (2001) Cannabinoids for control of chemotherapy induced nausea and vomiting: quantitative systematic review. Br Med J 323:16–21

19.

Guzman M (2003) Cannabinoids: potential anticancer agents. Nat Rev Cancer 3:745–755

20.

Hall W, Christie M, Currow D (2005) Cannabinoids and cancer: causation, remediation, and palliation. Lancet Oncol 6:35–42

21.

Munson AE, Harris LS, Friedman MA, Dewey WL, Carchman RA (1975) Antineoplastic activity of cannabinoids. J Natl Cancer Inst 55:597–602

22.

Bifulco M, Di Marzo V (2002) Targeting the endocannabinoid system in cancer therapy: a call for further research. Nat Med 8:547–550

23.

Galve-Roperh I, Sanchez C, Cortes ML, Gómez del Pulgar T, Izquierdo M, Guzman M (2000) Anti-tumoral action of cannabinoids: involvement of sustained ceramide accumulation and extracellular signal-regulated kinase activation. Nat Med 6:313–319

24.

Bifulco M, Laezza C, Portella G, Vitale M, Orlando P, De Petrocellis L, Di Marzo V (2001) Control by the endogenous cannabinoid system of ras oncogene-dependent tumor growth. FASEB J 15:2745–2747

25.

McKallip RJ, Lombard C, Fisher M, Martin BR, Ryu S, Grant S, Nagarkatti PS, Nagarkatti M (2002) Targeting CB2 cannabinoid receptors as a novel therapy to treat malignant lymphoblastic disease. Blood 100:627–634

26.

Casanova ML, Blazquez C, Martinez-Palacio J, Villanueva C, Fernandez-Acenero MJ, Huffman JW, Jorcano JL, Guzman M (2003) Inhibition of skin tumor growth and angiogenesis in vivo by activation of cannabinoid receptors. J Clin Invest 111:43–50

27.

Carracedo A, Gironella M, Lorente M, Garcia S, Guzman M, Velasco G, Iovanna JL (2006) Cannabinoids induce apoptosis of pancreatic tumor cells via endoplasmic reticulum stress-related genes. Cancer Res 66:6748–6755

28.

Blazquez C, Carracedo A, Barrado L, Real PJ, Fernandez-Luna JL, Velasco G, Malumbres M, Guzman M (2006) Cannabinoid receptors as novel targets for the treatment of melanoma. FASEB J 20:2633–2635

29.

Sanchez C, Galve-Roperh I, Canova C, Brachet P, Guzman M (1998) Delta9-tetrahydrocannabinol induces apoptosis in C6 glioma cells. FEBS Lett 436:6–10

30.

Sanchez C, de Ceballos ML, del Pulgar TG, Rueda D, Corbacho C, Velasco G, Galve-Roperh I, Huffman JW, Ramon y Cajal S, Guzman M (2001) Inhibition of glioma growth in vivo by selective activation of the CB2 cannabinoid receptor. Cancer Res 61:5784–5789

31.

Ogretmen B, Hannun YA (2004) Biologically active sphingolipids in cancer pathogenesis and treatment. Nat Rev Cancer 4:604–616

32.

Gomez del Pulgar T, Velasco G, Sanchez C, Haro A, Guzman M (2002) De novo-synthesized ceramide is involved in cannabinoid-induced apoptosis. Biochem J 363:183–188

33.

Carracedo A, Lorente M, Egia A, Blazquez C, Garcia S, Giroux V, Malicet C, Villuendas R, Gironella M, Gonzalez-Feria L, Piris MA, Iovanna JL, Guzman M, Velasco G (2006) The stress-regulated protein p8 mediates cannabinoid-induced apoptosis of tumor cells. Cancer Cell 9:301–312

34.

Mallo GV, Fiedler F, Calvo EL, Ortiz EM, Vasseur S, Keim V, Morisset J, Iovanna JL (1997) Cloning and expression of the rat p8 cDNA, a new gene activated in pancreas during the acute phase of pancreatitis, pancreatic development, and regeneration, and which promotes cellular growth. J Biol Chem 272:32360–32369

35.

Ohoka N, Yoshii S, Hattori T, Onozaki K, Hayashi H (2005) TRB3, a novel ER stress-inducible gene, is induced via ATF4-CHOP pathway and is involved in cell death. EMBO J 24:1243–1255

36.

Schroder M, Kaufman RJ (2005) The mammalian unfolded protein response. Annu Rev Biochem 74:739–789

37.

Tajiri S, Oyadomari S, Yano S, Morioka M, Gotoh T, Hamada JI, Ushio Y, Mori M (2004) Ischemia-induced neuronal cell death is mediated by the endoplasmic reticulum stress pathway involving CHOP. Cell Death Differ 11:403–415

38.

Benali-Furet NL, Chami M, Houel L, De Giorgi F, Vernejoul F, Lagorce D, Buscail L, Bartenschlager R, Ichas F, Rizzuto R, Paterlini-Brechot P (2005) Hepatitis C virus core triggers apoptosis in liver cells by inducing ER stress and ER calcium depletion. Oncogene 24:4921–4933

39.

Li J, Holbrook NJ (2004) Elevated gadd153/chop expression and enhanced c-Jun N-terminal protein kinase activation sensitizes aged cells to ER stress. Exp Gerontol 39:735–744

40.

Mandic A, Hansson J, Linder S, Shoshan MC (2003) Cisplatin induces endoplasmic reticulum stress and nucleus-independent apoptotic signaling. J Biol Chem 278:9100–9106

41.

Carracedo A, Geelen MJ, Diez M, Hanada K, Guzman M, Velasco G (2004) Ceramide sensitizes astrocytes to oxidative stress: protective role of cannabinoids. Biochem J 380:435–440

42.

Gomez Del Pulgar T, De Ceballos ML, Guzman M, Velasco G. (2002) Cannabinoids protect astrocytes from ceramide-induced apoptosis through the phosphatidylinositol 3-kinase/protein kinase B pathway. J Biol Chem 277:36527–36533

43.

Molina-Holgado E, Vela JM, Arevalo-Martin A, Almazan G, Molina-Holgado F, Borrell J, Guaza C (2002) Cannabinoids promote oligodendrocyte progenitor survival: involvement of cannabinoid receptors and phosphatidylinositol-3 kinase/Akt signaling. J Neurosci 22:9742–9753

44.

Mechoulam R, Spatz M, Shohami E (2002) Endocannabinoids and neuroprotection. Sci STKE 2002:RE5

45.

Ellert-Miklaszewska A, Kaminska B, Konarska L (2005) Cannabinoids down-regulate PI3K/Akt and Erk signalling pathways and activate proapoptotic function of Bad protein. Cell Signal 17:25–37

46.

Lombard C, Nagarkatti M, Nagarkatti PS (2005) Targeting cannabinoid receptors to treat leukemia: role of cross-talk between extrinsic and intrinsic pathways in Delta9-tetrahydrocannabinol (THC)-induced apoptosis of Jurkat cells. Leuk Res 29:915–922

47.

Herrera B, Carracedo A, Diez-Zaera M, Gomez del Pulgar T, Guzman M, Velasco G (2006) The CB2 cannabinoid receptor signals apoptosis via ceramide-dependent activation of the mitochondrial intrinsic pathway. Exp Cell Res 312:2121–2131

48.

Blazquez C, Casanova ML, Planas A, Gómez del Pulgar T, Villanueva C, Fernandez-Acenero MJ, Aragones J, Huffman JW, Jorcano JL, Guzman M (2003) Inhibition of tumor angiogenesis by cannabinoids. FASEB J 17:529–531

49.

Portella G, Laezza C, Laccetti P, De Petrocellis L, Di Marzo V, Bifulco M (2003) Inhibitory effects of cannabinoid CB1 receptor stimulation on tumor growth and metastatic spreading: actions on signals involved in angiogenesis and metastasis. FASEB J 17:1771–1773

50.

Blazquez C, Gonzalez-Feria L, Alvarez L, Haro A, Casanova ML, Guzman M (2004) Cannabinoids inhibit the vascular endothelial growth factor pathway in gliomas. Cancer Res 64:5617–5623

51.

Kogan NM, Blazquez C, Alvarez L, Gallily R, Schlesinger M, Guzman M, Mechoulam R. (2006) A cannabinoid quinone inhibits angiogenesis by targeting vascular endothelial cells. Mol Pharmacol 70:51–59

52.

Grimaldi C, Pisanti S, Laezza C, Malfitano AM, Santoro A, Vitale M, Caruso MG, Notarnicola M, Iacuzzo I, Portella G, Di Marzo V, Bifulco M (2006) Anandamide inhibits adhesion and migration of breast cancer cells. Exp Cell Res 312:363–373

53.

Jordan CT, Guzman ML, Noble M (2006) Cancer stem cells. N Engl J Med 355:1253–1261

54.

Vescovi AL, Galli R, Reynolds BA (2006) Brain tumour stem cells. Nat Rev Cancer 6:425–436

55.

Aguado T, Carracedo A, Julien B, Velasco G, Milman G, Mechoulam R, Alvarez L, Guzman M, Galve-Roperh I (2007) Cannabinoids induce glioma stem-like cell differentiation and inhibit gliomagenesis. J Biol Chem 282:6854–6862

56.

Mimeault M, Pommery N, Wattez N, Bailly C, Henichart JP (2003) Anti-proliferative and apoptotic effects of anandamide in human prostatic cancer cell lines: implication of epidermal growth factor receptor down-regulation and ceramide production. Prostate 56:1–12

57.

De Petrocellis L, Melck D, Palmisano A, Bisogno T, Laezza C, Bifulco M, Di Marzo V (1998) The endogenous cannabinoid anandamide inhibits human breast cancer cell proliferation. Proc Natl Acad Sci USA 95:8375–8380

58.

Melck D, De Petrocellis L, Orlando P, Bisogno T, Laezza C, Bifulco M, Di Marzo V (2000) Suppression of nerve growth factor Trk receptors and prolactin receptors by endocannabinoids leads to inhibition of human breast and prostate cancer cell proliferation. Endocrinology 141:118–126

59.

Guzman M, Duarte MJ, Blazquez C, Ravina J, Rosa MC, Galve-Roperh I, Sanchez C, Velasco G, Gonzalez-Feria L (2006) A pilot clinical study of Δ9-tetrahydrocannabinol in patients with recurrent glioblastoma multiforme. Br J Cancer 95:197–2003

60.

Dinnes J, Cave C, Huang S, Milne R (2002) A rapid and systematic review of the effectiveness of temozolomide for the treatment of recurrent malignant glioma. Br J Cancer 86:501–505

61.

Stupp R, Mason WP, van den Bent MJ, Weller M, Fisher B, Taphoorn MJ, Belanger K, Brandes AA, Marosi C, Bogdahn U, Curschmann J, Janzer RC, Ludwin SK, Gorlia T, Allgeier A, Lacombe D, Cairncross JG, Eisenhauer E, Mirimanoff RO (2005) Radiotherapy plus concomitant and adjuvant temozolomide for glioblastoma. N Engl J Med 352:987–996
Acknowledgments
We are indebted to the rest of our lab colleagues for their collaboration and encouragement. Research in our laboratory is financially supported by Ministerio de Educación y Ciencia (SAF2006-00918), Comunidad de Madrid (S-SAL/0261/2006), Fundación de Investigación Médica Mutua Madrileña Automovilística and Santander/Complutense (PR27/05-13988).
About this article
Cite this article
Velasco, G., Carracedo, A., Blázquez, C. et al. Cannabinoids and Gliomas. Mol Neurobiol 36, 60–67 (2007). https://doi.org/10.1007/s12035-007-0002-5
Received:

Accepted:

Published:

Issue Date:
Keywords
Cannabinoid

Receptor

Glioma

Cancer

Apoptosis

Angiogenesis

Experimental therapeutics

Clinical trial