Abstract
The present study deals with the enhancement of proton transport and conduction properties of solid polymer electrolyte (SPE)-based carboxymethyl cellulose (CMC) blended with polyvinyl alcohol (PVA) doped with ammonium nitrate (NH4NO3) and plasticized with various compositions of polyethylene glycol (PEG). The SPE system was successfully prepared using an economical method, the solution casting technique, and analysed by Fourier transform infrared spectroscopy and electrical impedance spectroscopy. The infrared spectra show that interaction had occurred at O–H and COO− from CMC when PEG was added which prevailed the enhancement of ion dissociation. Glass transition measurement highlighted that the interaction between CMC–PVA–NH4NO3 and ethylene carbonate at 8 wt% give the most plasticization effect that achieved the lowest Tg. The highest conductivity of the SPE system achieved at ambient temperature was 1.70 × 10−3 S cm−1 for a non-plasticized sample, and further enhanced to 3.00 × 10−3 S cm−1 when 8 wt% PEG was incorporated into the SPE system. The sample with the highest conductivity was found to obey the Arrhenius behaviour with a function of temperature. The ionic conductivity of the SPE system was shown to be primarily influenced by a number of ions (η), ion mobility (μ) and diffusion coefficient (D).
Access options
Buy single article
Instant access to the full article PDF.
US$ 39.95
Tax calculation will be finalised during checkout.
Subscribe to journal
Immediate online access to all issues from 2019. Subscription will auto renew annually.
US$ 79
Tax calculation will be finalised during checkout.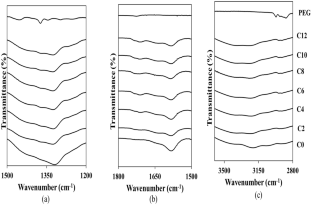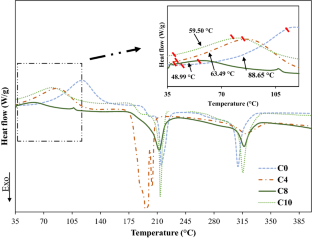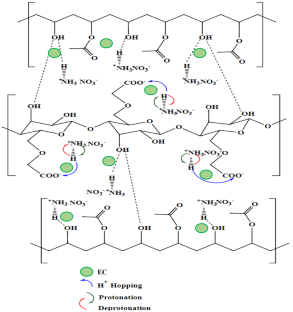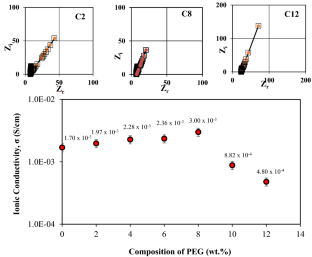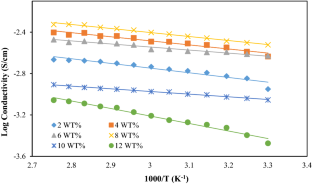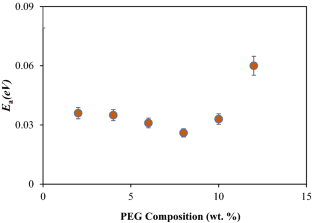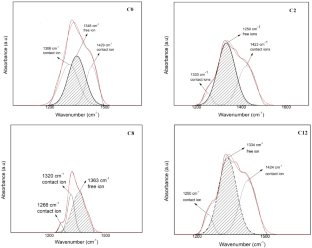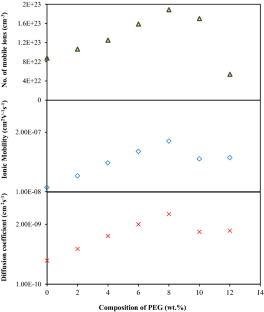 References
[1]

Kim J G, Son B, Mukherjee S, Schuppert N, Bates A, Kwon O et al 2015 J. Power Sources 282 299

[2]

Olivetti E, Gregory J and Kirchain R 2011 Study conducted for the National Electric Manufacturers Association (Cambridge, MA, USA: Massachusetts Institute of Technology)

[3]

Chen J 2013 Materials 6 156

[4]

Whittingham M S 2004 Chem. Rev. 104 4271

[5]

Shamsudin I, Ahmad A, Hassan N H and Kaddami H 2016 Ionics 22 841

[6]

Solarajan A K, Murugadoss V and Angaiah S 2017 J. Appl. Polym. Sci. 134 45177

[7]

Singh T J and Bhat S 2003 Bull. Mater. Sci. 26 707

[8]

Parameswaran V, Nallamuthu N, Devendran P, Nagarajan E R and Manikandan A 2017 Physica B 515 89

[9]

Aziz S B 2013 Iran. Polym. J. 22 877

[10]

Mazuki N, Fuzlin A, Saadiah M and Samsudin A 2019 Ionics 25 2657

[11]

Mazuki N F, Abdul Majeed A P P, Nagao Y and Samsudin A S 2020 Polym. Test. 81 106234

[12]

Saadiah M and Samsudin A 2018 AIP conference proceedings p 020223

[13]

Gondaliya N, Kanchan D and Sharma P 2013 Soc. Plast. Eng. 10 2417

[14]

Subramaniam R T, Chiam-Wen L, Yee L P and Morris E 2012 Recent advances in plasticizers (London, UK: IntechOpen) Chapter 9 p 165

[15]

Bhide A and Hariharan K 2007 Eur. Polym. J. 43 4253

[16]

Woo H J, Majid S R and Arof A K 2013 Solid State Ionics 252 102

[17]

Gupta S and Varshney P K 2017 Ionics 23 1613

[18]

Kumar R, Sharma S, Pathak D, Dhiman N and Arora N 2017 Solid State Ionics 305 57

[19]

Shin J, Jung S, Kim K, Ahn H and Ahn J 2002 J. Mater. Sci.: Mater. Electron. 13 727

[20]

Ng L S and Mohamad A A 2006 J. Power Sources 163 382

[21]

Chai M and Isa M 2016 Sci. Rep. 6 27328

[22]

Zainuddin N and Samsudin A 2018 Mater. Today Commun. 14 199

[23]

Arof A, Amirudin S, Yusof S and Noor I 2014 Phys. Chem. Chem. Phys. 16 1856

[24]

Zainuddin N, Rasali N and Samsudin A 2018 Ionics 24 3039

[25]

Rasali N and Samsudin A 2018 Ionics 24 1639

[26]

Ramlli M, Maksud M and Isa M 2017 AIP conference proceedings p 020001

[27]

Sathiyanarayanan P and Karunakaran R J 2015 J. Chem. Pharm. Res. 7 1099

[28]

Karelin A I, Kayumov R R and Dobrovolsky Y A 2019 Spectrochim. Acta Part A 215 381

[29]

Guo L, Sato H, Hashimoto T and Ozaki Y 2010 Macromolecules 43 3897

[30]

Sharma P, Kanchan D, Gondaliya N, Pant M and Jayswal M S 2013 Ionics 19 301

[31]

Deygen I M and Kudryashova E V 2016 Colloids Surf. B 141 36

[32]

Samsudin A, Aziz M and Isa M 2012 Int. J. Polym. Anal. Charact. 17 600

[33]

Jiang H, Zhang Q, Zhang Y, Sui L, Wu G, Yuan K et al 2019 Phys. Chem. Chem. Phys. 21 10417

[34]

Hemalatha R, Alagar M, Selvasekarapandian S, Sundaresan B, Moniha V, Boopathi G et al 2019 Ionics 25 141

[35]

Greco A, Ferrari F and Maffezzoli A 2018 J. Therm. Anal. Calorim. 134 559

[36]

Ahmadi-Khaneghah A, Omidi-Ghallemohamadi M and Behniafar H 2019 Int. J. Adhes. Adhes. 95 102430

[37]

Devangamath S S, Lobo B, Masti S P and Narasagoudr S 2020 J. Mater. Sci.: Mater. Electron. 31 2904

[38]

Vieira M G A, da Silva M A, dos Santos L O and Beppu M M 2011 Eur. Polym. J. 47 254

[39]

Aziz S B, Woo T J, Kadir M F Z and Ahmed H M 2018 J. Sci. Adv. Mater. Dev. 3 1

[40]

Zhao L, Fu J, Du Z, Jia X, Qu Y, Yu F et al 2020 J. Membr. Sci. 593 117428

[41]

Singh P, Bharati D C, Gupta P N and Saroj A L 2018 J. Non-Cryst. Solids 494 21

[42]

Saadiah M A and Samsudin A S 2018 IOP Conf. Ser.: Mater. Sci. Eng. 342 012045

[43]

Muhammad F H, Jamal A and Winie T 2017 Ionics 23 3045

[44]

Hafiza M N and Isa M I N 2020 J. Membr. Sci. 597 117176

[45]

Ambika C, Karuppasamy K, Vikraman D, Lee J Y, Regu T, Ajith Bosco Raj T et al 2018 Solid State Ionics 321 106

[46]

Das S and Ghosh A 2015 Electrochim. Acta 171 59

[47]

Dave G, Maheshwaran C and Kanchan D 2019 AIP conference proceedings p 030234

[48]

Samsudin A S and Saadiah M A 2018 J. Non-Cryst. Solids 497 19

[49]

Ahmed H T, Jalal V J, Tahir D A, Mohamad A H and Abdullah O G 2019 Results Phys. 15 102735

[50]

Selvalakshmi S, Mathavan T, Selvasekarapandian S and Premalatha M 2018 Ionics 24 2209

[51]

Reddy C V S, Han X, Zhu Q-Y, Mai L-Q and Chen W 2006 Eur. Polym. J. 42 3114

[52]

Selvasekarapandian S, Hema M, Kawamura J, Kamishima O and Baskaran R 2010 J. Phys. Soc. Jpn. 79 163

[53]

Subban R H Y, Ahmad A, Kamarulzaman N and Ali A 2005 Ionics 11 442

[54]

Balian S C, Ahmad A and Mohamed N 2016 Polymers 8 163

[55]

Saadiah M A, Zhang D, Nagao Y, Muzakir S K and Samsudin A S 2019 J. Non-Cryst. Solids 511 201

[56]

Rajendran S, Sivakumar M and Subadevi R 2003 J. Power Sources 124 225

[57]

Ramesh S, Yahaya A and Arof A 2002 Solid State Ionics 152 291

[58]

Rasali N, Nagao Y and Samsudin A 2019 Ionics 25 641

[59]

Majid S and Arof A K 2005 Physica B 355 78

[60]

Samsudin A and Isa M 2015 Adv. Mater. Res. 1108 27

[61]

Noor N A M and Isa M I N 2019 Int. J. Hydrog. Energy 44 8298

[62]

Ranjana P A B, Jeya S, Abarna S, Premalatha M, Arulsankar A and Sundaresan B 2019 J. Polym. Res. 26 38
Acknowledgements
We would like to thank the Ministry of Higher Education (MOHE) for FRGS grant (RDU 1901114) and UMP Internal Grant (RDU 190389), Faculty Industrial Science and Technology, Universiti Malaysia Pahang for technical and research support.
About this article
Cite this article
Saadiah, M.A., Tan, H.M. & Samsudin, A.S. Enhancement of proton conduction in carboxymethyl cellulose-polyvinyl alcohol employing polyethylene glycol as a plasticizer. Bull Mater Sci 43, 203 (2020). https://doi.org/10.1007/s12034-020-02179-3
Received:

Accepted:

Published:
Keywords
CMC–PVA–NH4NO3

PEG

ionic transport