Abstract
Magneso-silicate (MgSi) as an inorganic ion exchange material was synthesized by a precipitation technique. Then, the MgSi was impregnated into polyacrylamide acrylic acid and its composites (Poly) by condensation polymerization. To study the effect of \(\upgamma \)-radiation, the polyacrylamide acrylic acid and its MgSi samples were synthesized using \(\upgamma \)-irradiating systems at 25, 65 and 90 kGy. The variations in the radiation dose and amorphous structure were altered and confirmed by X-ray diffraction (XRD). Moreover, the absorbance and band-gap energy were enhanced by inserting MgSi into the polymeric composites (Poly). Furthermore, variations in temperature with dielectric constant, dielectric loss and conductivity of the samples at various frequencies from 100, 500, 1000, 2000 to 4000 Hz have been explained.
Access options
Buy single article
Instant access to the full article PDF.
USD 39.95
Price excludes VAT (USA)
Tax calculation will be finalised during checkout.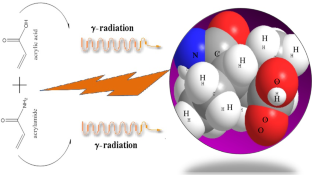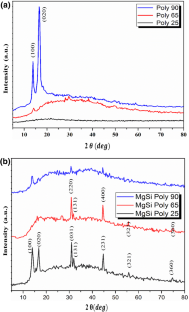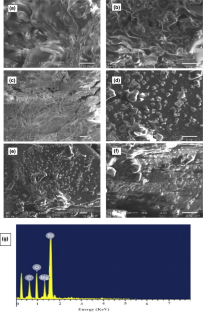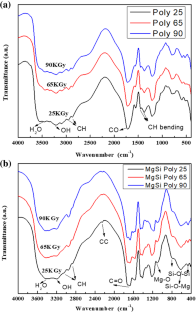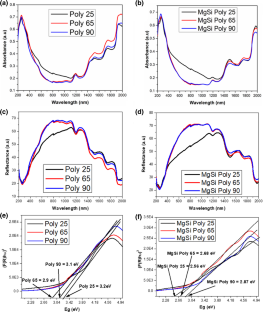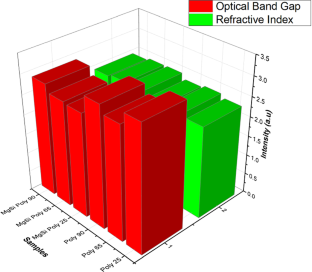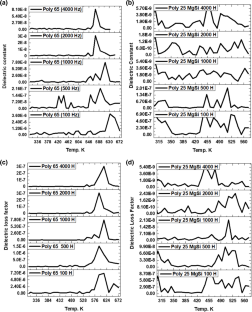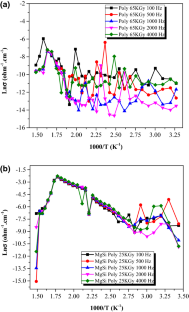 References
Majhi M, Choudhary R and Maji P 2015 Bull. Mater. Sci. 38 1195

Karadağ E, Topaç F, Kundakci S H and Üzüm Ö B 2014 Bull. Mater. Sci. 37 1637

Murali K R and Rao D R 1981 Thin Solid Films 86 283

Raghuvanshi S K, Ahmad B, Siddhartha Srivastava A K, Krishna J B M and Wahab M A 2012 Nucl. Instrum. Methods Phys. Res. Sect. B Beam Interact. Mater. At. 271 44

Burland D M, Miller R D and Walsh C A 1994 Chem. Rev. 94 31

Angiolini L, Benelli T, Giorgini L and Salatelli E 2006 Polymer 47 1875

Rosseinsky D R and Mortimer R J 2001 Adv. Mater. 13 783

Grote J G, Zetts J S, Nelson R L, Hopkins F K, Dalton L R, Zhang C et al 2001 Opt. Eng. 40 2464

Liu C-L and Chen W-C 2011 Polym. Chem. 2 2169

Katz E and Willner I 2003 J. Am. Chem. Soc. 125 6803

Özdemir T, Güngör A, Akbay I K, Uzun H and Babucçuoglu Y 2017 Radiat. Phys. Chem. 144 248

Alekseev V, Baranovsky V, Vedenov A, Velichko A, Zaytzeva L, Kovalenko A et al 1991 Bull. Mater. Sci. 14 257

Lawton E, Bueche A and Balwit J 1953 Nature 172 76

Ambika M R, Nagaiah N, Harish V, Lokanath N K, Sridhar M A, Renukappa N M 2017 Radiat. Phys. Chem. 130 351

Sharma T, Aggarwal S, Kumar S, Mittal V K, Kalsi P C and Manchanda V K 2007 J. Mater. Sci. 42 1127

Moez A A, Aly S S and Elshaer Y H 2012 Spectrochim. Acta Part A Mol. Biomol. Spectrosc. 93 203

Nagarale R K, Shin W and Singh P K 2010 Polym. Chem. 1 388

Armstrong B L, Campbell A A, Gutowska A and Song L 2002 Polymer/ceramic composites (Google Patents)

Rao Y and Wong C 2004 J. Appl. Polym. Sci. 92 2228

Rao Y, Ogitani S, Kohl P and Wong C 2002 J. Appl. Polym. Sci. 83 1084

Newnham R E 1986 Ferroelectrics 68 1

Kuo D-H, Chang C-C, Su T-Y, Wang W-K and Lin B-Y 2001 J. Eur. Ceram. Soc. 21 1171

Qingbo Z, Liying Z and Yuzhen S 1993 Radiat. Phys. Chem. 42 73

Hassan M F and Yusof S Z M 2014 Microsc. Res. 2 30

Kangwansupamonkon W, Jitbunpot W and Kiatkamjornwong S 2010 Polym. Degrad. Stab. 95 1894

Hassan A M, Zakaria E S, Ibrahim A B, Abass M R and Abou-Mesalam M M 2018 Int. J. Innov. Res. Growth 6 66

Manuel Stephan A and Nahm K S 2006 Polymer 47 5952

Zhang T, Vandeperre L J and Cheeseman C R 2014 Cem. Concr. Res. 65 8

Kato T, Kinoshita Y, Nishiyama N, Wada K, Zhou C and Irifune T 2014 Phys. Earth Planet. Inter. 232 26

Abdel-Galil E, El-Deen G S, El-Aryan Y and Khalil M 2016 Russ. J. Appl. Chem. 89 467

Li D, Wang M, Yang C, Wang J and Ren G 2012 Chem. Pharm. Bull. 60 995

Deng Y, Dixon J B, White G N, Loeppert R H and Juo A S 2006 Colloids Surf. A Physicochem. Eng. Asp. 281 82

Fournier J A, Johnson C J, Wolke C T, Weddle G H, Wolk A B and Johnson M A 2014 Science 344 1009

Rashidzadeh A, Olad A, Salari D and Reyhanitabar A 2014 J. Polym. Res. 21 344

Xiao-Hong L, Hong-Ling C, Rui-Zhou Z and Xian-Zhou Z 2015 Spectrochim. Acta Part A Mol. Biomol. Spectrosc. 137 321

Rashad M M, Elseman A M and Hassan A M 2016 Optik-Int. J. Light Electron Opt. 127 9775

Luo B, Wang X, Wang Y and Li L 2014 J. Mater. Chem. A 2 510

Shalabney A, George J, Hutchison J, Pupillo G, Genet C and Ebbesen T W 2015 Nat. Commun. 6 5981

Abou-Mesalam M M, Abass M R, Abdel-Wahab M A, Zakaria E S, Hassan A M and Khalil H F 2016 Desalination Water Treat. 57 25757

Madejová J 2003 Vib. Spectrosc. 31 1

Anwar A, Elfiky D, Ramadan A M and Hassan G M 2017 Radiat. Phys. Chem. 134 14

Maryanski M, Zastavker Y and Gore J 1996 Phys. Med. Biol. 41 2705

Elseman A, Shalan A, Rashad M and Hassan A 2017 Mater. Sci. Semicond. Process. 66 176

Elseman A M, Shalan A E, Rashad M M, Hassan A M, Ibrahim N M and Nassar A M 2017 J. Phys. Org. Chem. 30 e3639

Rashad M, Hassan A, Nassar A, Ibrahim N and Mourtada A 2014 Appl. Phys. A 117 877

Thayer G D 1974 Radio Sci. 9 803

Chia L H L, Chua P H, Hon Y S and Lee E 1986 Int. J. Radiat. Appl. Instrum. Part C Radiat. Phys. Chem. 27 207

Jonscher A K 1977 Nature 267 673

Aras L and Baysal B M 1984 J. Polym. Sci. Part B Polym. Phys. 22 1453

Andreuccetti D, Bini M, Ignesti A, Olmi R, Rubino N and Vanni R A 1988 IEEE Trans. Biomed. Eng. 35 275

Pant H, Patra M, Negi S, Bhatia A, Vadera S and Kumar N 2006 Bull. Mater. Sci. 29 379

Song H-S, Yang C and Liu D-B 2012 J. Funct. Mater. 9 25

Zikry A 2008 Int. J. Polym. Mater. 57 383

Manouras T and Vamvakaki M 2017 Polym. Chem. 8 74

Jonscher A K 1999 J. Phys. D: Appl. Phys. 32 R57

Nassar A M, Abo Zeid E F, Elseman A M and Alotaibi N F 2018 New J. Chem. 42 1387

Rao V and Rao B S 1991 Acta Polym. 42 379

Blythe A R and Bloor D 2005 Electrical properties of polymers (United Kingdom: University Press)

Maji P, Pande P and Choudhary R 2015 Bull. Mater. Sci. 38 417
Acknowledgements
The authors would like to extend their sincere appreciation to Central Metallurgical Research and Development Institute, Egypt for its financial support to pursue this work.
About this article
Cite this article
Abou-Mesalam, M.M., Abass, M.R., Ibrahim, A.B. et al. Tunable optical and dielectric properties of polymeric composite materials based on magneso-silicate. Bull Mater Sci 42, 31 (2019). https://doi.org/10.1007/s12034-018-1721-0
Received:

Accepted:

Published:

DOI: https://doi.org/10.1007/s12034-018-1721-0
Keywords
Magneso-silicate

polymeric composites

dielectric properties

radiation