Abstract
Chitosan-encapsulated Mn2+ and Fe3+-doped ZnS colloidal quantum dots (QDs) were synthesized using chemical precipitation method. Though there are many reports on bio-imaging applications of ZnS QDs, the present study focussed on the new type of microbial-induced corrosive bacteria known as sulphate-reducing bacteria, Thiobacillus novellus. Sulphate-reducing bacteria can obtain energy by oxidizing organic compounds while reducing sulphates to hydrogen sulphide. This can create a problem in engineering industries. When metals are exposed to sulphate containing water, water and metal interacts and creates a layer of molecular hydrogen on the metal surface. Sulphate-reducing bacteria then oxidize the hydrogen while creating hydrogen sulphide, which contributes to corrosion for instance, in pipelines of oil and gas industries. In this study, detection and labelling of sulphate-reducing bacteria is demonstrated using fluorescent QDs. Chitosan capped ZnS QDs were synthesized using dopants at different doping concentrations. UV–Vis spectroscopy, XRD and FTIR characterizations were done to identify the optical band gap energy, crystal planes and determine the presence of capping agent, respectively. The morphology and the average particle size of 3.5 ± 0.2 nm were analysed using TEM which substantiated UV–Vis and XRD results. Photoluminescence spectroscopy detected the bacteria attachment to the QDs by showing significant blue shift in bacteria conjugated ZnS QDs. Fluorescence microscopy confirmed the fluorescent labelling of QDs to Thiobacillus novellus bacteria cells making them ideal for bio-labelling applications.
Access options
Buy single article
Instant access to the full article PDF.
USD 39.95
Price excludes VAT (USA)
Tax calculation will be finalised during checkout.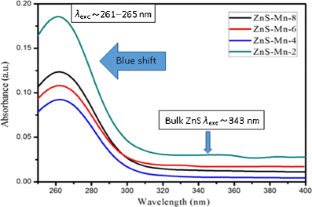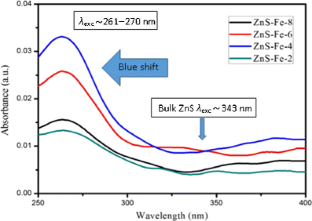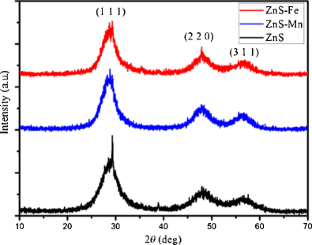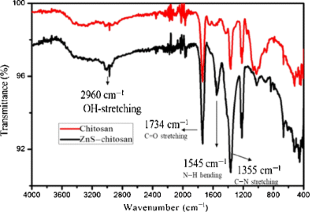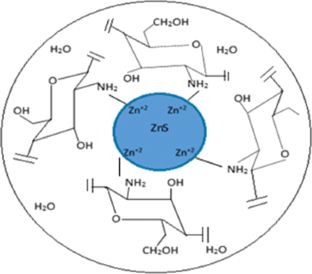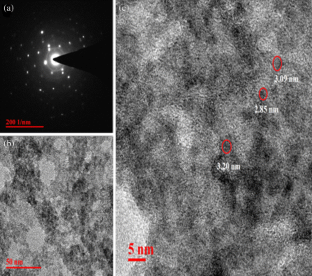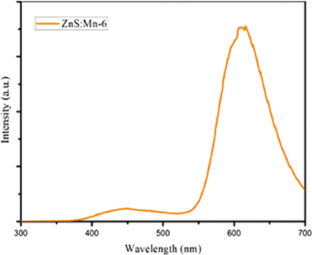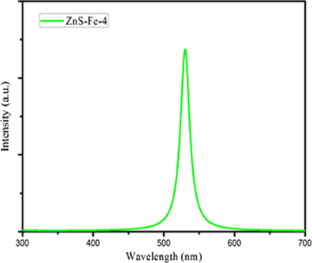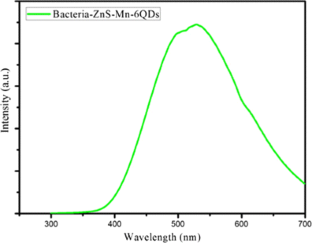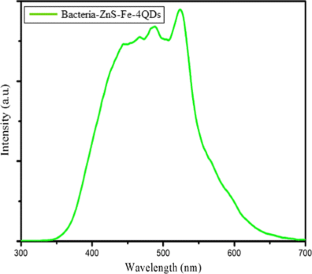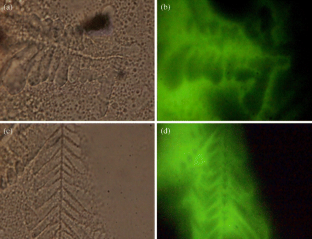 References
Schmid Gunter 2004 Nanoparticles—from theory to application (Weinheim: Wiley)

Jaszowiec K B 2001 Acta Phys. Polonica A 100 275

Azpiroz J M, Lopez X, Ugalde J M and Infante I 2012 J. Phys. Chem. C 116 2740

Paul A 2000 Pure Appl. Chem. 72 3

Pan Z, Mora-Seró I, Shen Q, Zhang H, Li Y, Zhao K, Wang J, Zhong X and Bisquert J 2014 J. Am. Chem. Soc. 136 9203

Willner Freeman R and Itamar 2012 Chem. Soc. Rev. 41 4067

Chaniotakis Frasco M F and Nikos 2009 Sensors 9 7266

Sun K, Vasudev M, Jung H -S, Yang J, Kar A, Li Y et al 2009 Microelectron. J. 40 644

Mazumder S, Sarkar J, Dey R, Mitra M K, Mukherjee S and Das G C 2010 J. Exp. Nanosci. 5 438

Paul A 2004 Nat. Biotechnol. 22 47

Xu Z, Li B, Tang W, Chen T, Zhang H and Wang Q 2011 Colloid. Surf. B: Biointerfaces 88 51

Erwin S C, Zu L, Haftel M I, Efros A L, Kennedy T A and Norris D J 2005 Nat. Lett. 436 91

Dixit N, Anasane N, Chavda M, Bodas D and Soni H P 2012 Cryst. Res. Technol. 47 1105

Hu H and Zhang W 2006 Opt. Mater. 28 536

Mazumder S, Dey R, Mitra M K, Mukherjee S and Das G C 2009 J. Nanomater. 2009 815734

ChineduI O 2012 Int. Scholar. Res. Network 570143 10

Dinh H T, Kuever J, Mußmann M, Hassel A W, Stratmann M and Widdel F 2004 Nature 427 829

Ramanery F P, Mansur A A P and Mansur H S 2013 Nanoscale Res. Lett. 512 8

Rajabi H R, Khani O, Shamsipur M and Vatanpour V 2013 J. Hazard. Mater. 250 370

Mansur H S, Mansur A A P, Araújo A S and Lobato Z I P 2015 Green Chem. 17 1820

Ramanery F P, Mansur A A P, Borsagli F G L M and Mansur H S 2014 J. Nanopart. Res. 2504 1

Tan W B, Huang N and Zhang Y 2007 J. Colloid Interf. Sci. 310 464

Masanori T 2002 J. Lumin. 100 163

Joicy S, Saravanan R, Prabhu D, Ponpandiand N and Thangadurai P 2014 Royal Soc. Chem. Adv. 4 44592

Khani O, Rajabi H R, Yousefi M H, Khosravi A A, Jannesari M and Shamsipur M 2011 Spectrochim. Acta Part A 79 361

Slack G A, Ham F S and Chrenko R M 1966 Phys. Rev. 152 376

Bhadraa P, Mitrac M K, Dasa G C, Deya R and Mukherjeeb S 2011 Mater. Sci. Eng. C 31 929

Hahn M A, Tabb J S and Krauss T D 2005 Anal. Chem. 77 4861

Kloepfer J A, Mielke R E, Wong M S, Nealson K H, Stucky G and Nadeau J L 2003 Appl. Environ. Microbiol. 69 4205

Kloepfer J A, Mielke R E and Nadeau J L 2005 Appl. Environ. Microbiol. 71 2548
Acknowledgements
We acknowledge the Department of Chemical Engineering, Department of Physics, Department of Biology and Department of Pharmacy at BITS Pilani, Rajasthan, Department of Metallurgical and Materials Science, School of Material Science and Nanotechnology at Jadavpur University, Kolkata, and Materials Research centre, MNIT, Jaipur, for availing their research facility.
About this article
Cite this article
RAGHURAM, H.S., PRADEEP, S., DASH, S. et al. Chitosan-encapsulated ZnS : M (M: Fe3+ or Mn2+) quantum dots for fluorescent labelling of sulphate-reducing bacteria. Bull Mater Sci 39, 405–413 (2016). https://doi.org/10.1007/s12034-016-1178-y
Received:

Accepted:

Published:

Issue Date:

DOI: https://doi.org/10.1007/s12034-016-1178-y
Keywords
ZnS colloidal QDs

chitosan

sulphate-reducing bacteria

Thiobacillus novellus

bio-labelling