Abstract
A facile sol–gel combustion route was reported for the direct preparation of CaZrO3:Eu3+ and CaZrO3:Eu3+, Gd3+. The obtained deposits were characterized by XRD, TGA-DSC, SEM, EDS, PL measurements and microscope fluorescence. When the Gd3+ ions were introduced in this compound, the emissions of CaZrO3:Eu3+were remarkably enhanced. The emission spectrum of CaZrO3:Eu3+, Gd3+ nanocrystals exhibited a red shift compared with CaZrO3:Eu3+ samples. A new mechanism of the improved photoluminescent properties of Eu3+ by Gd3+ was investigated. The optimized phosphor CaZrO3:5%Eu3+, 2%Gd3+ could be considered an efficient red-emitting component for white lighting devices excited in the near-ultraviolet region.
Access options
Buy single article
Instant access to the full article PDF.
USD 39.95
Price excludes VAT (USA)
Tax calculation will be finalised during checkout.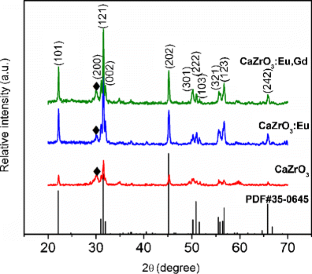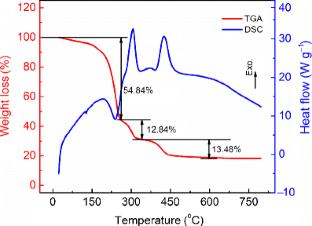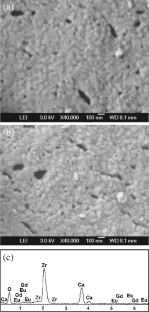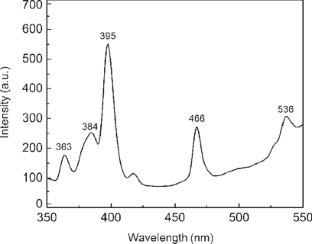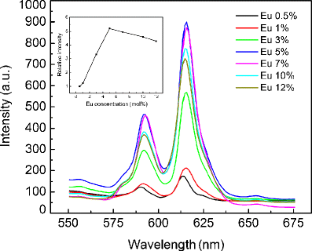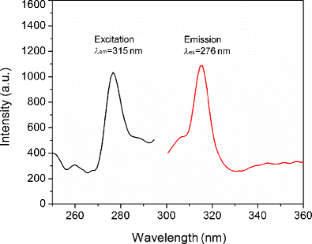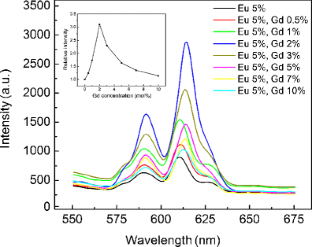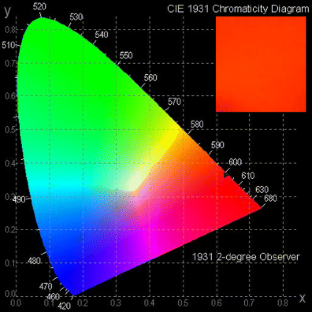 References
Zhang H, Fu X, Niu S and Xin Q 2008 J. Alloys Compd. 459 103

Xie A, Yuan X M, Wang F X, Shi Y, Li J, Liu L and Mu Z F 2010 J. Alloys Compd. 501 124

Jüstel T, Nikol H and Ronda C R 1998 Angew. Chem. Int. Ed. 37 3084

Ianoş R and Barvinschi P 2010 J. Solid State Chem. 183 491

Galuskin E V, Gazeev V M, Armbruster T, Zadov A E, Galuskina I O, Pertsev N N, DzierŻanowski P, Kadiyski M, Gyrbanov A G, Wrzalik R and Winiarski A 2008 Am. Mineral. 93 1903

Li X J, Jiao H, Wang X M, Zeng Z Z and Jing X P 2010 J. Rare Earths 28 504

Yan B and Xiao X Z 2007 J. Alloys Compd. 433 251

Rodríguez R, Estevez M and Vargas S 2011 J. Non-Cryst. Solids 357 1383

Wang Z L, Li G R, Ou Y N, Feng Z P, Qu D L and Tong Y X 2011 J. Phys. Chem. C 115 351

Gu Y, Zhang Q, Li Y and Wang H 2011 J. Alloys Compd. 509 L109

Rambabu U, Khanna P K, Rao I C and Buddhudu S 1998 Mater. Lett. 34 269

Rosa L R, Katie J J and Anthony L D 2010 J. Phys. Chem. C 114 13884

Hachani S, Monine B, El-akrmi A and Ferid M 2009 Opt. Mater. 31 678

Tachihante M, Fournier M T, Arbus A and Cousseins J C 1984 Solid State Commun. 51 577

Feofilov S P, Zhou Y, Jeong J Y, Keszler D A and Meltzer R S 2007 J. Lumin. 122–123 503

Romanowski W R, Golab S, Dzik G D and Solarz P 2002 Appl. Phys. A 74 581

Wu C C, Chen K B, Lee C S, Chen T M and Cheng B M 2007 Chem. Mater. 19 3278

Ju G, Hu Y, Chen L, Wang X, Mu Z, Wu H and Kang F 2011 J. Alloys Compd. 509 655

Mothudi B M, Ntwaeaborwa O M, Pitale S S and Swart H C 2010 J. Alloys Compd. 508 262

Du H Y, Li G S and Sun J Y 2007 J. Rare Earths 25 19

Polizzi S, Bucella S, Speghini A, Vetrone F, Naccache R, Boyer J C and Capobianco J A 2004 Chem. Mater. 16 1330

Mohapatra M, Mishra R K, Kaushik C P and Godbole S V 2010 Physica B 405 4790

Kodaira C A, Brito H F, Malta O L and Serra O A 2003 J. Lumin. 101 11

Gu M, Liu Q, Mao S, Mao D and Chang C 2008 Cryst. Growth Des. 8 1422

Igarashi T, Ihara M, Kusunoki T and Ohno K 2000 Appl. Phys. Lett. 76 1549

Yuan J L, Zeng X Y, Zhao J T, Zhang Z J, Chen H H and Zhang G B 2007 J. Solid State Chem. 180 3310

Li Y, Chang Y, Lin Y, Chang Y and Lin Y 2007 J. Alloys Compd. 439 367

Omkaram I, Vengala Rao B and Buddhudu S 2009 J. Alloys Compd. 474 565

Guo C F, Ding X and Xu Y 2010 J. Am. Ceram. Soc. 93 1708

Llanosa J, Castillo R, Espinoza D, Olivares R and Brito I 2011 J. Alloys Compd. 509 5295

Lin C P, Chen S T and Chen T M 2002 Tamkang J. Sci. Eng. 5 81
Acknowledgements
This work was supported by projects from The Chinese PLA Medical Science and Technique Foundation (CWS11J243) and The Scientific Research Foundation for the Returned Overseas Chinese Scholars, State Education Ministry, P R China.
About this article
Cite this article
DU, Q., ZHOU, G., ZHANG, S. et al. Facile combustion synthesis of novel CaZrO3:Eu3+, Gd3+ red phosphor and remarkably enhanced photoluminescence by Gd3+ doping. Bull Mater Sci 38, 215–220 (2015). https://doi.org/10.1007/s12034-014-0787-6
Received:

Revised:

Published:

Issue Date:

DOI: https://doi.org/10.1007/s12034-014-0787-6
Keywords