Abstract
Although titanium (Ti) is known to elicit a foreign body response when implanted into humans, Ti implant healing resembles normal wound healing in terms of inflammatory cell recruitment and inflammation persistence. Rough implant surfaces may present better conditions for protein adsorption and for the adhesion of platelets and inflammatory cells such as neutrophils. Implanted biomedical devices initially interact with coagulating blood; however, direct contact between the oxide layer of the implant and neutrophils has not been completely described. The aim of the present study is to compare the behaviours of neutrophils in direct contact with different Ti surfaces. Isolated human neutrophils were placed into contact with Ti discs, which had been rendered as 'smooth' or 'rough', following different surface treatments. Scanning electron microscopy and flow cytometry were used to measure cell adhesion to the surfaces and exposure of membrane proteins such as CD62L and CD11b. Topographic roughness was demonstrated as higher for SLA treated surfaces, measured by atomic force microscopy and elemental analysis was performed by energy dispersive X-ray, showing a similar composition for both surfaces. The adhesion of neutrophils to the 'rough' Ti surface was initially stronger than adhesion to the 'smooth' surface. The cell morphology and adhesion marker results revealed clear signs of neutrophil activation by either surface, with different neutrophil morphological characteristics being observed between the two surface types. Understanding the cellular mechanisms regulating cell–implant interactions should help researchers to improve the surface topography of biomedical implant devices.
Access options
Buy single article
Instant access to the full article PDF.
USD 39.95
Price excludes VAT (USA)
Tax calculation will be finalised during checkout.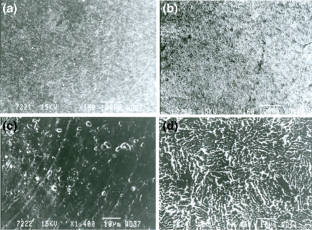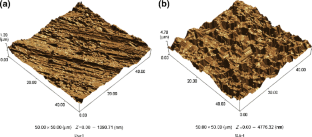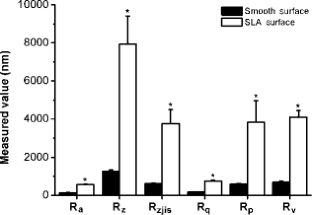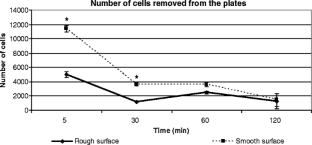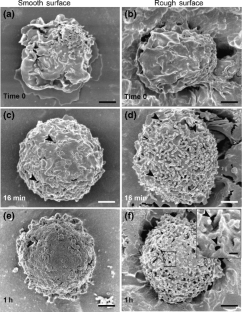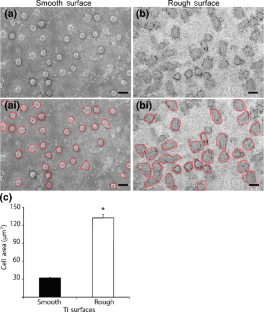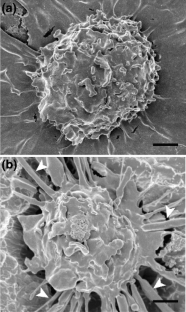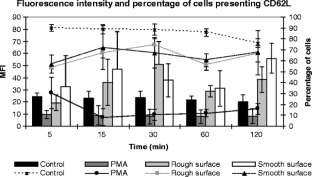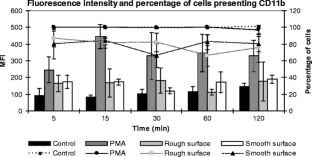 References
Albrektsson T B P, Hansson H A, Kasemo B, Larsson K, Lundstrom I et al 1983 Ann. Biomed. Eng. 11 1

Albrektsson T, Branemark P I, Hansson H A, Lindstrom J 1981 Acta Orthop. Scand. 52 155

Barbotin R G C C, Brown G 1976 Biomat. Med. Dev. Art. Org. 2 205

Borregaard N, Kjeldsen L, Sengelov H, Diamond M S, Springer TA, Anderson H C, Kishimoto T K, Bainton D F 1994 J. Leukoc. Biol. 56 80

Bothe Rt B L, Davenport Ha 1940 Surg. Gynecol. Obstet. 71 598

Castro M S, Cilli E M, Fontes W 2006a Curr. Protein Pept. Sci. 7 473

Castro M S, De Sa N M, Gadelha R P, De Sousa M V, Ricart C A, Fontes B and Fontes W 2006b Protein Pept. Lett. 13 481

Chehroudi B, Gould T R and Brunette D M 1992 J. Biomed. Mater. Res. 26 493

Craddock P R, Fehr J, Dalmasso A P, Brighan K L and Jacob H S 1977 J. Clin. Invest. 59 879

Ekdahl K, Nilsson B, Golander Cg, Elwing H, Lassen B and Nilsson Ur 1993 J. Colloid Interface Sci. 158 121

Eriksson C and Nygren H 2001 J. Lab. Clin. Med. 137 56

Erlandsen S L, Ottenwaelter C, Frethem C and Chen Y 2001 Biotechniques 31 300

Fontes B, Fontes W, Utiyama E M and Birolini D 1988 Dis. Colon. Rectum. 31 298

Hong J, Nilsson Ekdahl K, Reynolds H, Larsson R and Nilsson B 1999 Biomaterials 20 603

Ivetic A and Ridley A J 2004 Biochem. Soc. Trans. 32 1118

Kim H, Murakami H, Chehroudi B, Textor M and Brunette D M 2006 Int. J. Oral Maxillofac. Implants 21 354

Kishimoto T K, JutilaMA, Berg E L and Butcher E C 1989 Science 245 1238

Kumazawa R,Watari F, Takashi N, Tanimura Y, Uo M and Totsuka Y 2002 Biomaterials 23 3757

Lauffenburger D A and Horwitz A F 1996 Cell 84 359

Leventhal G S 1951 J. Bone Joint Surg. Am. 33-A 473

Maciel N M, Schwartz C A, Rodrigues Pires Junior O, Sebben A, Castro M S, Sousa M V, Fontes W and Ferroni Schwartz E N 2003 Comp. Biochem. Physiol. B Biochem. Mol. Biol. 134 641

Mcnally A K and Anderson J M 1994 Proc. Natl. Acad. Sci. USA 91 10119

Morris CF, Castro MS, Fontes W 2008 Protein Pept. Lett. 15 995

Mukherjee G, Rasmusson B, Linner J G, Quinn M T, Parkos C A, Magnusson K E and Jesaitis A J 1998 Arch. Biochem. Biophys. 357 164

Nusbacher J, Rosenfeld S I, Macpherson J L, Thiem P A and Leddy J P 1978 Blood 51 359

Nygren H, Eriksson C and Lausmaa J 1997 J. Lab. Clin. Med. 129 35

Ponce-Fatou J A 2006 J. Chem. Educ. 83 1147

Rainer T H 2002 Resuscitation 52 127

Ridley A J, Schwartz M A, Burridge K, Firtel R A, Ginsberg MH, Borisy G, Parsons J T and Horwitz A R 2003 Science 302 1704

Rosengren A, Johansson B R, Thomsen P and Ericson L E 1994 Biomaterials 15 17

Salzman EW, Lindon J, Mcmanama G andWare J A 1987 Ann. NY Acad. Sci. 516 184

Sevastianov V I 1988 Crit. Rev. Biocompat. 4 109

Sperandio M, Smith M L, Forlow S B, Olson T S, Xia L, Mcever RP and Ley K 2003 J. Exp. Med. 197 1355

St Hill C A, Alexander S R and Walcheck B 2003 J. Leukoc. Biol. 73 464

Tang L and Eaton J W 1993 J. Exp. Med. 178 2147

Tedder T F, Steeber D A, Chen A and Engel P 1995 FASEB J. 9 866

Thomas K A and Cook S D 1985 J. Biomed. Mater. Res. 19 875

Thomsen P, Larsson C, Ericson L E, Sennerby L, Lausmaa J and Kasemo B 1997 J. Mater. Sci. Mater. Med. 8 653

Todd R F 3rd 1996 J. Clin. Invest. 98 1

Valois C R, Silva L P and Azevedo R B 2008 J. Endod. 34 859

Vedder N B and Harlan J M 1988 J. Clin. Invest. 81 676

Vroman L 1988 Bull. NY Acad. Med. 64 352

Wagner J G and Roth R A 2000 Pharmacol. Rev. 52 349

Xiao T, Takagi J, Coller B S, Wang J H and Springer T A 2004 Nature 432 59
About this article
Cite this article
CAMPOS, V., MELO, R.C.N., SILVA, L.P. et al. Characterization of neutrophil adhesion to different titanium surfaces. Bull Mater Sci 37, 157–166 (2014). https://doi.org/10.1007/s12034-014-0611-3
Received:

Published:

Issue Date:

DOI: https://doi.org/10.1007/s12034-014-0611-3
Keywords
Titanium surfaces

neutrophil morphology

adhesion molecules

inflammatory response

flow cytometry

scanning electron microscopy.