Abstract
Large quantities of potato leafroll virus (PLRV) antigen are difficult to obtain because this virus accumulates in plants at a low titer. To overcome this problem, we constructed a binary vector containing chimeric cDNA, in which the coat protein (CP) gene of the crucifer infecting tobacco mosaic virus (crTMV) was substituted for the coat protein gene of PLRV. The PLRV movement protein (MP) gene, which overlaps completely with the CP gene, was doubly mutated to eliminate priming of the PLRV MP translation from ATG codons with no changes to the amino acid sequence of the CP. The untranslated long intergenic region located upstream of the CP gene was removed from the construct. Transcribed powerful tobamovirus polymerase of the produced vector synthesized PLRV CP gene that was, in turn, translated into the protein. CP PLRV packed RNAs from the helical crTMV in spherical virions. Morphology, size and antigenic specificities of the wild-type and chimeric virus were similar. The yield of isolated chimera was about three orders higher than the yield of native PLRV. The genetic manipulations facilitated the generation of antibodies against the chimeric virus, which recognize the wild-type PLRV.
This is a preview of subscription content, log in to check access.
Access options
Buy single article
Instant access to the full article PDF.
US$ 39.95
Tax calculation will be finalised during checkout.
Subscribe to journal
Immediate online access to all issues from 2019. Subscription will auto renew annually.
US$ 399
Tax calculation will be finalised during checkout.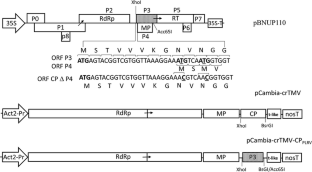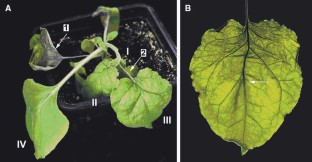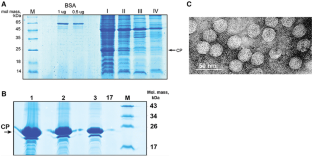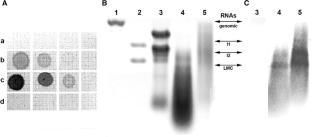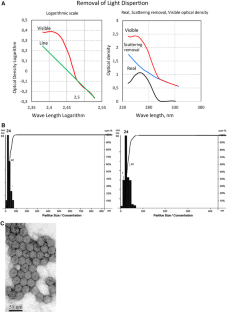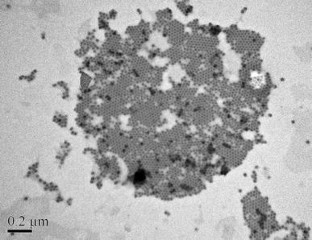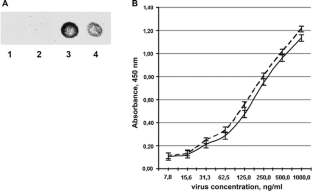 References
1.

Mayo, M. A., Barker, H. D., Robinson, J., Tamada, T., & Harrison, B. D. (1982). Evidence that potato leafroll virus RNA is positive-stranded, is linked to a small protein and does not contain polyadenylate. Journal of General Virology, 59, 163–167.

2.

Taliansky, M., Mayo, M. A., & Barker, H. (2003). Potato leafroll virus: A classic pathogen shows some new tricks. Molecular Plant Pathology, 4, 81–89.

3.

van der Wilk, F., Huisman, M. J., Cornelisse, B. J., Huttinga, H., & Goldbach, R. (1989). Nucleotide sequence and organization of potato leafroll virus genomic RNA. FEBS Letters, 245, 51–56.

4.

van der Wilk, F., Verbeek, M., Dullemans, A. M., & van den Heuvel, J. F. (1997). The genome linked protein of potato leafroll virus is located downstream of the putative protease domain of the ORF1 product. Virology, 234, 300–303.

5.

Zhuo, T., Li, Y.-Y., Xiang, H.-Y., Wu, Z.-Y., Wang, X.-B., Wang, Y., et al. (2014). Amino acid sequence motifs essential for P0-mediated suppression of RNA silencing in an isolate of potato leafroll virus from inner Mongolia. Molecular Plant–Microbe Interactions, 27, 515–527.

6.

Smirnova, E., Firth, A. E., Miller, W. A., Scheidecker, D., Brault, V., Reinbold, C., et al. (2015). Discovery of a small non-AUG-initiated ORF in poleroviruses and luteoviruses that is required for long-distance movement. PLoS Pathogens, 11(5), e1004868.

7.

Mayo, M. A., & Ziegler-Graff, V. (1996). Molecular biology of luteoviruses. Advances in Virus Research, 46, 413–460.

8.

Syller, J. (1996). Potato leafroll virus (PLRV): Its transmission and control. Integrated Pest Management Reviews, 1, 217–227.

9.

Taliansky, M. E., & Robinson, D. J. (2003). Molecular biology of umbraviruses: Phantom warriors. Journal of General Virology, 84, 1951–1960.

10.

Lee, L., Palukaitis, P., & Gray, S. M. (2002). Host-dependent requirement for the potato leafroll virus 17-kDa protein in virus movement. Molecular Plant–Microbe Interactions, 15, 1086–1094.

11.

Rowhani, A., & Stace-Smith, R. (1979). Purification and characterization of potato leafroll virus. Virology, 98, 45–54.

12.

Takanami, Y., & Kubo, S. (1979). Enzyme-assisted purification of two phloem-limited plant viruses: Tobacco necrotic dwarf and potato leafroll. Journal of General Virology, 44, 153–159.

13.

Dorokhov, Y. L., Ivanov, P. A., Novikov, V. K., Agranovsky, A. A., Morozov, S. Y., Efimov, V. A., et al. (1994). Complete nucleotide sequence and genome organization of a tobamovirus infecting cruciferae plants. FEBS Letters, 350, 5–8.

14.

Sambrook, J., Fritsch, E. F., & Maniatis, T. (1987). Molecular cloning: A laboratory manual (2nd ed.). Cold Spring Harbor, NY: Cold Spring Harbor Laboratory Press.

15.

Voinnet, O. O., Pinto, Y. M., & Baulcombe, D. C. (1999). Suppression of gene silencing: A general strategy used by diverse DNA and RNA viruses of plants. Proceedings of the National Academy of Sciences, 96, 14147–14152.

16.

Laemmli, U. K. (1970). Cleavage of structural proteins during the assembly of the head of bacteriophage T4. Nature, 227, 680–685.

17.

Nikitin, N., Trifonova, E., Karpova, O., & Atabekov, J. (2013). Examination of biologically active nanocomplexes by nanoparticle tracking analysis. Microscopy and Microanalysis, 19, 808–813.

18.

Fraenkel-Conrat, H., Singer, B., & Tsugita, A. (1961). Purification of viral RNA by means of bentonite. Virology, 14, 54–58.

19.

Chomczynski, P., & Mackey, K. (1995). Modification of the TRIZOL reagent procedure for isolation of RNA from polysaccharide- and proteoglycan-rich sources. BioTechniques, 19, 942–945.

20.

Drygin, Y. F., Afonina, I. A., Bayer, K., Nikolaeva, O. V., & Atabekov, J. G. (1989). Diagnostics of X and M potato virus infections in crude tuber extracts by non-radioactive DNA-probing. Bioorganicheskaya Khimiya, 15, 947–951. (in Russian).

21.

Harlow, E., & Lane, D. (1988). Antibodies. Cold Spring Harbor Laboratory, NY: A laboratory manual.

22.

Clark, M. F., & Adams, A. N. (1977). Characteristics of the microplate method of enzyme-linked immunosorbent assay for the detection of plant viruses. Journal of General Virology, 34, 475–483.

23.

Jeevalatha, A., Kaundal, P., Shandil, R. K., Sharma, N. N., Chakrabarti, S. K., & Singh, B. P. (2013). Complete genome sequence of potato leafroll virus isolates infecting potato in the different geographical areas of India shows low level genetic diversity. Indian Journal of Virology, 24, 199–204.

24.

Huehnlein, A., Schubert, J., Thieme, T., Zahn, V., & Steinbach, P. (2012) Potato leafroll virus isolate SymlessLS10, complete genome GenBank 346189.1.

25.

Franco-Lara, L. F., McGeachy, K. D., Commandeur, U., Martin, R. R., Mayo, M. A., & Barker, H. (1999). Transformation of tobacco and potato with DNA encoding the full-length genome of potato leafroll virus: evidence for a novel virus distribution and host effects on virus multiplication. Journal of General Virology, 80, 2813–2822.

26.

Dorokhov, Y. L., Skurat, E. V., Frolova, O. Y., Gasanova, T. V., Smirnov, A. A., Zvereva, S. D., et al. (2004). Reciprocal dependence between pectinmethylesterase gene expression and tobamovirus reproduction effectiveness in Nicotiana benthamiana. Doklady Biochemistry and Biophysics, 394, 30–42.

27.

Kondakova, O. A., Butenko, K. O., Skurat, E. V., & Drygin, Y. F. (2016). Diagnostics of potato infections with PVY and PLRV by immunochromatography. Moscow University Biological Sciences Bulletin, 71, 39–44.

28.

Roberts, I. M., Tamada, T., & Harrison, B. D. (1980). Relationship of potato leafroll virus to luteoviruses: evidence from electron microscope serological tests. Journal of General Virology, 47, 209–213.

29.

Bonhoeffer, F., & Schachman, H. K. (1960). Studies on the organization of nucleic acids within nucleoproteins. Biochemical and Biophysical Research Communications, 2, 366–371.

30.

Gibbs, A. J. (1977). Descriptions of plant viruses. Canberra, Australia: Research School of Biological Sciences, Australian National University.

31.

Fraenkel-Conrat, H., & Williams, R. C. (1955). Reconstitution of active tobacco mosaic virus from its inactive protein and nucleic acid components. Proceedings of the National Academy of Sciences, 41, 690–698.

32.

Atabekov, J. G., Novikov, V. K., Vishnichenko, V. K., & Kaftanova, A. S. (1970). Some properties of hybrid viruses reassembled in vitro. Virology, 41, 519–532.

33.

Dodds, J. A., & Hamilton, R. I. (1974). Masking of the RNA genome of tobacco mosaic virus by the protein of barley stripe mosaic virus in doubly infected barley. Virology, 59, 418–427.

34.

Cañizares, M. C., Nicholson, L., & Lomonossoff, G. P. (2005). Use of viral vectors for vaccine production in plants. Immunology and Cell Biology, 83, 263–270.

35.

Rao, A. L. (2006). Genome packaging by spherical plant RNA viruses. Annual review of Phytopathology, 44, 61–87.

36.

Spitsin, S., Steplewski, K., Fleysh, N., Belanger, H., Mikheeva, T., Shivprasad, S., et al. (1999). Expression of alfalfa mosaic virus coat protein in tobacco mosaic virus (TMV) deficient in the production of its native coat protein supports long-distance movement of a chimeric TMV. Proceedings of the National Academy of Sciences of the United States of America, 96, 2549–2553.

37.

Waterhause, P. M., & Murant, A. F. (1983). Further evidence of the nature of the dependence of carrot mottle virus on carrot red leaf virus for transmission by aphids. Annals of Applied Biology, 103, 455–464.

38.

Barker, H., McGeachy, K. D., Ryabov, T. G., Commandeur, U., Mayo, V. F., & Taliansky, M. (2001). Evidence for RNA-mediated defense effects on the accumulation of potato leafroll virus. Journal of General Virology, 82, 3099–3106.

39.

Carrington, J. C., Kasschau, K. D., Mahajan, S. K., & Schaad, M. C. (1996). Cell-to-cell and long-distance transport of viruses in plants. Plant Cell, 8, 1669–1681.

40.

Citovsky, V., & Zambryski, P. (1993). Transport of nucleic acids through membrane channels-snaking through small holes. Annual Review of Microbiology, 47, 167–197.

41.

Tacke, E., Prufer, D., Shcmitz, J., & Rohde, W. (1991). The potato leafroll luteovirus 17 K protein is a single-stranded nucleic acid binding protein. Journal of General Virology, 72, 2035–2038.

42.

Taliansky, M., & Barker, H. (1999). Movement of luteoviruses in infected plants. In H. G. Smith & H. Barker (Eds.), The Luteoviridae (pp. 69–81). Wallingford: CAB International.

43.

Luna, E., Pastor, V., Robert, J., Flors, V., Mauch-Mani, B., & Ton, J. (2011). Callose deposition: A multifaceted plant defense response. Molecular Plant–Microbe Interactions, 24, 183–193.

44.

Loniewska-Lwowska, A., Chełstowska, S., Zagórski-Ostoja, W., & Pałucha, A. E. (2009). Elements regulating potato leafroll virus sgRNA1 translation are located within the coding sequences of the coat protein and read-through domain. Acta Biochimica Polonica, 56, 619–625.

45.

Levy, A., Zheng, J. Y., & Lazarowitz, S. G. (2013). The tobamovirus turnip vein clearing virus 30-kilodalton movement protein localizes to novel nuclear filaments to enhance virus infection. Journal of Virology, 87, 6428–6440.
Acknowledgments
We deeply appreciate Drs. A. Agranovsky, V. Hallan and E. Gavryushina for their critical comments and helpful discussion. We are thankful to Dr. Yu. A. Varitzev for the wild-type isolate of PLRV and gift of antibodies against PLRV from Agdia (USA).
Funding
This study was funded by the Russian Science Foundation (Grant No. 14-24-00007).
Ethics declarations
Conflicts of interest
All authors declare no conflict of interest.
Ethical approval
All experiments on animals (rabbits) were carried out in accordance with the animal care regulations of the M.V. Lomonosov Moscow State University. The protocol was approved by the Bioethics Committee of the Faculty of Biology, M.V. Lomonosov Moscow State University.
Human Rights and Informed Consent
Research involving Human Participants Informed consent: not applicable for this study.
Informed Consent
Informed consent was obtained from all individual participants included in the study.
Statement on the Welfare of Animals
All procedures performed in studies involving animals were in accordance with the ethical standards of the institution or practice at which the studies were conducted.
About this article
Cite this article
Skurat, E.V., Butenko, K.O., Kondakova, O.A. et al. Chimeric Virus as a Source of the Potato Leafroll Virus Antigen. Mol Biotechnol 59, 469–481 (2017). https://doi.org/10.1007/s12033-017-0035-6
Keywords
Agroinfiltration

Binary vector

ELISA

Northern blotting analysis

Phloem-limited virus

Recombinant RNA