Abstract
6-Gingerol is a natural compound extracted from ginger. Preclinical studies demonstrated that 6-gingerol has an anti-emetic activity by inhibiting neurokinin-1, serotonin, and dopamine receptors. Several clinical trials examined crude ginger powder for preventing chemotherapy-induced nausea and vomiting (CINV), but none of them was conducted with a standardized bioactive compound. Patients who received moderately to highly emetogenic adjuvant chemotherapy were randomized to receive 6-gingerol 10 mg or placebo orally twice daily for 12 weeks. Ondansetron, metoclopramide, and dexamethasone were given to all patients. The primary endpoint was complete response (CR) rate defined as no emesis or rescue treatment at any time. Eighty-eight patients were randomized to receive 6-gingerol (N = 42) or placebo (N = 46). Most patients received highly emetogenic chemotherapy (93%). Overall CR rate was significantly higher in 6-gingerol group as compared with that of the placebo (77 vs. 32%; P < 0.001). The difference in means of appetite score was significant (P = 0.001) and more noticeable over time. Mean FACT-G score indicating quality of life was significantly higher (86.21) in 6-gingerol group at 64 days as compared with that of placebo group (72.36) (P < 0.001). No toxicity related to 6-gingerol was observed. Patients treated with 6-gingerol reported significantly less grade 3 fatigue (2 vs. 20%; P = 0.020). 6-Gingerol significantly improved overall CR rate in CINV, appetite and quality of life in cancer patients receiving adjuvant chemotherapy. A phase III randomized study of 6-gingerol is warranted to confirm these results.
This is a preview of subscription content, log in to check access.
Access options
Buy single article
Instant access to the full article PDF.
US$ 39.95
Price includes VAT for USA
Subscribe to journal
Immediate online access to all issues from 2019. Subscription will auto renew annually.
US$ 199
This is the net price. Taxes to be calculated in checkout.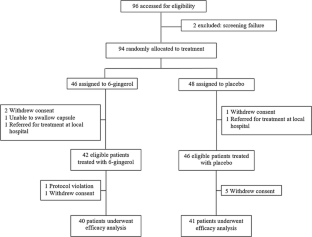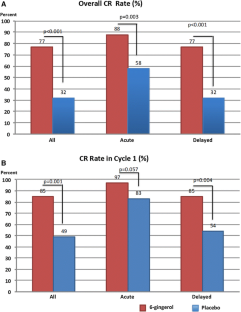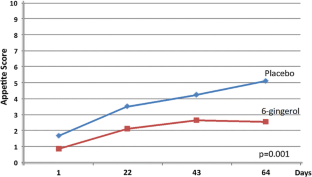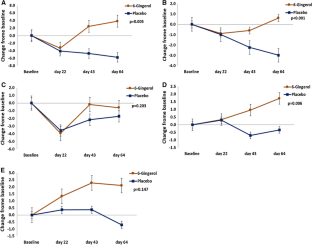 References
1.

Herrstedt J. Antiemetics: an update and the MASCC guidelines applied in clinical practice. Nat Clin Pract Oncol. 2008;5(1):32–43. doi:10.1038/ncponc1021.

2.

Hesketh PJ, Kris MG, Grunberg SM, Beck T, Hainsworth JD, Harker G, et al. Proposal for classifying the acute emetogenicity of cancer chemotherapy. J Clin Oncol. 1997;15(1):103–9.

3.

Basch E, Prestrud AA, Hesketh PJ, Kris MG, Feyer PC, Somerfield MR, et al. Antiemetics: American society of clinical oncology clinical practice guideline update. J Clin Oncol. 2011;29(31):4189–98. doi:10.1200/JCO.2010.34.4614.

4.

de Wit R, Herrstedt J, Rapoport B, Carides AD, Guoguang-Ma J, Elmer M, et al. The oral NK(1) antagonist, aprepitant, given with standard antiemetics provides protection against nausea and vomiting over multiple cycles of cisplatin-based chemotherapy: a combined analysis of two randomised, placebo-controlled phase III clinical trials. Eur J Cancer. 2004;40(3):403–10.

5.

NLEM. Thai national list of essential medicines. 2013. http://drug.fda.moph.go.th:81/nlem.in.th/sites/default/files/attachments/essential_book_56.pdf. Accessed 11 May 2015.

6.

Haniadka R, Rajeev AG, Palatty PL, Arora R, Baliga MS. Zingiber officinale (ginger) as an anti-emetic in cancer chemotherapy: a review. J Altern Complement Med. 2012;18(5):440–4. doi:10.1089/acm.2010.0737.

7.

Walstab J, Kruger D, Stark T, Hofmann T, Demir IE, Ceyhan GO, et al. Ginger and its pungent constituents non-competitively inhibit activation of human recombinant and native 5-HT3 receptors of enteric neurons. Neurogastroenterol Motil. 2013;25(5):439. doi:10.1111/nmo.12107.

8.

Abdel-Aziz H, Windeck T, Ploch M, Verspohl EJ. Mode of action of gingerols and shogaols on 5-HT3 receptors: binding studies, cation uptake by the receptor channel and contraction of isolated guinea-pig ileum. Eur J Pharmacol. 2006;530(1–2):136–43. doi:10.1016/j.ejphar.2005.10.049.

9.

Qian QH, Yue W, Chen WH, Yang ZH, Liu ZT, Wang YX. Effect of gingerol on substance P and NK1 receptor expression in a vomiting model of mink. Chin Med J. 2010;123(4):478–84.

10.

Ryan JL, Heckler CE, Roscoe JA, Dakhil SR, Kirshner J, Flynn PJ, et al. Ginger (Zingiber officinale) reduces acute chemotherapy-induced nausea: a URCC CCOP study of 576 patients. Support Care Cancer. 2012;20(7):1479–89. doi:10.1007/s00520-011-1236-3.

11.

Marx WM, Teleni L, McCarthy AL, Vitetta L, McKavanagh D, Thomson D, et al. Ginger (Zingiber officinale) and chemotherapy-induced nausea and vomiting: a systematic literature review. Nutr Rev. 2013;71(4):245–54. doi:10.1111/nure.12016.

12.

Chrubasik S, Pittler MH, Roufogalis BD. Zingiberis rhizoma: a comprehensive review on the ginger effect and efficacy profiles. Phytomedicine. 2005;12(9):684–701. doi:10.1016/j.phymed.2004.07.009.

13.

American Society of Clinical O, Kris MG, Hesketh PJ, Somerfield MR, Feyer P, Clark-Snow R, et al. American Society of Clinical Oncology guideline for antiemetics in oncology: update 2006. J Clin Oncol. 2006;24(18):2932–47. doi:10.1200/JCO.2006.06.9591.

14.

Bruera E, Kuehn N, Miller MJ, Selmser P, Macmillan K. The Edmonton Symptom Assessment System (ESAS): a simple method for the assessment of palliative care patients. J Palliat Care. 1991;7(2):6–9.

15.

Common Terminology Criteria for Adverse Events (CTCAE) v4.03. 2010. http://evs.nci.nih.gov/ftp1/CTCAE/CTCAE_4.03_2010-06-14_QuickReference_5x7.pdf.

16.

Gralla RJ, de Wit R, Herrstedt J, Carides AD, Ianus J, Guoguang-Ma J, et al. Antiemetic efficacy of the neurokinin-1 antagonist, aprepitant, plus a 5HT3 antagonist and a corticosteroid in patients receiving anthracyclines or cyclophosphamide in addition to high-dose cisplatin: analysis of combined data from two Phase III randomized clinical trials. Cancer. 2005;104(4):864–8. doi:10.1002/cncr.21222.

17.

Poli-Bigelli S, Rodrigues-Pereira J, Carides AD, Julie Ma G, Eldridge K, Hipple A, et al. Addition of the neurokinin 1 receptor antagonist aprepitant to standard antiemetic therapy improves control of chemotherapy-induced nausea and vomiting. Results from a randomized, double-blind, placebo-controlled trial in Latin America. Cancer. 2003;97(12):3090–8. doi:10.1002/cncr.11433.

18.

Hesketh PJ, Grunberg SM, Herrstedt J, de Wit R, Gralla RJ, Carides AD, et al. Combined data from two phase III trials of the NK1 antagonist aprepitant plus a 5HT 3 antagonist and a corticosteroid for prevention of chemotherapy-induced nausea and vomiting: effect of gender on treatment response. Support Care Cancer. 2006;14(4):354–60. doi:10.1007/s00520-005-0914-4.

19.

Danwilai K, Konmun J, Sripanidkulchai B-O, Subongkot S. Antioxidant activity of ginger extract as a daily supplement in cancer patients receiving adjuvant chemotherapy: a pilot study. Cancer Manag Res. 2017;9:11.

20.

Zick SM, Ruffin MT, Lee J, Normolle DP, Siden R, Alrawi S, et al. Phase II trial of encapsulated ginger as a treatment for chemotherapy-induced nausea and vomiting. Support Care Cancer. 2009;17(5):563–72. doi:10.1007/s00520-008-0528-8.

21.

Manusirivithaya S, Sripramote M, Tangjitgamol S, Sheanakul C, Leelahakorn S, Thavaramara T, et al. Antiemetic effect of ginger in gynecologic oncology patients receiving cisplatin. Int J Gynecol Cancer. 2004;14(6):1063–9. doi:10.1111/j.1048-891X.2004.14603.x.

22.

Panahi Y, Saadat A, Sahebkar A, Hashemian F, Taghikhani M, Abolhasani E. Effect of ginger on acute and delayed chemotherapy-induced nausea and vomiting: a pilot, randomized, open-label clinical trial. Integr Cancer Ther. 2012;11(3):204–11. doi:10.1177/1534735411433201.

23.

Gilliam LA, St Clair DK. Chemotherapy-induced weakness and fatigue in skeletal muscle: the role of oxidative stress. Antioxid Redox Signal. 2011;15(9):2543–63. doi:10.1089/ars.2011.3965.

24.

Jordan K, Jahn F, Aapro M. Recent developments in the prevention of chemotherapy-induced nausea and vomiting (CINV): a comprehensive review. Ann Oncol. 2015. doi:10.1093/annonc/mdv138.
Acknowledgments
The authors would like to acknowledge Assist. Pro. Youwanush Kongdan, Assist. Pro. Ronnarat Suvikapakornkul, and Ass. Pro. Bandit chunworathayi for patient accrual at Ramathibodi Hospital, Bangkok and Srinagarind Hospital, Khon Kaen, respectively, and Center for Research and Development of Herbal Health Products, Khon Kaen University, for product development.
Funding
This study was funded by National Research University and Thailand research fund. (Grant number: FC 3.1.14 PhD).
Ethics declarations
Conflict of interest
The authors have declared no conflicts of interest.
Ethical approval
All procedures performed in studies involving human participants were in accordance with the ethical standards of the institutional and/or national research committee and with the 1964 Helsinki Declaration and its later amendments or comparable ethical standards.
Informed consent
Informed consent was obtained from all individual participants included in the study.
Electronic supplementary material
Below is the link to the electronic supplementary material.
About this article
Cite this article
Konmun, J., Danwilai, K., Ngamphaiboon, N. et al. A phase II randomized double-blind placebo-controlled study of 6-gingerol as an anti-emetic in solid tumor patients receiving moderately to highly emetogenic chemotherapy. Med Oncol 34, 69 (2017). https://doi.org/10.1007/s12032-017-0931-4
Received:

Accepted:

Published:
Keywords
6-Gingerol

CINV

Ginger

Chemotherapy

Nausea