Abstract
The aim of this study was to compare the Intravoxel Incoherent Motion (IVIM) parameters between healthy Peripheral Zone (PZ), Benign Prostatic Hyperplasia (BPH) and Prostate Cancer (PCa) and compare them to assess whether there was correlation with Gleason Score (GS) grading system. Thirty-one patients with suspect of PCa underwent 1.5T Multi-Parametric Magnetic Resonance Imaging (MP-MRI) with endorectal coil with a protocol including T2WI, DWI using 10 b values (0, 10, 20, 30, 50, 80, 100, 200, 400, 1000 s/mm2) and DCE. Monoexponential and IVIM model fits were used to calculate both apparent diffusion coefficient (ADC) and the following IVIM parameters: molecular diffusion coefficient (D), perfusion-related diffusion coefficient (D*) and perfusion fraction (f). The ADC and D values were significantly lower in the PCa (0.70 ± 0.16 × 10−3 mm2/s and 0.88 ± 0.31 × 10−3 mm2/s) compared to those found in the PZ (1.22 ± 0.20 × 10−3 mm2/s and 1.78 ± 0.34 × 10−3 mm2/s) and in the BPH (1.53 ± 0.23 × 10−3 mm2/s and 1.11 ± 0.28 × 10−3 mm2/s). The D* parameter was significantly increased in the PCa (5.35 ± 5.12 × 10−3 mm2/s) compare to the healthy PZ (3.02 ± 2.86 × 10−3 mm2/s), instead there was not significantly difference in the PCa compare to the BPH (5.61 ± 6.77 × 10−3 mm2/s). The f was statistically lower in the PCa (9.01 ± 5.20%) compared to PZ (10.57 ± 9.30%), but not significantly different between PCa and BPH (9.29 ± 7.29%). The specificity, sensitivity and accuracy of T2WI associated with DWI and IVIM were higher (100, 98 and 99%, respectively) than for T2WI/DWI and IVIM alone (89, 92 and 90%, respectively). Only for ADC was found a statistical difference between low- and intermediate-/high-grade tumors. Adding IVIM to the MP-MRI could increase the diagnostic performance to detect clinically relevant PCa. ADC values have been found to have a rule to discriminate PCa reliably from normal areas and differed significantly in low- and intermediate-/high-grade PCa. In contrast, IVIM parameters were unable to distinguish between the different GS.
Access options
Buy single article
Instant access to the full article PDF.
USD 39.95
Price excludes VAT (USA)
Tax calculation will be finalised during checkout.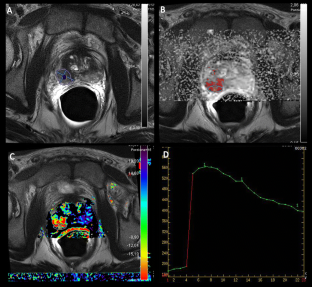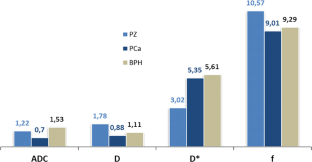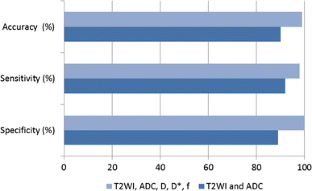 References
Torre LA, Bray F, Siegel RL, et al. Global cancer statistics. CA Cancer J Clin. 2015;65(2):87–108.

Kurhanewicz J, Vigneron D, Carroll P, Coakley F. Multiparametric magnetic resonance imaging in prostate cancer: present and future. Curr Opin Urol. 2008;18(1):71–7.

Mottet N, Bellmunt J, Bolla M, et al. EAU–ESTRO–SIOG guidelines on prostate cancer. part 1: screening, diagnosis, and local treatment with curative intent. Eur Urol. 2016;S0302–2838(16):30470–5.

Pinto PA, Chung PH, Rastinehad AR, et al. Magnetic resonance imaging/ultrasound fusion guided prostate biopsy improves cancer detection following transrectal ultrasound biopsy and correlates with multiparametric magnetic resonance imaging. J Urol. 2011;186(4):1281–5.

Hambrock T, Hoeks C, Hulsbergen-van de Kaa C, et al. Prospective assessment of prostate cancer aggressiveness using 3-T diffusion-weighted magnetic resonance imaging—guided biopsies versus a systematic 10-core transrectal ultrasound prostate biopsy cohort. Eur Urol. 2012;61:177–84.

Vargas HA, Akin O, Franiel T, et al. Diffusion-weighted endorectal MR imaging at 3 T for prostate cancer: tumor detection and assessment of aggressiveness. Radiology. 2011;259:775–84.

Turkbey B, Shah VP, Pang Y, et al. Is apparent diffusion coefficient associated with clinical risk scores for prostate cancers that are visible on 3-TMR images. Radiology. 2011;258:488–95.

Weinreb JC, Barentsz JO, Choyke PL, et al. PI-RADS prostate imaging-reporting and data system: 2015, version 2, Eur Urol. 2016;69(1):16–40.

Panebianco F, Barchetti V, Sciarra A, et al. Multiparametric magnetic resonance imaging vs. standard care in men being evaluated for prostate cancer: a randomized study. Urol Oncol. 2015;33:1–7.

Padhani AR, Liu G, Koh DM, et al. Diffusion-weighted magnetic resonance imaging as a cancer biomarker: consensus and recommendations. Neoplasia. 2009;11(2):102–25.

Le Bihan D, Breton E, Lallemand D, et al. Separation of diffusion and perfusion in intravoxel incoherent motion MR imaging. Radiology. 1988;168(2):497–505.

Le Bihan D, Breton E, Lallemand D. MR imaging of intravoxel incoherent motions: application to diffusion and perfusion in neurologic disorders. Radiology. 1986;161:401–7.

Kuru TH, Roethke MC, Stieltjes B, et al. Intravoxel incoherent motion (IVIM) diffusion imaging in prostate cancer-what does it add? J Comput Assist Tomogr. 2014;38(4):558–64.

Döpfert JLA, Weidner A, Schad LR. Investigation of prostate cancer using diffusion-weighted intravoxel incoherent motion imaging. Magn Reson Imaging. 2011;29(8):1053–8.

Riches SF, Hawtin K, Charles-Edwards EM, de Souza NM. Diffusion-weighted imaging of the prostate and rectal wall: comparison of biexponential and monoexponential modelled diffusion and associated perfusion coefficients. NMR Biomed. 2009;22(3):318–25.

Mazaheri Y, Vargas HA, Akin O, et al. Reducing the influence of b-value selection on diffusion-weighted imaging of the prostate: evaluation of a revised monoexponential model within a clinical setting. J Magn Reson Imaging. 2012;35(3):660–8.

Xu J, Humphrey PA, Kibel AS, et al. Magnetic resonance diffusion characteristics of histologically defined prostate cancer in humans. Magn Reson Med. 2009;61(4):842–50.

Ocak I, Bernardo M, Metzger G, et al. Dynamic contrastenhanced MRI of prostate cancer at 3 T: a study of pharmacokinetic parameters. AJR Am J Roentgenol. 2007;189(4):849.

McDonald DM, Choyke PL. Imaging of angiogenesis: from microscope to clinic. Nat Med. 2003;9(6):713–25.

Prince MR, Zhang HL, Roditi GH, et al. Risk factors for NSF: a literature review. J Magn Reson Imaging. 2009;30(6):1298–308.

Kuru TH, Roethke MC, Seidenader J, et al. Critical evaluation of magnetic resonance imaging targeted, transrectal ultrasound guided transperineal fusion biopsy for detection of prostate cancer. J Urol. 2013;190:1380–6.

Matoso A, Epstein JI. Grading of prostate cancer: past, present, and future. Curr Urol Rep. 2016;17(3):25.

Anderson TW. An introduction to multivariate statistical analysis. 2nd ed. New York: Wiley; 1984.

Koh DM, Collins DJ. Diffusion-weighted mri in the body: applications and challenges in oncology. AJR Am J Roentgenol. 2007;188:1622–35.

Tanimoto A, Nakashima J, Kohno H, et al. Prostate cancer screening: the clinical value of diffusion-weighted imaging and dynamic MR imaging in combination with T2-weighted imaging. J Magn Reson Imaging. 2007;25:146–52.

Pang Y, Turkbey B, Bernardo M, et al. Intravoxel incoherent motion (IVIM) MR imaging for prostate cancer: an evaluation of perfusion fraction and diffusion coefficient derived from different b-value combinations. Magn Reson Med. 2013;69(2):553–62.

Valerio M, Zini C, Fierro D, et al. 3T multiparametric MRI of the prostate: does intravoxel incoherent motion diffusion imaging have a role in the detection and stratification of prostate cancer in the peripheral zone? Eur J Radiol. 2016;85(4):790–4.

Luciani A, Vignaud A, Cavet M, et al. Liver cirrhosis: intravoxel incoherent motion MR imaging—pilot study. Radiology. 2008;249:891–9.

Le Bihan D. Intravoxel incoherent motion perfusion MR imaging: a wake-up call. Radiology. 2008;249(3):748–52.

Shinmoto H, Tamura C, Soga S, et al. An intravoxel incoherent motion diffusion-weighted imaging study of prostate cancer. AJR Am J Roentgenol. 2012;199(4):W496–500.

Shinmoto H, Oshio K, Tanimoto A, Higuchi N, Okuda S, Kuribayashi S, Mulkern RV. Biexponential apparent diffusion coefficients in prostate cancer. Magn Reson Imaging. 2009;27(3):355–9.

Mulkern RV, Barnes AS, Haker SJ, Hung YP, Rybicki FJ, Maier SE, Tempany CM. Biexponential characterization of prostate tissue water diffusion decay curves over an extended b-factor range. Magn Reson Imaging. 2006;24(5):563–8.

Le Bihan D, Turner R. The capillary network: a link between IVIM and classical perfusion. Magn Reson Med. 1992;27:171–8.

Yang F, Tuxhorn JA, Ressler SJ, et al. Stromal expression of connective tissue growth factor promotes angiogenesis and prostate cancer tumorigenesis. Cancer Res. 2005;65(19):8887–95.

Alonzi R, Padhani AR, Allen C. Dynamic contrast enhanced MRI in prostate cancer. Eur J Radiol. 2007;63(3):335–50.

Franiel T, Lüdemann L, Rudolph B, et al. Evaluation of normal prostate tissue, chronic prostatitis, and prostate cancer by quantitative perfusion analysis using a dynamic contrast-enhanced inversion prepared dual-contrast gradient echo sequence. Invest Radiol. 2008;43:481–7.

Patel J, Sigmund EE, Rusinek H, et al. Diagnosis of cirrhosis with intravoxel incoherent motion diffusion MRI and dynamic contrast-enhanced MRI alone and in combination: preliminary experience. J Magn Reson Imaging. 2010;31:589–600.

Dennis LK, Lynch CF, Torner JC. Epidemiologic association between prostatitis and prostate cancer. Urology. 2002;60:78–83.

Koh DM, Blackledge M, Collins DJ, et al. Reproducibility and changes in the apparent diffusion coefficients of solid tumors treated with combretastatin A4 phosphate and bevacizumab in a twocentre phase I clinical trial. Eur Radiol. 2009;19:2728–38.

Wagner B, Drel V, Gorin Y. Pathophysiology of gadolinium-associated systemic fibrosis. Am J Physiol Renal Physiol. 2016;311(1):F1–11.
Ethics declarations
Conflict of interest
The authors declare that they have no conflict of interest.
Ethical approval
All procedures performed in studies involving human participants were in accordance with the ethical standards of the institutional and/or national research committee and with the 1964 Helsinki Declaration and its later amendments or comparable ethical standards.
Informed consent
Informed consent was obtained from all individual participants included in the study.
About this article
Cite this article
Pesapane, F., Patella, F., Fumarola, E.M. et al. Intravoxel Incoherent Motion (IVIM) Diffusion Weighted Imaging (DWI) in the Periferic Prostate Cancer Detection and Stratification. Med Oncol 34, 35 (2017). https://doi.org/10.1007/s12032-017-0892-7
Received:

Accepted:

Published:

DOI: https://doi.org/10.1007/s12032-017-0892-7
Keywords
Prostate Cancer

Multi-parametric magnetic resonance

DWI

ADC

IVIM

Perfusion

Perfusion fraction