Abstract
Cancer stem cells, as a subgroup of tumor cells, resemble critical properties of embryonic stem cells (ESCs) such as self-renewal and maintenance of stemness state. SALL4 and SOX2 are two main transcription factors involving in maintenance of pluripotency, self-renewal and cell fate decision in ESCs. In this study, we aimed to elucidate the expression levels of these important transcription factors in esophageal squamous cell carcinoma (ESCC) and to reveal their probable roles in maintenance and progression of the disease. The expression level of SALL4 and SOX2 was analyzed in fresh tumoral tissues in comparison with distant tumor-free tissues of 50 ESCC patients by relative comparative real-time PCR. SALL4 and SOX2 were overexpressed in 64 and 32 % of tumor samples, respectively, in significant correlation with each other (p = 0.028). There was a significantly inverse correlation between low level of SALL4 expression and metastasis of tumor cells into the lymph nodes (p = 0.035). Furthermore, co-overexpression of the genes was significantly correlated with the depth of tumor invasion (p = 0.045) and metastasis to the lymph nodes (p = 0.049). SALL4 and SOX2 are co-overexpressed in ESCC and have a significant correlation with invasion and metastasis of the disease. To the best of our knowledge, this is the first report of SALL4 clinical relevance in ESCC to date. The clinical consequences of SALL4–SOX2 association suggest a possible functional interaction between these factors in regulation of ESCC maintenance and aggressiveness and introduce these regulators of stemness state as potentially interesting therapeutic targets to bring new opportunities for onco-therapeutic modalities.
Access options
Buy single article
Instant access to the full article PDF.
USD 39.95
Price excludes VAT (USA)
Tax calculation will be finalised during checkout.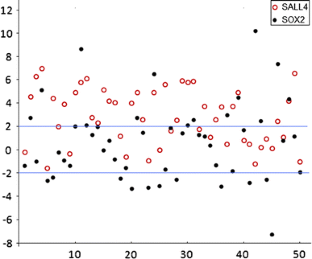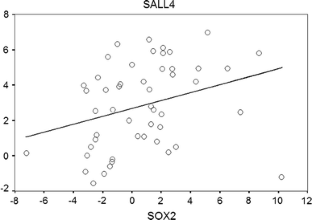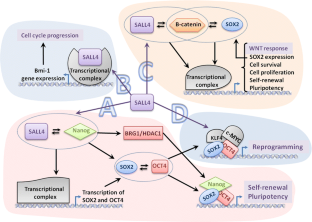 References
Frank NY, Schatton T, Frank MH. The therapeutic promise of the cancer stem cell concept. J Clin Invest. 2010;120(1):41–50.

He J, et al. Low-expression of microRNA-107 inhibits cell apoptosis in glioma by upregulation of SALL4. Int J Biochem Cell Biol. 2013;45(9):1962–73.

Yuri S, et al. Sall4 is essential for stabilization, but not for pluripotency, of embryonic stem cells by repressing aberrant trophectoderm gene expression. Stem Cells. 2009;27:796–805.

Yang J, et al. A novel SALL4/OCT4 transcriptional feedback network for pluripotency of embryonic stem cells. PLoS One. 2010;5(5):e10766.

Yang J, Chai L, Fowles TC, Alipio Z, Xu D, Fink LM, Ward DC, Ma Y. Genome-wide analysis reveals Sall4 to be a major regulator of pluripotency in murine-embryonic stem cells. Proc Natl Acad Sci USA. 2008;105:19756–61.

Kobayashi D, et al. SALL4 is essential for cancer cell proliferation and is overexpressed at early clinical stages in breast cancer. Int J Oncol. 2011;38:933–9.

Forghanifard MM, et al. Role of SALL4 in the progression and metastasis of colorectal cancer. J Biomed Sci. 2013;20:6.

Oikawa T, et al. Sall4 regulates cell fate decision in fetal hepatic stem/progenitor cells. Gastroenterology. 2009;136(3):1000–11.

Sinclair AH, Berta P, Palmer MS. A gene from the human sex determining region encodes a protein with homology to a conserved DNA-binding motif. Nature. 1990;346:240–4.

Fong H, Hohenstein KA, Donovan PJ. Regulation of self-renewal and pluripotency by Sox2 in human embryonic stem cells. Stem Cells. 2008;26(8):1931–8.

Patel M, Yang S. Advances in reprogramming somatic cells to induced pluripotent stem cells. Stem Cell Rev. 2010;6(3):367–80.

Laga AC, et al. Expression of the embryonic stem cell transcription factor SOX2 in human skin: relevance to melanocyte and Merkel cell biology. Am J Pathol. 2010;176(2):903–13.

Alonso MM, et al. Genetic and epigenetic modifications of Sox2 contribute to the invasive phenotype of malignant gliomas. PLoS One. 2011;6(11):e26740.

Li XL, et al. Expression of the SRY-related HMG box protein SOX2 in human gastric carcinoma. Int J Oncol. 2004;24(2):257–63.

Abd El-Maqsoud NM, Abd El-Rehim DM. Clinicopathologic implications of EpCAM and Sox2 expression in breast cancer. Clin Breast Cancer. 2014;14(1):e1–9.

Chen S, et al. SOX2 gene regulates the transcriptional network of oncogenes and affects tumorigenesis of human lung cancer cells. PLoS One. 2012;7(5):e36326.

Jia X, et al. SOX2 promotes tumorigenesis and increases the anti-apoptotic property of human prostate cancer cell. J Mol Cell Biol. 2011;3(4):230–8.

Han X, et al. Silencing SOX2 induced mesenchymal–epithelial transition and its expression predicts liver and lymph node metastasis of CRC patients. PLoS One. 2012;7(8):e41335.

Girouard SD, et al. SOX2 contributes to melanoma cell invasion. Lab Invest. 2012;92(3):362–70.

Sobin LH, Gospodarowicz MK, Wittekind C. TNM classification of malignant tumours. London: Wiley; 2011.

Rubie C, et al. Housekeeping gene variability in normal and cancerous colorectal, pancreatic, esophageal, gastric and hepatic tissues. Mol Cell Probes. 2005;19(2):101–9.

Bass AJ, et al. SOX2 is an amplified lineage-survival oncogene in lung and esophageal squamous cell carcinomas. Nat Genet. 2009;41(11):1238–42.

Liu K, et al. Sox2 cooperates with inflammation-mediated Stat3 activation in the malignant transformation of foregut basal progenitor cells. Cell Stem Cell. 2013;12(3):304–15.

Ben-Porath I, et al. An embryonic stem cell-like gene expression signature in poorly differentiated aggressive human tumors. Nat Genet. 2008;40(5):499–507.

Mallanna SK, et al. Proteomic analysis of Sox2-associated proteins during early stages of mouse embryonic stem cell differentiation identifies Sox21 as a novel regulator of stem cell fate. Stem Cells. 2010;28(10):1715–27.

Hussenet T, Dali S, Exinger J, et al. SOX2 is an oncogene activated by recurrent 3q26.3 amplifications in human lung squamous cell carcinomas. PLoS One. 2010;5(1):e8960.

Bahl K, Saraya A, Sharma R. Increased levels of circulating and tissue mRNAs of Oct-4, Sox-2, Bmi-1 and Nanog is ESCC patients: potential tool for minimally invasive cancer diagnosis. Biomark Insights. 2012;7:27–37.

Lu Y, et al. Evidence that SOX2 overexpression is oncogenic in the lung. PLoS One. 2010;5(6):e11022.

Chen Y, et al. The molecular mechanism governing the oncogenic potential of SOX2 in breast cancer. J Biol Chem. 2008;283(26):17969–78.

Takahashi K, Yamanaka S. Induction of pluripotent stem cells from mouse embryonic and adult fibroblast cultures by defined factors. Cell. 2006;126(4):663–76.

Zhang J, et al. Sall4 modulates embryonic stem cell pluripotency and early embryonic development by the transcriptional regulation of Pou5f1. Nat Cell Biol. 2006;8(10):1114–23.

Kidder BL, Palmer S, Knott JG. SWI/SNF-Brg1 regulates self-renewal and occupies core pluripotency-related genes in embryonic stem cells. Stem Cells. 2009;27(2):317–28.

He XT, Cao XF, Ji L. Association between Bmi1 and clinicopathological status of esophageal squamous cell carcinoma. World J Gastroenterol. 2009;15(19):2389–94.

Van Raay TJ, et al. Frizzled 5 signaling governs the neural potential of progenitors in the developing Xenopus retina. Neuron. 2005;46(1):23–36.

Moghbeli M, et al. Association of PYGO2 and EGFR in esophageal squamous cell carcinoma. Med Oncol. 2013;30(2):516.
Acknowledgments
The authors gratefully acknowledge the colleagues from the departments of surgery and pathology at Omid Hospital and also the colleagues at the Division of Human Genetics for their help in gathering and preparing the tissue specimens.
Conflict of interest
The authors declare that they have no conflict of interests.
About this article
Cite this article
Forghanifard, M.M., Ardalan Khales, S., Javdani-Mallak, A. et al. Stemness state regulators SALL4 and SOX2 are involved in progression and invasiveness of esophageal squamous cell carcinoma. Med Oncol 31, 922 (2014). https://doi.org/10.1007/s12032-014-0922-7
Received:

Accepted:

Published:

DOI: https://doi.org/10.1007/s12032-014-0922-7
Keywords
SALL4
SOX2

Stemness state

ESCC

Cancer stem cell