Abstract
Wnt signaling plays an important role in regulating the activity of cancer stem cells (CSCs) in a variety of cancers. In this study, we explored the role of Wnt signaling in the lung cancer stem cells (LCSCs). LCSCs were obtained by sphere culture, for which human lung adenocarcinoma cell line SPC-A1 was treated with IGF, EGF and FGF-10. The stemness of LCSCs was confirmed by immunofluorescence, and pathway analysis was performed by functional genome screening and RT-PCR. The relationship between the identified signaling pathway and the expression of the stemness genes was explored by agonist/antagonist assay. Moreover, the effects of different signaling molecule inhibitors on sphere formation, cell viability and colony formation were also analyzed. The results showed that LCSCs were successfully generated as they expressed pluripotent stem cell markers Nanog and Oct 4, and lung distal epithelial markers CCSP and SP-C, by which the phenotype characterization of stem cells can be confirmed. The involvement of Wnt pathway in LCSCs was identified by functional genome screening and verified by RT-PCR. The expression of Wnt signaling components was closely related to the expression of the Nanog and Oct 4. Furthermore, targeting Wnt signaling pathway by using different signaling molecule inhibitors can exert anticancer effects. In conclusion, Wnt signaling pathway is involved in the stemness regulation of LCSCs and might be considered as a potential therapeutic target in lung adenocarcinoma.
Access options
Buy single article
Instant access to the full article PDF.
USD 39.95
Price excludes VAT (USA)
Tax calculation will be finalised during checkout.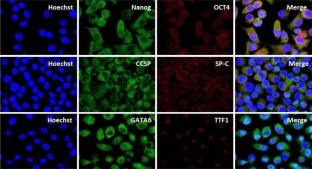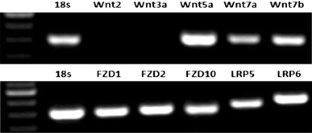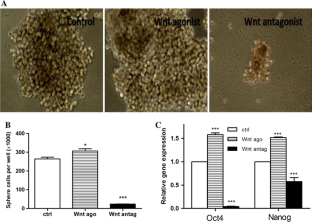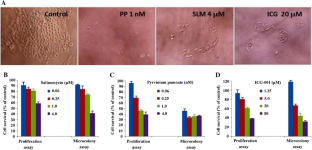 References
Siegel R, Naishadham D, Jemal A. Cancer statistics, 2013. CA Cancer J Clin. 2013;63:11–30.

Edwards BK, Ward E, Kohler BA, Eheman C, Zauber AG, Anderson RN, et al. Annual report to the nation on the status of cancer, 1975–2006, featuring colorectal cancer trends and impact of interventions (risk factors, screening, and treatment) to reduce future rates. Cancer. 2010;116:544–73.

Pacheco-Pinedo EC, Durham AC, Stewart KM, Goss AM, Lu MM, Demayo FJ, et al. Wnt/beta-catenin signaling accelerates mouse lung tumorigenesis by imposing an embryonic distal progenitor phenotype on lung epithelium. J Clin Invest. 2011;121:1935–45.

Clarke MF, Dick JE, Dirks PB, Eaves CJ, Jamieson CH, Jones DL, et al. Cancer stem cells—perspectives on current status and future directions: AACR workshop on cancer stem cells. Cancer Res. 2006;66:9339–44.

Eramo A, Lotti F, Sette G, Pilozzi E, Biffoni M, Di Virgilio A, et al. Identification and expansion of the tumorigenic lung cancer stem cell population. Cell Death Differ. 2008;15:504–14.

Wu K, House L, Liu W, Cho WC. Personalized targeted therapy for lung cancer. Int J Mol Sci. 2012;13:11471–96.

Takebe N, Ivy SP. Controversies in cancer stem cells: targeting embryonic signaling pathways. Clin Cancer Res. 2010;16:3106–12.

Park KS, Martelotto LG, Peifer M, Sos ML, Karnezis AN, Mahjoub MR, et al. A crucial requirement for Hedgehog signaling in small cell lung cancer. Nat Med. 2011;17:1504–8.

Sullivan JP, Spinola M, Dodge M, Raso MG, Behrens C, Gao B, et al. Aldehyde dehydrogenase activity selects for lung adenocarcinoma stem cells dependent on notch signaling. Cancer Res. 2010;70:9937–48.

Jemal A, Siegel R, Xu J, Ward E. Cancer statistics, 2010. CA Cancer J Clin. 2010;60:277–300.

Spillane JB, Henderson MA. Cancer stem cells: a review. ANZ J Surg. 2007;77:464–8.

Ishii H, Iwatsuki M, Ieta K, Ohta D, Haraguchi N, Mimori K, et al. Cancer stem cells and chemoradiation resistance. Cancer Sci. 2008;99:1871–7.

Lapidot T, Sirard C, Vormoor J, Murdoch B, Hoang T, Caceres-Cortes J, et al. A cell initiating human acute myeloid leukaemia after transplantation into SCID mice. Nature. 1994;367:645–8.

Colak S, Medema JP. Cancer stem cells—important players in tumor therapy resistance. FEBS J. 2014;281:4779–91.

Deleyrolle LP, Ericksson G, Morrison BJ, Lopez JA, Burrage K, Burrage P, et al. Determination of somatic and cancer stem cell self-renewing symmetric division rate using sphere assays. PLoS One. 2011;6:e15844.

Bertolini G, Roz L, Perego P, Tortoreto M, Fontanella E, Gatti L, et al. Highly tumorigenic lung cancer CD133+ cells display stem-like features and are spared by cisplatin treatment. Proc Natl Acad Sci USA. 2009;106:16281–6.

Chen YC, Hsu HS, Chen YW, Tsai TH, How CK, Wang CY, et al. Oct-4 expression maintained cancer stem-like properties in lung cancer-derived CD133-positive cells. PLoS One. 2008;3:e2637.

Leung EL, Fiscus RR, Tung JW, Tin VP, Cheng LC, Sihoe AD, et al. Non-small cell lung cancer cells expressing CD44 are enriched for stem cell-like properties. PLoS One. 2010;5:e14062.

Levina V, Marrangoni AM, DeMarco R, Gorelik E, Lokshin AE. Drug-selected human lung cancer stem cells: cytokine network, tumorigenic and metastatic properties. PLoS One. 2008;3:e3077.

Winkler ME, Mauritz C, Groos S, Kispert A, Menke S, Hoffmann A, et al. Serum-free differentiation of murine embryonic stem cells into alveolar type II epithelial cells. Cloning Stem Cells. 2008;10:49–64.

Zhou CH, Yang SF, Li PQ. Human lung cancer cell line SPC-A1 contains cells with characteristics of cancer stem cells. Neoplasma. 2012;59:685–92.

Singh I, Mehta A, Contreras A, Boettger T, Carraro G, Wheeler M, et al. Hmga2 is required for canonical WNT signaling during lung development. BMC Biol. 2014;12:21.

Uematsu K, He B, You L, Xu Z, McCormick F, Jablons DM. Activation of the Wnt pathway in non small cell lung cancer: evidence of dishevelled overexpression. Oncogene. 2003;22:7218–21.

You L, He B, Xu Z, Uematsu K, Mazieres J, Mikami I, et al. Inhibition of Wnt-2-mediated signaling induces programmed cell death in non-small-cell lung cancer cells. Oncogene. 2004;23:6170–4.

Malanchi I, Peinado H, Kassen D, Hussenet T, Metzger D, Chambon P, et al. Cutaneous cancer stem cell maintenance is dependent on beta-catenin signalling. Nature. 2008;452:650–3.

Chien AJ, Moore EC, Lonsdorf AS, Kulikauskas RM, Rothberg BG, Berger AJ, et al. Activated Wnt/beta-catenin signaling in melanoma is associated with decreased proliferation in patient tumors and a murine melanoma model. Proc Natl Acad Sci USA. 2009;106:1193–8.

Kawaguchi-Ihara N, Murohashi I, Nara N, Tohda S. Promotion of the self-renewal capacity of human acute leukemia cells by Wnt3A. Anticancer Res. 2008;28:2701–4.

Yang W, Yan HX, Chen L, Liu Q, He YQ, Yu LX, et al. Wnt/beta-catenin signaling contributes to activation of normal and tumorigenic liver progenitor cells. Cancer Res. 2008;68:4287–95.
Acknowledgments
This work was funded by Shanghai Natural Science Foundation (No. 13ZR1438600).
Conflict of interest
None.
Additional information
Xueyan Zhang and Yuqing Lou have contributed equally to this article.
About this article
Cite this article
Zhang, X., Lou, Y., Wang, H. et al. Wnt signaling regulates the stemness of lung cancer stem cells and its inhibitors exert anticancer effect on lung cancer SPC-A1 cells. Med Oncol 32, 95 (2015). https://doi.org/10.1007/s12032-014-0462-1
Received:

Accepted:

Published:

DOI: https://doi.org/10.1007/s12032-014-0462-1
Keywords
Functional genome screening

Lung cancer stem cells

Pluripotent stem cell markers

Sphere culture

Wnt signaling pathway