Abstract
Better understanding of the treatment effect of cisplatin/pemetrexed chemotherapy on lung adenocarcinoma patients is needed to facilitate chemotherapy planning and patient care. In this retrospective study, we will develop prognostic models by the cross-validation method using clinical and serum factors to predict outcomes of cisplatin/pemetrexed chemotherapy in lung adenocarcinoma patients. Lung adenocarcinoma patients admitted between 2008 and 2013 were enrolled. 29 serum parameters of laboratory tests and 14 clinical factors were analyzed to develop the prognostic models. First, the stepwise selection and five-fold cross-validation were performed to identify candidate prognostic factors. Then a classification of all patients based on the number of metastatic sites resulted in four distinct subsets. In each subset, a prognostic model was fitted with the most accurate prognostic factors from the candidate prognostic factors. Categorical survival prediction was estimated using a log-rank test and visualized with Kaplan–Meier method. 227 lung adenocarcinoma patients were enrolled. Twenty candidate prognostic factors evaluated using the five-fold cross-validation method were total protein, total bilirubin, direct bilirubin, creatine kinase, age, smoking index, neuron-specific enolase, bone metastasis, total triglyceride, albumin, gender, uric acid, CYFRA21-1, lymph node metastasis, liver metastasis, lactate dehydrogenase, CA153, peritoneal metastasis, CA125, and CA199. From these 20 candidate prognostic factors, the multivariate Cox proportional hazard model with the highest prognostic accuracy in each subset was identified by the stepwise forward selection method, which generated significant prognostic stratifications in Kaplan–Meier survival analyses (all log-rank p < 0.01). Generally, the prognostic models using five-fold cross-validation achieve a good prediction performance. The prognostic models can be administered safely to lung adenocarcinoma patients treated with first-line cisplatin/pemetrexed chemotherapy, and a comprehensive assessment of clinical and serum factors helps predict the outcomes of cisplatin/pemetrexed chemotherapy.
Access options
Buy single article
Instant access to the full article PDF.
USD 39.95
Price excludes VAT (USA)
Tax calculation will be finalised during checkout.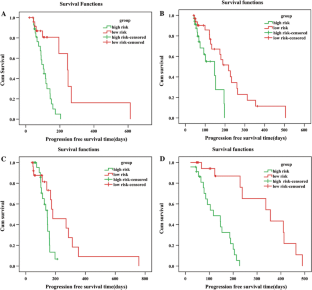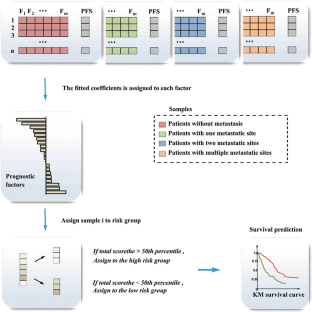 Abbreviations
NSCLC:

Non-small cell lung cancer

BMI:

Body mass index

HR:

Hazard ratio

KM:

Kaplan–Meier

ALT:

Alanine aminotransferase

AST:

Aspartate aminotransferase

ALP:

Alkaline phosphatase

GGT:

Glutamyl aminotransferase

TP:

Total protein

ALB:

Albumin

TBA:

Total bile acid

TB:

Total bilirubin

DB:

Direct bilirubin

UR:

Urea

CR:

Creatinine

UA:

Uric acid

CK:

Creatine kinase

LDH:

Lactate dehydrogenase

GLU:

Glucose

TC:

Total cholesterol

TG:

Total triglyceride

CEA:

Carcinoembryonic antigen

AFP:

a-Fetoprotein

CA125:

Carbohydrate antigen 125

CYFRA21-1:

Cytokeratin 19 fragment antigen

NSE:

Neuron-specific enolase

SCC:

Squamous cell carcinoma-associated antigen

ECOG:

Eastern Cooperative Oncology Group

SWOG:

Southwest Oncology Group

ELCWP:

European lung Cancer Working Party
References
Siegel R, Naishadham D, Jemal A. Cancer statistics, 2013. CA Cancer J Clin. 2013;63:11–30.

Chen W, Zheng R, Zhang S, Zhao P, Li G, Wu L, He J. Report of incidence and mortality in China cancer registries, 2009. Chin J Cancer Res Chung-kuo yen cheng yen chiu. 2013;25:10–21.

Jung WY, Kim YH, Ryu YJ, Kim BH, Shin BK, Kim A, Kim HK. Acyl-CoA thioesterase 8 is a specific protein related to nodal metastasis and prognosis of lung adenocarcinoma. Pathol Res Pract. 2013;209:276–83.

Fleeman N, Bagust A, McLeod C, Greenhalgh J, Boland A, Dundar Y, Dickson R, Tudur Smith C, Davis H, Green J, Pearson M. Pemetrexed for the first-line treatment of locally advanced or metastatic non-small cell lung cancer. Health Technol Assess. 2010;14(Suppl 1):47–53.

Scagliotti GV, Parikh P, von Pawel J, Biesma B, Vansteenkiste J, Manegold C, Serwatowski P, Gatzemeier U, Digumarti R, Zukin M, et al. Phase III study comparing cisplatin plus gemcitabine with cisplatin plus pemetrexed in chemotherapy-naive patients with advanced-stage non-small-cell lung cancer. J Clin Oncol Offic J Am Soc Clin Oncol. 2008;26:3543–51.

Soler TV, Isamitt DD, Carrasco OA. Yield of biopsy, brushing and bronchial washing through fiberbronchoscopy in the diagnosis of lung cancer with visible lesions. Rev Med Chil. 2004;132:1198–203.

Khankan AA, Al-Muaikeel M. Image-guided percutaneous transthoracic biopsy in lung cancer–emphasis on CT-guided technique. J Infect Public Health. 2012;5(Suppl 1):S22–30.

Baierlein SA. Biopsy and puncture track metastasis. Deutsches Arzteblatt Int. 2013;110:59.

Cristofori R, Aimo G, Mengozzi G, Oliaro A, Revello F, Rapellino M. Tumor markers kinetic in malignant lung neoplasms. J Cardiovasc Surg. 1999;40:299–305.

Yoshimasu T, Miyoshi S, Maebeya S, Suzuma T, Bessho T, Hirai I, Tanino H, Arimoto J, Naito Y. Analysis of the early postoperative serum carcinoembryonic antigen time-course as a prognostic tool for bronchogenic carcinoma. Cancer. 1997;79:1533–40.

Padhani AR, Ollivier L. The RECIST (response evaluation criteria in solid tumors) criteria: implications for diagnostic radiologists. Br J Radiol. 2001;74:983–6.

Tsuchida Y, Therasse P. Response evaluation criteria in solid tumors (RECIST): new guidelines. Med Pediatr Oncol. 2001;37:1–3.

Zhong W, Zhang T, Zhu Y, Liu JS. Correlation pursuit: forward stepwise variable selection for index models. J R Stat Soc Ser B Stat Methodol. 2012;74:849–70.

Kuk AY, Nott DJ, Yang Y. A stepwise likelihood ratio test procedure for rare variant selection in case-control studies. J Hum Genet. 2014;59:198–205.

Rodriguez JD, Perez A, Lozano JA. Sensitivity analysis of kappa-fold cross validation in prediction error estimation. IEEE Trans Pattern Anal Mach Intell. 2010;32:569–75.

Meijer RJ, Goeman JJ. Efficient approximate k-fold and leave-one-out cross-validation for ridge regression. Biom J Biometrische Zeitschrift. 2013;55:141–55.

Oh Y, Taylor S, Bekele BN, Debnam JM, Allen PK, Suki D, Sawaya R, Komaki R, Stewart DJ, Karp DD. Number of metastatic sites is a strong predictor of survival in patients with nonsmall cell lung cancer with or without brain metastases. Cancer. 2009;115:2930–8.

Hoang T, Xu R, Schiller JH, Bonomi P, Johnson DH. Clinical model to predict survival in chemonaive patients with advanced non-small-cell lung cancer treated with third-generation chemotherapy regimens based on eastern cooperative oncology group data. J Clin Oncol Off J Am Soc Clin Oncol. 2005;23:175–83.

Albain KS, Crowley JJ, LeBlanc M, Livingston RB. Survival determinants in extensive-stage non-small-cell lung cancer: the Southwest Oncology Group experience. J Clin Oncol Off J Am Soc Clin Oncol. 1991;9:1618–26.

Tibaldi C, Vasile E, Bernardini I, Orlandini C, Andreuccetti M, Falcone A. Baseline elevated leukocyte count in peripheral blood is associated with poor survival in patients with advanced non-small cell lung cancer: a prognostic model. J Cancer Res Clin Oncol. 2008;134:1143–9.

Finkelstein DM, Ettinger DS, Ruckdeschel JC. Long-term survivors in metastatic non-small-cell lung cancer: an Eastern Cooperative Oncology Group Study. J Clin Oncol Off J Am Soc Clin Oncol. 1986;4:702–9.

Paesmans M, Sculier JP, Libert P, Bureau G, Dabouis G, Thiriaux J, Michel J, Van Cutsem O, Sergysels R, Mommen P, et al. Prognostic factors for survival in advanced non-small-cell lung cancer: univariate and multivariate analyses including recursive partitioning and amalgamation algorithms in 1,052 patients. The European Lung Cancer Working Party. J Clin Oncol Off J Am Soc Clin Oncol. 1995;13:1221–30.

Hoang T, Dahlberg SE, Sandler AB, Brahmer JR, Schiller JH, Johnson DH. Prognostic models to predict survival in non-small-cell lung cancer patients treated with first-line paclitaxel and carboplatin with or without bevacizumab. J Thorac Oncol Off Publ Int Assoc Study Lung Cancer. 2012;7:1361–8.
Acknowledgments
The authors thank the staff in the Department of Clinical Biochemistry and the Department of Radiology at the Chinese PLA General Hospital for their support. The study was funded by the National Key Technology Support Program of China (2009BAI86B05 to Xinyu Wen) and by the National High-tech Technology Research and Development Program of China (2011AA 02A 111 to Yaping Tian).
Conflict of interest
The authors declare that they have no conflict of interest.
Additional information
Wenjun Mou and Zhaoqi Liu contributed equally to this work.
Electronic supplementary material
Below is the link to the electronic supplementary material.
The fitted coefficients of the most accurate prognostic factors in the multivariate Cox proportional hazards model in all four studied subsets, including subset of patients with no metastasis(A), with one metastatic site(B), with two metastatic sites(C), with multiple sites(D). (JPEG 1628 kb)
About this article
Cite this article
Mou, W., Liu, Z., Luo, Y. et al. Development and cross-validation of prognostic models to assess the treatment effect of cisplatin/pemetrexed chemotherapy in lung adenocarcinoma patients. Med Oncol 31, 59 (2014). https://doi.org/10.1007/s12032-014-0059-8
Received:

Accepted:

Published:

DOI: https://doi.org/10.1007/s12032-014-0059-8
Keywords