Abstract
The aim of this study was to investigate sonic hedgehog (SHH) signaling pathway components (Shh and Gli-1), E-cadherin, and MMP-9 expression in human oral squamous cell carcinoma (OSCC) and to evaluate their role in prognosis. Expression of Shh, Gli-1, and MMP-9 was significantly upregulated in 74 OSCC samples compared with non-cancerous tissue samples (Shh IOD: 162.44 ± 29.35 and 608.82 ± 170.99; Gli-1 IOD: 203.50 ± 71.57 and 831.11 ± 242.352; MMP-9 IOD: 196.69 ± 64.48 and 721.64 ± 197.99 in non-cancerous and tumor tissues, respectively, P < 0.01), whereas E-cadherin expression was downregulated (E-cadherin IOD: 1,006.19 ± 230.42 and 442.20 ± 156.11; in non-cancerous and tumor tissues, respectively, P < 0.01). Highly expressed proteins were associated with lymph node metastasis; moreover, overexpression of Gli-1 was related to tumor recurrence and cancer clinical staging. Spearman's analysis indicated that the expression of Gli-1 and MMP-9 was positively correlated, whereas expression of Shh/Gli-1 and E-cadherin was negatively correlated. Kaplan–Meier results revealed that patients with low Shh, Gli-1, and MMP-9 expression survived longer than those with high expression. In contrast, low E-cadherin expression was associated with poor prognosis (P < 0.01). In conclusions, transcription factor Gli-1 of the SHH signaling pathway may be an important mediator of invasion and metastasis of OSCC through induced expression of MMP-9 and E-cadherin and may serve as a new prognostic marker.
Access options
Buy single article
Instant access to the full article PDF.
US$ 39.95
Tax calculation will be finalised during checkout.
Subscribe to journal
Immediate online access to all issues from 2019. Subscription will auto renew annually.
US$ 119
Tax calculation will be finalised during checkout.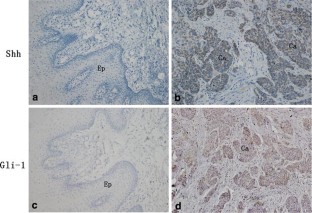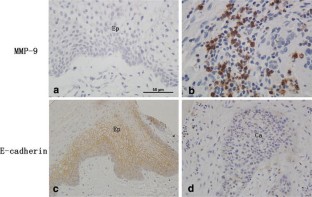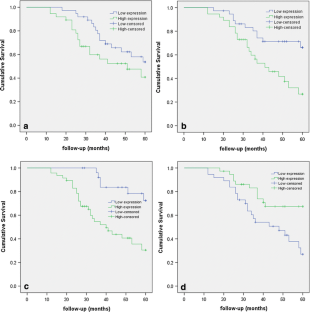 References
1.

Byers RM, El-Naggar AK, Lee YY, Rao B, Fornage B, Terry NH, et al. Can we detect or predict the presence of occult nodal metastases in patients with squamous carcinoma of the oral tongue? Head Neck. 1998;20(2):138–44.

2.

Yang L, Su X, Xie J. Activation of Hedgehog pathway in gastrointestinal cancers. Vitam Horm. 2012;88:461–72. doi:10.1016/B978-0-12-394622-5.00020-1.

3.

Yoo YA, Kang MH, Lee HJ, Kim BH, Park JK, Kim HK, et al. Sonic hedgehog pathway promotes metastasis and lymphangiogenesis via activation of Akt, EMT, and MMP-9 pathway in gastric cancer. Cancer Res. 2011;71(22):7061–70. doi:10.1158/0008-5472.CAN-11-1338.

4.

Chen JS, Huang XH, Wang Q, Huang JQ, Zhang LJ, Chen XL, et al. Sonic hedgehog signaling pathway induces cell migration and invasion through focal adhesion kinase/AKT signaling-mediated activation of matrix metalloproteinase (MMP)-2 and MMP-9 in liver cancer. Carcinogenesis. 2013;34(1):10–9. doi:10.1093/carcin/bgs274.

5.

Im S, Choi HJ, Yoo C, Jung JH, Jeon YW, Suh YJ, et al. Hedgehog related protein expression in breast cancer: gli-2 is associated with poor overall survival. Korean J Pathol. 2013;47(2):116–23. doi:10.4132/KoreanJPathol.47.2.116.

6.

Von Hoff DD, LoRusso PM, Rudin CM, Reddy JC, Yauch RL, Tibes R, et al. Inhibition of the hedgehog pathway in advanced basal-cell carcinoma. N Engl J Med. 2009;361(12):1164–72. doi:10.1056/NEJMoa0905360.

7.

Wang YF, Chang CJ, Lin CP, Chang SY, Chu PY, Tai SK, et al. Expression of hedgehog signaling molecules as a prognostic indicator of oral squamous cell carcinoma. Head Neck. 2012;34(11):1556–61. doi:10.1002/hed.21958.

8.

Bailey JM, Mohr AM, Hollingsworth MA. Sonic hedgehog paracrine signaling regulates metastasis and lymphangiogenesis in pancreatic cancer. Oncogene. 2009;28(40):3513–25. doi:10.1038/onc.2009.220.

9.

Ruiz i Altaba A, Sanchez P, Dahmane N. Gli and hedgehog in cancer: tumours, embryos and stem cells. Nat Rev Cancer. 2002;2(5):361–72. doi:10.1038/nrc796.

10.

Ingham PW, McMahon AP. Hedgehog signaling in animal development: paradigms and principles. Genes Dev. 2001;15(23):3059–87. doi:10.1101/gad.938601.

11.

Feldmann G, Dhara S, Fendrich V, Bedja D, Beaty R, Mullendore M, et al. Blockade of hedgehog signaling inhibits pancreatic cancer invasion and metastases: a new paradigm for combination therapy in solid cancers. Cancer Res. 2007;67(5):2187–96. doi:10.1158/0008-5472.CAN-06-3281.

12.

Tian T, Nan KJ, Guo H, Wang WJ, Ruan ZP, Wang SH, et al. PTEN inhibits the migration and invasion of HepG2 cells by coordinately decreasing MMP expression via the PI3K/Akt pathway. Oncol Rep. 2010;23(6):1593–600.

13.

Chen JS, Wang Q, Fu XH, Huang XH, Chen XL, Cao LQ, et al. Involvement of PI3K/PTEN/AKT/mTOR pathway in invasion and metastasis in hepatocellular carcinoma: association with MMP-9. Hepatol Res. 2009;39(2):177–86. doi:10.1111/j.1872-034X.2008.00449.x.

14.

Elia D, Madhala D, Ardon E, Reshef R, Halevy O. Sonic hedgehog promotes proliferation and differentiation of adult muscle cells: involvement of MAPK/ERK and PI3K/Akt pathways. Biochim Biophys Acta. 2007;1773(9):1438–46. doi:10.1016/j.bbamcr.2007.06.006.

15.

Riobo NA, Lu K, Ai X, Haines GM, Emerson CP Jr. Phosphoinositide 3-kinase and Akt are essential for Sonic Hedgehog signaling. Proc Natl Acad Sci USA. 2006;103(12):4505–10. doi:10.1073/pnas.0504337103.

16.

Fan HX, Li HX, Chen D, Gao ZX, Zheng JH. Changes in the expression of MMP2, MMP9, and ColIV in stromal cells in oral squamous tongue cell carcinoma: relationships and prognostic implications. J Exp Clin Cancer Res. 2012;31:90. doi:10.1186/1756-9966-31-90.

17.

Katoh Y, Katoh M. Hedgehog signaling, epithelial-to-mesenchymal transition and miRNA (review). Int J Mol Med. 2008;22(3):271–5.

18.

Zhang Z, Pan J, Li L, Wang Z, Xiao W, Li N. Survey of risk factors contributed to lymphatic metastasis in patients with oral tongue cancer by immunohistochemistry. J Oral Pathol Med. 2011;40(2):127–34. doi:10.1111/j.1600-0714.2010.00953.x.

19.

Sobin LH, Fleming ID. TNM classification of malignant tumors, fifth edition (1997). Union Internationale Contre le Cancer and the American Joint Committee on Cancer. Cancer. 1997;80(9):1803–4. doi:10.1002/(SICI)1097-0142(19971101)80:9<1803:AID-CNCR16>3.0.CO;2-9.

20.

Akdeniz O, Akduman D, Haksever M, Ozkarakas H, Muezzinoglu B. Relationships between clinical behavior of laryngeal squamous cell carcinomas and expression of VEGF, mmp-9 and e-cadherin. Asian Pac J Cancer Prev. 2013;14(9):5301–10.

21.

Vilen ST, Salo T, Sorsa T, Nyberg P. Fluctuating roles of matrix metalloproteinase-9 in oral squamous cell carcinoma. TheScientificWorldJournal. 2013;2013:920595. doi:10.1155/2013/920595.

22.

Huang X, Ketova T, Fleming JT, Wang H, Dey SK, Litingtung Y, et al. Sonic hedgehog signaling regulates a novel epithelial progenitor domain of the hindbrain choroid plexus. Development. 2009;136(15):2535–43. doi:10.1242/dev.033795.

23.

Leovic D, Sabol M, Ozretic P, Musani V, Car D, Marjanovic K, et al. Hh-Gli signaling pathway activity in oral and oropharyngeal squamous cell carcinoma. Head Neck. 2012;34(1):104–12. doi:10.1002/hed.21696.

24.

Yan M, Wang L, Zuo H, Zhang Z, Chen W, Mao L, et al. HH/GLI signalling as a new therapeutic target for patients with oral squamous cell carcinoma. Oral Oncol. 2011;47(6):504–9. doi:10.1016/j.oraloncology.2011.03.027.

25.

Lu JT, Zhao WD, He W, Wei W. Hedgehog signaling pathway mediates invasion and metastasis of hepatocellular carcinoma via ERK pathway. Acta Pharmacol Sin. 2012;33(5):691–700. doi:10.1038/aps.2012.24.

26.

Asai J, Takenaka H, Kusano KF, Ii M, Luedemann C, Curry C, et al. Topical sonic hedgehog gene therapy accelerates wound healing in diabetes by enhancing endothelial progenitor cell-mediated microvascular remodeling. Circulation. 2006;113(20):2413–24. doi:10.1161/CIRCULATIONAHA.105.603167.

27.

Chen JS, Huang XH, Wang Q, Chen XL, Fu XH, Tan HX, et al. FAK is involved in invasion and metastasis of hepatocellular carcinoma. Clin Exp Metastasis. 2010;27(2):71–82. doi:10.1007/s10585-010-9306-3.

28.

Huber MA, Kraut N, Beug H. Molecular requirements for epithelial–mesenchymal transition during tumor progression. Curr Opin Cell Biol. 2005;17(5):548–58. doi:10.1016/j.ceb.2005.08.001.

29.

Matsumura T, Makino R, Mitamura K. Frequent down-regulation of E-cadherin by genetic and epigenetic changes in the malignant progression of hepatocellular carcinomas. Clin Cancer Res. 2001;7(3):594–9.

30.

Choi Y, Lee HJ, Jang MH, Gwak JM, Lee KS, Kim EJ, et al. Epithelial–mesenchymal transition increases during the progression of in situ to invasive basal-like breast cancer. Hum Pathol. 2013;44(11):2581–9. doi:10.1016/j.humpath.2013.07.003.

31.

Reddy P, Liu L, Ren C, Lindgren P, Boman K, Shen Y, et al. Formation of E-cadherin-mediated cell–cell adhesion activates AKT and mitogen activated protein kinase via phosphatidylinositol 3 kinase and ligand-independent activation of epidermal growth factor receptor in ovarian cancer cells. Mol Endocrinol. 2005;19(10):2564–78. doi:10.1210/me.2004-0342.

32.

Bussink J, Kaanders JH, van der Kogel AJ. Microenvironmental transformations by VEGF- and EGF-receptor inhibition and potential implications for responsiveness to radiotherapy. Radiother Oncol. 2007;82(1):10–7. doi:10.1016/j.radonc.2006.10.022.

33.

Qian X, Karpova T, Sheppard AM, McNally J, Lowy DR. E-cadherin-mediated adhesion inhibits ligand-dependent activation of diverse receptor tyrosine kinases. EMBO J. 2004;23(8):1739–48. doi:10.1038/sj.emboj.7600136.

34.

Fan CC, Wang TY, Cheng YA, Jiang SS, Cheng CW, Lee AY, et al. Expression of E-cadherin, Twist, and p53 and their prognostic value in patients with oral squamous cell carcinoma. J Cancer Res Clin Oncol. 2013;139(10):1735–44. doi:10.1007/s00432-013-1499-9.

35.

Eriksen JG, Steiniche T, Sogaard H, Overgaard J. Expression of integrins and E-cadherin in squamous cell carcinomas of the head and neck. APMIS. 2004;112(9):560–8. doi:10.1111/j.1600-0463.2004.apm1120902.x.

36.

Wang ZS, Shen Y, Li X, Zhou CZ, Wen YG, Jin YB et al. Significance and prognostic value of Gli-1 and Snail/E-cadherin expression in progressive gastric cancer. Tumour Biol. 2013. doi:10.1007/s13277-013-1185-1.

37.

Ohta H, Aoyagi K, Fukaya M, Danjoh I, Ohta A, Isohata N, et al. Cross talk between hedgehog and epithelial–mesenchymal transition pathways in gastric pit cells and in diffuse-type gastric cancers. Br J Cancer. 2009;100(2):389–98. doi:10.1038/sj.bjc.6604846.

38.

Bai CB, Auerbach W, Lee JS, Stephen D, Joyner AL. Gli2, but not Gli1, is required for initial Shh signaling and ectopic activation of the Shh pathway. Development. 2002;129(20):4753–61.
Acknowledgments
This work was supported by grants from the National Natural Science Foundation of China (305400083).
Conflict of interest
The authors declare that they have no conflict of interest.
Electronic supplementary material
Below is the link to the electronic supplementary material.
About this article
Cite this article
Fan, HX., Wang, S., Zhao, H. et al. Sonic hedgehog signaling may promote invasion and metastasis of oral squamous cell carcinoma by activating MMP-9 and E-cadherin expression. Med Oncol 31, 41 (2014). https://doi.org/10.1007/s12032-014-0041-5
Received:

Accepted:

Published:
Keywords
Oral squamous cell carcinoma

Sonic hedgehog signaling

MMP-9

E-cadherin

Immunohistochemistry

Prognosis