Abstract
No study in China has focused on the relationships between germline and somatic hMLH1/hMSH2 gene mutations, hMLH1 promoter methylation, and the prognosis of colorectal cancer (CRC), especially in sporadic CRC. Therefore, we carried out this study with 433 primary sporadic CRC patients to investigate the associations between germline and somatic hMLH1/hMSH2 gene mutations, hMLH1 promoter methylation, and the overall survival (OS) of CRC; to evaluate the effect of interaction between gene mutation and methylation on the risk of CRC prognosis. As a result, the 3-, 5-, and 7-year survival of the sporadic CRC patients was 67, 57, and 50.0 %, respectively. There were no significant associations observed between germline and somatic hMLH1/hMSH2 gene mutations after adjusted (HR = 1.37, 95 % CI 0.70–2.67, p = 0.35; HR = 1.31, 95 % CI 0.69–2.47, p = 0.42, respectively). When the analyses were stratified based on tumor stage, tumor location, and chemotherapy, no significant survival advantage of hMLH1/hMSH2 gene mutation was illustrated. In addition, no significant association between germline and somatic hMLH1 promoter methylation and OS of CRC was observed (HR = 1.46, 95 % CI 0.57–3.74, p = 0.43; HR = 0.70, 95 % CI 0.32–1.53, p = 0.37, respectively). In conclusion, the research did not find the significant association between germline and somatic hMLH1/hMSH2 gene mutations, hMLH1 promoter methylation, and sporadic CRC prognosis.
Access options
Buy single article
Instant access to the full article PDF.
USD 39.95
Price excludes VAT (USA)
Tax calculation will be finalised during checkout.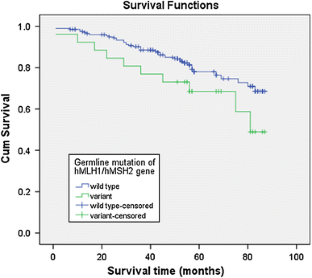 References
El-Serafi MM, Bahnassy AA, Ali NM, Eid SM, Kamel MM, Abdel-Hamid NA, et al. The prognostic value of c-Kit, K-ras codon 12, and p53 codon 72 mutations in Egyptian patients with stage II colorectal cancer. Cancer. 2010;116(21):4954–64. doi:10.1002/cncr.25417.

Coleman MP, Forman D, Bryant H, Butler J, Rachet B, Maringe C, et al. Cancer survival in Australia, Canada, Denmark, Norway, Sweden, and the UK, 1995–2007 (the International Cancer Benchmarking Partnership): an analysis of population-based cancer registry data. Lancet. 2011;377(9760):127–38. doi:10.1016/S0140-6736(10)62231-3.

Coleman MP, Quaresma M, Berrino F, Lutz JM, De Angelis R, Capocaccia R, et al. Cancer survival in five continents: a worldwide population-based study (CONCORD). Lancet Oncol. 2008;9(8):730–56. doi:10.1016/S1470-2045(08)70179-7.

Fearon ER, Vogelstein B. A genetic model for colorectal tumorigenesis. Cell. 1990;61(5):759–67.

Chung DC, Rustgi AK. The hereditary nonpolyposis colorectal cancer syndrome: genetics and clinical implications. Ann Intern Med. 2003;138(7):560–70.

Aaltonen LA, Peltomaki P. Genes involved in hereditary nonpolyposis colorectal carcinoma. Anticancer Res. 1994;14(4B):1657–60.

Fishel R, Lescoe MK, Rao MR, Copeland NG, Jenkins NA, Garber J, et al. The human mutator gene homolog MSH2 and its association with hereditary nonpolyposis colon cancer. Cell. 1993;75(5):1027–38.

Russo A, Sala P, Alberici P, Gazzoli I, Radice P, Montefusco C, et al. Prognostic relevance of MLH1 and MSH2 mutations in hereditary non-polyposis colorectal cancer patients. Tumori. 2009;95(6):731–8.

Elsakov P, Kurtinaitis J. Survival from colorectal carcinoma in HNPCC families as compared to the general population in Lithuania-initial results. Fam Cancer. 2006;5(4):369–71. doi:10.1007/s10689-006-0007-7.

Barnetson RA, Tenesa A, Farrington SM, Nicholl ID, Cetnarskyj R, Porteous ME, et al. Identification and survival of carriers of mutations in DNA mismatch-repair genes in colon cancer. N Engl J Med. 2006;354(26):2751–63.

Toyota M, Ahuja N, Ohe-Toyota M, Herman JG, Baylin SB, Issa JP. CpG island methylator phenotype in colorectal cancer. Proc Natl Acad Sci USA. 1999;96(15):8681–6.

Maier S, Dahlstroem C, Haefliger C, Plum A, Piepenbrock C. Identifying DNA methylation biomarkers of cancer drug response. Am J Pharmacogenomics. 2005;5(4):223–32.

Cunningham JM, Kim CY, Christensen ER, Tester DJ, Parc Y, Burgart LJ, et al. The frequency of hereditary defective mismatch repair in a prospective series of unselected colorectal carcinomas. Am J Hum Genet. 2001;69(4):780–90. doi:10.1086/323658.

Guastadisegni C, Colafranceschi M, Ottini L, Dogliotti E. Microsatellite instability as a marker of prognosis and response to therapy: a meta-analysis of colorectal cancer survival data. Eur J Cancer. 2010;46(15):2788–98. doi:10.1016/j.ejca.2010.05.009.

Kane MF, Loda M, Gaida GM, Lipman J, Mishra R, Goldman H, et al. Methylation of the hMLH1 promoter correlates with lack of expression of hMLH1 in sporadic colon tumors and mismatch repair-defective human tumor cell lines. Cancer Res. 1997;57(5):808–11.

McClellan J, King MC. Genetic heterogeneity in human disease. Cell. 2010;141(2):210–7. doi:10.1016/j.cell.2010.03.032.

Hu F, Li D, Wang Y, Yao X, Zhang W, Liang J, et al. Novel DNA variants and mutation frequencies of hMLH1 and hMSH2 genes in colorectal cancer in the Northeast China population. PLoS ONE. 2013;8(4):e60233. doi:10.1371/journal.pone.0060233.

Boland CR, Thibodeau SN, Hamilton SR, Sidransky D, Eshleman JR, Burt RW, et al. A National Cancer Institute Workshop on Microsatellite Instability for cancer detection and familial predisposition: development of international criteria for the determination of microsatellite instability in colorectal cancer. Cancer Res. 1998;58(22):5248–57.

Gausachs M, Mur P, Corral J, Pineda M, Gonzalez S, Benito L, et al. MLH1 promoter hypermethylation in the analytical algorithm of Lynch syndrome: a cost-effectiveness study. Eur J Hum Genet EJHG. 2012;20(7):762–8. doi:10.1038/ejhg.2011.277.

Tomlinson IP, Beck NE, Homfray T, Harocopos CJ, Bodmer WF. Germline HNPCC gene variants have little influence on the risk for sporadic colorectal cancer. J Med Genet. 1997;34(1):39–42.

Aarnio M, Mecklin JP, Aaltonen LA, Nystrom-Lahti M, Jarvinen HJ. Life-time risk of different cancers in hereditary non-polyposis colorectal cancer (HNPCC) syndrome. Int J Cancer. 1995;64(6):430–3.

Aarnio M, Sankila R, Pukkala E, Salovaara R, Aaltonen LA, de la Chapelle A, et al. Cancer risk in mutation carriers of DNA-mismatch-repair genes. Int J Cancer. 1999;81(2):214–8.

Raedle J, Trojan J, Brieger A, Weber N, Schafer D, Plotz G, et al. Bethesda guidelines: relation to microsatellite instability and MLH1 promoter methylation in patients with colorectal cancer. Ann Intern Med. 2001;135(8 Pt 1):566–76.

Cunningham JM, Christensen ER, Tester DJ, Kim CY, Roche PC, Burgart LJ, et al. Hypermethylation of the hMLH1 promoter in colon cancer with microsatellite instability. Cancer Res. 1998;58(15):3455–60.

Peltomaki P, Vasen HF. Mutations predisposing to hereditary nonpolyposis colorectal cancer: database and results of a collaborative study. The International Collaborative Group on Hereditary Nonpolyposis Colorectal Cancer. Gastroenterology. 1997;113(4):1146–58.

Maestro ML, Vidaurreta M, Sanz-Casla MT, Rafael S, Veganzones S, Martinez A, et al. Role of the BRAF mutations in the microsatellite instability genetic pathway in sporadic colorectal cancer. Ann Surg Oncol. 2007;14(3):1229–36. doi:10.1245/s10434-006-9111-z.

Ide T, Kitajima Y, Ohtaka K, Mitsuno M, Nakafusa Y, Miyazaki K. Expression of the hMLH1 gene is a possible predictor for the clinical response to 5-fluorouracil after a surgical resection in colorectal cancer. Oncol Rep. 2008;19(6):1571–6.

Miladi-Abdennadher I, Abdelmaksoud-Damak R, Ayadi L, Khabir A, Frikha F, Kallel L, et al. Aberrant methylation of hMLH1 and p16INK4a in Tunisian patients with sporadic colorectal adenocarcinoma. Biosci Rep. 2011;31(4):257–64. doi:10.1042/BSR20100023.

Ward RL, Cheong K, Ku SL, Meagher A, O'Connor T, Hawkins NJ. Adverse prognostic effect of methylation in colorectal cancer is reversed by microsatellite instability. J Clin Oncol. 2003;21(20):3729–36. doi:10.1200/JCO.2003.03.123.

Shen L, Catalano PJ, Benson AB III, O'Dwyer P, Hamilton SR, Issa JP. Association between DNA methylation and shortened survival in patients with advanced colorectal cancer treated with 5-fluorouracil based chemotherapy. Clin Cancer Res. 2007;13(20):6093–8. doi:10.1158/1078-0432.CCR-07-1011.

Lee S, Cho NY, Yoo EJ, Kim JH, Kang GH. CpG island methylator phenotype in colorectal cancers: comparison of the new and classic CpG island methylator phenotype marker panels. Arch Pathol Lab Med. 2008;132(10):1657–65. doi:10.1043/1543-2165(2008)132[1657:CIMPIC]2.0.CO;2.

Ogino S, Meyerhardt JA, Kawasaki T, Clark JW, Ryan DP, Kulke MH, et al. CpG island methylation, response to combination chemotherapy, and patient survival in advanced microsatellite stable colorectal carcinoma. Virchows Arch. 2007;450(5):529–37. doi:10.1007/s00428-007-0398-3.

Popat S, Hubner R, Houlston RS. Systematic review of microsatellite instability and colorectal cancer prognosis. J Clin Oncol. 2005;23(3):609–18.
Acknowledgments
Thanks for the Grants from the National Natural Science Foundation of China (Nos. 30671801, 30371243, and 30972538), Harbin Technological Innovation Talent Research Special Foundation (2011RFXXS045), and the Foundation for the Returned Scholars of Harbin (No. 2005AFLXJ017).
Conflict of interest
The authors declare that they have no conflict of interest.
Ethical standard
All the subjects included in the study have been approved by the Ethics Committee of Harbin Medical University.
About this article
Cite this article
Wang, Y., Li, D., Li, X. et al. Prognostic significance of hMLH1/hMSH2 gene mutations and hMLH1 promoter methylation in sporadic colorectal cancer. Med Oncol 31, 39 (2014). https://doi.org/10.1007/s12032-014-0039-z
Received:

Accepted:

Published:

DOI: https://doi.org/10.1007/s12032-014-0039-z
Keywords