Abstract
We report the case of a 44-year-old woman with breast cancer who experienced visual loss and altered color vision after two cycles of chemotherapy with 5 fluorouracil, epirubicin, and cyclophosphamide. She was referred to our Ophthalmology department with suspicion of toxic optic neuropathy. Clinical examination revealed altered color perception in the right side along with a central scotoma on visual field testing. Electrophysiological tests including visual evoked potentials were normal. Funduscopic examination was compatible with bilateral serous retinal detachment. Optical coherence tomography (OCT) demonstrated serous detachment of the retina bilaterally associated with small detachments of the pigment epithelium. Additionally, fluorescein angiography (FA) revealed multiple sites of fluorescein leakage. After 2 months, the clinical findings remained unchanged. An oncological consultation revealed that the patient had received two cycles of intravenous dexamethasone (4 mg) for 3 days in order to treat chemotherapy-induced nausea and vomiting. A diagnosis of steroid-induced central serous chorioretinopathy was then made. At the last follow-up visit, the patient's visual acuity, color vision, OCT, and FA were back to normal. To our knowledge, this is the first reported case of bilateral severe visual loss secondary to corticosteroid-induced central serous chorioretinopathy in a patient on breast cancer therapy. With the increase use of anti-emetic drugs in cancer chemotherapy, we have to be aware of this possible visual complication.
This is a preview of subscription content, log in to check access.
Access options
Buy single article
Instant access to the full article PDF.
US$ 39.95
Price includes VAT for USA
Subscribe to journal
Immediate online access to all issues from 2019. Subscription will auto renew annually.
US$ 199
This is the net price. Taxes to be calculated in checkout.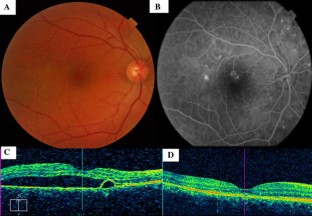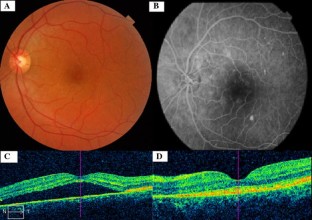 References
1.

Wang M, Munch IC, Hasler PW, et al. Central serous chorioretinopathy. Acta Ophthalmol. 2008;86:126–45.

2.

Bouzas EA, Karadimas P, Pournaras CJ. Central serous chorioretinopathy and glucocorticoids. Surv Ophthalmol. 2002;47:431–48.

3.

Levy J, Marcus M, Belfair N, et al. Central serous chorioretinopathy in patients receiving systemic corticosteroid therapy. Can J Ophthalmol. 2005;40:217–21.

4.

Wakakura M, Song E, Ishikawa S. Corticosteroid-induced central serous chorioretinopathy. Jpn J Ophthalmol. 1997;41:180–5.

5.

Joo JL, Lee SY, Ang CL. Can long-term corticosteroids lead to blindness? A case series of central serous chorioretinopathy induced by corticosteroids. Ann Acad Med Singap. 2006;35:496–9.

6.

Oliaei F, Rasoulinejad SB. An ophthalmological complication: central serous chorioretinopathy in a renal transplant recipient. Transplant Proc. 2007;39:1134–5.

7.

Chan WM, Lam DSC, Lai TY, et al. Choroidal vascular remodelling in central serous chorioretinopathy after indocyanine green guided photodynamic therapy with verteporfin: a novel treatment at the primary disease level. Br J Ophthalmol. 2003;87:1453–8.

8.

Lanzetta P, Furlan F, Morgante L, et al. Nonvisible subthreshold micropulse diode laser (810 nm) treatment of central serous chorioretinopathy. A pilot study. Eur J Ophthalmol. 2008;18:934–40.

9.

Herrstedt J, Dombemowsky P. Anti-emetic therapy in cancer chemotherapy: current status. Basic Clin Pharmacol Toxicol. 2007;101:143–50.

10.

Herrstedt J. Risk-benefit of antiemetics in prevention and treatment of chemotherapy-induced nausea and vomiting. Expert Opin Drug Saf. 2004;3:231–48.
Conflict of interest
The authors report no conflicts of interest.
About this article
Cite this article
Giralt, J., Rey, A., Villanueva, R. et al. Severe visual loss in a breast cancer patient on chemotherapy. Med Oncol 29, 2567–2569 (2012). https://doi.org/10.1007/s12032-012-0191-2
Received:

Accepted:

Published:

Issue Date:
Keywords
Central serous chorioretinopathy

Retinal detachment

Retina

Chemotherapeutic drugs

Retinopathy

Retinal pigment epithelium detachment