Abstract
A platinum-based two-drug regimen is currently the standard of care for patients with advanced non-small-cell lung cancer (NSCLC). However, chemotherapy-induced side effects still remain a significant clinical problem. Astragalus polysaccharide (APS) is a polysaccharide isolated from the radix of astragalus membranaceus, a commonly used herbal compound in traditional Chinese medicine. APS was reported to increase tumor response, stabilize and improve performance status, and reduce chemotherapy toxicity. We designed this trial to determine whether APS injection integrated with vinorelbine and cisplatin (VC) offered an improved QOL over VC for patients with advanced NSCLC. Secondary objectives were tumor response, toxicity, and survival results. One hundred thirty-six patients with histologically or cytologically confirmed NSCLC were enrolled in this study from May 2008 to March 2010. Patients were randomized to receive either VC (VC arm) or VC combined with APS (VC-APS arm). The objective response rate of was 42.64% in the VC-APS arm and 36.76% in the VC arm. The difference was not statistically significant (P = 0.483). Median survival time was 10.7 and 10.2 months (P = 0.76) in VC-APS arm and VC arm, with 1-year survival rates of 35.3 and 32.4% (P = 0.717), respectively. After 3 cycles of treatment, there were significant differences in the overall patient QOL (P = 0.003), physical function (P = 0.01), fatigue (P < 0.001), nausea and vomiting (P < 0.001), pain (P = 0.007), and loss of appetite (P = 0.023) between the two study groups. In summary, we have proved that the treatment of APS integrated with VC had significantly improved QOL in patients with advanced NSCLC compared with VC alone.
Access options
Buy single article
Instant access to the full article PDF.
US$ 39.95
Tax calculation will be finalised during checkout.
Subscribe to journal
Immediate online access to all issues from 2019. Subscription will auto renew annually.
US$ 119
Tax calculation will be finalised during checkout.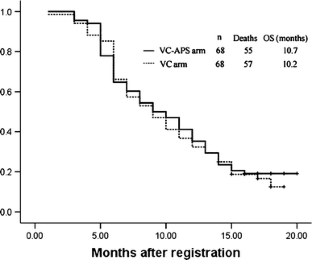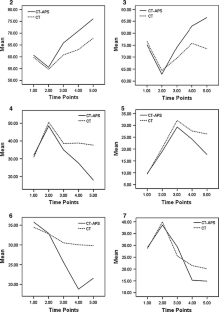 References
1.

Chen W, Zhang S, Zou X. Estimation and projection of lung cancer incidence and mortality in China. Zhongguo Fei Ai Za Zhi. 2010;13(5):488–93.

2.

Rajeswaran A, Trojan A, Burnand B, et al. Efficacy and side effects of cisplatin- and carboplatin-based doublet chemotherapeutic regimens versus non-platinum-based doublet chemotherapeutic regimens as first line treatment of metastatic non-small cell lung carcinoma: a systematic review of randomized controlled trials. Lung Cancer. 2008;59(1):1–11.

3.

Vilmar A, Santoni-Rugiu E, Sørensen JB. ERCC1, toxicity and quality of life in advanced NSCLC patients randomized in a large multicentre phase III trial. Eur J Cancer. 2010;46(9):1554–62.

4.

Adamsen L, Quist M, Midtgaard J, et al. The effect of a multidimensional exercise intervention on physical capacity, well-being and quality of life in cancer patients undergoing chemotherapy. Support Care Cancer. 2006;14(2):116–27.

5.

Molina JR, Yang P, Cassivi SD, et al. Non-small cell lung cancer: epidemiology, risk factors, treatment, and survivorship. Mayo Clin Proc. 2008;83(5):584–94.

6.

Wu P, Dugoua JJ, Eyawo O, et al. Traditional Chinese medicines in the treatment of hepatocellular cancers: a systematic review and meta-analysis. J Exp Clin Cancer Res. 2009;28:112.

7.

Liu QY, Yao YM, Yu Y, et al. Astragalus polysaccharides attenuate postburn sepsis via inhibiting negative immunoregulation of CD4+ CD25(high) T cells. PLoS One. 2011;6(6):e19811.

8.

Chen W, Li YM, Yu MH. Astragalus polysaccharides inhibited diabetic cardiomyopathy in hamsters depending on suppression of heart chymase activation. J Diabetes Complicat. 2010;24(3):199–208.

9.

Ben-Arye E, Attias S, Tadmor T, et al. Herbs in hemato-oncological care: an evidence-based review of data on efficacy, safety, and drug interactions. Leuk Lymphoma. 2010;51(8):1414–23.

10.

Tin MM, Cho CH, Chan K, et al. Astragalus saponins induce growth inhibition and apoptosis in human colon cancer cells and tumor xenograft. Carcinogenesis. 2007;28(6):1347–55.

11.

Liu QY, Yao YM, Zhang SW, et al. Astragalus polysaccharides regulate T cell-mediated immunity via CD11c(high)CD45RB(low) DCs in vitro. J Ethnopharmacol. 2011;136(3):457–64.

12.

Clement-Kruzel S, Hwang SA, Kruzel MC, et al. Immune modulation of macrophage pro-inflammatory response by goldenseal and Astragalus extracts. J Med Food. 2008;11(3):493–8.

13.

Cui R, He J, Wang B, et al. Suppressive effect of Astragalus membranaceus Bunge on chemical hepatocarcinogenesis in rats. Cancer Chemother Pharmacol. 2003;51(1):75–80.

14.

McCulloch M, See C, Shu XJ, et al. Astragalus-based Chinese herbs and platinum-based chemotherapy for advanced non-small-cell lung cancer: meta-analysis of randomized trials. J Clin Oncol. 2006;24(3):419–30.

15.

Cassileth BR, Rizvi N, Deng G, et al. Safety and pharmacokinetic trial of docetaxel plus an Astragalus-based herbal formula for non-small cell lung cancer patients. Cancer Chemother Pharmacol. 2009;65(1):67–71.

16.

Yang AK, He SM, Liu L, et al. Herbal interactions with anticancer drugs: mechanistic and clinical considerations. Curr Med Chem. 2010;17(16):1635–78.

17.

Zou YH, Liu XM. Effect of astragalus injection combined with chemotherapy on quality of life in patients with advanced non-small cell lung cancer. Zhongguo Zhong Xi Yi Jie He Za Zhi. 2003;23(10):733–5.

18.

Duan P, Wang ZM. Clinical study on effect of Astragalus in efficacy enhancing and toxicity reducing of chemotherapy in patients of malignant tumor. Zhongguo Zhong Xi Yi Jie He Za Zhi. 2002;22(7):515–7.

19.

Hesketh PJ. Comparative review of 5-HT3 receptor antagonists in the treatment of acute chemotherapy-induced nausea and vomiting. Cancer Invest. 2000;18(2):163–73.

20.

Schiller JH, Harrington D, Belani CP, Eastern Cooperative Oncology Group, et al. Comparison of four chemotherapy regimens for advanced non-small-cell lung cancer. N Engl J Med. 2002;346(2):92–8.

21.

Mok TS, Wu YL, Thongprasert S, et al. Gefitinib or carboplatin-paclitaxel in pulmonary adenocarcinoma. N Engl J Med. 2009;361(10):947–57.

22.

Nobili S, Lippi D, Witort E, Capaccioli S, et al. Natural compounds for cancer treatment and prevention. Pharmacol Res. 2009;59(6):365–78.

23.

Ma XQ, Shi Q, Duan JA, et al. Chemical analysis of Radix Astragali (Huangqi) in China: a comparison with its adulterants and seasonal variations. J Agric Food Chem. 2002;50(17):4861–6.
About this article
Cite this article
Guo, L., Bai, SP., Zhao, L. et al. Astragalus polysaccharide injection integrated with vinorelbine and cisplatin for patients with advanced non-small cell lung cancer: effects on quality of life and survival. Med Oncol 29, 1656–1662 (2012). https://doi.org/10.1007/s12032-011-0068-9
Received:

Accepted:

Published:

Issue Date:
Keywords
Non-small cell lung cancer

Quality of life

Chemotherapy

Side effects

Astragalus polysaccharide