Abstract
The proportion of people surviving pancreatic cancer is extremely low, with just 10% of patients diagnosed with any stage of the disease living beyond 1 year and a 5-year relative survival rate of <5%. The lack of effective therapy is one the main reason for such a bleak outlook. Herein, we report on a patient with pancreatic adenocarcinoma and metastatic disease treated with a combination regimen of gemcitabine and lenalidomide, without major complications. We also present in vitro data that highlight a hyper-additive effect of the two drugs when used in combination. To date, 33 months after diagnosis, the patient remains well and continues in full-time employment.
Access options
Buy single article
Instant access to the full article PDF.
US$ 39.95
Tax calculation will be finalised during checkout.
Subscribe to journal
Immediate online access to all issues from 2019. Subscription will auto renew annually.
US$ 119
Tax calculation will be finalised during checkout.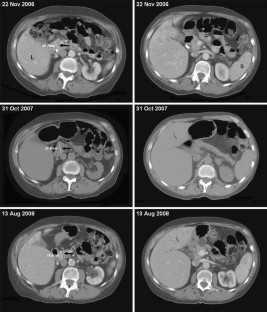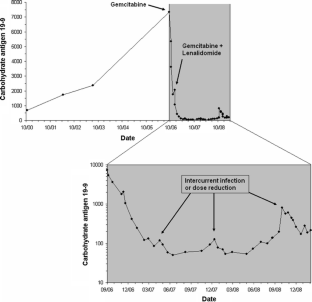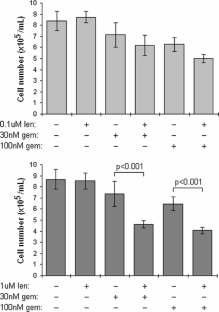 References
1.

Jemal A, Siegel R, Ward E, Hao Y, Xu J, Murray T, et al. Cancer statistics, 2008. CA Cancer J Clin. 2008;58:71–96. doi:10.3322/CA.2007.0010.

2.

Hariharan D, Saied A, Kocher HM. Analysis of mortality rates for pancreatic cancer across the world. HPB (Oxford). 2008;10:58–62.

3.

Office National Statistics: http://www.statistics.gov.uk/StatBase/xsdataset.asp?vlnk=982&Pos=&ColRank=1&Rank=544. Accessed 23 Oct 2008.

4.

Fryer RA, Galustian C, Dalgleish AG. Recent advances and developments in treatment strategies against pancreatic cancer. Curr Clin Pharmacol. 2009;4:102–12.

5.

Burris HA 3rd, Moore MJ, Andersen J, Green MR, Rothenberg ML, Modiano MR, et al. Improvements in survival and clinical benefit with gemcitabine as first-line therapy for patients with advanced pancreas cancer: a randomized trial. J Clin Oncol. 1997;15:2403–13.

6.

Li D, Xie K, Wolff R, Abbruzzese JL. Pancreatic cancer. Lancet. 2004;363:1049–57. doi:10.1016/S0140-6736(04)15841-8.

7.

Bartlett JB, Michael A, Clarke IA, Dredge K, Nicholson S, Kristeleit H, et al. Phase I study to determine the safety, tolerability and immunostimulatory activity of thalidomide analogue CC-5013 in patients with metastatic malignant melanoma and other advanced cancers. Br J Cancer. 2004;90:955–61. doi:10.1038/sj.bjc.6601579.

8.

Liu WM. Enhancing the cytotoxic activity of novel targeted therapies—is there a role for a combinatorial approach? Curr Clin Pharmacol. 2008;3:108–17. doi:10.2174/157488408784293714.

9.

Bronte V, Apolloni E, Cabrelle A, Ronca R, Serafini P, Zamboni P, et al. Identification of a CD11b(+)/Gr-1(+)/CD31(+) myeloid progenitor capable of activating or suppressing CD8(+) T cells. Blood. 2000;96:3838–46.

10.

Serafini P, De Santo C, Marigo I, Cingarlini S, Dolcetti L, Gallina G, et al. Derangement of immune responses by myeloid suppressor cells. Cancer Immunol Immunother. 2004;53:64–72. doi:10.1007/s00262-003-0443-2.

11.

Suzuki E, Kapoor V, Jassar AS, Kaiser LR, Albelda SM. Gemcitabine selectively eliminates splenic Gr-1+/CD11b+ myeloid suppressor cells in tumor-bearing animals and enhances antitumor immune activity. Clin Cancer Res. 2005;11:6713–21. doi:10.1158/1078-0432.CCR-05-0883.

12.

Bartlett JB, Dredge K, Dalgleish AG. The evolution of thalidomide and its IMiD derivatives as anticancer agents. Nat Rev Cancer. 2004;4:314–22. doi:10.1038/nrc1323.
About this article
Cite this article
Liu, W.M., Nizar, S. & Dalgleish, A.G. Gemcitabine and lenalidomide combination in a patient with metastatic pancreatic cancer: a case study. Med Oncol 27, 430–433 (2010). https://doi.org/10.1007/s12032-009-9228-6
Received:

Accepted:

Published:

Issue Date:
Keywords
Pancreatic cancer

Drug combination therapy

Gemcitabine

Lenalidomide