Abstract
Dietary zinc deficiency may lead to olfactory deficits, whose mechanism remains largely elusive. Olfactory ensheathing cells (OECs), a type of glial cells that support the function and neurogenesis in the olfactory bulb (OB), may play a pivotal role in the maintenance of the olfactory system. In the present study, we established a rat model of dietary zinc deficiency and found that severe zinc deficiency, but not marginal zinc deficiency, caused significantly reduced food intake, growth retardation, and apparent olfactory deficit in growing rats. We showed that severe zinc deficiency resulted in the loss of OECs in the olfactory nerve layer (ONL) of the olfactory bulb. In addition, we revealed that the number of TUNEL-positive cells increased markedly in the region, suggesting an involvement of apoptotic cell death in zinc deficiency-induced loss of OECs. Moreover, we found that treatment with zinc chelator N,N,N′N′,-tetrakis (2-pyridylmethyl)ethylenediamine (TPEN) triggered the apoptosis of in vitro-cultured primary OECs. The apoptosis of OECs was correlated with significantly elevated expression of p53. Importantly, TUNEL and CCK-8 assays both demonstrated that treatment with p53 antagonist pifithrin-α (PFT-α) markedly attenuated TPEN-induced OEC apoptosis. These findings implicated that p53-triggered apoptosis of OECs might play an integral role in zinc deficiency-induced olfactory malfunction.
This is a preview of subscription content, log in to check access.
Access options
Buy single article
Instant access to the full article PDF.
US$ 39.95
Price includes VAT for USA
Subscribe to journal
Immediate online access to all issues from 2019. Subscription will auto renew annually.
US$ 199
This is the net price. Taxes to be calculated in checkout.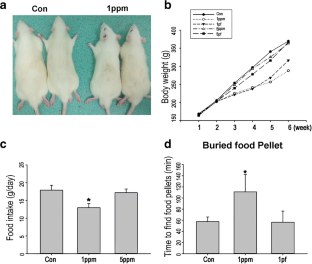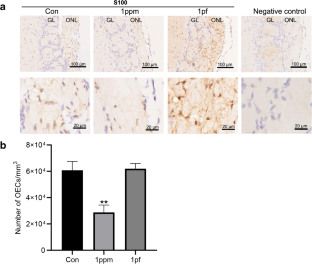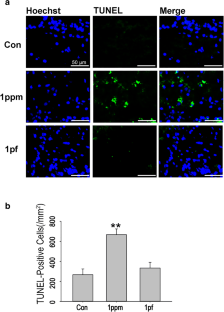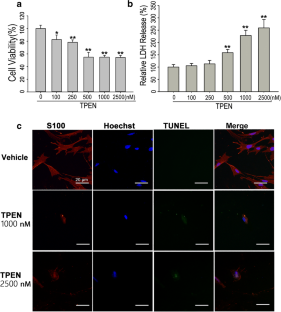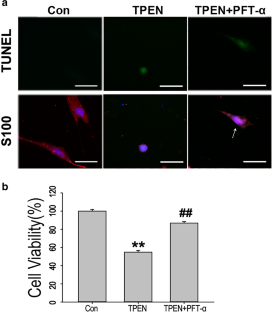 Abbreviations
OECs:

Olfactory ensheathing cells

OB:

Olfactory bulb

ppm:

Parts per million

TPEN:

N,N,N′N′,-tetrakis (2-pyridylmethyl)ethylenediamine

PFT-α:

Pifithrin-α

NPCs:

Neural precursor cells

SVZ:

Subventricular zone

ROS:

Reactive oxidative species
References
Alpers DH (1994) Zinc and deficiencies of taste and smell. JAMA 272:1233–1234

Ayton S, Lei P, Appukuttan AT, Renoir T, Foliaki S, Chen F, Adlard PA, Hannan AJ, Bush AI (2020) Brain zinc deficiency exacerbates cognitive decline in the R6/1 model of Huntington's disease. Neurotherapeutics 17:243–251

Barnett SC, Roskams AJ (2008) Olfactory ensheathing cells: isolation and culture from the neonatal olfactory bulb. Methods Mol Biol 438:85–94

Baron-Van Evercooren A, Avellana-Adalid V, Lachapelle F, Liblau R (1997) Schwann cell transplantation and myelin repair of the CNS. Mult Scler 3:157–161

Beites CL, Kawauchi S, Crocker CE, Calof AL (2005) Identification and molecular regulation of neural stem cells in the olfactory epithelium. Exp Cell Res 306:309–316

Bianco JI, Perry C, Harkin DG, Mackay-Sim A, Feron F (2004) Neurotrophin 3 promotes purification and proliferation of olfactory ensheathing cells from human nose. Glia 45:111–123

Black MM (2003) The evidence linking zinc deficiency with children's cognitive and motor functioning. J Nutr 133:1473S–1476S

Chowanadisai W, Kelleher SL, Lonnerdal B (2005) Maternal zinc deficiency reduces NMDA receptor expression in neonatal rat brain, which persists into early adulthood. J Neurochem 94:510–519

Cope EC, Levenson CW (2010) Role of zinc in the development and treatment of mood disorders. Curr Opin Clin Nutr Metab Care 13:685–689

Corniola RS, Tassabehji NM, Hare J, Sharma G, Levenson CW (2008) Zinc deficiency impairs neuronal precursor cell proliferation and induces apoptosis via p53-mediated mechanisms. Brain Res 1237:52–61

Doboszewska U, Sowa-Kućma M, Młyniec K, Pochwat B, Hołuj M, Ostachowicz B, Pilc A, Nowak G, Szewczyk B (2015) Zinc deficiency in rats is associated with up-regulation of hippocampal NMDA receptor. Prog Neuro-Psychopharmacol Biol Psychiatry 56:254–263

Frederickson CJ, Suh SW, Silva D, Frederickson CJ, Thompson RB (2000) Importance of zinc in the central nervous system: the zinc-containing neuron. J Nutr 130:1471S–1483S

Gao HL, Zheng W, Xin N, Chi ZH, Wang ZY, Chen J (2009) Zinc deficiency reduces neurogenesis accompanied by neuronal apoptosis through caspase-dependent and -independent signaling pathways. Neurotox Res 16:416–425

Gao HL, Xu H, Xin N, Zheng W, Chi ZH, Wang ZY (2011) Disruption of the CaMKII/CREB signaling is associated with zinc deficiency-induced learning and memory impairments. Neurotox Res 19:584–591

Halas ES, Eberhardt MJ, Diers MA, Sandstead HH (1983) Learning and memory impairment in adult rats due to severe zinc deficiency during lactation. Physiol Behav 30:371–381

Halas ES, Hunt CD, Eberhardt MJ (1986) Learning and memory disabilities in young adult rats from mildly zinc deficient dams. Physiol Behav 37:451–458

Han J, Zhao J, Jiang J, Ma X, Liu X, Wang C, Jiang S, Wan C (2015) Zinc deficiency impairs the renewal of hippocampal neural stem cells in adult rats: involvement of FoxO3a activation and downstream p27(kip1) expression. J Neurochem 134:879–891

Henkin RI, Patten BM, Re PK, Bronzert DA (1975) A syndrome of acute zinc loss. Cerebellar dysfunction, mental changes, anorexia, and taste and smell dysfunction. Arch Neurol 32:745–751

Hesse GW (1979) Chronic zinc deficiency alters neuronal function of hippocampal mossy fibers. Science 205:1005–1007

Ho E, Ames BN (2002) Low intracellular zinc induces oxidative DNA damage, disrupts p53, NFkappa B, and AP1 DNA binding, and affects DNA repair in a rat glioma cell line. Proc Natl Acad Sci U S A 99:16770–16775

Honore A et al (2012) Isolation, characterization, and genetic profiling of subpopulations of olfactory ensheathing cells from the olfactory bulb. Glia 60:404–413

Huisman E, Uylings HB, Hoogland PV (2004) A 100% increase of dopaminergic cells in the olfactory bulb may explain hyposmia in Parkinson's disease. Mov Disord 19:687–692

Ijaz S, Mohammed I, Gholaminejhad M, Mokhtari T, Akbari M, Hassanzadeh G (2020) Modulating pro-inflammatory cytokines, tissue damage magnitude, and motor deficit in spinal cord injury with subventricular zone-derived extracellular vesicles. J Mol Neurosci 70:458–466

Kaupp UB (2010) Olfactory signalling in vertebrates and insects: differences and commonalities. Nat Rev Neurosci 11:188–200

Kawaja MD, Boyd JG, Smithson LJ, Jahed A, Doucette R (2009) Technical strategies to isolate olfactory ensheathing cells for intraspinal implantation. J Neurotrauma 26:155–177

Kovacs T, Cairns NJ, Lantos PL (2001) Olfactory centres in Alzheimer's disease: olfactory bulb is involved in early Braak's stages. Neuroreport 12:285–288

Krebs NF, Miller LV, Hambidge KM (2014) Zinc deficiency in infants and children: a review of its complex and synergistic interactions. Paediatr Int Child Health 34:279–288

Lepousez G, Valley MT, Lledo PM (2013) The impact of adult neurogenesis on olfactory bulb circuits and computations. Annu Rev Physiol 75:339–363

Liu J, Chen M, Dong R, Sun C, Li S, Zhu S (2019) Ghrelin promotes cortical neurites growth in late stage after oxygen-glucose deprivation/reperfusion injury. J Mol Neurosci 68:29–37

Lu DC, Zhang H, Zador Z, Verkman AS (2008) Impaired olfaction in mice lacking aquaporin-4 water channels. FASEB J 22:3216–3223

Mackay-Sim A, Dreosti IE (1989) Olfactory function in zinc-deficient adult mice. Exp Brain Res 76:207–212

Mackenzie GG, Salvador GA, Romero C, Keen CL, Oteiza PI (2011) A deficit in zinc availability can cause alterations in tubulin thiol redox status in cultured neurons and in the developing fetal rat brain. Free Radic Biol Med 51:480–489

Millichap JG, Yee MM (2012) The diet factor in attention-deficit/hyperactivity disorder. Pediatrics 129:330–337

Ming GL, Song H (2005) Adult neurogenesis in the mammalian central nervous system. Annu Rev Neurosci 28:223–250

Mori K, Takahashi YK, Igarashi KM, Yamaguchi M (2006) Maps of odorant molecular features in the Mammalian olfactory bulb. Physiol Rev 86:409–433

Nakatani T, Tawaramoto M, Opare Kennedy D, Kojima A, Matsui-Yuasa I (2000) Apoptosis induced by chelation of intracellular zinc is associated with depletion of cellular reduced glutathione level in rat hepatocytes. Chem Biol Interact 125:151–163

Nash HH, Borke RC, Anders JJ (2001) New method of purification for establishing primary cultures of ensheathing cells from the adult olfactory bulb. Glia 34:81–87

Nazareth L, Lineburg KE, Chuah MI, Tello Velasquez J, Chehrehasa F, St John JA, Ekberg JA (2015) Olfactory ensheathing cells are the main phagocytic cells that remove axon debris during early development of the olfactory system. J Comp Neurol 523:479–494

Petreanu L, Alvarez-Buylla A (2002) Maturation and death of adult-born olfactory bulb granule neurons: role of olfaction. J Neurosci 22:6106–6113

Ramon-Cueto A, Avila J (1998) Olfactory ensheathing glia: properties and function. Brain Res Bull 46:175–187

Ruiz-Mendoza S, Macedo-Ramos H, Santos FA, Quadros-de-Souza LC, Paiva MM, Pinto TCA, Teixeira LM, Baetas-da-Cruz W (2016) Streptococcus pneumoniae infection regulates expression of neurotrophic factors in the olfactory bulb and cultured olfactory ensheathing cells. Neuroscience 317:149–161

Russell RM, Cox ME, Solomons N (1983) Zinc and the special senses. Ann Intern Med 99:227–239

Sandstead HH (2012) Zinc nutrition from discovery to global health impact. Adv Nutr 3:718–719

Smale KA, Doucette R, Kawaja MD (1996) Implantation of olfactory ensheathing cells in the adult rat brain following fimbria-fornix transection. Exp Neurol 137:225–233

Stoltenberg M, Bush AI, Bach G, Smidt K, Larsen A, Rungby J, Lund S, Doering P, Danscher G (2007) Amyloid plaques arise from zinc-enriched cortical layers in APP/PS1 transgenic mice and are paradoxically enlarged with dietary zinc deficiency. Neuroscience 150:357–369

Su Z, Chen J, Qiu Y, Yuan Y, Zhu F, Zhu Y, Liu X, Pu Y, He C (2013) Olfactory ensheathing cells: the primary innate immunocytes in the olfactory pathway to engulf apoptotic olfactory nerve debris. Glia 61:490–503

Takeda A, Tamano H, Tochigi M, Oku N (2005) Zinc homeostasis in the hippocampus of zinc-deficient young adult rats. Neurochem Int 46:221–225

Takeda A, Tamano H, Ogawa T, Takada S, Ando M, Oku N, Watanabe M (2012) Significance of serum glucocorticoid and chelatable zinc in depression and cognition in zinc deficiency. Behav Brain Res 226:259–264

Xu H, Gao HL, Zheng W, Xin N, Chi ZH, Bai SL, Wang ZY (2011) Lactational zinc deficiency-induced hippocampal neuronal apoptosis by a BDNF-independent TrkB signaling pathway. Hippocampus 21:495–501

Yang M, Crawley JN (2009) Simple behavioral assessment of mouse olfaction. Curr Protoc Neurosci Chapter 8:Unit 8 24

Zhao Y, Wang B, Gao Y, Zhao Y, Xiao Z, Zhao W, Chen B, Wang X, Dai J (2007) Olfactory ensheathing cell apoptosis induced by hypoxia and serum deprivation. Neurosci Lett 421:197–202

Zhu Y, Cao L, Su Z, Mu L, Yuan Y, Gao L, Qiu Y, He C (2010) Olfactory ensheathing cells: attractant of neural progenitor migration to olfactory bulb. Glia 58:716–729
Availability of Data and Materials
All data and materials are available upon request.
Funding
This study was supported by the National Natural Science Foundation of China (81300720) and the Natural Science Foundation of Nantong University (12ZY029).
Ethics declarations
Competing Interests
The authors declare that they have no competing interests.
Ethics Statement
This research was approved by the Animal Care and Use Committee of Nantong University.
Code Availability
Not applicable
Additional information
Publisher's Note
Springer Nature remains neutral with regard to jurisdictional claims in published maps and institutional affiliations.
About this article
Cite this article
Jiang, Y., Gu, L., Zhang, Z. et al. Severe Zinc Deficiency Causes the Loss and Apoptosis of Olfactory Ensheathing Cells (OECs) and Olfactory Deficit. J Mol Neurosci (2020). https://doi.org/10.1007/s12031-020-01709-2
Received:

Accepted:

Published:
Keywords
Zinc deficiency

Olfactory deficit

Olfactory ensheathing cells

Apoptosis