Abstract
The safety and efficacy of a novel combination treatment of AChE inhibitors and choline supplement was initiated and evaluated in children and adolescents with autism spectrum disorder (ASD). Safety and efficacy were evaluated on 60 children and adolescents with ASD during a 9-month randomized, double-blind, placebo-controlled trial comprising 12 weeks of treatment preceded by baseline evaluation, and followed by 6 months of washout, with subsequent follow-up evaluations. The primary exploratory measure was language, and secondary measures included core autism symptoms, sleep and behavior. Significant improvement was found in receptive language skills 6 months after the end of treatment as compared to placebo. The percentage of gastrointestinal disturbance reported as a side effect during treatment was higher in the treatment group as compared to placebo. The treatment effect was enhanced in the younger subgroup (younger than 10 years), occurred already at the end of the treatment phase, and was sustained at 6 months post treatment. No significant side effects were found in the younger subgroup. In the adolescent subgroup, no significant improvement was found, and irritability was reported statistically more often in the adolescent subgroup as compared to placebo. Combined treatment of donepezil hydrochloride with choline supplement demonstrates a sustainable effect on receptive language skills in children with ASD for 6 months after treatment, with a more significant effect in those under the age of 10 years.
Access options
Buy single article
Instant access to the full article PDF.
US$ 39.95
Tax calculation will be finalised during checkout.
Subscribe to journal
Immediate online access to all issues from 2019. Subscription will auto renew annually.
US$ 119
Tax calculation will be finalised during checkout.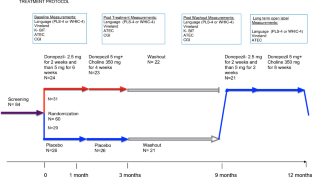 References
Blusztajn JK, Slack BE, Mellott TJ (2017) Neuroprotective actions of dietary choline. Nutrients 9

Buckley AW, Sassower K, Rodriguez AJ, Jennison K, Wingert K, Buckley J et al (2011) An open label trial of donepezil for enhancement of rapid eye movement sleep in young children with autism Spectrum disorders. J Child Adolesc Psychopharmacol 21(4):353–357

Busner J, Targum SD (2007) The clinical global impressions scale: applying a research tool in clinical practice. Psychiatry (Edgmont) 4(7):28–37

Chez MG, Buchanan TM, Becker M, Kessler J, Aimonovitch MC, Mrazek SR (2003) Donepezil hydrochloride: a double-blind study in autistic children. J Pediatr Neurol 1(2):83–88

Doyle RL, Frazier J, Spencer TJ, Geller D, Biederman J, Wilens T (2006) Donepezil in the treatment of ADHD-like symptoms in youths with pervasive developmental disorder: a case series. J Atten Disord 9(3):543–549

Eissa N, Al-Houqani M, Sadeq A, Ojha SK, Sasse A, Sadek B (2018) Current enlightenment about etiology and pharmacological treatment of autism spectrum disorder. Front Neurosci 12:304

Gabis L, Huang W, Azizian A, DeVincent C, Tudorica A, Kesner-Baruch Y et al (2008) 1H-magnetic resonance spectroscopy markers of cognitive and language ability in clinical subtypes of autism Spectrum disorders. J Child Neurol 23(7):766–774

Glenn MJ, Adams RS, McClurg L (2012) Supplemental dietary choline during development exerts antidepressant-like effects in adult female rats. Brain Res 1443:52–63

Hamlin JC, Pauly M, Melnyk S, Pavliv O, Starrett W, Crook TA et al (2013) Dietary intake and plasma levels of choline and betaine in children with autism spectrum disorders. Autism Res Treat 2013:1–7

Handen BL, Johnson CR, Lubetsky M (2000) Efficacy of methylphenidate among children with autism and symptoms of attention-deficit hyperactivity disorder. J Autism Dev Disord 30(3):245–255

Handen BL, Johnson CR, McAuliffe-Bellin S, Murray PJ, Hardan AY (2011) Safety and efficacy of donepezil in children and adolescents with autism: neuropsychological measures. J Child Adolesc Psychopharmacol 21(1):43–50

Hardan AY, Handen BL (2002) A retrospective open trial of adjunctive donepezil in children and adolescents with autistic disorder. J Child Adolesc Psychopharmacol 12(3):237–241

Hertzman M (2003) Galantamine in the treatment of adult autism: a report of three clinical cases. Int J Psychiatry Med 33(4):395–398

Karvat G, Kimchi T (2014) Acetylcholine elevation relieves cognitive rigidity and social deficiency in a mouse model of autism. Neuropsychopharmacology. 39(4):831–840

Kaufman AS, Kaufman NL (2014) Kaufman brief intelligence test, second edition. In: Encyclopedia of special education

Lee M, Martin-Ruiz C, Graham A, Court J, Jaros E, Perry R et al (2002) Nicotinic receptor abnormalities in the cerebellar cortex in autism. Brain. 125(Pt 7):1483–1495

Lord C, Risi S, Lambrecht L, Cook EH, Leventhal BL, DiLavore PC et al (2000) Autism diagnostic observation schedule (ADOS). J Autism Dev Disord 30:205–223

Lord C, Rutter M, Dilavore P, Risi S (2001) Autism diagnostic observation schedule, manual. Western psychological services, Los Angeles. 1–3 p

Nag N, Berger-Sweeney JE (2007) Postnatal dietary choline supplementation alters behavior in a mouse model of Rett syndrome. Neurobiol Dis 26(2):473–480

Nicolson R, Craven-Thuss B, Smith J (2006) A prospective, open-label trial of Galantamine in autistic disorder. J Child Adolesc Psychopharmacol 16(5):621–629

Niederhofer H (2002) Galantamine may be effective in treating autistic disorder. BMJ. 325(7377):1422

Owens JA, Spirito A, McGuinn M (2000) The Children's sleep habits questionnaire (CSHQ): psychometric properties of a survey instrument for school-aged children. Sleep. 23(8):1043–1051

Ray MA, Graham AJ, Lee M, Perry RH, Court JA, Perry EK (2005) Neuronal nicotinic acetylcholine receptor subunits in autism: an immunohistochemical investigation in the thalamus. Neurobiol Dis 19(3):366–377

Rimland B, Edelson SM Autism treatment evaluation checklist (ATEC) [internet]. 2018 [cited 2018 Feb 5]. Available from: https://www.autism.com/ind_atec

Sokol DK, Dunn DW, Edwards-Brown M, Feinberg J (2002) Hydrogen proton magnetic resonance spectroscopy in autism: preliminary evidence of elevated choline/Creatine ratio. J Child Neurol 17(4):245–249

Sparrow SS, Cicchetti DV, Balla DA (2005) Vineland adaptive behavior scale, second edition, survey forms manual. NCS Pearson, Inc, pp 1–78

Thomas JD, La Fiette MH, Quinn VR, Riley EP (2000) Neonatal choline supplementation ameliorates the effects of prenatal alcohol exposure on a discrimination learning task in rats. Neurotoxicol Teratol 22(5):703–711

Volden J, Smith IM, Szatmari P, Bryson S, Fombonne E, Mirenda P et al (2011) Using the preschool language scale, fourth edition to characterize language in preschoolers with autism spectrum disorders. Am J Speech-Language Pathol 20(3):200–208

Wechsler D (2004) The Wechsler intelligence scale for children—fourth edition. The Wechsler intelligence scale for children—fourth edition. 153–190 p

Zimmerman IL, Steiner VG, Pond RE (2002) Preschool language scale fourth edition; Examiner's manual, Harcourt assessment, pp 2–6
Acknowledgments
The authors acknowledge the following:
Solgar Inc. for donating choline supplement.
Unipharm for a discount on donepezil hydrochloride tablets.
Research assistants: Maayan Farkash and Idan Sarig.
Leora Allen for English editing.
All the families who participated in this trial.
Funding
The study was funded by local associations—the Israeli Society of Clinical Pediatrics (HIPAK) and MATERNA.
Ethics declarations
Financial Disclosure
The authors have no financial relationships relevant to this article to disclose.
Conflict of Interest
The authors declare that they have no conflict of interest.
Additional information
Publisher's Note
Springer Nature remains neutral with regard to jurisdictional claims in published maps and institutional affiliations.
Appendix 1: Authors
Appendix 1: Authors
| | | | |
| --- | --- | --- | --- |
| Name | Location | Role | Contribution |
| Lidia V. Gabis MD | Weinberg Child Development Center at Safra Children's Hospital, Sheba Tel Hashomer and Sackler School of Medicine at Tel Aviv University | Author | Initiated and designed the study, examined the patients and drafted the manuscript |
| Rotem Ben-Hur PhD | Weinberg Child Development Center at Safra Children's Hospital, Sheba Tel Hashomer and Ben Gurion University, Beer-Sheva3 | Author | Participated in the design and choices of the clinical tools used, performed language and neuropsychological evaluations, conducted the statistical analysis and drafted the manuscript |
| Shahar Shefer PhD | Weinberg Child Development Center at Safra Children's Hospital, Sheba Tel Hashomer | Author | Participated in the design and study ethics approvals, supervised the evaluations |
| Ariela Jokel PhD | Weinberg Child Development Center at Safra Children's Hospital, Sheba Tel Hashomer | Author | Helped to design and administer the study tools |
| Dorit Ben Shalom PhD | Ben Gurion University, Beer-Sheva3 | Author | Helped in design, analysis, supervision and review of the manuscript |
About this article
Cite this article
Gabis, L.V., Ben-Hur, R., Shefer, S. et al. Improvement of Language in Children with Autism with Combined Donepezil and Choline Treatment. J Mol Neurosci 69, 224–234 (2019). https://doi.org/10.1007/s12031-019-01351-7
Received:

Accepted:

Published:

Issue Date:
Keywords
Autism

Language

Donepezil

Choline

Children