Abstract
To study the clinical effectiveness and mechanism of GM1 acupoint injection therapy on mental retardation for children with cerebral palsy (CP). A total of 90 children with CP were divided into acupoint injection group (group A), subcutaneous injection group (group B), and control group (group C). Another 30 healthy children were set as a healthy control group (group D). The Mental Developmental Index (MDI), Psychomotor Developmental Index (PDI), and hemodynamic parameters in the cerebral arteries were measured before and after treatment. After three treatment courses, the MDI and PDI in groups A, B, and C were increased, and the increase in group A was most obvious (P < 0.05). Peak systolic velocity, mean velocity, and end-diastolic velocity were also elevated in group A, and after three treatment courses, resistance index decreased with a statistical significance (P < 0.05). However, there were no significant changes in groups B and C (P > 0.05). For all groups, neuron-specific enolase levels decreased and total superoxide dismutase increased after treatment. Acupoint injection therapy combined with conventional rehabilitation therapy demonstrated significant effects on cerebral hemodynamic conditions for children with CP.
This is a preview of subscription content, log in to check access.
Access options
Buy single article
Instant access to the full article PDF.
US$ 39.95
Price includes VAT for USA
Subscribe to journal
Immediate online access to all issues from 2019. Subscription will auto renew annually.
US$ 199
This is the net price. Taxes to be calculated in checkout.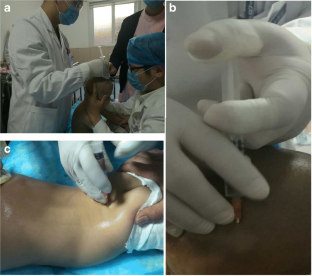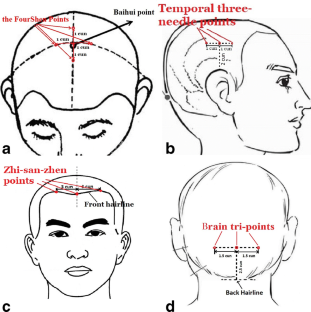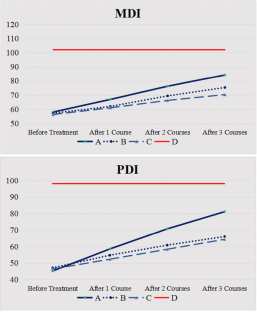 References
Chao MT, Wade CM, Booth SL (2014) Increase in plasma phylloquinone concentrations following acupoint injection for the treatment of primary dysmenorrhea. J Acupunct Meridian Stud 7(3):151–154

Gabis LV, Tsubary NM, Leon O, Ashkenasi A, Shefer S (2015) Assessment of abilities and comorbidities in children with cerebral palsy. J Child Neurol 30(12):1640–1645

Jung WM, Lee IS, Wallraven C, Ryu YH, Park HJ, Chae Y (2015) Cortical activation patterns of bodily attention triggered by acupuncture stimulation. Sci Rep 5:12455

Liu JR, Meng E, Yue W (2007) Observation on acupoint-injection combined with manipulation training for treatment of child cerebral palsy. Zhongguo Zhen Jiu 27(4):267–268

Ma FX, Cao GP, Li WL (2014) Post-stroke dysphagia treated with acupoint injection combined with neural electrical stimulation. Zhongguo Zhen Jiu 34(12):1169–1173

Mo L et al (2012) Effects of acupoint injection of autoblood on expression of pulmonary transcription factor GATA 3 and T-bet proteins and genes in asthma rats. Zhen Ci Yan Jiu 37(5):357–362

Muriel V, Garcia-Molina A, Aparicio-Lopez C, Ensenat A, Roig-Rovira T (2014) Cognitive stimulation in children with cerebral palsy. Rev Neurol 59(10):443–448

Pagani M, Manouilenko I, Stone-Elander S, Odh R, Salmaso D, Hatherly R, Brolin F, Jacobsson H, Larsson SA, Bejerot S (2012) Brief report: alterations in cerebral blood flow as assessed by PET/CT in adults with autism spectrum disorder with normal IQ. J Autism Dev Disord 42(2):313–318

Park EY (2016) Effect of physical therapy frequency on gross motor function in children with cerebral palsy. J Phys Ther Sci 28(6):1888–1891

Qian X, Zhou X, You Y, Shu S, Fang F, Huang S, Zhou S (2015) Traditional Chinese acupuncture for poststroke depression: a single-blind double-simulated randomized controlled trial. J Altern Complement Med 21(12):748–753

Schnaar RL (2016) Gangliosides of the vertebrate nervous system. J Mol Biol 428(16):3325–3336

Sha T, Gao LL, Zhang CH, Zheng JG, Meng ZH (2016) An update on acupuncture point injection. Qjm 109(10):639–641

Sherwell S, Reid SM, Reddihough DS, Wrennall J, Ong B, Stargatt R (2014) Measuring intellectual ability in children with cerebral palsy: can we do better? Res Dev Disabil 35(10):2558–2567

Su XZ, Zhao YG (2009) Clinical observation on scalp point injection to improve the cerebral microcirculation for children of early cerebral palsy. Zhongguo Zhen Jiu 29(10):795–798

Tang Y, Shang Q (2015) Neonatal hypoxic ischemic encephalopathy treated with acupuncture combined with acupoint injection: a randomized controlled trial. Zhongguo Zhen Jiu 35(7):641–645

Wang YM et al (2012) Comparison of the effects of carbamyl-beta-methylcholine chloride administered by intravenous, intramuscular and intra-acupuncture point injections. J Tradit Chin Med 32(1):93–98

Wang M, Gao YH, Xu J, Chi Y, Wei XB, Lewith G, Liu JP (2015) Zusanli (ST36) acupoint injection for preventing postoperative ileus: a systematic review and meta-analysis of randomized clinical trials. Complement Ther Med 23(3):469–483

Xu XK et al (2012) Analysis on characteristics and regularities of efficacies of acupoint injection by using data mining technique. Zhen Ci Yan Jiu 37(2):155–160

Yang L, Sui J, Shi H (2015) Control modeling and Chinese acupuncture treatment on cerebral circulation. Technol Health Care 23(Suppl 1):S77–S82

Yoo JE, Yun YJ, Shin YB, Kim NK, Kim SY, Shin MJ, Yu SA (2016) Protocol for a prospective observational study of conventional treatment and traditional Korean medicine combination treatment for children with cerebral palsy. BMC Complement Altern Med 16:172

Zhou XJ et al (2013) Risk factors related to infantile spastic cerebral palsy among 145 cases. Zhonghua Liu Xing Bing Xue Za Zhi 34(4):389–392

Zhu CJ et al (2011) Preliminary study on the mechanism of acupoint injection of bone marrow mesenchymal stem cells in improving blood flow in the rat of hind limb ischemia. J Tradit Chin Med 31(3):241–245
Acknowledgements
This research could not be completed successfully without the careful guidance of Junfang Teng professor and strong support from our colleagues of the Fifth Affiliated Hospital of Zhengzhou University. Deep appreciation should be given to them.
Funding
This research was supported by the Major Project of Synergistic Innovation in Zhengzhou (Zhengzhou University, Grant No. 18XTZX12003), Special Research Project of Traditional Chinese Medicine in Henan Province (Grant No. 2018ZY3013), Henan Medical Science and Technology Tackling Project (Grant No. 2018020223), Key Scientific Research Projects of Higher Education Institutions in Henan Province (Grant No. 17A320007), and Research Project of Vocational Education Teaching Reform in Henan Province (Grant No. ZJC18051).
Ethics declarations
The study protocol was approved by the Medical Ethics Committee of the Fifth Affiliated Hospital of Zhengzhou University, and the guardians of all participants signed the informed consent form.
Conflict of Interest
The authors declare that they have no conflicts of interest.
Additional information
Publisher's Note
Springer Nature remains neutral with regard to jurisdictional claims in published maps and institutional affiliations.
About this article
Cite this article
Li, E., Zhao, P., Jian, J. et al. GM1 Acupoint Injection Improves Mental Retardation in Children with Cerebral Palsy. J Mol Neurosci 67, 305–311 (2019). https://doi.org/10.1007/s12031-018-1239-3
Received:

Accepted:

Published:

Issue Date:
Keywords
Cerebral palsy

Mental retardation

Acupoint injection

Rehabilitation therapy

Cerebral blood flow