Abstract
Oxidative stress has been suggested to be involved in schizophrenia, but studies have demonstrated inconsistent results on oxidative stress marker level/activity in patients with schizophrenia. In order to clarify the circulating oxidative stress marker level/activity in patients with schizophrenia, this study recruited 80 schizophrenia patients (40 first-episode, drug-free and 40 chronically medicated patients) and 80 controls to analyze serum activities of superoxide dismutase (SOD), glutathione peroxidase (GSH-Px), and total antioxidant capacity (T-AOC), and levels of lipid peroxidation marker malondialdehyde (MDA) in schizophrenia patients, and whether they associate with the severity of the disease. We showed that only serum GSH-Px activity was significantly reduced in unmedicated patients with schizophrenia when compared with control subjects, whereas the other three analyzed oxidative stress markers did not show significant differences between cases and controls. Moreover, our results demonstrated that chronic medication increased GSH-Px activity and MDA levels in patients with schizophrenia, but reduced SOD activity in the patients. We also found that short-term antipsychotic treatments on the patients with schizophrenia reduced the SOD activity. Correlation analyses indicated that the oxidative stress marker activity/level is not significantly associated with the severity of schizophrenia, except that SOD level correlated with PANSS positive score significantly. Taken together, the data from the present study suggested that the dysfunctions of oxidative stress markers in patients with schizophrenia were mainly caused by antipsychotics, emphasizing increased oxidative stress as a potential side effect of antipsychotics on the patients.
This is a preview of subscription content, log in to check access.
Access options
Buy single article
Instant access to the full article PDF.
US$ 39.95
Price includes VAT for USA
Subscribe to journal
Immediate online access to all issues from 2019. Subscription will auto renew annually.
US$ 199
This is the net price. Taxes to be calculated in checkout.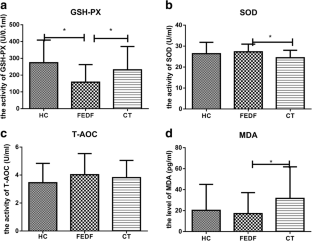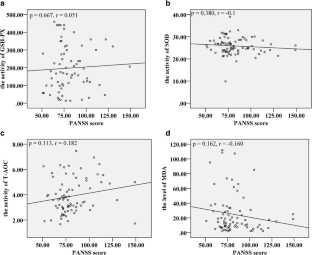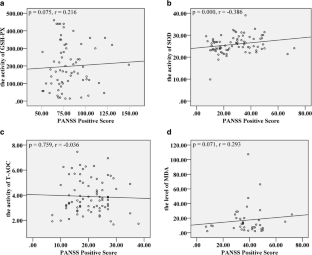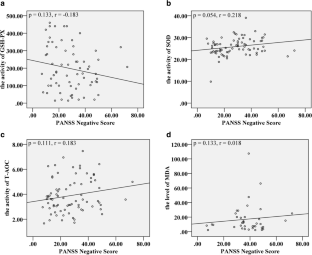 References
Abdel-Salam OM, Youness ER, Mohammed NA, Morsy SM, Omara EA, Sleem AA (2014) Citric acid effects on brain and liver oxidative stress in lipopolysaccharide-treated mice. J Med Food 17(5):588–598

Akyol O, Herken H, Uza E, Fadıllıog E, Ozyurta H, Savas HA (2002) The indices of endogenous oxidative and antioxidative processes in plasma from schizophrenic patients. Prog Neuro-Psychopharmacol Biol Psychiatry 26:995–1005

Ben Othmen L, Mechri A, Fendri C et al (2008) Altered antioxidant defense system in clinically stable patients with schizophrenia and their unaffected siblings. Prog Neuro-Psychopharmacol Biol Psychiatry 32(1):155–159

Boskovic M, Grabnar I, Terzic T, Kores Plesnicar B, Vovk T (2013) Oxidative stress in schizophrenia patients treated with long-acting haloperidol decanoate. Psychiatry Res 210(3):761–768

Dadheech G, Mishra S, Gautam S, Sharma P (Sep 2006) Oxidative stress, alpha-tocopherol, ascorbic acid and reduced glutathione status in schizophrenics. Indian J Clin Biochem 21(2):34–38

Do KQ, Trabesinger AH, Kirsten-Kruger M et al (2000) Schizophrenia: glutathione deficit in cerebrospinal fluid and prefrontal cortex in vivo. Eur J Neurosci 12(10):3721–3728

Dzul-Caamal R, Salazar-Coria L, Olivares-Rubio HF, Rocha-Gomez MA, Giron-Perez MI, Vega-Lopez A (Oct 2016) Oxidative stress response in the skin mucus layer of Goodea gracilis (Hubbs and Turner, 1939) exposed to crude oil: a non-invasive approach. Comp Biochem Physiol A Mol Integr Physiol 200:9–20

Gawryluk JW, Wang JF, Andreazza AC, Shao L, Young LT (2011) Decreased levels of glutathione, the major brain antioxidant, in post-mortem prefrontal cortex from patients with psychiatric disorders. Int J Neuropsychopharmacol 14(1):123–130

Grignon S, Chianetta JM (2007) Assessment of malondialdehyde levels in schizophrenia: a meta-analysis and some methodological considerations. Prog Neuro-Psychopharmacol Biol Psychiatry 31:365–369

Guzelhan Y, Sayar K, Ozturk M, Kara I (2000) Free radicals in schizophrenia. Bull Clin Psycophamacol

Herken H, Uz E, Ozyurt H, Sogut S, Virit O, Akyol O (2001) Evidence that the activities of erythrocyte free radical scavenging enzymes and the products of lipid peroxidation are increased in different forms of schizophrenia. Mol Psychiatry 6:66–73

Kubrak OI, Husak VV, Rovenko BM, Storey JM, Storey KB, Lushchak VI (Oct 2011) Cobalt-induced oxidative stress in brain, liver and kidney of goldfish Carassius auratus. Chemosphere 85(6):983–989

Kuloglu M, Ustundag B, Atmaca M, Canatan H, Ertan Tezcan A, Cinkilinc N (2002a) Lipid peroxidation and antioxidant enzyme levels in patients with schizophrenia and bipolar disorder. Cell Biochem Funct 20:171–175

Kuloglu M, Ustundag B, Atmaca M, Canatan H, Tezcan AE, Cinkilinc N (Jun 2002b) Lipid peroxidation and antioxidant enzyme levels in patients with schizophrenia and bipolar disorder. Cell Biochem Funct 20(2):171–175

Kunz M, Gama CS, Andreazza AC, Salvador M, Ceresér KM, Gomes FA, Belmonte-de-Abreu PS, Berk M, Kapczinski F (2008) Elevated serum superoxide dismutase and thiobarbituric acid reactive substances in different phases of bipolar disorder and in schizophrenia. Prog Neuro-Psychopharmacol Biolog Psychiatry 32:1677–1681

Mahadik SP, Scheffer RE (1996) Oxidative injury and potential use of antioxidants in schizophrenia. Prostaglandins Leukot Essent Fat Acids 55(1–2):45–54

Mahadik SP, Pillai A, Joshi S, Foster A (2006) Prevention of oxidative stress-mediated neuropathology and improved clinical outcome by adjunctive use of a combination of antioxidants and omega-3 fatty acids in schizophrenia. Int Rev Psychiatry 18(2):119–131

Meena Arvindakshan SS, Debsikdar V, Ghate M, Evans D, Horrobin DF, Bennett C, Ranjekar PK, Mahadik SP (2003) Essential polyunsaturated fatty acid and lipid peroxide levels in never-medicated and medicated schizophrenia patients. Biol Psychiatry 53(1):56–64

Morera-Fumero AL, Diaz-Mesa E, Abreu-Gonzalez P, Fernandez-Lopez L, Cejas-Mendez MD (2017) Low levels of serum total antioxidant capacity and presence at admission and absence at discharge of a day/night change as a marker of acute paranoid schizophrenia relapse. Psychiatry Res 249:200–205

Mukherjee S, Mahadik SP, Scheffer R, Correnti EE, Kelkar H (1996) Impaired antioxidant defense at the onset of psychosis. Schizophr Res 19(1):19–26

Oruc EO, Sevgiler Y, Uner N (2004) Tissue-specific oxidative stress responses in fish exposed to 2,4-D and azinphosmethyl. Comp Biochem Physiol Toxicol Pharmacol 137(1):43–51

Otunola GA, Oloyede OB, Oladiji AT, Afolayan AJ (2014) Selected spices and their combination modulate hypercholesterolemia-induced oxidative stress in experimental rats. Biol Res 47:5

Pomierny-Chamiolo L, Moniczewski A, Wydra K, Suder A, Filip M (Jan 2013) Oxidative stress biomarkers in some rat brain structures and peripheral organs underwent cocaine. Neurotox Res 23(1):92–102

Raffa M, Barhoumi S, Atig F, Fendri C, Kerkeni A, Mechri A (2012) Reduced antioxidant defense systems in schizophrenia and bipolar I disorder. Prog Neuro-Psychopharmacol Biol Psychiatry 39(2):371–375

Ranjekar PK, Hinge A, Hegde MV, Ghate M, Kale A, Sitasawad S, Wagh UV, Debsikdar VB, Mahadik SP (2003) Decreased antioxidant enzymes and membrane essential polyunsaturated fatty acids in schizophrenic and bipolar mood disorder patients. Psychiatry Res 121(2):109–122

Reddy R, Sahebarao MP, Mukherjee S, Murthy JN (1991) Enzymes of the antioxidant defense system in chronic schizophrenic patients. Biol Psychiatry 30(4):409–412

Rukmini MS, D'Souza B, D'Souza V (Jul 2004) Superoxide dismutase and catalase activities and their correlation with malondialdehyde in schizophrenic patients. Indian J Clin Biochem 19(2):114–118

Sarandol A, Kirli S, Akkaya C, Altin A, Demirci M, Sarandol E (2007) Oxidative-antioxidative systems and their relation with serum S100 B levels in patients with schizophrenia: effects of short term antipsychotic treatment. Prog Neuro-Psychopharmacol Biol Psychiatry 31(6):1164–1169

Skinner AO, Mahadik SP, Garver DL (2005) Thiobarbituric acid reactive substances in the cerebrospinal fluid in schizophrenia. Schizophr Res 76(1):83–87

Sorokin AM, Moiseeva NB, Cheredeev AN, Frolova IS (1988) The interferon-natural killer cell system of patients with ovarian tumors. Akush Ginekol (Mosk) (5):23–27

Wang P, Xie K, Wang C, Bi J (2014) Oxidative stress induced by lipid peroxidation is related with inflammation of demyelination and neurodegeneration in multiple sclerosis. Eur Neurol 72(3–4):249–254

Yao JK, Reddy R, McElhinny LG, van Kammen DP (1998) Effects of haloperidol on antioxidant defense system enzymes in schizophrenia. J Psychiatr Res 32(6):385–391

Zhang XY, Tan YL, Cao LY, Wu GY, Xu Q, Shen Y, Zhou DF (2006) Antioxidant enzymes and lipid peroxidation in different forms of schizophrenia treated with typical and atypical antipsychotics. Schizophr Res 81(2–3):291–300
Funding
This study was supported by the National Science Foundation of China (81703492), Beijing Natural Science Foundation (7182092), the Minzu University Research Fund (2018CXTD03), and the MUC 111 project.
Ethics declarations
Before inclusion in this study, all participants gave written informed consent. The study protocol has been approved by the Ethics Committee at The Third Hospital of Fuoshan, Fuoshan, China, and the experiments were conducted in accordance with the Declaration of Helsinki.
Conflict of Interest
The authors declare that they have no conflict of interest.
About this article
Cite this article
Bai, Z., Li, X., Chen, G. et al. Serum Oxidative Stress Marker Levels in Unmedicated and Medicated Patients with Schizophrenia. J Mol Neurosci 66, 428–436 (2018). https://doi.org/10.1007/s12031-018-1165-4
Received:

Accepted:

Published:

Issue Date:
Keywords
Schizophrenia

Antipsychotics

Oxidative stress

Superoxide dismutase

Glutathione peroxidase

Total antioxidant capacity

Malondialdehyde