Abstract
In a group of older adults with very mild dementia, we aimed to characterize the nature and magnitude of cognitive decline as measured by the Cogstate Brief Battery, in relation to Aβ levels and hippocampal volume. Participants were characterized according to their status on the Clinical Dementia Rating (CDR) scale. A total of 308 individuals who were CDR 0 and had low cerebral Aβ levels (Aβ−), 32 individuals who were Aβ− and CDR 0.5, and 43 individuals who were Aβ+ and CDR 0.5 were included in this study. Participants completed the CogState brief battery at baseline, and at 18-, 36-, 54- and 72-month follow-up. Linear mixed model analyses indicated that relative to the Aβ− CDR 0 group, the Aβ+ CDR 0.5 group showed increased rates of memory decline and hippocampal volume loss. However, compared to the Aβ− CDR 0 group, the Aβ− CDR 0.5 group showed no changes in cognitive function or hippocampal volume over 72 months. The results of this study confirm that in individuals with very mild dementia, who also have biomarker confirmation of Aβ+, changes in cognitive function manifest primarily as deterioration in memory processing, and this is associated with hippocampal volume loss. Conversely, the absence of any cognitive decline or loss in hippocampal volume in individuals with very mild dementia but who are Aβ− suggests that some other non-AD disease process may underlie any static impairment in cognitive function.
This is a preview of subscription content, log in to check access.
Access options
Buy single article
Instant access to the full article PDF.
US$ 39.95
Price includes VAT for USA
Subscribe to journal
Immediate online access to all issues from 2019. Subscription will auto renew annually.
US$ 199
This is the net price. Taxes to be calculated in checkout.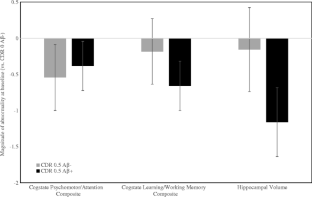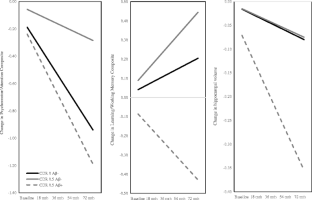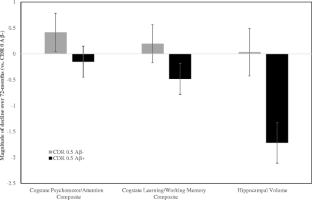 References
Albert MS, DeKosky ST, Dickson D, Dubois B, Feldman HH, Fox NC, Gamst A, Holtzman DM, Jagust WJ, Petersen RC, Snyder PJ, Carrillo MC, Thies B, Phelps CH (2011) The diagnosis of mild cognitive impairment due to Alzheimer's disease: recommendations from the National Institute on Aging and Alzheimer's Association workgroup. Alzheimers Dement 7(3):270–279

Braak H, Braak E (1991) Neuropathological staging of Alzheimer–related changes. Neuropathologica 82(4):239–259

Clark CM, Schneider JA, Bedell BJ, Beach TG, Bilker WB, Mintun MA, Pontecorvo MJ, Hefti F, Carpenter AP, Flitter ML, Krautkramer MJ, Kung HF, Coleman RE, Doraiswamy PM, Fleisher AS, Sabbagh MN, Sadowsky CH, Reiman EP, Zehntner SP, Skovronsky DM, Group A-AS (2011) Use of florbetapir–PET for imaging beta–amyloid pathology. J Am Med Assoc 305:275–283

Dickerson BC, Sperling RA (2008) Functional abnormalities of the medial temporal lobe memory system in mild cognitive impairment and Alzheimer's disease: insights from functional MRI studies. Neuropsychologia 46(6):1624–1635

Doraiswamy PM, Sperling RA, Johnson K, Reiman EM, Wong TZ, Sabbagh MN, Sadowsky CH, Fleisher AS, Carpenter A, Joshi AD, Lu M, Grundman M, Mintun MA, Skovronsky DM, Pontecorvo MJ, Group A-AS (2014) Florbetapir F 18 amyloid PET and 36-month cognitive decline: a prospective multicenter study. Mol Psychiatry 19(9):1044–1051

Dore V, Villemagne VL, Bourgeat P, Fripp J, Acosta O, Chetelat G, Zhou L, Martins R, Ellis KA, Masters CL, Ames D, Salvado O, Rowe CC (2013) Cross-sectional and longitudinal analysis of the relationship between Aβ deposition, cortical thickness, and memory in cognitively unimpaired individuals and in Alzheimer's disease. JAMA. Neurology 70(7):903–911

Dubois B, Albert ML (2004) Amnestic MCI or prodromal Alzheimer's disease? Lancet Neurol 3(4):246–248

Ellis KA, Bush AI, Darby D, De Fazio D, Foster J, Hudson P, Lautenschlager NT, Lenzo N, Martins RN, Maruff P, Masters C, Milner A, Pike K, Rowe C, Savage G, Szoeke C, Taddei K, Villemagne V, Woodward M, Ames D, Group TAR (2009) The Australian imaging, biomarkers and lifestyle (AIBL) study of aging: methodology and baseline characteristics of 1112 individuals recruited for a longitudinal study of Alzheimer's disease. Int Psychogeriatr 21:672–687

Fagan AM, Roe CM, Xiong CJ, Mintun MA, Morris JC, Holtzman DM (2007) Cerebrospinal fluid tau/β-amyloid42 ratio as a prediction of cognitive decline in nondemented older adults. Arch Neurol 64:343–349

Golde TE, Schneider LS, Koo EH (2011) Anti-Aβ therapeutics in Alzheimer's disease: the need for a paradigm shift. Neuron 69(2):203–213

Hardy J, Selkoe DJ (2002) The amyloid hypothesis of Alzheimer's disease: progress and problems on the road to therapeutics. Science 297(5580):353–356

Jack CR, Lowe VJ, Weigand SD, Wiste HJ, Senjem ML, Knopman DS, Shiung MM, Gunter JL, Boeve BF, Kemp BJ, Weiner MW, Petersen RC, Initiative, T.A.s.D.N (2009) Serial PIB and MRI in normal, mild cognitive impairment and Alzheimer's disease: implications for sequence of pathological events in Alzheimer's disease. Brain 132:1355–1365

Knopman DS, Parisi JE, Salviati A, Floriach-Robert M, Boeve BF, Ivnik RJ, Smith GE, Dickson DW, Johnson KA, Petersen LE, McDonald WC, Braak H, Petersen RC (2003) Neuropathology of cognitively normal elderly. J Neuropathol Exp Neurol 62(11):1087–1095

Lim YY, Ellis KA, Harrington K, Ames D, Martins RN, Masters CL, Rowe C, Savage G, Szoeke C, Darby D, Maruff P, AIBL RG (2012a) Use of the CogState brief battery in the assessment of Alzheimer's disease related cognitive impairment in the Australian imaging, biomarker and lifestyle (AIBL) study. J Clin Exp Neuropsychol 34(4):345–358

Lim YY, Ellis KA, Pietrzak RH, Ames D, Darby D, Harrington K, Martins RN, Masters CL, Rowe C, Savage G, Szoeke C, Villemagne VL, Maruff P, AIBL RG (2012b) Stronger effect of amyloid load than APOE genotype on cognitive decline in healthy older adults. Neurology 79:1645–1652

Lim, Y.Y., Maruff, P., Pietrzak, R.H., Ames, D., Ellis, K.A., Harrington, K., Lautenschlager, N.T., Szoeke, C., Martins, R.N., Masters, C.L., Villemagne, V.L., Rowe, C.C., AIBL, R.G. 2014. Effect of amyloid on memory and non-memory decline from preclinical to clinical Alzheimer's disease. Brain 137, 221–231. doi:doi:10.1093/brain/awt286.

Lim YY, Pietrzak RH, Bourgeat P, Ames D, Ellis KA, Rembach A, Harrington K, Salvado O, Martins RN, Snyder PJ, Masters CL, Rowe CC, Villemagne VL, Maruff P (2015a) Relationships between performance on the Cogstate brief battery, neurodegeneration, and Aβ accumulation in cognitively normal older adults and adults with MCI. Arch Clin Neuropsychol 30(1):49–58

Lim YY, Villemagne VL, Pietrzak RH, Ames D, Ellis KA, Harrington K, Snyder PJ, Martins RN, Masters CL, Rowe CC, Maruff P (2015b) APOE ε4 moderates amyloid-related memory decline in preclinical Alzheimer's disease. Neurobiol Aging 36(3):1239–1244 javascript:void(0)

Maruff P, Lim YY, Darby D, Ellis KA, Pietrzak RH, Snyder PJ, Bush AI, Szoeke C, Schembri A, Ames D, Masters CL, AIBL RG (2013) Clinical utility of the Cogstate brief battery in identifying cognitive impairment in mild cognitive impairment and Alzheimer's disease. BMC Pharmacol Toxicol 1(30):1–11

Masters CL, Selkoe DJ (2012) Biochemistry of amyloid β-protein and amyloid deposits in Alzheimer disease. In: Selkoe DJ, Mandelkow E, Holtzman DM (eds) Biology of Alzheimer disease. Cold Spring Harbor Laboratory Press, New York, pp. 181–204

Mormino EC, Betensky RA, Hedden T, Schultz AP, Ward A, Huijbers W, Rentz DM, Johnson KA, Sperling RA (2014) Amyloid and APOE ε4 interact to influence short-term decline in preclinical Alzheimer's disease. Neurology 82(20):1760–1767

Morris JC (1983) The clinical dementia rating (CDR): current version and scoring rules. Neurology 43:2412–2414

Morris JC, Storandt M, Miller JP, McKeel DW, Price JL, Rubin EH, Berg L (2001) Mild cognitive impairment represents early-stage Alzheimer disease. Arch Neurol 58:397–405

Morris JC, Roe CM, Xiong CJ, Fagan AM, Goate AM, Holtzman DM, Mintun MA (2010) APOE predicts Ab but not tau Alzheimer's pathology in cognitively normal aging. Ann Neurol 67(1):122–131

Petersen RC (2004) Mild cognitive impairment as a diagnostic entity. J Intern Med 256:183–194

Petersen RC, Wiste HJ, Weigand SD, Rocca WA, Roberts RO, Mielke MM, Lowe VJ, Knopman DS, Pankratz VS, Machulda MM, Geda YE, Jack CRJ (2016) Association of elevated amyloid levels with cognition and biomarkers in cognitively normal people from the community. JAMA. Neurology 73(1):85–92

Roberts RO, Geda YE, Knopman DS, Cha RH, Pankratz VS, Boeve BF, Ivnik RJ, Tangalos EG, Petersen RC, Rocca WA (2008) The Mayo Clinic study of aging: design and sampling, participation, baseline measures and sample characteristics. Neuroepidemiology 30(1):58–69

Rowe CC, Ellis KA, Rimajova M, Bourgeat P, Pike KE, Jones G, Fripp J, Tochon-Danguy H, Morandeau L, O'Keefe G, Price R, Raniga P, Robins P, Acosta O, Lenzo N, Szoeke C, Salvado O, Head R, Martins RM, C.L., Ames, D., Villemagne, V (2010) Amyloid imaging results from the Australian imaging, biomarkers and lifestyle (AIBL) study of aging. Neurobiol Aging 31:1275–1283

Rowe CC, Bourgeat P, Ellis KA, Brown B, Lim YY, Mulligan R, Jones G, Maruff P, Woodward M, Price R, Robins P, Tochon-Danguy H, O'Keefe G, Pike KE, Szoeke C, Salvado O, Macaulay SL, O'Meara T, Head R, Cobiac L, Martins R, Masters CL, Ames D, Villemagne VL, AIBL RG (2013) Predicting Alzheimer disease with β-amyloid imaging: results from the Australian imaging, biomarkers, and lifestyle study of ageing. Ann Neurol 74(6):905–913

Vandenberghe R, Van Laere K, Ivanoiu A, Salmon E, Bastin C, Triau E, Hasselbalch S, Law I, Andersen A, Korner A, Minthon L, Garraux G, Nelissen N, Bormans G, Buckley C, Owenius R, Thurfjell L, Farrar G, Brooks DJ (2010) 18F-flutemetamol amyloid imaging in Alzheimer disease and mild cognitive impairment: a phase 2 trial. Ann Neurol 68:319–329
Acknowledgments
Alzheimer's Australia (Victoria and Western Australia) assisted with promotion of the study and the screening of telephone calls from volunteers. The AIBL team wishes to thank the clinicians who referred patients with MCI or AD to the study: Associate Professor Brian Chambers, Professor Edmond Chiu, Dr. Roger Clarnette, Associate Professor David Darby, Dr. Mary Davison, Dr. John Drago, Dr. Peter Drysdale, Dr. Jacqueline Gilbert, Dr. Kwang Lim, Professor Nicola Lautenschlager, Dr. Dina LoGiudice, Dr. Peter McCardle, Dr. Steve McFarlane, Dr. Alastair Mander, Dr. John Merory, Professor Daniel O'Connor, Dr. Ron Scholes, Dr. Mathew Samuel, Dr. Darshan Trivedi and Associate Professor Michael Woodward. We thank all those who participated in the study for their commitment and dedication to helping advance research into the early detection and causation of AD.
Funding
Funding for the study was provided in part by the study partners [Commonwealth Scientific Industrial and research Organization (CSIRO), Edith Cowan University (ECU), Mental Health Research institute (MHRI), National Ageing Research Institute (NARI) and Austin Health, CogState Ltd.]. The study also received support from the National Health and Medical Research Council (NHMRC) and the Dementia Collaborative Research Centres program (DCRC2), as well as funding from the Science and Industry Endowment Fund (SIEF) and the Cooperative Research Centre (CRC) for Mental Health, an Australian Government Initiative. YYL is currently funded by the National Health & Medical Research Council-Australian Research Council (NHMRC-ARC) Dementia Research Development Fellowship (APP1111603).
Ethics declarations
Conflict of interest
YYL, SML, CF, SRS and OS report no disclosures. CLM is an advisor to Prana Biotechnology Ltd. and a consultant to Eli Lilly. PM is a full-time employee of Cogstate Ltd. RHP and PJS are scientific consultants to Cogstate Ltd. DA has served on scientific advisory boards for Novartis, Eli Lilly, Janssen and Pfizer Inc. RNM is a consultant to Alzhyme. C.C.R. has served on scientific advisory boards for Bayer Pharma, Elan Corporation, GE Healthcare and AstraZeneca; has received speaker honoraria from Bayer Pharma and GE Healthcare and has received research support from Bayer Pharma, GE Healthcare, Piramal Lifesciences and Avid Radiopharmaceuticals. VLV served as a consultant for Bayer Pharma and received research support from a NEDO grant from Japan.
About this article
Cite this article
Lim, Y.Y., Villemagne, V.L., Laws, S.M. et al. Performance on the Cogstate Brief Battery Is Related to Amyloid Levels and Hippocampal Volume in Very Mild Dementia. J Mol Neurosci 60, 362–370 (2016). https://doi.org/10.1007/s12031-016-0822-8
Received:

Accepted:

Published:

Issue Date:
Keywords
Alzheimer's disease

Memory

Hippocampal volume

Amyloid

Mild dementia