Abstract
This commentary outlines a conceptual model for subjective cognitive decline (SCD) in relation to Alzheimer's disease (AD) biomarkers in the preclinical stages of disease and a framework for effectively utilizing SCD in secondary prevention clinical trials. Mounting evidence supports the notion that SCD is sensitive to encroaching Aβ-amyloid and neurodegeneration. SCD has also been shown to provide additive information of AD-dementia risk beyond what is known about the biomarker status of the individual. Thus, we provide recommendations for the implementing SCD measurement in clinical trials. We argue that SCD can be measured at three catch points within the course of the clinical trial: firstly, at the initial recruitment and screening phase; secondly, to create more robust estimates of rates of AD-dementia progression; and finally, to measure subjective experiences of cognitive change and quality of life over the course of the trial as a proxy of clinically meaningful functional improvement. We provide recommendations of how SCD can be approached at each of these points. SCD is an important component of the preclinical AD-dementia trajectory. Future studies need to elucidate the interactive influence of Aβ-amyloid and tau on SCD from a spatiotemporal perspective. Even as this evidence accrues, it is clear that SCD can provide unique and additive information about rates of progression and subjectively experienced cognitive change within clinical trials.
This is a preview of subscription content, log in to check access.
Access options
Buy single article
Instant access to the full article PDF.
US$ 39.95
Price includes VAT for USA
Subscribe to journal
Immediate online access to all issues from 2019. Subscription will auto renew annually.
US$ 199
This is the net price. Taxes to be calculated in checkout.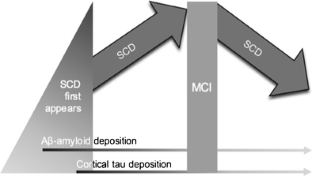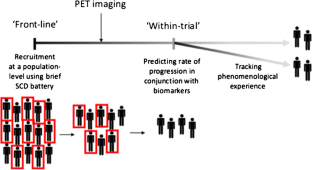 References
Aizenstein H, Nebes RD, Saxton JA, et al. (2008) Frequent amyloid deposition without significant cognitive impairment among the elderly. Arch Neurol 65:1509–1517. doi:10.1001/archneur.65.11.1509

Amariglio RE et al. (2012) Subjective cognitive complaints and amyloid burden in cognitively normal older individuals. Neuropsychologia 50:2880–2886. doi:10.1016/j.neuropsychologia.2012.08.011

Amariglio RE, Donohue MC, Marshall GA, et al. (2015a) Tracking early decline in cognitive function in older individuals at risk for alzheimer disease dementia: the alzheimer's disease cooperative study cognitive function instrument. JAMA Neurology 72:446–454. doi:10.1001/jamaneurol.2014.3375

Amariglio RE, Mormino EC, Pietras AC, Marshall GA, Vannini P, Johnson KA, . . . Rentz DM (2015b) Subjective cognitive concerns, amyloid-β, and neurodegeneration in clinically normal elderly. Neurology 85(1):56–62. doi:10.1212/wnl.0000000000001712

Barnes L, Schneider J, Boyle P, Bienias J, Bennett D (2006) Memory complaints are related to Alzheimer disease pathology in older persons. Neurology 67:1581–1585. doi:10.1212/01.wnl.0000242734.16663.09

Braak H, Braak E (1991) Neuropathological stageing of Alzheimer-related changes. Acta Neuropathol 82(4):239–259

Braak H, Thal DRMD, Ghebremedhin EMD, Del Tredici KMDP (2011) Stages of the pathologic process in Alzheimer disease: age categories from 1 to 100 years. J Neuropathol Exp Neurol 70:960–969

Brier MR et al. (2016) Local and distributed PiB accumulation associated with development of preclinical Alzheimer's disease. Neurobiol Aging. doi:10.1016/j.neurobiolaging.2015.10.025

Buckley R et al. (2015a) Phenomenological characterisation of memory complaints in preclinical and prodromal Alzheimer's disease. Neuropsychology 29:571–581. doi:10.1037/neu0000156

Buckley R et al. (2013) Factors affecting memory complaints in the AIBL aging study: biomarkers, memory, affect, and age. Int Psychogeriatr 25:1307–1315. doi:10.1017/S1041610213000665

Buckley R et al. (2015b) Self and informant memory concerns align in healthy memory complainers and in early stages of mild cognitive impairment but separate with increasing cognitive impairment. Age Ageing 44:1012–1019

Buckley RF et al. (2016) Subjective memory decline predicts greater rates of clinical progression in preclinical Alzheimer's disease. Alzheimer's & Dementia Preprint

Buckley RF, Saling MM, Frommann I, Wolfsgruber S, Wagner M (2015c) Subjective cognitive decline from a phenomenological perspective: a review of the qualitative literature. J Alzheimers Dis 48:S125–S140

Chételat G et al. (2010) Larger temporal volume in elderly with high versus low beta-amyloid deposition. Brain 133:3349–3358. doi:10.1093/brain/awq187

Clare L, Whitaker CJ, Nelis SM (2010) Appraisal of memory functioning and memory performance in healthy ageing and early-stage. Alzheimer's Disease Aging, Neuropsychology, and Cognition 17:462–491. doi:10.1080/13825580903581558

Colijn MA, Grossberg GT (2015) Amyloid and tau biomarkers in subjective cognitive impairment. J Alzheimers Dis:1–8

Dik MG, Jonker C, Comijs HC, Bouter LM, Twisk JW, van Kamp GJ, Deeg DJ (2001) Memory complaints and APOE-epsilon4 accelerate cognitive decline in cognitively normal elderly. Neurology 57:2217–2222

Feldman HH et al. (2014) Alzheimer's disease research and development: a call for a new research roadmap. Ann N Y Acad Sci 1313:1–16. doi:10.1111/nyas.12424

Gifford KA et al. (2015a) Inclusion of an informant yields strong associations between cognitive complaint and longitudinal cognitive outcomes in non-demented elders. J Alzheimers Dis 43:121–132. doi:10.3233/JAD-131925

Gifford KA, Liu D, Romano RR, Jones RN, Jefferson AL (2015b) Development of a subjective cognitive decline questionnaire using item response theory: a pilot study. Alzheimer's & Dementia: Diagnosis, Assessment & Disease Monitoring 1:429–439

Grambaite R, Hessen E, Auning E, Aarsland D, Selnes P, Fladby T (2013) Correlates of subjective and mild cognitive impairment: depressive symptoms and CSF biomarkers. Dementia and Geriatric Cognitive Disorders Extra 3:291–300

Guidance for Industry. Alzheimer's Disease: Developing Drugs for the Treatment of Early Stage Disease. Draft Guidance (2013)

Hohman T, Beason-Held L, Lamar M, Resnick S (2011) Subjective cognitive complaints and longitudinal changes in memory and brain function. Neuropsychology 25:125–130. doi:10.1037/a0020859

Hollands S et al. (2015) Amyloid-β related memory decline is not associated with subjective or informant rated cognitive impairment in healthy adults. J Alzheimers Dis 43:677–686. doi:10.3233/JAD-140678

Jack CR (2014) PART and SNAP. Acta Neuropathol 128:773–776

Jack CR et al. (2013) Tracking pathophysiological processes in Alzheimer's disease: an updated hypothetical model of dynamic biomarkers. Lancet Neurol 12:207–216

Jagust W (2015) Is amyloid-β harmful to the brain? Insights from human imaging studies. Brain. doi:10.1093/brain/awv326

Jessen F (2014) Subjective and objective cognitive decline at the pre-dementia stage of Alzheimer's disease. Eur Arch Psychiatry Clin Neurosci 264:3–7. doi:10.1007/s00406-014-0539-z

Jessen F et al. (2014) A conceptual framework for research on subjective cognitive decline in preclinical Alzheimer's disease. Alzheimers Dement 10:844–852. doi:10.1016/j.jalz.2014.01.001

Jessen F et al. (2006) Volume reduction of the entorhinal cortex in subjective memory impairment. Neurobiol Aging 27:1751–1756

Jessen F et al. (2010) Prediction of dementia by subjective memory impairment effects of severity and temporal association with cognitive impairment. Arch Gen Psychiatry 67:414–422. doi:10.1001/archgenpsychiatry.2010.30

Johnson KA et al. (2016) Tau positron emission tomographic imaging in aging and early Alzheimer disease. Ann Neurol 79:110–119

Jonker C, Geerlings MI, Schmand B (2000) Are memory complaints predictive for dementia? A review of clinical and population-based studies. Int J Geriatr Psychiatry 15:983–991. doi:10.1002/1099-1166(200011)15:11<983::AID-GPS238>3.0.CO;2-5

Knopman D et al. (2003) Neuropathology of cognitively normal elderly. J Neuropathol Exp Neurol 62:1087–1095

Koppara A et al. (2015) Cognitive performance before and after the onset of subjective cognitive decline in old age. Alzheimer's & Dementia: Diagnosis, Assessment & Disease Monitoring 1:194–205

Kozauer N, Katz R (2013) Regulatory innovation and drug development for early-stage Alzheimer's disease. N Engl J Med 368:1169–1171

Kryscio RJ et al. (2014) Self-reported memory complaints: implications from a longitudinal cohort with autopsies. Neurology 83:1359–1365. doi:10.1212/wnl.0000000000000856

Leoni V et al. (2013) Diagnostic power of 24S-hydroxycholesterol in cerebrospinal fluid: candidate marker of brain health. J Alzheimers Dis 36:739–747

Luck T, Luppa M, Matschinger H, Jessen F, Angermeyer MC, Riedel-Heller SG (2014) Incident subjective memory complaints and the risk of subsequent dementia. Acta Psychiatr Scand 131:290–296. doi:10.1111/acps.12328

Luck T, Röhr S, Jessen F, Villringer A, Angermeyer MC, Riedel-Heller SG (2015) Mortality in individuals with subjective cognitive decline: results of the Leipzig longitudinal study of the aged (LEILA75+). J Alzheimers Dis:1–10

Mielke MM et al. (2012) Indicators of amyloid burden in a population-based study of cognitively normal elderly. Neurology 79:1570–1577

Mitchell AJ (2008) The clinical significance of subjective memory complaints in the diagnosis of mild cognitive impairment and dementia: a meta-analysis. Int J Geriatr Psychiatry 23(11):1191–1202. doi:10.1002/gps.2053

Mitchell AJ, Beaumont H, Ferguson D, Yadegarfar M, Stubbs B (2014) Risk of dementia and mild cognitive impairment in older people with subjective memory complaints: meta-analysis. Acta Psychiatr Scand 130:439–451. doi:10.1111/acps.12336

Mosconi L et al. (2008) Hypometabolism and altered cerebrospinal fluid markers in normal apolipoprotein E E4 carriers with subjective memory complaints. Biol Psychiatry 63:609–618. doi:10.1016/j.biopsych.2007.05.030

Ngandu T et al. (2015) A 2 year multidomain intervention of diet, exercise, cognitive training, and vascular risk monitoring versus control to prevent cognitive decline in at-risk elderly people (FINGER): a randomised controlled trial. Lancet 385:2255–2263

Perrotin A, Mormino EC, Madison CM, Hayenga AO, Jagust WJ (2012) Subjective cognition and amyloid deposition imaging: a Pittsburgh compound b positron emission tomography study in normal elderly individuals. Arch Neurol 69:223–229. doi:10.1001/archneurol.2011.666

Pietrzak RH et al. (2015) Trajectories of memory decline in preclinical Alzheimer's disease: results from the Australian imaging, biomarkers and lifestyle flagship study of ageing. Neurobiol Aging 36:1231–1238. doi:10.1016/j.neurobiolaging.2014.12.015

Rabin LA et al. (2015) Subjective cognitive decline in older adults: an overview of self-report measures used across 19 international research studies. J Alzheimer's Dis Preprint:1–25 doi:10.3233/JAD-150154

Rabin LA, Wang C, Katz MJ, Derby CA, Buschke H, Lipton RB (2012) Predicting Alzheimer's disease: neuropsychological tests, self-reports, and informant reports of cognitive difficulties. J Am Geriatr Soc 60:1128–1134. doi:10.1111/j.1532-5415.2012.03956.x

Reiman EM et al. (2016) CAP-advancing the evaluation of preclinical Alzheimer disease treatments. Nat Rev Neurol 12:56–61. doi:10.1038/nrneurol.2015.177 http://www.nature.com/nrneurol/journal/v12/n1/abs/nrneurol.2015.177.html - supplementary-information

Reisberg B, Gauthier S (2008) Current evidence for subjective cognitive impairment (SCI) as the pre-mild cognitive impairment (MCI) stage of subsequently manifest Alzheimer's disease. Int Psychogeriatr 20:1–16. doi:10.1017/S1041610207006412

Reisberg B, Shulman MB, Torossian C, Leng L, Zhu W (2010) Outcome over seven years of healthy adults with and without subjective cognitive impairment. Alzheimers Dement 6:11–24

Rolstad S, Berg AI, Bjerke M, Blennow K, Johansson B, Zetterberg H, Wallin A (2011) Amyloid-Beta42 is associated with cognitive impairment in healthy elderly and subjective cognitive impairment. J Alzheimers Dis 26:135–142

Rolstad S, Berg AI, Bjerke M, Johansson B, Zetterberg H, Wallin A (2013) Cerebrospinal fluid biomarkers mirror rate of cognitive decline. J Alzheimers Dis 34:949–956

Rowe CC et al. (2010) Amyloid imaging results from the Australian imaging, biomarkers and lifestyle (AIBL) study of aging. Neurobiol Aging 31:1275–1283. doi:10.1016/j.neurobiolaging.2010.04.007

Saykin AJ et al. (2006) Older adults with cognitive complaints show brain atrophy similar to that of amnestic MCI. Neurology 67:834–842

Scheef L et al. (2012) Glucose metabolism, gray matter structure, and memory decline in subjective memory impairment. Neurology 79:1332–1339

Schöll M et al. (2016) PET imaging of tau deposition in the aging human brain. Neuron 89:971–982

Snitz BE, Small BJ, Wang T, Chang C-CH, Hughes TF, Ganguli M (2015) Do subjective memory complaints lead or follow objective cognitive change? A five-year population study of temporal influence. J Int Neuropsychol Soc 21:732–742. doi:10.1017/S1355617715000922

Sperling R, Amariglio R, Marshall G, Rentz D (2015) Establishing clinical relevance in preclinical Alzheimer's disease. The journal of prevention of Alzheimer's disease 2:85

Sperling RA et al. (2010) Criteria for preclinical Alzheimer's disease

Sperling RA, Rentz DM, Johnson KA, Karlawish J, Donohue M, Salmon DP, Aisen P (2014) The A4 study: stopping AD before symptoms begin? Sci Translat Med 6:228fs213. doi:10.1126/scitranslmed.3007941

Stewart R, Godin O, Crivello F, Maillard P, Mazoyer B, Tzourio C, Dufouil C (2011) Longitudinal neuroimaging correlates of subjective memory impairment: 4-year prospective community study. Br J Psychiatry 198:199–205. doi:10.1192/bjp.bp.110.078683

Stomrud E, Hansson O, Blennow K, Minthon L, Londos E (2007) Cerebrospinal fluid biomarkers predict decline in subjective cognitive function over 3 years in healthy elderly. Dement Geriatr Cogn Disord 24:118–124. doi:10.1159/000105017

van der Flier WM et al. (2004) Memory complaints in patients with normal cognition are associated with smaller hippocampal volumes. J Neurol 251:671–675

van Harten AC, Visser PJ, Pijnenburg YAL, Teunissen CE, Blankenstein MA, Scheltens P, van der Flier WM (2012) Cerebrospinal fluid Aβ42 is the best predictor of clinical progression in patients with subjective complaints. Alzheimers Dement. doi:10.1016/j.jalz.2012.08.004

van Oijen M, de Jong FJ, Hofman A, Koudstaal PJ, Breteler MM (2007) Subjective memory complaints, education, and risk of Alzheimer's disease. Alzheimers Dement 3:92–97

Visser PJ et al. (2009) Prevalence and prognostic value of CSF markers of Alzheimer's disease pathology in patients with subjective cognitive impairment or mild cognitive impairment in the DESCRIPA study: a prospective cohort study. The Lancet Neurology 8:619–627

Wang L, van Belle G, Crane PK, Kukull WA, Bowen JD, McCormick WC, Larson EB (2004) Subjective memory deterioration and future dementia in people aged 65 and older. J Am Geriatr Soc 52:2045–2051. doi:10.1111/j.1532-5415.2004.52568.x

Wolfsgruber S et al. (2015) Subjective cognitive decline is related to CSF biomarkers of AD in patients with MCI. Neurology 84:1261–1268. doi:10.1212/wnl.0000000000001399

Zwan MD et al. (2015) Subjective memory complaints in APOEɛ4 carriers are associated with high amyloid-β burden. J Alzheimers Dis 49:1115–1122
Acknowledgments
Dr. Buckley is funded by the National Medical and Health Research Council (NHMRC) Dementia Research Fellowship (APP1105576).
About this article
Cite this article
Buckley, R.F., Villemagne, V.L., Masters, C.L. et al. A Conceptualization of the Utility of Subjective Cognitive Decline in Clinical Trials of Preclinical Alzheimer's Disease. J Mol Neurosci 60, 354–361 (2016). https://doi.org/10.1007/s12031-016-0810-z
Received:

Accepted:

Published:

Issue Date:
Keywords
Cognition

Subjective cognitive decline

Preclinical

Alzheimer's disease

Amyloid

Tau