Abstract
Spontaneously hypertensive rats (SHR) have high sympathetic tone and progressive hypertension. Chronic calorie-restriction prevents hypertension. Their food intake (FI) and body weight are lower than in normotensive (NT) controls, even on a high-fat diet, suggesting a dysregulation of energy homeostasis. We assumed enhanced activity of hypothalamic anorexigenic melanocortins and diminished tone of orexigenic neuropeptide Y (NPY) in the background. FI of male SHR and NT Wistar rats was recorded in a FeedScale system upon intracerebroventricular injection of NPY, melanocortin ligands alpha-melanocyte-stimulating hormone (alpha-MSH), and agouti-related peptide (AgRP) or during a 7-day intracerebroventricular infusion of melanocortin antagonist HS024. Alpha-MSH, NPY, and AgRP immunoreactivities were semi-quantified in the arcuate (ARC) and paraventricular (PVN) nuclei of the hypothalamus in NT vs. SHR. Proopiomelanocortin gene expression was also assessed by quantitative RT-PCR in the ARC. Melanocortin-induced anorexia was stronger, FI induced by NPY or HS024 was smaller and delayed in SHR. Cellular alpha-MSH-specific signal density was higher in the ARC of SHR as evaluated by immunofluerescence, which was supported by PCR data. In the PVN, no differences in alpha-MSH-, NPY-, or AgRP-immunosignal were observed. Our results suggest that a higher melanocortin production/responsiveness and lower NPY responsiveness may contribute to the body weight dysregulation of SHR.
This is a preview of subscription content, log in to check access.
Access options
Buy single article
Instant access to the full article PDF.
US$ 39.95
Price includes VAT for USA
Subscribe to journal
Immediate online access to all issues from 2019. Subscription will auto renew annually.
US$ 199
This is the net price. Taxes to be calculated in checkout.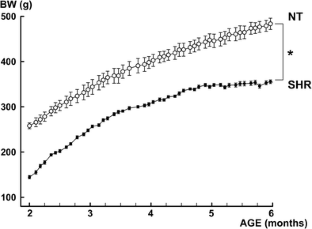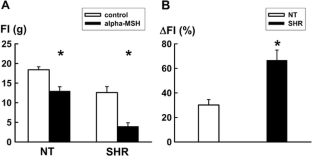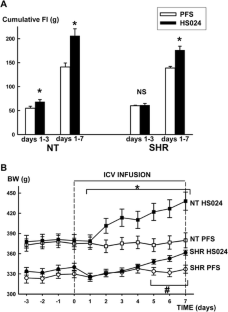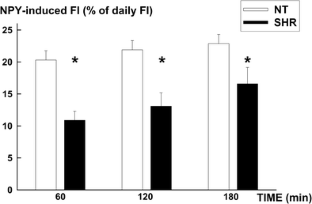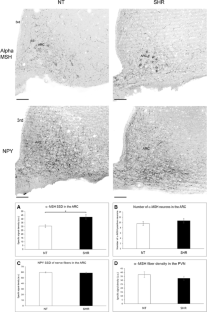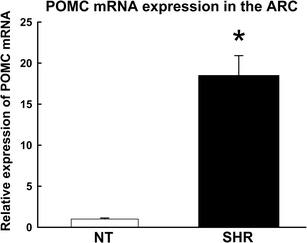 References
Autelitano DJ, van den Buuse M (1997) Concomitant up-regulation of proopiomelanocortin and dopamine D2-receptor gene expression in the pituitary intermediate lobe of the spontaneously hypertensive rat. J Neuroendocrinol 9:255–262

Clark JT, Sahu A, Mrotek JJ, Kalra SP (1991) Sexual function and neuropeptide Y levels in selected brain regions in male spontaneously hypertensive rats. Am J Physiol 261:R1234–R1241

Cui H, Kohsaka A, Waki H, Bhuiyan ME, Gouraud SS, Maeda M (2011) Metabolic cycles are linked to the cardiovascular diurnal rhythm in rats with essential hypertension. PLoS One 6:e17339

Da Silva AA, do Carmo JM, Kanyicska B, Dubinion J, Brandon E, Hall JE (2008) Endogenous melanocortin system activity contributes to the elevated arterial pressure in spontaneously hypertensive rats. Hypertension 51:884–890

Dolinsky VW, Morton JS, Oka T, Robillard-Frayne I et al (2010) Calorie restriction prevents hypertension and cardiac hypertrophy in the Spontaneously Hypertensive Rat. Hypertension 56:412–421

Dunbar JC, Lu H (1999) Leptin-induced increase in sympathetic nervous and cardiovascular tone is mediated by proopiomelanocortin (POMC) products. Brain Res Bull 50:215–221

Felder RA, Garland DS (1989) POMC biosynthesis in the intermediate lobe of the spontaneously hypertensive rat. Am J Hypertens 2:618–624

Fuxe K, von Euler G, van der Ploeg I, Fredholm BB, Agnati LF (1989) Pertussis toxin treatment counteracts the cardiovascular effects of neuropeptide Y and clonidine in the awake unrestrained rat. Neurosci Lett 101:337–341

Fuzesi T, Wittmann G, Liposits Z, Lechan RM, Fekete C (2007) Contribution of noradrenergic and adrenergic cell groups of the brainstem and agouti-related protein-synthesizing neurons of the arcuate nucleus to neuropeptide-y innervation of corticotropin-releasing hormone neurons in hypothalamic paraventricular nucleus of the rat. Endocrinology 148:5442–5450

Higuchi H, Nakano K, Iwasa A (1993) Decrease in prepro-neuropeptide Y gene expression in the adrenal gland and cerebral cortex of spontaneously hypertensive rats. Neuropeptides 25:343–349

Jonsson L, Skarphedinsson JO, Skuladottir GV, Watanobe H, Schiöth HB (2002) Food conversion is transiently affected during 4-week chronic administration of melanocortin agonist and antagonist in rats. J Endocrinol 173:517–523

Judy WV, Watanabe AM, Henry DP, Besch HR Jr, Murphy WR, Hockel GM (1976) Sympathetic nerve activity: role in regulation of blood pressure in the spontaneously hypertensive rat. Circ Res 38:21–29

Kask A, Mutulis F, Muceniece R, Pähkla R, Mutule I, Wikberg JE, Rägo L, Schiöth HB (1998) Discovery of a novel superpotent and selective melanocortin-4 receptor antagonist (HS024): evaluation in vitro and in vivo. Endocrinology 139(12):5006–5014

Kim MS, Rossi M, Abbott CR, AlAhmed SH, Smith DM, Bloom SR (2002) Sustained orexigenic effect of Agouti related protein may be not mediated by the melanocortin 4 receptor. Peptides 23(6):1069–1076

Li P, Cui BP, Zhang LL, Sun HJ, Liu TY, Zhu GQ (2013) Melanocortin 3/4 receptors in paraventricular nucleus modulate sympathetic outflow and blood pressure. Exp Physiol 98:435–443

MacNeil DJ, Howard AD, Guan X et al (2002) The role of melanocortins in body weight regulation: opportunities for the treatment of obesity. Eur J Pharmacol 16:93–109

McLean KJ, Jarrott B, Lawrence AJ (1996) Neuropeptide Y gene expression and receptor autoradiography in hypertensive and normotensive rat brain. Brain Res Mol Brain Res 35:249–255

Morley JE, Levine AS, Gosnell BA, Kneip J, Grace M (1987) Effect of neuropeptide Y on ingestive behaviors in the rat. Am J Physiol 252:R599–R609

Nabika T (1991) Genetic heterogeneity of the spontaneously hypertensive rat. Hypertension 18:12–16

Okamoto K, Aoki K (1963) Development of a strain of spontaneously hypertensive rats. Jpn Circ J 27:282–293

Oliveira SA Jr, Okoshi K, Lima-Leopoldo AP et al (2009) Nutritional and cardiovascular profiles of normotensive and hypertensive rats kept on a high fat diet. Arq Bras Cardiol 93:526–533

Pavia JM, Morris MJ (1994) Age-related changes in neuropeptide Y content in brain and peripheral tissues of spontaneously hypertensive rats. Clin Exp Pharmacol Physiol 21:335–338

Paxinos G, Watson C (2005) The rat brain in stereotaxic coordinates, 5th edn. Academic, San Diego

Petervari E, Garami A, Soos S, Szekely M, Balasko M (2010) Age-dependence of alpha-MSH-induced anorexia. Neuropeptides 44:315–322

Petervari E, Szabad AO, Soos S, Garami A, Szekely M, Balasko M (2011) Central alpha-MSH infusion in rats: disparate anorexic vs. metabolic changes with aging. Regul Pept 166:105–111

Petriz BA, Almeida JA, Gomes CP, Ernesto C, Pereira RW, Franco OL (2015) Exercise performed around MLSS decreases systolic blood pressure and increases aerobic fitness in hypertensive rats. BMC Physiol 15:1–6

Porter K, Hayward LF (2011) Stress-induced changes in c-Fos and corticotropin releasing hormone immunoreactivity in the amygdala of the spontaneously hypertensive rat. Behav Brain Res 216:543–551

Sanchez E, Rubio VC, Thompson D, Metz J, Flik G, Millhauser GL, Cerda-Reverter JM (2009) Phosphodiesterase inhibitor-dependent inverse agonism of agouti-related protein on melanocortin 4 receptor in sea bass (Dicentrarchus labrax). Am J Physiol Regul Integr Comp Physiol 296(5):R1293–R1306

Sato T, Nara Y, Kato Y, Yamori Y (1995) Effects of high-calorie diet on blood pressure and sodium retention in spontaneously hypertensive rats and normotensive Wistar-Kyoto rats. J Diabetes Complications 9:220–223

Sweerts BW, Jarrott B, Lawrence AJ (2001) The effect of acute and chronic restraint on the central expression of prepro-neuropeptide Y mRNA in normotensive and hypertensive rats. J Neuroendocrinol 13:608–617

Szekely M, Petervari E, Pakai E, Hummel Z, Szelenyi Z (2005) Acute, subacute and chronic effects of central neuropeptide Y on energy balance in rats. Neuropeptides 39:103–115

Williams G, Cai XJ, Elliott JC, Harrold JA (2004) Anabolic neuropeptides. Physiol Behav 81:211–222

Woo ND, Mukherjee K, Ganguly PK (1993) Norepinephrine levels in paraventricular nucleus of spontaneously hypertensive rats: role of neuropeptide Y. Am J Physiol 265:H893–H898

Yin X, Zhu YH, Xu SF (1997) Expression of preproopiomelanocortin mRNA and preprodynorphin mRNA in brain of spontaneously hypertensive rats. Acta Pharmacol Sin 18:391–394
Acknowledgments
The present scientific contribution is dedicated to the 650th anniversary of the foundation of the University of Pécs, Hungary. The authors are grateful to Prof. Zsuzsanna Helyes (Department of Pharmacology and Pharmacotherapy, Medical School, University of Pécs, Hungary) for generously sharing their tail cuff device. The authors are grateful for the expert and excellent technical assistance of Ms. M. Koncsecsko-Gaspar, Ms. A. Mihalffy-Jech, Ms. A. Boka-Kiss, and Ms. I. Orban. Financial support: MMVBT2013-BM (Hungarian Society of Microcirculation and Vascular Biology), 34039/KA-OTKA/13-02 (University of Pecs), 34039/KA-OTKA/13-25 (University of Pecs), OTKA PD100706 (Hungarian Scientific Research Fund).
Ethics declarations
Conflict of interest
The authors declare that they have no conflict of interest.
About this article
Cite this article
Furedi, N., Miko, A., Aubrecht, B. et al. Regulatory Alterations of Energy Homeostasis in Spontaneously Hypertensive Rats (SHR). J Mol Neurosci 59, 521–530 (2016). https://doi.org/10.1007/s12031-016-0771-2
Received:

Accepted:

Published:

Issue Date:
Keywords
Spontaneously hypertensive rat (SHR)

Energy homeostasis

Alpha-melanocyte stimulating hormone

Neuropeptide Y

HS024